The Best Guitar Moments of 1972
From Jimmy Page, Keith Richards and Steve Howe to Neil Young, Elliott Randall and Paul Simon, we pay homage to some of 1972's greatest in this essential 50th anniversary tribute lesson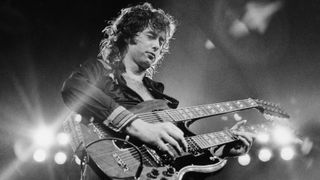 (Image credit: Robert Knight Archive/Redferns/Getty Images)
I find it hard to imagine 1972 was 50 years ago.
This is in large part due to the fact that I was born on June 5th of that monumental leap year. What? You didn't know 1972 is the longest year by the Coordinated Universal Time (UTC) standard? With the added day, plus two seconds, the six-string purveyors of the day took full advantage of the extra time on both electric guitars and acoustic guitars.
As this new decade was still revving its engines, rock and roll was expanding in 1972. With the guitar at the forefront, there was glam rock, shock rock, prog rock, southern rock and even jazz rock. What's more, there was the further development of soft rock and heavy metal alongside the burgeoning reggae and country rock genres.
Also on the rise was a reverence for the album format. Thanks to my older brother Louis and his well-fortified stereo system, our Jersey Shore home was consistently shaking at the rafters with all the rock 1972 had to offer. I soaked it all in from my very beginnings.
All things considered, it's safe to say I was born into this collection of essential guitar moments from 1972.
Let There Be Rock
By the second year of the tumultuous 1970s, the world of rock had expanded into subsets that celebrated everything from platform shoes and glitter to fake blood and guillotines, and even included electrified southern-fried country and blues.
This trifecta of disparate approaches garnered a worthy collection of guitar moments, starting with David Bowie's fab The Rise and Fall of Ziggy Stardust and the Spiders From Mars.
Bowie's brilliance is matched by the prodigious playing of guitarist Mick Ronson.
Ex. 1 shows something similar to Ronson's opening salvo in "Ziggy Stardust," where open chords and arpeggiation patterns combine to make the prototypical glam-rock arena riff.
Shifting to the dark side, Ex. 2 takes its cue from the title track of Alice Cooper's School's Out, highlighting the vibe of the incendiary E Dorian riff played by shock-rock stalwarts Glen Buxton and Michael Bruce.
Completing the trio is an iteration of the Am riff of "One Way Out" (Ex. 3), from the Allman Brothers Band's quintessential southern rock album Eat a Peach, courtesy of Duane Allman and Dickey Betts.
All three original tunes are as celebrated today as they were in 1972, from arenas to local watering holes.
Opening Lines
The '70s was the decade of Detroit Iron, when nearly everyone drove a hot rod. If they weren't cranking an eight-track, they were listening to an FM rock station, which was in the beginning stages of a transformation to the album-oriented rock (AOR) format.
Nothing had you leaning over to pump up the volume faster than a great guitar intro. Elliott Randall's opening A major pentatonic licks in the Steely Dan FM staple "Reelin' In the Years," from Can't Buy a Thrill, was a top contender.
Ex. 4 is inspired by and loosely based on this classic intro solo.
Ex. 5 brings to mind the dreamy relative major and minor arpeggios and modulating bends immortalized in that track.
Another classic is the unforgettable opening of the Bowie-penned glam-rock anthem "All the Young Dudes," recorded by Mott the Hoople.
These are just two of the many songs that reeled you in from the first notes and entertained every type of rock apostle, both young and old, as they cruised America's highways.
Hammer of the Gods
Two of the three bands considered the creators of heavy metal released records in 1972. With Led Zeppelin between Led Zeppelin IV and Houses of the Holy, the void was filled by Black Sabbath's Vol. 4 and Deep Purple's Machine Head.
Ex. 6 closely illustrates what Sabbath guitarist Tony Iommi laid down on Vol.4's "Snowblind," with his signature power chording and speaker-melting gain in check.
As for Deep Purple's Ritchie Blackmore, he was in his creative prime at the time that the group dropped its magnum opus, Machine Head. Much like Zep's fourth outing, Machine Head featured timeless tunes that have proven their longevity to this day, including the venerable "Smoke on the Water."
While the opening riff has ascended into a ubiquitity for rock guitarists the world over, Ritchie's fiery solo over a power chord backdrop in the key of G minor showcases such signature Blackmore-isms as pre- (or "ghost") bends, adjacent-string rolls and 16th-note linear flurries.
This is all on display in Ex. 7, which presents a reworking of some key licks from this solo.
Though in its infancy at the time, metal began with these pioneering bands and with albums and moments like these.
Everyone is Experienced
But 1972 wasn't all about high-gain licks and riffs. The influence of Jimi Hendrix, who died in 1970, was felt across the guitar pantheon. Indicative of the time were a pair of low-gain opening riffs from two different worlds but in no less capable hands.
Ex. 8 is patterned after a moment from one of prog rock's most endearing releases, Close to the Edge, where perpetual ambassador Steve Howe threw down biting Hendrix-like chordal comping ideas in the key of E minor at the top of "Siberian Khatru."
Ex. 9 offers a taste of the kind of dynamic-duo guitar work of the Doobie Brothers' Tom Johnston and Patrick Simmons on the endearing hit "Listen To the Music," a moment that still motivates muscle-car drivers of yore to turn up the volume at the first hammer-on into that E/G# triad.
Groove Collective
But cleaner tones and booty-shaking grooves were also heard in 1972, thanks to the impact of a Jamaican film called The Harder They Come, which starred musician Jimmy Cliff. While the movie was released to much fanfare (on the very same day I started my journey to 50), it was the film's soundtrack that made history, as it's widely regarded as the world's introduction to reggae.
Ex. 10 is inspired by the infectious opening groove heard in the Cliff classic "You Can Get It If You Really Want," which features hallmark reggae rhythm guitar approaches with its tightly voiced top-string triads, anchored to the upbeat and treated with some staccato phrasing.
Back on the mainland, James Brown and Al Green were creating some of their most significant works. The Godfather of Soul put Hearlon "Cheese" Martin's lock-tight precision into the limelight with "Get On the Good Foot" from the album of the same name.
An homage to Martin's hypnotic single-note staccato phrasing is paid in Ex. 11.
Adding to the title tracks explored, the beloved gem from Al Green's Let's Stay Together features the sultry guitar of work of Mabon "Teenie" Hodges perfectly nested between Green's enthralling vocal performance.
Looking at Ex. 12 reveals a remodeling of four bars from this treasured work.
Unplugged
Although the era of the chimerical Les Paul/Marshall monster had fully arrived by 1972, it didn't quell the acoustic guitar's substantial presence, which had solidified in the 1960s.
In fact, acoustic guitars were behind some of the most successful single releases of the year, including Paul Simon's controversial "Me and Julio Down By the Schoolyard," America's mesmerizing "Ventura Highway" and soft-rock troubadours Seals and Crofts' irresistible "Summer Breeze."
The main themes of all three songs have been reinterpreted in Examples 13–15.
Aside from Simon's syncopated voice-led triads, the other two riffs make ample use of the acoustic guitar's penchant for open strings.
Not to be outdone by his American counterparts, Canadian-born Neil Young released the best-selling record of the year with Harvest, which boasted the number one hit "Heart of Gold."
A rendition of the perfectly sparse presentation of Em and D chords is found in Ex. 16.
Outro
With countless guitar moments still to gush over, it's important to note that 1972 was also brimming with superbly constructed albums that had massive impact and further bolstered the emerging AOR radio format.
The year delivered classics that featured now-mythic guitarist pairings, including the Rolling Stones' Exile on Main St. (Keith Richards and Mick Taylor), Jethro Tull's Thick As a Brick (Martin Barre and Ian Anderson), Genesis's Foxtrot (Steve Hackett and Mike Rutherford), and the Eagles' self-titled debut (Bernie Leadon and Glenn Frey), which helped bring country rock to prominence.
Before the year was out, Deep Purple went on to release the Made in Japan live album, and Stevie Wonder released his own pair with Music of My Mind and the seminal Talking Book.
The latter gave the world the funk-rock classic "Superstition," which features a punchy Hohner Clavinet keyboard riff that has been appropriated by guitarists in countless cover bands.
If all these moments and genre births are any indication of the benefits to an augmented leap year, I say bring on the next one UTC.
All the latest guitar news, interviews, lessons, reviews, deals and more, direct to your inbox!