"I Never Plan a Solo in Advance": Watch Elliott Randall Play His Timeless "Reelin' in the Years" Solo
Recorded 50 years ago, Jimmy Page said it was his favorite solo of all time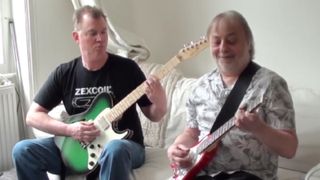 (Image credit: Zexcoil/YouTube)
Make a list of the most iconic rock guitar solos of all time, and you'd be hard-pressed not to rank Elliott Randall's scorching mixolydian mayhem on Steely Dan's "Reelin' in the Years" somewhere near the top.
Beyond his legendary work with the Dan, however, Randall has performed and recorded with dozens of artists ranging from the Doobie Brothers to Asia to James Galway, as well as producing myriad TV and radio jingles, serving as a technological consultant to major musical instrument manufacturers, and touring the globe as an in-demand teacher and clinician.
Back in 2007, we caught up with the man himself to get the lowdown on this legendary guitar solo.
The following interview extract originally appeared in the July 2007 issue of Guitar Player…
Was the "Reelin' in the Years" solo worked out in advance?
No. I never plan a solo in advance. If I did, it wouldn't be improvisation, which to me is one of the most exciting things about being a soloist. What you hear on the Steely Dan record is the first recorded take of my response to the track.
I did an earlier run-through that many people in the studio felt was even better, but the tape machine hadn't been armed and put into record mode. From then on, Katz [Steely Dan's producer] never let a run-through go by without ensuring that it was being recorded.
What rig did you use to record it?
That was my '63 Fender Stratocaster with a PAF humbucker in the neck position, straight into an Ampeg SVT amp.
The SVT wouldn't have been my first choice for an amp, or even my fifth choice – but it was the only amp in the studio that night. My Strat has been my number one axe since 1965.
When you are asked to play on a recording, do you strategize your playing towards what you think the artist wants, or do you go in with the attitude that "they hired me for me" and do your own thing?
My job as a studio musician is to facilitate the making of the best possible recording. As I've also been a producer since the '60s, I have specific ideas about how to do that, but if I'm not the producer of a session, it behooves me to make my clients happy.
And if they are asking for "classic Randall," I have to determine what their concept of that is. Of course, I do love when someone wants me to be "collaboratively creative."
Having worn both hats, how would you compare being a bandleader to being a sideman?
I started the live music program in NYC's China Club in the early-mid '80s, doing my own shows there on a bi-monthly basis. Great fun – with a good budget; I was able to put together bands of musicians I really admired as both players and friends. The mutual admiration manifested itself in the playing.
On the other hand, there are other situations, where a leader has a certain stigma to bear – where if anything goes wrong or if someone is unhappy because the bus is late or the Perrier is warm, he/she bears the brunt of the dissatisfaction.
Being a good leader is about communication – being honest and diplomatic at the same time.
Being a sideman can be infinitely easier. Somebody picks you up. There's an amp waiting for you at the gig. You plug in, you play, and at the end of the evening – hopefully you've had a really good time!
Browse the Steely Dan catalog here.
All the latest guitar news, interviews, lessons, reviews, deals and more, direct to your inbox!