Best Stratocasters 2023: 9 Top-Rated Fender Strats For All Players
Love the Fender Stratocaster? Check out our favorite Fender and Squier models of this iconic double-cut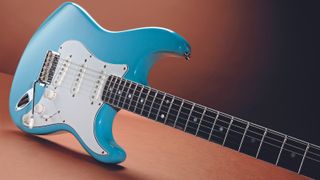 (Image credit: Future)
If you ask any non-musician to draw a guitar, chances are they'll come up with the iconic Stratocaster shape. First coming to light in the 50s, the best Stratocasters have become the blueprint for the electric guitar and while there are plenty of derivatives, for some there's nothing quite like the original.
Stratocasters are very versatile guitars and over the years Fender has made them with a myriad of different options for hardware, pickups, neck wood material, and body wood material. You can play blues, funk, rock, and even metal on them thanks to this inherent versatility, which is all part of what makes them such a stalwart of electric guitar.
Nowadays you can get a Strat in pretty much any configuration, which makes picking out the best one for you a difficult choice. Thankfully for you, we've scoured through all of the available Strats from the big 'F' to give you our top choices. If you're new to the Stratocaster, be sure to check out our buying advice section at the bottom of this article. Otherwise, keep scrolling to see our top picks.
Best Stratocasters: Guitar Player's choice
If you're looking to buy one of the best Stratocasters on a budget, then we'd have to say that the Squier Classic Vibe Stratocaster '50s is your best bet. Squier's Classic Vibe series is improving hugely every year, with some models now rivaling lower-end Mexican-made Strats in terms of build quality and value for money.
For those with a bit more to spend, we'd recommend you go for the Player Plus HSS Stratocaster. Fender's Player series has been one of the company's most popular since its introduction, and the Player Plus range takes that success to a new level. Think upgraded pickups, a compound fingerboard radius, and new finishes.
For those with more cash to splash, we'd recommend the Fender Ultra Luxe Stratocaster. The Ultra Luxe offers players an impressive and modern playing experience, whether that's from the Ultra noiseless vintage single-coils, "D"-shaped neck with Ultra satin finish, the 10"-14" compound fingerboard radius or any other aspects of the Ultra Luxe's design. For the modern Strat enthusiast, it doesn't get much better.
Best Stratocasters: Product guide
1. Squier Affinity Stratocaster
Looks and sound of a traditional Strat, on a budget
Specifications
Fingerboard:
Indian Laurel or Maple
Pickups:
3x Standard strat single-coil
Controls:
Master Volume, Tone 1 (Neck Pickup), Tone 2 (Middle Pickup), 5-way pickup selector switch
Hardware:
Chrome Vintage Style Synchronized Vibrato, Standard Die-Cast Tuners
Finish:
2-color Sunburst, Black (With Maple Fingerboard); Brown Sunburst, Black, Competition Orange, Race Red, Slick Silver, Surf Green (With Indian Laurel Fingerboard)
Reasons to buy
+
Finish options are great
+
Impressive quality
+
Good value for money
Reasons to avoid
-
Spend a bit more and get a Classic Vibe?
For those guitarists who are trying to do things on a budget – whether you're just starting out, or a seasoned player looking for a great backup electric guitar – the Affinity Strat is one to pay attention to.
Sitting in Squier's second tier of electric guitars above the super-budget Bullet series, the Affinity range offers a level of finish that you wouldn't usually see on a guitar under $250. While it sits a fair way down the Stratocaster family tree, this thing screams traditional Strat – whether it's the looks, the chunky headstock or the sound it produces thanks to the three standard Strat single-coil pickups.
Best of all, this guitar is reliable – and much more so than most other Strat clones at this price point. The tremolo, while not the most smooth, does a stellar job considering the cost. The tuners are also solid enough that you needn't worry too much about your tuning stability once your strings are settled and you've played a song or two. One thing we would say is that if you can afford it, go for the next range up. In the budget guitar sphere, a couple of hundred bucks can really make a difference.
2. Squier Classic Vibe '50s Stratocaster
Modern feel and a classic vibe
Specifications
Pickups:
3x Fender-designed alnico single-coils
Controls:
Master Volume, Tone 1, Tone 2, 5-way pickup selector
Hardware:
Nickel 6-saddle Vintage-style Tremolo, Vintage style tuners
Finish:
Fiesta Red, White Blonde, 2-Color Burst, Black
Reasons to buy
+
Hardware is great
+
Set up well out of the box
+
A lot of guitar for under $500
Squier's Classic Vibe series has always been regarded as great and affordable range of instruments, and thankfully that's still the case. While the price has increased a little in recent years, so has the quality – so what's stopping you from buying one?
The CV '50s Strat offers players a glimpse into the Strat of yesteryear, while keeping some of the modern day's more useful features, specs and manufacturing practices. A nyatoh body, while not a '50s inspired spec choice, provides the perfect base for a trio of frankly brilliant Fender-designed alnico single-coil pickups which we feel bring the '50s vibe in droves. Lots of clarity, brightness and punch – with that signature 'quack' that the Strat has become so well known for.
21 narrow tall frets on a maple neck and maple fingerboard help to ignite that '50s charm, along with the finishes available – and while the fingerboard radius is a more modern 9.5", we found the CV '50s to be more playable than budget guitars with more 'old-school' radii. As the price increases, we might be tempted to take a look at some of Fender's made-in-Mexico guitars, but as far as electric guitars under $500 go, the Classic Vibe '50s Stratocaster is a hard one to beat.
3. Fender Player Stratocaster
Affordable and highly versatile guitar with the Fender name on the headstock
Specifications
Fingerboard:
Maple/Pau Ferro
Pickups:
3x Player series alnico 5 single-coils
Controls:
Master volume, tone 1 (neck/middle pickups), tone 2 (bridge pickup), 5-way pickup selector switch
Hardware:
Nickel/Chrome, 2-point Synchronized tremolo w/ bent steel saddles, standard cast/sealed tuners
Finish:
3-color sunburst, Black, Tidepool, Buttercream, Polar White, Capri Orange, Silver
Reasons to buy
+
Great build quality
+
Pickups are powerful
+
9.5" fingerboard radius is super comfortable
Reasons to avoid
-
Cheapest made-in-Mexico model and costs nearly $1,000
Fender's Player series took over from the Standard series in 2018 as Fender's most affordable Mexican-made model – and in the four years following has enabled huge numbers of guitarists to make their mark. If having the big 'F' on your headstock is a must, then the Player series is where you'll start.
The Player Stratocaster brings pretty much everything you could want in a modern Strat to an affordable price point. We found that the three alnico 5 pickups onboard create a powerful, gutsy tone that you just won't find in a Strat with more classic appointments. The output is higher than that of most Strat sets, making the Player series a highly versatile choice for anyone looking to get a little more from their guitar.
As you'd expect from an $850 Strat, the hardware is solid, well made and reliable. During our testing, we found the two-point trem to be smooth while also prioritizing tuning stability, and while the bent steel saddles are a little crude when compared to the modern accoutrements on the Player Strat, they do their job with little trouble. We'd perhaps argue that we'd like more from the Player Series now it's that much closer to a grand than before, but all in all we've no real complaints.
4. Fender Player Plus HSS Stratocaster
A modern take on the Strat sound
Specifications
Launch price:
$1,099/£939
Fingerboard:
Maple/Pau Ferro
Pickups:
3x Player Plus Noiseless Strat single-coils
Controls:
Master volume, Tone 1, Tone 2 (with push/pull), 5-way pickup selector
Hardware:
Nickel/Chrome, 2-Point Synchronized Tremolo with Block Saddles, Deluxe locking tuners
Finish:
Opal Spark, Olympic White, Aged Candy Apple Red, Tequila Sunrise, 3-color Sunburst
Reasons to buy
+
Very cool update to the Player series
+
Fingerboard radius is great
+
New finishes
Reasons to avoid
-
Noiseless pickups can sound heartless
If the Player series wasn't quite enough modernism to suit you, then you'll be thankful for the Player Plus range of Stratocasters. Taking a classic guitar and giving it a serious makeover is always a dangerous task for manufacturers, but we think that with the Player Plus, Fender has done a great job.
The bones of the guitar are mostly identical to the Player series. An alder body and maple neck are standard, as is the case with the vast majority of Strats, and three single-coil pickups continue the traditional theme… or not. Three noiseless single-coil pickups adorn the Player Plus Strat, delivering a thoroughly modern take on the Strat sound. When playing the Player Plus Strat we found these pickups to be our only real criticism, as they, in their perfection, were just a bit too… well… perfect. We like Strats because they've all got their own personality, and this one does too, but the cleanliness may put some people off.
If that is your thing, though, then this is emphatically the Strat for you. For a whiff over a grand you can have the iconic Strat, with all of the modernizing modifications you'd want to make. We're talking locking tuners, super impressive gradient finishes, push/pull tone controls, along with a 12" fingerboard radius and rolled fret edges. Lovely stuff.
5. Fender H.E.R Stratocaster
A great blend of vintage and modern
Specifications
Launch price:
$1,299/£1,199
Pickups:
3x Vintage Noiseless single-coil pickups
Controls:
Master volume, Tone 1, Tone 2
Hardware:
Nickel/Chrome, Vintage style tuners, 6-saddle vintage-style tremolo
Reasons to buy
+
Looks epic
+
Vintage noiseless pickups are tasty
+
Vintage hardware very nice
Reasons to avoid
-
A love-it or hate-it guitar?
H.E.R is best known for her Grammy-winning performances – stunning crowds with her smooth, soulful R&B. She's also well known for being an utterly brilliant guitarist, with evidently great taste in guitars.
The H.E.R Strat starts out like any other great Stratocaster. The alder body/maple neck combination is one of legend, and with a maple fingerboard involved too? Well, this just got even better. The guitar is overall very well built, feeling very solid, well set-up and reliable straight out of the box. The stunning Chrome Glow finish is unique, but adds a tasteful level of spice to a guitar which can run the risk of looking a little boring.
Three vintage noiseless single-coils are mounted on this model, and although some noiseless pickups can cause an upset, these offer a thoroughly enjoyable vintage vibe – that just sounds much cleaner than usual. The hardware is vintage-inspired too, but the more modern 9.5" fingerboard radius enables straightforward playing with no issue. The paint job, along with the noiseless pickups, has the potential to cause a stir or two among die-hard Strat fans, but this Strat is all-in-all one of the best on the market. As a great blend of vintage and modern specs, the H.E.R Strat could be unbeatable.
6. Fender American Professional II Stratocaster
Pricey but truly next-level
Specifications
Launch price:
$1,699/£1,799
Fingerboard:
Maple, Rosewood
Pickups:
3x V-Mod II single-coils
Controls:
Master Volume, 2x Tone, 5-way pickup selector
Hardware:
Nickel/chrome-plated 2-point Synchronized vibrato w/ bent steel saddles, Fender Standard cast/sealed staggered tuners
Finish:
3-colour sunburst, Black, Dark Night, Mercury, Miami Blue, Mystic Surf Green, Olympic White, Roasted Pine, Sienna Sunburst
Reasons to buy
+
V-Mod II pickups are next level
+
USA-made quality
+
Satin neck feels amazing
Reasons to avoid
-
It's a lot of money to spend
The American Professional II range from Fender came as a bit of a surprise, as the not-too-old Professional series seemed to cover all the ground we could've asked for. Luckily for us, the upgrades between the original and mark two ranges were not only noticeable, but feel, sound and look great.
A tasteful blend of modern and classic, the Pro II range offers the traditional alder/maple combination, with a roasted pine body available on one iteration. The classic/modern features don't end there, especially taking into consideration the 22 narrow tall frets that adorn the maple neck – the same maple neck that is coated in Fender's new 'Super-Natural' satin finish to ensure you avoid those sticky-handed gigging moments. The neck profile is a gorgeous "deep C" – which is a comfortable handful.
The main upgrade on this model against the previous is the introduction of Fender's V-Mod II pickups. During our testing we found they do exactly what we expected, rounding off the harsh top-end that is well known to plague most Strats. Instead, these pickups provide a rounded, fuller tone – still with plenty of Strat clarity and 'breath'. If you're in the market for a high-end Strat, but want something you won't be tempted to mod yourself, then this could be the right guitar for you.
7. Fender American Vintage II 1957 Stratocaster
Based on a classic, crafted for the modern player
Specifications
Launch price:
$2,099.99/£2,199.99
Pickups:
Pure Vintage '57 Strat
Controls:
Master Volume, Tone 1. (Neck/Middle Pickups), Tone 2. (Bridge Pickup)
Hardware:
Pure Vintage Synchronized Tremolo with Bent Steel Saddles
Finish:
Sea Foam Green, 2 Color Sunburst, Vintage Blonde
Reasons to buy
+
All the best vintage spec in one package
+
Pickups sound delectable
+
Finish is high quality
There are numerous vintage-inspired Strats we could have chosen for this guide but for us, the vintage allure of the Fender American Vintage II 1957 Strat is too good to turn down. Part of a brand new range of Fender instruments, it takes everything that was good about the original Strat and updates it for the modern player.
This retro-inspired instrument boasts a multitude of era-specific attributes, including an Alder or Ash body coated in Nitro lacquer finish, three Pure Vintage '57 single-coil pickups, and a robust 1957 'V' neck accompanied by a vintage 7.25" radius fingerboard.
Thanks to the vintage tall frets, this Strat ensures that executing those soulful blues bends becomes an effortless endeavor, making it the perfect match for those soul-searching lead guitar licks. If you're all about the nostalgic sound and feel of a golden-age Fender, the American Vintage II series is undeniably the best choice.
8. Fender Eric Johnson Maple Stratocaster
Made to order by the blues master
Specifications
Launch price:
$2,299/£2,249
Pickups:
3x specially voiced Eric Johnson single-coils
Controls:
Master volume, tone 1, tone 2, 5-way pickup selector
Hardware:
Nickel/chrome, 6-Saddle American Vintage Synchronized Tremolo, Vintage-style staggered tuners
Finish:
White Blonde, 2-color Sunburst, Black
Reasons to buy
+
You'll sound like Eric Johnson
+
'50s vibe feels great
+
12" fingerboard radius is great for legato
Reasons to avoid
-
Mismatched spec causes era ambiguity
If you know the work of Eric Johnson, you won't be surprised to find out that not just any Strat will do for him. He's spent decades honing and refining his tone in order to create some of Blues' most satisfying and luscious soundscapes, and with his signature maple-necked Strat, you've now got access to those tones too.
Speaking of tones, the three single-coil pickups onboard are specially voiced for the man himself. Thankfully, we found during testing that they still offer up plenty of chances for players to find their own sound within this guitar. The body – a lightweight two-piece Alder affair – is outrageously comfortable on a strap, and the acoustic resonance it has is simply astounding. The contours and cavities are carved to late '50s spec, and with the tinted soft "V" profile neck and the '57 style bridge setup? This guitar is about as '50s as it gets. Or is it?
The '50s specs finally end when we get to the fingerboard. A 12" radius and medium jumbo frets adorn this EJ model, and while we're not surprised that one of the masters of legato playing prefers a flatter fingerboard, it really wasn't our thing. If you're a true fan of Eric Johnson, though – or just like a blend of vintage and modern specs, then you won't go far wrong with this Fender Stratocaster.
9. Fender American Ultra Luxe Stratocaster
Iconic tone, effortless to play... or a bit too good?
Specifications
Launch price:
$2,499/£2,299
Pickups:
3x Ultra noiseless vintage strat single-coil
Controls:
Master volume (w/ S-1 switch), Tone 1, Tone 2
Hardware:
Nickel/Chrome, 2-Point Deluxe Synchronized Tremolo with Pop-In Arm, Deluxe cast/sealed locking tuners
Finish:
2-Color Sunburst, Plasma Red burst
Reasons to buy
+
Noiseless pickups are great
+
S-1 switching makes the guitar so versatile
+
Compound radius fingerboard feels good
Reasons to avoid
-
Does it lack personality?
If taking a visit to Fender's Custom Shop is taking things a little too far, then the Fender American Ultra Luxe Stratocaster is the guitar you should be paying attention to. It's one of the most expensive mass-produced guitars that Fender makes, and with the price tag comes entry to a seemingly pretty elite club. The Ultra Luxe has a few features that set it apart from the rest – and it's these features we liked the most.
As also featured on the standard Ultra Strat, the Ultra Luxe comes with a set of three Ultra noiseless vintage Strat single-coils. We found that these pickups sound incredible both clean and dirty during our testing, but that they added an extra warmth and low-mid bump to our tone which felt super supportive whilst playing. Strats can often sound a little hollow, but the pickups on this guitar do quite the opposite. The S-1 switch on the volume control adds in the neck pickup when in any other pickup position – again providing that extra low-end to our tone.
We were able to play the augmented "D" profile neck and compound 10"-14" radius fingerboard happily for hours on end, and it's the sheer comfort of this guitar which sets it apart from the others. It feels utterly effortless to play, and has all of that iconic Strat tone up its sleeve for when it's required. We felt that, at times, the noiseless pickups sounded a bit too perfect, but it's hard to criticize when something is just a bit too good.
Best Stratocasters: Buying advice
What Should I Know When Buying One Of The Best Stratocasters?
There are a few factors you should consider when looking to buy one of the best Stratocasters. Although the vast majority of Strats sing from the same design hymn sheet, there can be huge variations in spec, feel, sound, and playing experience. Even the slightest difference – a fingerboard radius, neck profile, or headstock size can change the whole feel of your instrument – so it's important to think about what you want and need. Answering those questions will help you find the right Strat for you.
What's The Difference Between Squier And Fender?
Probably the biggest question you could ask yourself is whether to go for a Squier or a Fender when buying yourself one of the best Stratocasters. Generally, one represents a totally different price-bracket and buying demographic than the other – but of late we're seeing more and more people caring less about the name on the headstock, and more about pure value for money.
The easy way to answer the question is this. If you're on a sub $500 budget, then Squier is the way to go, and if you can spend more, then go for a Fender. If all you know is that you want a Strat, then you can't really go wrong with that rule. It does get a little more nuanced however, when you start looking into the specs of guitars.
For instance, you want a guitar with vintage styling and an era-relevant spec, but don't want to spend more than $700? The Squier Classic Vibe range is your friend. The quality of all of these guitars is improving at a rapid pace, and Squier guitars now aren't as 'cheap' as you once thought. It all comes down to personal preference at the end of the day – and how much cash you're willing to part with.
What's The Difference Between A Vintage And Modern Stratocaster
Another big question to ask yourself is whether your playing (or physical) style suits a vintage set of specs over a modern set, or vice versa. The vast majority of Squier and Fender Stratocasters are divided into either vintage or modern inspired, so figuring out what you like and what you don't like can help you narrow down your selection massively.
Fender's vintage spec Stratocasters aren't usually 100% faithful to the original – and we appreciate this. The Strats of 1954 sure were fantastic, but primitive pickups, a big chunky neck and easily worn finishes just aren't going to cut it for the majority of guitarists these days. The constant regeneration and refinement to the Stratocaster has meant we now have guitars on the market with all of the best bits, and none of the worst – and who's going to complain about that?
It's also worth taking into consideration that even though some Fender Stratocasters will be vintage or modern inspired, most of the time, it's only inspiration. Some options, like the H.E.R signature Strat for instance, have vintage-spec hardware, but are also equipped with modern features like noiseless pickups. It doesn't always have to be one or the other with the Stratocaster – you can have the guitar of your dreams if you're willing to search for it.
Where Are Fender Stratocasters Made?
Squier and Fender Stratocasters have many countries of origin, some of which are more highly respected and sought after than others – which is mainly down to the quality of instruments produced in each location. Fundamentally, the manufacturing budget and the product's retail price dictate where it's made. Factories in Asia tend to make Squier Stratocasters – the cheapest fully licensed Strats around – and these guitars are made on a strict budget, enabling you to buy yourself a great Affinity or Classic Vibe Stratocaster without needing to take out a hefty loan.
Fender doesn't just make its budget Strats in the far east. In the not-so-distant past, Fender made the Modern Player series – a 'Fender'-branded Stratocaster – in China, as well as the impressive (and not too expensive) Lite Ash Stratocasters which were made in Korea. Fender has also made Stratocasters in Japan since late 1981, which are largely considered to be on par with many high-end Mexican and lower-spec US-made models. If you're in the market for a brand new Japanese-made Strat, expect to pay between $1,000 and $1,500. It'll be worth it, in our opinion.
Fender's two main (and most well-known) factories are based in Ensenada, Mexico, and Corona, California. In Mexico, Fender's more budget-friendly Stratocasters are created, and while they don't cost quite as much as their US-made counterparts, the quality of each instrument is impressive, and constantly improving. If you're playing guitar on a budget, then Mexican-made Stratocasters are worth your while.
Fender's top-spec Strats are crafted in Corona, California – and for those who want the very best Strat without creeping into Custom Shop prices, this is where you ought to be looking. While the skill of each luthier may be equivalent for all of Fender's factories, the materials used in California are what makes each USA Strat such an impressive instrument. The level of finish is top-class – making a USA Stratocaster a must-have for those who appreciate the attention to detail.
How Much Should I Spend On One Of The Best Stratocasters?
The product list in this guide is in price order, to help you find the right guitar for your budget – but if you're not sure what that budget should be, then let us help.
A beginner should be spending no more than $500/£500 on a Stratocaster. At this point, if you're not 100% sure that the guitar will grab a beginner's attention fully, then we'd suggest spending no more than around $300, but generally, the more you spend, the nicer the instrument. It's important to get the right blend between cheap and playable for a beginner guitarist, as a cheap-but-nasty Stratocaster is enough to put off any budding electric guitarist. We'd suggest stretching to the top end of the budget, if you can. The extra attention to detail is worth it.
Between $500 and $1,500 is the intermediate price tag. Within this bracket, you can afford anything from a Mexican Player series, all the way through to the USA Performer series – which is enough guitars to cover nearly a whole career's worth of progression. Although the returns begin to diminish a little when looking at spending $1,500 on a Strat, we'd still say that it's worth spending as much as you comfortably can, as much as anything from an investment standpoint. A USA Stratocaster will always hold its value better than a Mexican-made equivalent.
$1,500 and over is pro territory, in our book. At this price point, you've got the American Professional II Strat staring you in the face, as well as a fair few artist models including the featured Eric Johnson Maple Strat. Nothing sounds quite like a great American Stratocaster, so if the budget allows, we'd suggest you go for it and buy one. We don't think you'll regret it at all.
How we choose the best Stratocasters
You can trust Guitar Player. Our expert reviewers spend hours testing and comparing guitar products so you can choose the best for you. Find out more about how we test.
At Guitar Player, our team of devoted guitarists understands the iconic status of the Stratocaster. We have rigorously tested and evaluated numerous guitars to identify the best Stratocasters available and many of us play Stratocasters at live shows, in the studio, and at home.
To compile our list of top Stratocasters, we combine our extensive experience, meticulous research, and insightful discussions with our editorial team. We consider factors such as tone, playability, craftsmanship, hardware, and value for money, ensuring that we showcase the finest Stratocaster guitars on the market.
As passionate musicians ourselves, we recognize the significance of finding a guitar that captures your unique voice and style. Whether you're a blues purist, a rock virtuoso, or an experimental player pushing sonic boundaries, our goal is to provide reliable and informed recommendations that help you discover the perfect Stratocaster guitar for your musical journey.
Read more on how we test gear and service at Guitar Player.
Related buyer's guides
All the latest guitar news, interviews, lessons, reviews, deals and more, direct to your inbox!
James is a freelance writer and former Junior Deals Writer at Guitar World and MusicRadar. Before writing, James worked as a guitar salesman at a local music store, so he knows a thing or two about matching people with their perfect instruments. James also has experience working in other areas of the music trade, having briefly worked for online music distributor, RouteNote. James is a guitarist, bassist and drummer and has also toured the UK and Europe with his old band Hypophora.