Best Acoustic Guitars Under $1,000 in 2022: Our Top Picks For Great Sound And Value
By Matt McCracken published
Pro playability and superior tone are within your grasp with the best acoustic guitars under a grand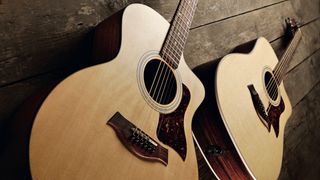 (Image credit: Future)
Whether you're looking to move up from a beginner acoustic guitar, or you're on the hunt for an instrument that will complement your existing collection, the best acoustic guitars under $1,000 represent incredible value for money. They put pro-level specs within the grasp of the vast majority of players offering solid tops, high-end tonewoods, excellent electronics, and improved hardware.
Thanks to the refined building processes brought about by technological development, all the major manufacturers are able to provide professional-level instruments that won't break the bank. So if you're looking to add a high-quality acoustic to your arsenal, then read through our guide to discover the best sub-$1,000 acoustic guitars you can buy today.
We've provided some useful buying advice at the bottom of the article if you need more guidance. If you want to check out our recommendations then keep scrolling.
Best acoustic guitars under $1,000: Guitar Player's Choice
Representing incredible value for money, playability, and delivering a huge unplugged sound, the Taylor 210ce takes the top spot for us. With a cutaway that allows you to explore the upper registers of the guitar and an incredibly fast playing neck, you'll be hard pushed to find a better-equipped acoustic at this price point.
Coming in a close second, we've gone for the Epiphone 'Inspired by Gibson' Hummingbird, a simply stunning-looking acoustic guitar that plays fantastically well. This brilliant acoustic marries all the great aspects of Gibson's most famous acoustic, whilst costing almost five times less.
Best acoustic guitars under $1,000: Product guide
The best acoustic guitar under $1,000
Specifications
Back & Sides:
Layered Rosewood
Fingerboard:
West African Crelicam Ebony
Electronics:
Taylor Expression System 2
Reasons to buy
+
Loud unplugged sound
+
Fast playing neck
Reasons to avoid
-
May be too big for some
-
No onboard tuner
Taylor Guitars continues to go from strength to strength, providing players of all budget levels with high-quality instruments. The 210ce continues that long-standing tradition with a solid Sitka Spruce top and the excellent Expression System 2 for when you need to plug in.
The cutaway body provides great upper fret access, allowing you to further explore the musical spectrum where previous non-cutaway models may have hindered the approach. The neck is a joy to play too, feeling sleek and fast in your hands from the moment you sit down with it.
Unplugged, this guitar really does kick up a fuss, but it's a balanced sound across the bass and mids, with a crispness in the high end that cuts through nicely with other instruments. It's incredibly loud, an ode to Taylor's refined construction methods and quality materials.
2. Epiphone 'Inspired by Gibson' Hummingbird
Vintage looks with the tone to match
Specifications
Type:
Square Shouldered Dreadnought
Back & Sides:
Solid Mahogany
Fingerboard:
Indian Laurel
Electronics:
Fishman Sonicore
Reasons to buy
+
Solid wood construction
+
Stunning appearance
Reasons to avoid
-
Electronics could be better
-
Vintage looks not for everyone
The Hummingbird is probably one of the most famous acoustic guitars of all time thanks to its distinctive looks and a list of players that reads like a rock and roll hall of fame. With everyone from Keith Richards to Chris Cornell wielding the original Gibson, Epiphone has now put this classic guitar firmly in the grasp of any player.
The 'Inspired by Gibson' range is designed to deliver Gibson design ethos and playability without the associated price tag. This means the Hummingbird has a completely solid wood construction, a feature normally reserved for acoustics twice the price.
Tonally it delivers a rich sound with plenty in the low range, a characteristic of dreadnought-sized guitars that'll underpin your work in the mids and highs. The neck will feel familiar to any Gibson user thanks to its 12-inch radius, and single note riffs and chord work feel supremely comfortable.
3. Martin Road Series D-10e
Designed for the gigging acoustic guitarist
Specifications
Fingerboard:
FSC Certified Richlite
Tuners:
Chrome Enclosed Gear
Electronics:
Fishman MX-T
Reasons to buy
+
Very playable neck
+
Excellent electronics
Reasons to avoid
-
Might not suit fingerpickers
-
A little plain looking
Martin Guitars' Road Series is designed for regularly gigging musicians, providing great electronics, instant playability, and hardware that will stand up to the rigors of the road. With a solid wood construction, the D10e delivers a premium tone without the price tag.
One of the best features of this guitar is the hand-rubbed Performing Artist neck, giving you a played-in feel from the off that will have you feeling immediately at home. Combined with the excellent MX-T onboard electronics, you've got a guitar that's gig-ready from day one.
The sound of this guitar is very warm, lending itself well to powerfully strummed chords and harsh pick attacks. It's a powerful tone but never feels too boomy or unbalanced in the low end, to which some dreadnoughts are susceptible.
4. Yamaha FSC TA TransAcoustic Concert Cutaway
An innovative yet affordable acoustic
Specifications
Electronics:
SYSTEM70 TransAcoustic
Reasons to buy
+
Innovative effects tech
+
Superb playability
Reasons to avoid
-
Some might find it gimmicky
-
Only a solid top
It's not often you pick up an acoustic guitar and have your mind blown by it, but that's exactly what happened when we got our hands on the Yamaha FSC TA TransAcoustic. Without plugging it in, you can have a warm wash of chorus and luscious reverb sounds thanks to its unique tech.
It works thanks to an actuator in the soundhole, which picks up string vibrations, turns them into electrical signals, then pumps them back through the guitar body using it as a form of amplification.
Innovative tech aside, this guitar also plays incredibly well with low action and no hint of any buzz across the neck. Complemented by a bright tone and plenty of warmth in the low end from the body, it makes for one incredibly exciting acoustic guitar.
5. Fender Paramount PO-220E Orchestra
A premium spec instrument for a fraction of the cost
Specifications
Back & Sides:
Solid Mahogany
Electronics:
Fender/Fishman Sonitone Plus Soundhole Pickup System
Reasons to buy
+
Balanced tonality
+
Great for fingerpickers
Reasons to avoid
-
Not the loudest unplugged
-
Basic electronics
Fender isn't particularly well known for its acoustic guitars, but that's not to say it has no heritage building them. In fact, the company's been making acoustic guitars since the '60s, with both Elvis and Johnny Cash wielding the big F on their acoustic headstocks.
The Paramount series refresh represents the top end of Fender acoustics, and the PO-220E is a brand new addition, with an all-solid Mahogany body construction. It's smaller than a dreadnought, so you get a little less volume and low end, but the Mahogany provides a lovely warm tone that is still plenty loud enough for small gigs and busking.
The neck profile tips its hat towards the better known Fender electric guitars, with a slim 'C' profile that feels great for a whole variety of playing styles. It's a matt finish on the back too, so you don't get any of that new neck stickiness, allowing you to get straight to business.
A beautiful acoustic that's great for electric players
Reasons to buy
+
Punchy sound
+
Stunning looks
Reasons to avoid
-
Only a solid top
-
Lower bass response than some
Despite its comparatively recent foray into acoustic guitar building, PRS guitars has used all of its design ingenuity to provide a high-quality acoustic guitar range that delivers without breaking the bank. The SE Angelus A40E gives you slinky playability with trademark PRS looks.
Despite being part of the SE range, this guitar still comes with all the high-end PRS appointments, giving it the look of a much more expensive instrument with the trademark bird inlays and unique headstock design.
Sonically it delivers a great midrange tone that's very neutral, suiting fingerpickers and strummers equally well. Featuring PRS' signature 'wide fat' neck shape, this guitar will feel great for those transitioning from electric to acoustic, delivering superbly fast playability. Barre chords are a breeze on this neck, and even whole step bends are possible.
An electro-acoustic that packs a powerful three-way punch
Specifications
Neck:
African Mahogany/Pau Ferro
Fingerboard:
Macassar Ebony
Electronics:
Ibanez Custom Electronics with Ibanez AP11 Magnetic, T-bar Undersaddle & Contact
Reasons to buy
+
Fantastic plugged in sound
+
High-quality tonewoods
Reasons to avoid
-
Modern looks not for all
-
Wide neck might put some off
Ibanez has always been about fast-playing guitars for technical styles, so it's no surprise to see this acoustic offering packed with cutting-edge tech, designed for players who like to slap, tap, and attack their instruments.
Its unique electronics system uses a combination of pickups, with contact pickups mounted to the underside of the bridge, a magnetic pickup just between the soundhole and fretboard end, and a T-bar under-saddle pickup. Individual controls for each pickup let you blend to your heart's content, crafting your perfect sound.
Sitting at the longer end of the acoustic guitar scale, the neck on this is wide and thin, giving a great platform for fingerstyle whilst still retaining plenty of playability for more traditional chord work.
A great value, gig-ready jumbo acoustic
Specifications
Back & Sides:
Flame Maple
Electronics:
Takamine TK-40D
Reasons to buy
+
Value for money
+
Slick playability
Reasons to avoid
-
It's huge!
-
Simplistic electronics
If you're looking to get on the gigging circuit, then you can do a lot worse than Takamine's GJ72CE electro-acoustic offering. Famed for its pickups and preamps, Takamine certainly knows a thing or two about crafting top-quality acoustics.
The GJ72CE is absolutely colossal in size but it delivers a well-balanced tone. Crisp and clear notes abound in the mid-range, with a nice and tight low end. It takes to strumming superbly and when plugged in, you can warm things up with the addition of some bass EQ.
The neck is quite a stocky 'C' shape, giving you a great playing platform with a comfortable 12-inch radius. The action is low out of the box and it feels very much electric-guitar-like with its medium frets, lending itself well to all styles of playing.
9. Breedlove Organic Artista Concert CE
Forward-thinking acoustic design with a sustainable ethos
Specifications
Top:
Torrefied European Spruce
Fingerboard:
African Ebony
Tuners:
Breedlove Gold with Black buttons
Electronics:
Breedlove Natural Sound
Reasons to buy
+
100% sustainable tonewoods
+
All solid wood construction
Reasons to avoid
-
Might not suit fingerpickers
-
EQ requires some tweaking
Breedlove has slowly and steadily been making their mark on the competitive acoustic guitar market thanks to its progressive design ideas and an emphasis on sustainability. The Organic Artista Concert CE gives you a complete solid tonewood body, that's 100% sustainable, all for under $1,000.
Featuring a torrefied Spruce top and Myrtlewood back and sides, this guitar delivers a lively and punchy unplugged tone. The torrefaction process artificially ages the top wood, resulting in a more mature sounding acoustic straight out of the box.
This guitar features a fairly narrow nut, which makes it very comfortable for chord work and arpeggios with a smooth African Ebony fretboard. Meanwhile, Breedlove's pinless bridge makes string changes a breeze, as well as helping to enhance vibrations across the guitar's top.
A classic dreadnought designed for solo work or vocal accompaniment
Specifications
Back & Sides:
Solid African Mahogany
Tuners:
Guild Vintage 18 Open Gear Tuners
Finish:
Gloss Polyurethane
Reasons to buy
+
Beautiful natural tones
+
Outstanding playability
Reasons to avoid
-
No electronics
-
Plastic bridge pins
Despite not being the biggest name on this list, the Guild D-140 has some serious lineage, with big names like Nick Drake, Tom Petty and Jeff Buckley all having used Guild acoustics for their impassioned performances.
With no electronics, the D-140 is relying solely on its natural sound to project well and it certainly meets that brief incredibly well. It's got a throaty midrange and chime-like high end, with plenty of oomph in the lows.
The neck has a 'C' profile which will feel instantly familiar to any guitar player. It's got a relatively wide nut, so will suit fingerstyle players well, but isn't so wide that you can't comfortably fret barre chords. Combine that with a premium bone nut and saddle, and you've got yourself a very capable acoustic.
Best acoustic guitars under $1,000: Buying advice
Choosing The Best Acoustic Guitar Under $1,000
When selecting the best acoustic guitar under $1,000, there are a few elements you'll want to look at before selecting your purchase. As we're entering the mid-range of the acoustic guitar world here, you'll want to make sure you're investing your money into an instrument that's right for your style of playing. With acoustic guitars, the focal point of the instrument's sound is the wood of the guitar, so you'll want to make sure you select something based on your own personal preference, and your playing style.
At this price point, some acoustics will have a laminated construction, whereby the back and sides are crafted out of multiple pieces of wood stuck together via a combination of heat and pressure. You will also start to find solid back, sides, and tops in this price range, a feature of more premium-level instruments. A solid top is put together from a single piece of wood, which stays the same from the moment it's cut at the source until the point the luthier carves it for the guitar. This delivers improvements in both resonance and sustain because it is one piece of wood moving together.
If you want to check which kind of top a guitar has, the best place to look is the edge of the soundhole. If you can see the cross-section of the grain running through, then you know you have a solid top, if you can see multiple shades of wood then you'll know it's laminated. Now there's nothing that necessarily says a laminated wood is objectively worse than solid wood – some players prefer one, some the other. If you're plugging your acoustic into a PA for live performances, then this difference is even less, as you won't be relying on the natural acoustic of the guitar for your sound. But generally speaking, solid wood will offer an improvement in tone, particularly when the guitar is unplugged.
Read more on how we test gear and service at Guitar Player.
Related buyer's guides
Matt is a freelance writer at Guitar Player, Thomann.de, Guitar World, MusicRadar and many more music and gear-related publications. Having played guitar for 20 years, it's fair to say he knows a thing or two about the humble six-string, and you'll most likely find him in the rehearsal studio, hunched over caveman-style, tweaking settings on his pedalboard. Matt currently plays in Manchester-based alt-rockers JACKALS and when he's not at his guitar, he likes to spend his time in his home studio with his two cats, collaborating on alternative hip-hop tracks with fellow creatives from the North-West of England.
Get the latest news, reviews and product advice straight to your inbox.
Thank you for signing up to The Pick. You will receive a verification email shortly.
There was a problem. Please refresh the page and try again.