Best Jazz Guitars 2023: From Traditional To Modern, And For Every Budget
We round up the best jazz guitars on the market, for both traditional and modern style players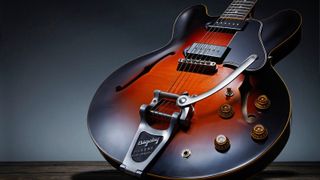 (Image credit: Future)
Jazz is a style that demands a lot of nuanced technique, control of dynamics, and an expressivity you don't often find in other styles. No two jazz guitarists are the same, and while there are plenty of different types of instruments you can use, the best jazz guitar will allow you to demonstrate your unique voice.
Just as jazz music encompasses a myriad of styles, so too does our guide, which gives you everything from vintage hollow body guitars right through to super-charged S-types. All of these guitars deliver superb clean sounds as well as perform well with light overdrive. They respond brilliantly to complex chord voicings, allowing you to dynamically deliver jazz licks and chord progressions with superb tone at the forefront.
If you're new to jazz guitar, make sure to check out our buying advice section at the end of this article. For those who just want to get started, keep scrolling to see our top picks.
Best Jazz Guitars: Guitar Player's choice
If you're looking for a straight up, pro-level jazz guitar with a few modern appointments, then the Ibanez AF2000 is hard to beat. With high-quality materials, traditional design and some impressive specs, you get the best of both old and new worlds here.
If you want to go down a more traditional route, then consider the D'Angelico Excel EXL-1, armed with a single pickup. It's an old-school hollowbody archtop that dishes out some of the most faithful jazz tones you'll hear this side of the '50s, but with a modern neck profile. Sounds like a stunning combination.
If value for money is what you seek, then have a look at the Epiphone Swingster. The fully hollow maple body allows for some serious resonance, and with extra pickup switching options available thanks to the push-pull tone pots, the Swingster is a very versatile instrument.
Best Jazz Guitars: Product guide
A pro-level traditional style jazz guitar with modern playability
Specifications
Launch price:
$2,599/£2,199
Body Construction:
Hollowbody, Spruce Top, Figured Anigre Back & Sides
Pickups:
Super 58 Humbuckers
Controls:
2 x Volume, 2 x Tone
Reasons to buy
+
Incredible hollowbody jazz tones
+
Traditional design
+
Superb build quality
Absolutely one of the best guitars for jazz out there right now. Fitted with a pair of vintage voiced Super 58 humbuckers, the Ibanez AF2000 dishes out mellow, smooth and balanced tones that are perfectly suited to jazz. Playing extended chords, you can hear each note ring out nicely, allowing you to perform with utmost expression. A volume and tone knob for each pickup allows you to craft your tone perfectly to suit the sound you need at any given time.
The build quality is superb, and you can see the attention to detail that's gone into it, especially with the tailpiece, headstock inlays and Gotoh 510 tuning pegs. The neck profile feels great in the hand and it plays like dream all over the neck. Whilst the Ibanez AF2000 boasts a fairly traditional design, it benefits from modern playability and reliability.
This is a pro-level instrument, and though it's not cheap, you're getting a whole lot of guitar for the money.
2. D'Angelico Excel EXL-1
Possibly the best traditional jazz archtop guitar out there
Specifications
Launch price:
$1,499/£1,299
Body Construction:
Hollowbody, Spruce & Maple
Pickups:
USA Seymour Duncan Johnny Smith Floating Mini Humbucker
Controls:
Master Volume, Tone
Reasons to buy
+
Traditional hollowbody archtop
+
Excellent pickup
+
Modern neck profile
Reasons to avoid
-
Not particularly versatile
This is based on John D'Angelico's original design and perfectly captures the essence of old-school New York jazz. It's fitted with a single pickup - a Seymour Duncan Johnny Smith Floating Mini Humbucker, which helps distribute the full-bodied warmth thrown out by the 17" wide and 3" deep fully hollow body.
Whilst it's not the most versatile electric guitar in the list, the D'Angelico Excel EXL-1 is perfect for jazz. The pickup is clear, defined, and balanced across the frequency spectrum. The neck profile is nice and slim, making wide stretches a speedy licks comfortable to play.
The Excel EXL-1 sits at the top of D'Angelico's arch top range and as such is beautifully crafted. The art deco touches like the scratch plate and tailpiece add to the classy, timeless look of the guitar.
An affordable hollowbody that delivers classic jazz tones
Specifications
Body Construction:
Hollowbody, Maple
Pickups:
Epiphone SwingBuckers
Controls:
2 x Volume, 2 x Tone (with push-pull series/parallel)
Reasons to buy
+
Great value for money
+
Traditional with modern tweaks
+
Nice tailpiece
Reasons to avoid
-
Non-traditional finishes
This affordable and versatile offering from Epiphone is one of the best guitars for jazz around this price point. It's got a fully hollow body and a pair of SwingBucker pickups, along with push-pull volume controls that allow for series/parallel switching. This gives you a wide tonal palette to play with, though it's difficult to get a bad jazz sound out of it.
It's got the classic hollowbody sound; it's warm, rounded and rich, with plenty of bite available in the bridge pickup should you need it. Through a clean guitar amp, the neck pickup delivers a beautiful, mellow jazz tone, and in the middle position, you can get a great, slightly percussive, slightly quacky tone that's great for lead playing. Each pickup has an individual volume and tone knob too so you can really shape your sound.
The neck features Epiphone's Slim Taper profile so will suit those that prefer a slightly thinner neck. There's also a Bigsby licensed tailpiece and wire handle for adding subtle vibrato, whilst keeping a classy aesthetic.
4. Fender American Performer Telecaster
The evolution of Fender's debut solidbody makes for a versatile jazz guitar with bite
Specifications
Launch price:
$1,349/£999
Body Construction:
Solid, Alder
Pickups:
Yosemite Tele Single-coil, DoubleTap Humbucker
Controls:
Master Volume, Tone (with push-pull coil tap)
Reasons to buy
+
Versatile
+
Good pickup combination
+
Solid build
Reasons to avoid
-
Bridge pickup not for everyone
A Tele might not seem an obvious choice for jazz - the legendary solidbody as about far away from a hollowbody as you can get. That said, a good Tele is very capable of producing some incredible jazz tones, as proven by the likes of Ed Bickert and Mike Stern. A Tele also means you can turn it up, and add some gain to your tone without having to worry about the guitar feeding back.
The Fender American Performer Telecaster Hum is a superb choice if you're looking for a versatile jazz guitar. The humbucker in the neck position gives you lots of warmth and depth, however, it's armed with a push-pull tone pot that essentially turns it into a single coil, without a drop in volume. The bridge pickup gives you some classic Tele tang which can be nice for lead work, and the two pickups combined gives a beautiful, smooth tone.
The Greasebucket tone circuit also allows you to take out some of the high frequencies that you might not want, without muddying your existing tone, or adding more bass frequencies.
One of the best all-rounders for jazz, blues, rock and more
Specifications
Launch price:
$2,999/£2,599
Body Construction:
Semi-hollow, 3-ply Maple/Poplar/Maple
Pickups:
Calibrated T-Type Humbuckers
Controls:
2 x Volume, 2 x Tone
Reasons to buy
+
Great pickups
+
Semi-hollow body helps fight feedback
+
Timeless design
Reasons to avoid
-
Not as warm as fully hollow guitars
One of the most ubiquitous guitars in blues and rock is also one of the best guitars for jazz. The semi-hollow body gives it a great resonance, but you won't be quite as prone to feedback if you're playing really loud or with gain. There's a really nice bite to the bridge pickup that's handy for cutting through a mix when playing solos - roll off a little on the tone knob and you can tame it instantly.
Gibson really are making some of the best guitars that they have ever built. There's no doubt that you're playing a premium instrument, with superb playability and clarity all over the neck. The medium C isn't a slim profile, but it's not quite as thick as some of Gibson's late 50s-style profiles.
Gibson's ES-335 body shape is one of the all-time classic guitar shapes. It's big enough to resonate really well, but it's still comfortable to play for most players out there; still one of the best jazz guitars today.
6. PRS SE Hollowbody Standard
A mid-range hollowbody featuring classic PRS craftsmanship
Specifications
Launch price:
$1,029/£899
Body Construction:
Hollowbody, Mahogany
Controls:
Master Volume, Tone
Reasons to buy
+
Vintage voiced pickups
+
Solid build quality
+
Great value for money
Reasons to avoid
-
Single volume and tone controls
This could be one of the best guitars for experienced players migrating to the world of jazz. The PRS body shape will be familiar to many already (though technically, this model is very slightly bigger than a regular PRS), and the Wide Fat neck profile provides a nice late-50s Gibson-esque feel for the fretting hand.
The combination of the all-mahogany body construction and 58/15 'S' pickups leads to a great jazz tone. The pickups are nice and clear, and are inspired by those all-hallowed PAFs meaning it can handle blues and rock too.
The body lends it some nice resonance and warmth without sounding too bright. It's fitted with a single volume and tone knob, and a three-way pickup selector - while some may find that this limits them a little, others will love the simplicity.
7. Gretsch G6120T-59 Vintage Select '59 Chet Atkins
This country classic makes for an incredible jazz guitar
Specifications
Launch price:
$3,499/£2,899
Body Construction:
Hollowbody, Maple
Pickups:
TV Jones Classic
Controls:
Neck Volume, Bridge Volume, Master Volume, 3-Way Tone Switch
Reasons to buy
+
Unique pickups
+
Clear and articulate
+
Superb playability
Reasons to avoid
-
Bold look not for everyone
While Chet Atkins is sometimes accused of being 'too country' by jazz fans, and 'too jazz' by country fans, there's no denying that his signature Gretsch models are some of the best jazz guitars out there.
The hollow body provides great resonance as well as warmth and richness. The TV Jones Classics are incredibly clear and articulate, and they've got a character to them that you don't hear in other pickups. If you want a strong picking attack for single note leads, that's no problem on the bridge pickup, but, should you want to mellow it out, the neck pickup can do so perfectly. Whilst you don't have a tone knob, you do get a three-way tone switch which can help you shape your sound how you want.
The build quality is excellent and let's not forget how classy the guitar looks too! While country and swing players love it, the Gretsch Chet Atkins 6120T-59 is also a great guitar for jazz.
8. Godin 5th Avenue CW Kingpin II
A jazzy P90-equipped hollowbody for under a grand
Specifications
Body Construction:
Hollowbody, Canadian Wild Cherry
Controls:
Master Volume, Tone
Reasons to buy
+
Great for brighter jazz tones
+
Dynamic pickups
+
Traditional look
Reasons to avoid
-
Lacks the punch of humbuckers
This Godin archtop hollow body provides a nice alternative to humbucking pickups in the form of two P90 single coils. These are great if you're playing gyspy jazz, though they're punchy enough in the low mids for more traditional jazz too. The sound will be a little thinner than with humbuckers, but that can really work sometimes.
The neck pickup with a little tone rolled back is beautiful - not too dark, but great for rhythms. The pickups are also nice and dynamic so they'll react to the fine nuances of your playing.
These guitars are built really well in Canada and they look and feel fantastic - what you get for your money is very impressive. Also, if you imagine the guitar without its bridge pickup, it's not a million miles from a Gibson ES-125, except it's a lot easier to source!
Possibly the best guitar out there for modern jazz rock and fusion
Specifications
Launch price:
$3,299/£2,999
Body Construction:
Solidbody, Basswood
Pickups:
SSH+, V60LP, SSV (HSH)
Controls:
Master Volume, Tone (Push/Pull Coil Split)
Neck Profile:
Modern Elliptical
Reasons to buy
+
Versatile pickup configuration
+
Wide range of tones
+
Incredible build quality
Reasons to avoid
-
It's not cheap
-
Not for the jazz purists
Some players want to cover as many bases as possible with one guitar. You might be playing a set that's predominantly jazz, but with some rocky or even metal parts thrown in too. The Suhr Modern Plus is the perfect tool for guitarists that need to cover the whole spectrum.
It's got a trio of pickups - a high output humbucker in the bridge, a 60s-inspired Strat-style single coil in the middle and a vintage voiced humbucker with extra clarity in the neck position. Chord inversions and lead lines ring through incredibly clear in all positions, but the neck pickup on its own does have a beautiful vintage character to it, and the bridge is perfect for cutting through a mix.
The Suhr Modern Plus is a top-spec, high performance guitar; whilst it might not be the one for traditionalists, for jazz players that need tonal options to cover fusion and more, it's perfect.
Best Jazz Guitars: Buying advice
When looking for the best jazz guitar for you, there are a few considerations to make that will help lead you to the right instrument.
Are hollowbody guitars best for jazz?
If you're a straight up, traditional jazz player, then you'll probably want an instrument that reflects that. Hollowbody guitars have been the choice of jazz players for decades, due to their tremendous low end response and warmth. You do sacrifice some sustain, which is worth bearing in mind, though that can work well for a lot of jazz music.
Hollowbody guitars can also be prone to feedback if you're playing close to a really loud amp, or you're using a fair amount of overdrive. For a lot of jazz styles, this shouldn't be a problem, but if you know that you'll be playing sections with gain, then a semi-hollow or solid body guitar should help with this.
If you're likely to be fusing jazz with bits of rock, blues, country or anything else, then you might want something a little more versatile. You'll still want that mellow warmth, but you might want a little more bite and brightness to your tone at times - guitars with a couple of different pickups on board can prove to be incredibly handy in these situations.
Is one pickup enough for a jazz guitar?
Having a selection of slightly different tones at your fingertips can be really helpful when playing jazz. If you're playing a guitar with two pickups, individual volume and tone knobs for each pickup can help you establish the perfect rhythm and lead tones. For example, dial back the volume a little on the neck for rhythm sounds, then switch to your bridge pickup at full volume, with a little of the tone rolled off for solos - there are so many options without having to look at a single pedal.
What neck profile is best for Jazz?
There are various neck profiles available throughout this selection of the best jazz guitars. Many players have a personal preference and it really boils down to what is comfortable for you. There can be some fairly intense stretching when it comes to jazz chord inversions and scales, so how the neck fits in your fretting hand is definitely worth considering.
How much should I pay for a jazz guitar?
Like with most things in life, price will also be a consideration. If you're looking for a professional level instrument that's going to stand up to a lifetime of live performances and studio sessions, then the best jazz guitars for you are probably going to be north of the $/£1,500 mark. That said, there are some great options well below that.
How we choose the best jazz guitars
You can trust Guitar Player. Our expert reviewers spend hours testing and comparing guitar products so you can choose the best for you. Find out more about how we test.
At Guitar Player, we understand the discerning taste and sophisticated requirements of jazz guitarists. With our dedication to providing insightful information for seasoned musicians, we have meticulously researched and tested a wide range of guitars to identify the best options available for jazz players.
To compile our list of top jazz guitars, we combine our expertise, meticulous research, and insightful discussions with our editorial team. We consider factors such as tonal characteristics, playability, craftsmanship, resonance, and versatility, ensuring that we showcase the finest guitars that meet the exacting standards of jazz enthusiasts.
As mature musicians ourselves, we recognize the importance of finding a guitar that captures the essence of the jazz tradition and delivers the rich, warm tones that define the genre. Whether you're a seasoned jazz artist, an experienced player exploring the realm of jazz, or a lifelong enthusiast seeking the perfect instrument, our goal is to provide reliable and informed recommendations that help you find the best jazz guitar that resonates with your unique musical voice.
Read more on how we test gear and service at Guitar Player.
Related buyer's guides
All the latest guitar news, interviews, lessons, reviews, deals and more, direct to your inbox!
After spending a decade in music retail, I'm now a freelance writer for Guitar Player, Guitar World, MusicRadar and Reverb, specializing in electric and acoustic guitars bass, and almost anything else you can make a tune with. When my head's not buried in the best of modern and vintage gear, I run a small company helping musicians with songwriting, production and performance, and I play bass in an alt-rock band.