Best Bass Amps 2023: From Heads To Combos, These Are The Greatest Amps Available For Bass Players
Dial in the perfect low-end with the best bass amps from Fender, Markbass, Trace Elliot, Darkglass and more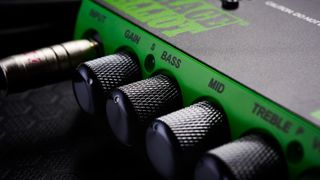 (Image credit: Future)
The thunderous world of bass amps can be a difficult one to navigate. With a band's live sound living and dying by the quality of their low-end, it's not a decision to take lightly, and this can leave bassists perplexed as to which is the best bass amp for them. Luckily, we've compiled this list of the greatest heads and combos from the most prominent names in bass.
We've been sure to include a wide spectrum of bass amps, from more affordable options for those concerned about the budget as well as high-end units that are used by industry professionals. While this list covers a lot of variety, each amplifier is more than capable of taking to the stage and becoming the backbone of your band's sound.
So join us as we explore bass monsters from the likes of Fender, Markbass, Trace Elliot, Darkglass and more, as well as dish out some expert buying advice for those looking for a little extra guidance.
Best bass amps: Our top picks
The Fender Bassman is a bass icon and truly deserving of its place in the music gear history books. The Fender Bassman 800 is a modern take on this retro throwback, offering players an insanely flexible amp that is perfectly portable and fiercely powerful.
Those looking for a practice companion as well as a giggable combo should look no further than the Boss Katana-110. Boss has retooled their popular Katana series to suit the modern bass player, and the result is simply stunning. From the ability to change the power from 110W to 1W, as well as experiment with world-class effects, this amp is a joy to play at home, in the studio and on stage.
Best bass amps: Product guide
The professional bass amp of choice
Specifications
Type:
Tube/Solid State Hybrid Head
Features:
XLR Line Output, Effects Loop, Overdrive Channel
Reasons to buy
+
Full of vintage mojo
+
Plenty of power
+
The overdrive channel is very good
Reasons to avoid
-
Too powerful for some situations
The original Fender Bassman from 1952 is a far cry from this contemporary version, but despite all the modern features crammed onboard, the Bassman 800 retains the style, feel and tone of this Fender classic.
Fender uses a hybrid design, combining a tube preamp and solid state power amp to deliver a thunderous 800W of pure Fender clarity and warmth. Better yet, you also get two channels to choose from - vintage and overdrive - making this amp even more flexible.
As this amp is designed for modern players, the Bassman features an XLR line output with a level control knob, ground lift switch, pre/post EQ switch and silent recording capability. If that wasn't enough, it can also be seen behind Green Day bassist Mike Dirnt on some of the biggest stages in the world.
2. Markbass Little Mark IV 500W
Small stature, massive sound
Specifications
Features:
Mute, Line Out Level Control, Pre-Post EQ Switch
Reasons to buy
+
Very portable
+
Dynamic tone
Reasons to avoid
-
Not as many features as others
Don't let the small stature of the aptly named Little Mark fool you. This mighty bass head will fill the biggest rooms with the most insane low-end – and all while fitting snuggly in your gig bag.
The Markbass Little Mark has been a staple of practice rooms and venues for years and the latest version is the best yet. The tone of this pint-sized head is clear, clean and very articulate – and it also gives you the option to switch between a flat or scooped EQ setting.
For us, the Mark Bass Little Mark represents everything we love about high-powered portable bass amps and is a must-try for every style of bass playing.
Best bass amp for portability hands down
Specifications
Features:
Three-band EQ, Post EQ XLR DI Output, Ground Lift
Reasons to buy
+
Excellent EQ and gain controls
+
Smooth tone
If you thought the Little Mark was small, then wait until you see what Trace Elliot has up their sleeves. The ELF is easily one of the smallest bass amps on the market, clocking in at 4" tall and 12.5" wide.
This emerald bass head is ideal for players on the move as it will comfortably fit inside the pocket of your gig bag while leaving plenty of room for cables and the odd pedal. Now, the ELF may not have as many features as some of the other amps on this list, but it does include everything you need for a stellar bass tone.
The 200-watts of power is more than enough for most situations, while the XLR out is a must-have for sending your perfect bass signal to the PA – and there's even a headphone jack for silent practice.
4. Orange Amplifiers Crush Bass 100
A feature-packed affordable option
Specifications
Features:
Active three-band EQ, Parametric Mid Control, Bi-Amp Blend, Balanced Output, Effects Loop, Headphone Out and Aux In **Weight:** 24.25kg
Reasons to buy
+
Bi-Amp Blend control is very cool
+
Built-in tuner
+
Clear and punchy sound
Reasons to avoid
-
Some players will need more power
The Orange Crush line has long been a go-to staple of guitarists looking for an affordable yet reliable solid-state amplifier – and the same is true for bass players. This 100W combo is ideal for smaller shows and practice rooms and even has a few useful features onboard.
The feature that makes the Crush Bass stand out from other bass amps in the category is the Blend and Gain controls. These are taken from the company's OB1 series of guitar amps and allow you to integrate the harmonic distortion Orange is known for with your core bass sound.
Other handy additions include a balanced output for connecting to a PA, an emulated headphone output for practice, an aux input for connecting external audio sources and an onboard tuner.
Fender brings the low-end rumble and a wallet-friendly price
Specifications
Features:
15" Eminence Speaker, Compression Horn with On/Off Switch, Overdrive Circuit, Three-Button Voicing, XLR Line Out
Reasons to buy
+
Lightweight
+
Ability to turn off and on the tweeter
+
Three different voices
Reasons to avoid
-
The overdrive could be better
This may be the second entry from Fender on this list, but the Rumble 200 takes a very different approach to bass reinforcement than that of the classic Bassman. Now, the Rumble series of amplifiers feature a full complement of models from a 15W practice combo to an 800W bass behemoth – but we've decided to opt for the Rumble 200, as we believe it offers the most bang for your buck.
The 200W of power is more than enough for most situations and the 15" Eminence speaker delivers plenty of low-end punch. What's more, you can even bring in and out the compression horn – via an on/off switch on the rear of the amp – so you can dial in the perfect amount of high frequencies to compliment your roaring bass tone.
Other features include a three-button voicing section, which allows you to choose between Bright, Contour, or Vintage mode, an XLR line out with ground lift and a foot-switchable overdrive channel.
6. Darkglass Exponent 500
The best bass amp for contemporary players
Specifications
Features:
Five Presets, MIDI Input, USB Audio Interface, Quick-Pots, Compatible with Darkglass Suite App
Reasons to buy
+
Extremely versatile
+
Lightweight
+
Powerful
Reasons to avoid
-
Too modern for some players
Darkglass is on the cutting edge of bass technology, creating some of the most revered overdrive, distortion, fuzz and compressor effects pedals on the market. Darkglass products can be seen on stage next to some of the biggest names in the industry, with everyone from Nate Mendel of the Foo Fighters to Canibal Corpes' bassman Alex Webster and many more using their pedals and amps to delight audiences around the world.
The Exponent 500 is the company's approach to an uncomplicated, uncluttered and intuitive amplifier that, once connected to the Darkglass Suite App, delivers every sound you'd ever need.
At the heart of the Exponent is a 500W amplifier that's clean and fiercely assertive. Of course, with this being a contemporary unit, you also gain access to an XLR direct out, a USB audio interface and MIDI connectivity. Better yet, the Exponent 500 comes preloaded with five adaptable factory presets and with the use of the Darkglass Suite, these can be fully customizable, making the amp even more versatile.
The best for home practice and live gigs
Specifications
Features:
10-inch Woofer, Three Selectable Voicings, Blend Control, USB, Balanced XLR Output
Reasons to buy
+
Great amp models
+
World-class effects
+
Robust
Reasons to avoid
-
You may not need the effects
Boss Katana routinely tops our list of the best guitar amps in the world, so it only makes sense that the bass model would make an appearance here. Following in the guitar version's footsteps, the Katana-110 takes what six-string players loved about that iteration and reimagines it for the modern bassist.
With three unique amp voices – Vintage, Flat and Modern – as well as extremely usable effects, this amp is adaptable, reliable and seriously simple to use. What's more, the 110-watt class AB power amp and custom 10-inch woofer mean it's more than capable of hitting the stage with you.
Now, the Katana-110 shouldn't be dismissed as purely a gigger's amp, as the ability to drop its impressive output to a single watt means it's just as comfortable at home as it is on the stage.
8. Gallien-Krueger Legacy 115
The best for clean headroom
Specifications
Features:
4-Band Active EQ, Overdrive Circuit, Trim Control, Neodymium Speaker, Cooling System
Reasons to buy
+
Neodymium Speaker
+
Plenty of headroom
+
Reliable
Reasons to avoid
-
Too big for some players
You'd be hard-pressed to find a bass player would doesn't like Gallien-Krueger amplifiers. GK has been a leading force in the bass world for over 50 years and they are just as popular now as they were back in the day.
The Legacy 115 showcases why many players opt for a solid-state bass amp. This combo delivers a blistering 800 watts of pure, clean tone with a staggering amount of headroom. Better yet, the onboard overdrive tones and compliment of tone-shaping options mean this amp is perfectly versatile and up for anything you throw at it.
So if you are looking for a straightforward, brilliant sounding bass amp that's produced by one of the most respected names in bass, then look no further than the Gallien-Krueger Legacy 115.
Best bass amps: Buying advice
How do I know which bass amp is right for me?
So when it comes to finding the best bass amp for your needs, it really comes down to application. The right bass amp for a touring rock band will be worlds apart from the right bass amp for the average bedroom warrior. So think carefully about what you really want your new bass amp to do, and use that as a starting point.
You'll want to consider things such as power, the versatility of sounds, connectivity and, of course, if you are gigging, portability. This guide has most situations covered, so you should find an amp here to suit your needs.
How much power do I need?
When it comes to power, again, it depends on what you are planning on doing with your bass amp. For home practice, 1, 15, or 20 watts is usually more than enough. That said, if you are playing small gigs or routinely attending band rehearsals, then you'll want 100W as a bare minimum.
200 - 800 watts is ideal for larger shows, but bear in mind that the more you increase the power, the more clean headroom you'll receive. So if you are seeking pristine clean tones, then you'll want to keep the wattage fairly high.
Who makes the best bass amps?
There are a few key names in the bass amp arena. Brands such as Fender, Gallien-Krueger and Orange are responsible for some of the best bass amps to ever be produced, helping to create the blueprint that modern companies such as Markbass and Darkglass have built upon, furthering the technology and bringing it into the future.
How we chose the best bass amps
You can trust Guitar Player. Our expert reviewers spend hours testing and comparing guitar products so you can choose the best for you. Find out more about how we test.
At Guitar Player, we live and breathe everything guitar related. It's our passion and we certainly hope this passion comes through in our buyer's guides. Everyone at Guitar Player is an expert in their field and we draw on this knowledge and experience when selecting the products for our guides.
When choosing what we believe to be the best bass amps available right now, we combine our hands-on experience, user reviews and testimonies and engage in lengthy discussions with our editorial colleagues to reach a consensus about the top products in any given category.
When making our lists, we pay careful consideration to everything from budget to feature set, playability and durability to come up with an accurate representation of the best bass amps available right now.
Read more on how we test gear and services at Guitar Player.
Related buyer's guides
All the latest guitar news, interviews, lessons, reviews, deals and more, direct to your inbox!
First and foremost, I'm a guitar enthusiast – a fanatic, some might say. I'm a firm believer that most of the world's problems can be solved with a Gibson SG and a catastrophically loud amp. Before writing about guitars for a living as a Senior Deals Writer on Guitar Player, I worked in music retail for 7 years, giving advice on guitars, basses, drums, pianos, and PA systems. I also have a passion for live sound; I'm a fully qualified sound engineer with experience working in various venues in Scotland.