About Guitar Player
Everything you need to know about the world's longest-running guitar magazine, including contacts, how to advertise and more.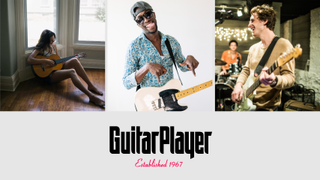 (Image credit: getty)
Guitar Player is the world's most comprehensive, trusted and insightful guitar publication for passionate guitarists and active musicians of all ages. Guitar Player magazine is published 13 times a year in print and digital formats. The magazine was established in 1967 and is the world's oldest guitar magazine.
Every style is covered, including rock, blues, metal, and jazz. Plus, get exclusive monthly features such as interviews with the best guitar players in the world.
For all the latest news, interviews, gear reviews and more, join the Guitar Player community on Facebook, Instagram and Twitter.
The Guitar Player Story
As the world's longest-running guitar magazine, Guitar Player has been giving guitarists exclusive insights to their favorite artists and music since 1967, when it was the first — and only — magazine of its kind.
Guitar Player established its reputation as an authority by featuring groundbreaking interviews with players like Jimi Hendrix, Jeff Beck, Eric Clapton, Duane Allman and other guitarists from the classic rock era. In 1978, the magazine helped usher in a new era of guitar pyrotechnics when it published the first in-depth interview with Eddie Van Halen. It would go on to help launch and further the solo career of Steve Vai, whose solo debut The Attitude Song was featured on the magazine's first flexi-disc Sound Sheet recording, which was bound into the October 1984 issue.
Today, Guitar Player continues in the tradition of its founders by providing exclusive in-depth interviews with your favorite guitar heroes, deep instructive lessons and authoritative gear reviews. Whether you want to catch up on your favorite artist's work, discover new playing techniques or read honest, in-depth reviews that help you choose your next guitar, amp, pedal or recording gear, Guitar Player delivers. And because we embrace rock, blues, fusion, jazz, metal and world music, we are the first stop for guitarists whose interests run both wide and deep.
Like our print magazine, GuitarPlayer.com carries on our magazine's tradition by bringing you not only content from our pages but also the latest breaking news, videos and music, all presented with meaningful context that makes for insightful reading. It's here that our monthly lessons come alive with audio and video content that helps you navigate new styles and techniques and become better players. Together, Guitar Player and GuitarPlayer.com deliver the most far-reaching and up-to-date articles that celebrate the players, music, lessons and gear you care about.
Guitar Player Editorial team
Guitar Player Editorial team
Christopher Scapelliti (Editor-in-Chief): chris.scapelliti@futurenet.com
Michael Astley-Brown (Digital Editor-in-Chief): michael.astley-brown@futurenet.com
Jackson Maxwell (Associate Editor): jackson.maxwell@futurenet.com
Postal Address: Guitar Player, Future, Full 7th Floor, 130 West 42nd Street, New York, NY 10036, USA
Magazine Subscriptions
Magazine Subscriptions
Renewals/Questions: help@mymagazine.co.uk
New Orders: help@magazinesdirect.com
Phone: 800-289-9839
Mail: Guitar Player Subscriptions
P.O. Box 2029, Langhorne, PA 19047
Advertising contacts
Advertising contacts
Brian Preston (Head of Industry): brian.preston@futurenet.com
Robert Dye (Account Executive): Robert.Dye@futurenet.com
Jeff Donnenwerth (Account Executive): jeff.donnenwerth@futurenet.com
Why you can trust us
Our editorial team prides itself on its impartiality and independence. Our writers have years of experience in guitar playing, gear retail, live performance, recording and music journalism to bring you hands-on reviews that you can trust.
You can trust that information you read on Guitar Player is accurate and has not been paid for. Any sponsored articles will be clearly badged as such. Supported articles are created as part of a paid partnership, but the contents of this article are entirely independent and solely reflect the editorial opinion of Guitar Player. A client may pay us to create content on a topic, but has no say in how we do that or what angle we take. Again, any examples of this will be clearly badged.
Advertisers cannot buy reviews, buyer's guides, 'best lists', or deals posts.
Affiliate & Advertising disclosure
We always aim to provide unbiased editorial created by our journalists and writers. We also need to pay our teams and website costs so we make money in a number of ways. We sometimes use affiliate links to products and services on retailer sites for which we can receive compensation if you click on those links or make purchases through them. From time to time we also publish advertorials (paid-for editorial content) and sponsored content on the site. When this is the case the content is clearly marked as sponsored or promoted, so you'll always know which content is editorial and which is not. There's more information on how our content is funded, here. Future PLC is our parent company and has an in-depth terms and conditions page with a lot more information that you can read right here.
We are regulated
Guitar Player is a member of the Independent Press Standards Organisation (which regulates the UK's magazine and newspaper industry). We abide by the Editors' Code of Practice and are committed to upholding the highest standards of journalism. If you think that we have not met those standards and want to make a complaint please contact Guitar Player Editor chris.scapelliti@futurenet.com. If we are unable to resolve your complaint, or if you would like more information about IPSO or the Editors' Code, contact IPSO on 0300 123 2220 or visit www.ipso.co.uk.
All the latest guitar news, interviews, lessons, reviews, deals and more, direct to your inbox!