Best Guitar Tuners 2023: 8 Great Clip-On, Pedal and App-based Tuning Options For All Guitarists
Sound better with this selection of tuners for guitar, bass and more from the likes of TC Electronic, Boss, Korg and D'Addario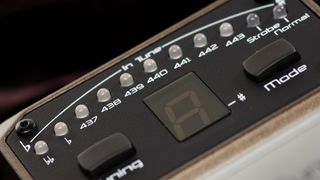 (Image credit: Future)
So, you're looking to buy a guitar tuner? We appreciate that spending your hard-earned cash on a tuner isn't the most exciting thing in the world, but it is, unfortunately, a crucial part of any developing guitarist's rig. Even though some of us have a great ear to help us tune, there's nothing more accurate than a 'proper' guitar tuner – so it's well worth investing in one if you're serious about your playing.
When we say "a 'proper' guitar tuner", we mean one which is accurate, has a few levels of adjustment, and is easy to use in a number of musical settings. In this guide, we've hand-selected eight of the best guitar tuners that are currently on the market – some of which are classics, and some which feature some cool modern tech – in the hopes that you'll be able to find something that suits your setup, as well as your wallet. We're looking at factors such as build quality, value for money, ease of use, extra features, and tuning modes to help us come to our conclusion.
Guitar tuners come in a few different forms, all of which we've done our best to include in this guide. There are pedals, clip-on tuners, and app-based tuners up for grabs from some of the biggest names in guitar tech and accessories here, so no matter what your preference, there'll be something here to satisfy your needs.
We've included some expert buying advice at the end of this guide, so if you'd like to read more about the best guitar tuners and what to know when buying one, then click the link. If you'd rather just get straight to the products, keep scrolling.
Best guitar tuners: Guitar Player's pick
Choosing an overall favorite from this list is tough, but if we had to choose one tuner which sits in the sweet spot of all of our 'best tuners' criteria, then it'd have to be the TC Electronic PolyTune 3 Mini. It's small, well-built and inexpensive, with a bright screen, a huge tuning range and many different tuning modes. Perfect, right?
If inexpensive doesn't really matter to you, then we'd have to recommend the Peterson StroboStomp HD. Granted, it's another tuner pedal – and this one costs a lot – but it'll make your time spent tuning a whole lot more enjoyable. It's packed with what Peterson describes as 'sweetened' tuning presets – some of which can make a huge difference to your sound – and with an intuitive and easy-to-read strobe tuning function, your awkward mid-set retuning won't take long.
If you're less interested in a pedal tuner, then there is still a decent selection of tuners to choose from. We'd recommend you go for a clip-on tuner in the form of the D'Addario NS Micro tuner. With a super low-profile design, a bright screen and near enough 360 degrees of swiveling room, this clip-on tuner sits neatly behind your headstock. It picks up all of the vibrations and signal you'd need to tune accurately, but without the need for a cable, amp or pedalboard setup. Especially for acoustic artists, this could be exactly what you need.
Best guitar tuners: Product guide
1. TC Electronic PolyTune 3 Mini
The best pedal tuner on the market right now
Specifications
Tuning range:
A0-C8 (27.5Hz-4186Hz)
Accuracy:
A4 = 435Hz-445Hz
Modes:
Polyphonic / Chromatic / Strobe
Reasons to buy
+
Compact
+
Very easy to use
+
Power output is convenient
If you're after a tuner pedal which is small, compact and doesn't take up too much valuable pedalboard real estate, then the TC Electronic PolyTune 3 Mini could be just what you need. Obviously, being small isn't all this PolyTune 3 Mini is good for.
One of the PolyTune's biggest selling points is its polyphonic functionality. Strum the strings, and you'll see which are ringing true and which are out – and the rest is easy. The 109 LEDs installed into the miniature display offer a crisp, bright image, and make using this tuner a pain and stress-free occasion.
The PT 3 Mini also has an 'always on' feature, which is brilliantly convenient for those that play slide or fretless guitars. If you're someone who enjoys a smooth, emotive string bend mixed into their playing, you'll also love this setting – and with both buffered and true bypass modes on offer too, you're bound to find a spot for the PolyTune 3 Mini in your signal chain.
2. Peterson StroboStomp HD
135 presets? Your tuning has never been so accurate
Specifications
Modes:
One-screen mode, 135 presets
Reasons to buy
+
'Sweetened' tunings are a great idea
+
Great accuracy
+
Presets are handy
Peterson tuner pedals are well-renowned for being some of the best in the business. They're highly famed for their accuracy, as well as a virtually bulletproof build quality – with some considering the StroboStomp HD to be 'the ultimate pedal guitar tuner', Peterson included.
With a set of features which far outweighs that of its rivals, you'll find vast swathes of different tuning modes, 'sweetened' tunings and presets which make tuning changes at shows much easier. Although 'sweetened' tunings aren't a common occurrence when it comes to other tuners, this functionality allows for micro-adjusted reference points which are optimized for a variety of stringed instruments. The ability to save presets is another great selling point of the StroboStomp HD – helping to make this tuner pedal one of our all-time favorites.
The level of tweaking which the StroboStomp HD allows is best suited to those like us who appreciate the nerdiest, most in-depth levels of tweaking, and for that we're truly grateful. The StroboStomp HD is accurate to 0.1 cents too, which is plenty accurate for even the most sensitive of ears.
3. D'Addario NS Micro Tuner
The best option for discreet tuning
Specifications
Modes:
Chromatic, metronome
Reasons to buy
+
Bright and bold
+
Invisible to the audience
+
Great for many stringed instruments
Headstock tuners rarely get smaller than the NS Micro Tuner by D'Addario. As the name suggests, it's very small – but it's a powerful little thing, nonetheless.
The NS Micro doesn't sacrifice usability for its smaller footprint. It's got a bright, easy-to-read and easily adjustable screen which will shine in even the most intrusive of stage lights. It's easy to attach to either the front or back of your headstock, and is so discreet that nobody will even know it's there. With a visual metronome onboard too, the NS Micro Tuner is a lot more than it seems.
Although a more personal reason to love the NS Micro, we also found the color separation on the LED screen to be bold and bright – and as someone with red/green colorblindness, this was a huge selling point. When green means you're in tune, and red means you're out, it's nice to know that you can rely on the visual guide as much as the aural one.
One of the most iconic pedal tuners around
Reasons to buy
+
Clear display
+
Well made
+
Drop-tuning functionality a plus
Reasons to avoid
-
Not got loads of features
Boss' TU-2 quickly became an industry standard after it's release in 1998, and its successor - the TU-3 - is carrying that torch with ease. Boss consistently makes some of the best pedals around in terms of value for money and build quality, and this one is no different.
Not only is the TU-3 well built, but now with drop tuning functionality up to six semitones and improved tuning accuracy, we'd say that it's one of the best options for anyone who wants a bombproof pedal tuner at a reasonable price. While it isn't as completely feature-packed as some of the competition, we'd argue that the most important thing for a tuner is that it helps you accurately tune your guitar - and the TU-3 fulfils that brief.
For those obsessed with the 'perfect' tone, it's worth noting that the TU-3 only offers buffered bypass. For those who want true bypass, you'll need to stretch the budget a bit further and grab a Waza Craft TU-3W.
5. Korg Pitchblack Advance
One of the easiest tuners we've ever used
Specifications
Modes:
Regular / Strobe / Half-strobe / Mirror
Reasons to buy
+
Very durable
+
Humongous battery life
+
Noise-free power sharing
The latest iteration of Korg's Pitchblack tuner - the 'Advance' - is one of its best yet. It's durable, well-made, reliable, easy to use and most importantly, pretty accurate; all of the things you'd want from a tuner pedal - but there are a few extras here which help the Advance stand out from the rest of the pack.
The Pitchblack Advance gives you the option of any of four display modes - strobe, regular, half-strobe and mirror - and with the 'calibrate' button enabling you to change the reference pitch between 436Hz and 445Hz, you'll always be in tune, no matter what tracks you're playing.
The Advance is, overall, a pretty simple pedal - but what it does, it does well. The power output is the icing on the cake, in our opinion, allowing easy connections to be made with other pedals, reducing the need for ugly wall warts and also reducing background hum and interference. It's got true bypass too, incase you needed any more convincing.
6. TC Electronic PolyTune Clip
A clip-on tuner with a big screen for those who want it all
Specifications
Modes:
Polyphonic, chromatic, strobe
Reasons to buy
+
Very readable
+
Clip is very strong
+
Looks great
Reasons to avoid
-
It's massive for a clip-on tuner
We'll make no bones about it - we're big fans of the TC Electronic PolyTune Clip. The pedal version of the PolyTune is a staple choice on just about every top ten list on the internet, so a clip-on version? Well - we're all ears.
While most clip-on tuners present a slightly looser approach to tuning accuracy, the PolyTune Clip proves that this doesn't always have to be the case. Boasting a staggering tuning accuracy of +/- 0.02 cents in strobe mode and 0.5 cents in chromatic mode, we can't help but want to buy one ourselves.
As the name suggests, it's a polyphonic tuner first and foremost - but with chromatic and strobe modes onboard as well, it's suitable for just about anybody. In one-note 'needle' mode, it'll even tune a bass guitar - as well as nearly every other string instrument.
It's not a completely perfect tuner though, if we're honest. It's big - much bigger than other clip-on tuners - and sometimes polyphonic mode can be a little buggy in loud environments. For home or solo playing, however? It's pretty spot on.
7. Snark ST-2 Super Tight
A great compact clip-on option
Specifications
Modes:
Microphone/vibration chromatic mode / metronome
Reasons to buy
+
Looks unique
+
Great vibration sensor
+
Bright and bold
Reasons to avoid
-
A bit too unique looking?
A spare clip-on tuner is, in our opinion, a must-have for every traveling guitarist. Even if it never leaves your gigbag, an inexpensive tuner cam save the day and provide you with some extra peace of mind - and this clip-on tuner - the Snark ST-2 Super Tight - is perhaps the perfect back up option.
The ST-2 Super Tight has, surprisingly, a super-tight grip which fits onto the headstock of virtually any stringed instrument. Using the vibration sensor or the microphone, it can pick up pretty much any signal you desire and help you tune quickly. While the vibration sensor can act in some pretty loud settings, the mic mode does require some peace and quiet for tuning acoustic instruments.
All in all, the ST-2 is a great all-rounder, and for the money? We can't complain at all.
The best app-based tuner option
Specifications
Modes:
Auto tune, manual, chromatic
Reasons to buy
+
Convenient
+
Great for beginners
+
Surprisingly accurate
Fender's first ever tuner app delivers an intuitive, simple and easy to use tuner into the phones and hands of guitarists all over the world. It's available for both iOS and Android, and makes it easier than ever before for newcomers to get their instruments in tune. It even covers topics such as strumming, setting up guitar amps and basic tone tips.
Using your phone's microphone, the Fender Tune app can pick up signal from any stringed instrument you play into it - although it works best for electric guitars and acoustic guitars, as well as ukuleles.
The app offers auto tune, chromatic and manual tune modes, including the ability to create custom tunings and alternate tuning options.
Best guitar tuners: Buying advice
What types of guitar tuners are there?
You can trust Guitar Player. Our expert reviewers spend hours testing and comparing guitar products so you can choose the best for you. Find out more about how we test.
Guitar tuners are split into three main types. Many companies will claim that different tuner types enable greater accuracy or easier usability, but really it all comes down to personal preference.
Chromatic tuners are probably the most common type of tuner. These tuners collect your input signal and compare it to one of the 12 notes in the chromatic scale. They'll then find the note it's closest to, and guide you up or down to match the pitch. Chromatic tuners are, by nature, limited to only those 12 notes (in a number of octaves nonetheless) but if you're working within the common 'Western' scales, this shouldn't be a problem.
Polyphonic tuners are also quite common, with their popularity rising with the likes of the TC Electronic PolyTune series. Polyphonic tuners are equipped with the capability to process multiple notes at the same time, which can make tuning much quicker. The downside to polyphonic tuning is that it's harder to show the user exactly which strings are out of tune - especially if they're mid-set or using a pedal tuner.
Strobe tuners are less popular than the other types of tuners, but what they lack in popularity, they make up for in usability. Strobe tuners can be set to custom frequencies and temperaments, making exploring new tunings much easier - and for those who play music which is outside of the common 'Western' scales, strobe tuners are almost a necessity. If you're interested in using 432Hz as your base instead of the usual 440Hz, then a strobe tuner could be just what you need. They're a bit tough to decipher at first, but once you get the hang of them, they're very useful pieces of gear.
If you've got no overriding preference after reading that, then a chromatic tuner will likely see you right. They're the most popular option for a reason, after all.
Pedal vs Clip-on vs App tuner
The arguments for and against pedal, headstock and app tuners continue to rage on, and while some people have very strong views regarding one or the other, all three styles of tuner have a place in the guitar playing world.
Pedal tuners are definitely the most popular choice when it comes down to it. They're widely regarded as the most accurate type of tuner, as they take a signal directly from your pickups and process it without any airborne interference. A pedal tuner will sit on your pedalboard at the start of your signal chain (after your guitar, of course) and will give you accurate reading after accurate reading - if you've bought a good one, that is.
Headstock tuners are another popular choice, and are famed for their simplicity, portability and versatility regarding tuning acoustic instruments. They're also perfect for someone who's never used a tuner before, as they are hands-on, without too many confusing features. Clip-on tuners are generally the cheapest type of tuner you can get your hands on, and a good one doesn't need to set you back more than $25 or $30. There are some proper high-end options available nowadays though, for the headstock tuner enthusiast among us. Especially if you don't use pedals, they're incredibly useful.
Tuning apps are something of a newcomer to this argument, although by now, they've definitely earned their place. Without sounding like too much of an old man, there's an app for everything these days - and for bedroom or rehearsal room jam sessions, a decent tuner app isn't a bad choice. It's arguably the most convenient option around, as you'll always have your phone on you too. If you're gigging, however, we'd recommend against using an app to tune up. It's not the most professional looking thing in the world.
Related buying guides
All the latest guitar news, interviews, lessons, reviews, deals and more, direct to your inbox!
James is a freelance writer and former Junior Deals Writer at Guitar World and MusicRadar. Before writing, James worked as a guitar salesman at a local music store, so he knows a thing or two about matching people with their perfect instruments. James also has experience working in other areas of the music trade, having briefly worked for online music distributor, RouteNote. James is a guitarist, bassist and drummer and has also toured the UK and Europe with his old band Hypophora.