Best Multi-Effects Pedals 2023: Do-It-All Multi-Effects Guitar Pedals For All Budgets
Expand your guitar-playing horizons with these multi-fx options from Line 6, Kemper, Neural DSP and more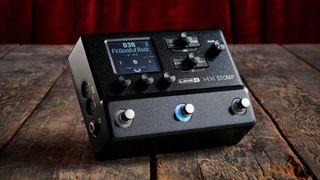 (Image credit: Future)
These days a multi-fx unit will do so much more than just add an array of stompboxes to your rig. With an emphasis on modeling, the majority of the best multi-effects pedals are able to not only augment your existing setup, but replace it entirely.
Multi-effects were traditionally seen as the bastion of the beginner guitar player, something to help you find your way before you upgraded to 'proper' stompboxes. But thanks to the massive strides in digital modeling, more and more guitarists are looking to multi-effects for home, recording, and live rigs.
Whether you want to replicate a vintage tube amp rig or you just want to supplement your existing pedalboard with some fresh new effects, we've picked out the latest and greatest multi-effects pedals available today. If you'd like to learn more about multi-fx before you buy, then make sure to check out our buying advice section, otherwise keep scrolling for our top picks.
Best multi-effects pedals: Guitar Player's choice
If you're on a budget, you can't go wrong with one of the original names in the multi-effects world, the Boss GT-1. It contains a great selection of Boss effects, which are well-known in the guitar world for their fantastic quality – pretty much every player has at least one on their 'board.
For a mid-priced option, we've got another of the early innovators of digital effects in the Line 6 Helix HX Stomp. We've seen loads of guitarists replacing their modulation and time based-effects such as reverb and delay with one of these. Compact enough to fit on an existing pedalboard or to replace your rig entirely, it's a brilliant bit of kit for any guitar player.
If money's no object and only the best will do, we'd have to go for the Neural DSP Quad Cortex. Guitarists are rightly raving about the impressive amp sounds contained within this floor modeler, and the flexibility of this advanced bit of kit is simply astounding. Run a whole rig, or even two side by side with 'algorithmically' perfect recreations of timeless amp and cabinet sounds, as well as a full suite of luscious sounding effects.
Best multi-effects pedals: Product guide
1. Neural DSP Quad Cortex
The best multi-effects overall
Specifications
Type:
Amp modeler/multi-effects pedal
Connections:
2x XLR combo inputs, 2x FX loops, 2x mono ¼" outputs, 2x XLR outputs, headphone output, MIDI In/out/thru, 2x exp inputs, USB output
Reasons to buy
+
Insane amount of sounds
+
More powerful than anything else around
+
Capable of more than just clean and gain
Well, if you've been keeping your eyes and ears open it's likely you've heard of Neural DSP, or at least heard about what they've been up to. They started life as a company producing incredible guitar amp plugins for many of the guitar world's most exciting new talents, and now they've delved into hardware with the impressive Quad Cortex.
You won't be solely using the QC as a multi-effects unit, but with 70+ effects to make the most of, it'd be remiss of us to gloss over them. Over 50 onboard amp models (with over 1,000 more amp algorithms sat in the Sound Library) and over 1,000 impulse responses make up the basis of your tone, and access to so many different effects makes the Quad Cortex a seriously versatile and creativity-inducing piece of gear. We believe it's by far the best option on the market, if money isn't a worry for you.
It is a bit pricey, but the physical and aural quality that you get in return is pretty stunning. We think it's probably the closest you'll get to tube amp tone and attitude without throwing a tube stage in there somewhere - and that's a very large tick in the box for us.
The best if you want your whole rig in your pocket (if you've got big pockets)
Specifications
Type:
Amp modeler/multi-effects pedal
Amp models:
41 guitar, 7 bass
Connections:
2x input, 2x output, 2x send/return, USB, MIDI in, MIDI out/through, headphones, TRS expression in
Reasons to buy
+
It's a pedalboard-friendly Helix
+
Over 300 effects is mad
+
Could happily be a rig replacement
The HX Stomp is a compact solution for those who're either looking for a rig-in-a-box setup for a great price, or have had their eyes set on the full-fat Helix and want something smaller and simpler to try out.
On the face of it, it's a simple, small unit - but don't let the diminutive size fool you. The capability of the HX Stomp is pretty mind-blowing. With over 300 effects onboard, including legacy Line 6 patches, Helix and M Series effects, we can't fathom a situation where you won't be able to find the sound you're looking for. It's got all the same amp models as the full size Helix too.
We found that its small size does make it a little bit fiddly to program, but Line 6's HX Edit software gives you a pretty straightforward editing platform if you've got the time to plug in your HX Stomp. Honestly, we aren't fussed that it's a bit fiddly when the pros vastly outweigh the cons.
3. Boss GT-1 Multi-FX pedal
The best entry-level option from Boss
Specifications
Amp models:
COSM Amp tones
Connections:
1x ¼" (instrument), 1x 1/8" (aux in), 2x ¼" (main out) 1x ¼" (headphones), 1x Type B USB
Reasons to buy
+
Simple and easy to operate
+
32 second looper is good fun
+
COSM tones are very impressive
Reasons to avoid
-
Perhaps a little too simplistic
Boss is one of the kings of multi-effects pedals, with their products gaining a reputation for being solid, durable, high-spec and producing some great tones. The GT-1, although aimed at beginners and those who don't have so much pedal experience, doesn't disappoint.
The GT-1 contains 108 different effect types, 99 presets and 99 user patches, as well as a 32 second looper - making this multi-effects unit a versatile and useful learning tool. The looper is also ideal for those who want to practice their timing and internal metronome - especially beginner players.
It can be powered by four AA batteries for up to 7 hours, or you can use a 9V DC power supply to ensure your tone never goes down. We found the in-built USB port to be great for downloading more sounds or using the online editor, or as an audio interface when recording. Granted it's a bit more simple than we would have liked, but for the money, we can't complain.
The best for value for money
Specifications
Type:
Amp modeler/multi-effects pedal
Connections:
Aux in, ¼" input/output, XLR out, Type B USB, MIDI in/out, phones, Send/Return fx loop, EXP2
Reasons to buy
+
The price is sensible
+
It offers a lot of effects
+
Looks very neat
Reasons to avoid
-
Mooer aren't a big brand, so this one might depreciate in value quickly
Mooer is a fairly recent entrant into the world of multi-effects, but they've definitely made an impact at many different price points. The GE300 is their best in terms of value for money, and even though they're not one of the 'big' brands, they're definitely worth a look.
The Mooer GE300's 164 onboard effects are the first of many impressive appointments, putting many extensive pedalboards and other multi-effects systems to shame. Combine these effects with 108 preamps, and you've got all the components of a brilliant amp modeler - and with Mooer's Tone Capture software, you can even model your own amps.
If that isn't quite enough for you, the GE300 also contains 43 speaker cab models, a 30 (yes, 30) minute loop station, and a ridiculously cool synth engine that turns any guitar into a synth without the need for trailing MIDI cables or installing special pickups. A programmable FX loop with optional signal chain routing is one of many extra features that makes the GE300 a killer choice for anyone looking to keep costs down. Yes, Mooer is still a bit unknown in some circles and the potentially low second hand value may leave you shook, but why are you selling it?
The best for gigging
Specifications
Type:
Amp modeler/multi-effects pedal
Connections:
XLR in, ¼" guitar in, ¼" aux in, 4x ¼" ext control, 4x ¼" return, S/PDIF in, RJ46 Variax in, 2x ¼" expression out, ¼" voltage control out, ¼" amp switching out, 2x XLR out, 2x ¼" guitar out, ¼" headphone out, MIDI in/out/thru, Type B USB
Reasons to buy
+
Strong, solid and dependable
+
Great tones on board
+
Who doesn't like an integrated expression pedal?
Reasons to avoid
-
Not as straightforward as some
The Line 6 Helix is something of a stalwart when it comes to these buyer's guides - and for no other reason than the fact it's absolutely killer. Line 6 spent years crafting each amp, effect, cab and mic model to go into the Helix, and it shows.
With an exceptionally realistic dynamic response, the Helix does what most amp modelers claim to do, but on a level which is likely to blow you away. The folks at Line 6 literally dismantled the amps and effects they wanted to use, to understand each individual component and the effect it has on your signal chain. No wonder it recreates so many different amp tones so impressively well.
In our tests we found the Helix's processing power to be hugely impressive, with the ability to run 4 amps and 32 pedals at the same time, all without breaking a sweat. Talk about live stereo capabilities! The integrated expression pedal extends the levels of versatility even further, and even though the Helix requires some tone tweaking, it's capable of a hell of a lot.
The best for endless options in a portable footprint
Specifications
Type:
Amp profiler/multi-effects pedal
Effects:
Infinite clean/drive voice capability and 125 banks of 5 patches
Amp models:
As many as you like
Connections:
¼" guitar input, 2x ¼" send, 4x ¼" return, 2x XLR output, 2x ¼" output, 2x ¼" monitor out, headphones out, S/PDIF in/out, 4x ¼" pedal input, MIDI in/out, 2x USB out
Reasons to buy
+
UI is very 'amp-like'
+
Small and compact
+
Some profiles are available for free
Reasons to avoid
-
Not one for the amp tweakers
Kemper has taken the convenience and powerful tonal capabilities of their profiling amplifier range to another level with their Profiler Stage - a powerful, pedalboard-friendly version of their popular head and rack models.
If you've experience with Kemper, you'll notice that the Profiler Stage is housed in a very similar looking control system to the Kemper Remote. Luckily for you, this format is incredibly strong and durable and thankfully, very straightforward to use.
Now, Kemper's main selling point is that it actually isn't an amp modeler at all - it's a Profiler. Kemper states that a profile captures the 'sonic DNA' of an amp, and we'd have to agree. The Kemper understands and recreates the personality of an amplifier, rather than just replicating a specific tone. It comes with hundreds of sophisticated and addictive amp profiles already onboard, with thousands more waiting for you in the Rig Manager - you'll never run out of options.
As far as setup goes, like any complex piece of gear we found it takes a little while to get the hang of, but once you learn it, you're away. Programming footswitches, effects and performances are all straightforward tasks, meaning you can get on with playing instead of having to tweak your settings - and let's be honest, you won't stop playing.
The best option from the kings of multi-effects
Specifications
Type:
Amp modeler/multi-effects pedal
Amp models:
20 AIRD preamps
Connections:
¼" input, 2x ¼" output, 2x ¼" send, 2x ¼" return, 2x XLR output, ¼" headphone out, Type B USB out, MIDI in/out
Reasons to buy
+
Great sounding amp models
+
Loads of effects
+
Built like a tank
Boss' GT series of multi-effects is apparently as old as time itself, but the GT-1000 seems like it came from the future. The 1000 is portable, powerful and monstrously durable, and is a dependable Boss option for anyone who wants a solid, high quality guitar tone.
The GT-1000's multi-effects capabilities are genuinely huge, with over 145 different types of effects to choose from. Boss' recent and most impressive pedals have been the 500 series, so it's only natural that you've got access to all of them within the GT-1000. For most, that would be all you need - higher than studio quality delay, modulation and reverb - but Boss isn't finished there. With AIRD technology simulating not only the complexities of modern and vintage tube amps, but also the attitude of the air around the cabinet, you can expect some truly high fidelity tones.
Boss has created a new DSP engine which means that the sample rate of 96kHz delivers better-than-studio degrees of tonal quality, and Boss' own multi-dimensional programming responds to how you play, rather than what you play, making the GT-1000 an ideal choice for gigging or bedroom guitarists.
8. TC Electronic Plethora X5
A TC showcase that'll still leave room on your board for more
Specifications
Type:
Multi-effects pedal
Effects:
up to 127 boards of 5 TonePrint pedals
Connections:
2x ¼" input, 2x ¼" output, ¼" fx loop, ¼" expression in, Midi in/thru
Reasons to buy
+
Really easy to use
+
TC effects always sound great
+
Screens are very readable
Reasons to avoid
-
Limited only to TonePrint pedals
The TC Electronic Plethora X5 is a late entry into this battle of the multi-effects, but for the price it could be one of the best of the bunch.
Most of us are fans of TC Electronic's great sounding effects, and as the Plethora X5 makes the most of TC's entire range of TonePrint pedals, you'll honestly struggle to find a bad sound in this unit. The Plethora X5 comes pre-loaded with various different boards - consisting of effects such as the Hall of Fame reverb, Flashback delay, Viscous vibe among many others - so you can either make the most of what's already in the Plethora, or you can create your own boards to really sculpt your tones to suit you.
Despite the Plethora's pedal-choice limitations, what it can do is still pretty remarkable when you take into account that it costs less than a Mexican Strat. Taking advantage of TC Electronic's TonePrint technology, the level of tweakability is impressive. It may not house hundreds of different drive pedals or have mental MIDI capability, but if all you want is multiple effects from your multi-effects pedal, then you may have stumbled upon a winner.
9. Line 6 Helix HX Effects
The best for multi-effects in its purest form
Specifications
Connections:
2x ¼" jack out, 2x ¼" fx loops, stereo ¼" input/output, MIDI in/out/thru, USB out
Reasons to buy
+
Pedals are spaciously laid out
+
A Helix without the amps
+
Easy to use
The Line 6 Helix HX Effects unit takes the killer array of effects from the Helix amp modeler and strips away the added extras, allowing you to make the most of enveloping reverbs, mind-bending stereo delays and more, without any added extras getting in the way.
Line 6 designed the HX Effects to become part of a pre-existing pedalboard setup, but we found it to be wholly capable of standing alone alongside a clean amp. With complete focus on effects processing, the HX Effects uses the impressive audio engine from the full-fat Helix - meaning the vast array of over 100 onboard effect models can take centre stage and bring your playing and your tones to the next level. Capable of producing great distortion, modulation and pitch/synth tones in the blink of an eye, there's not much to complain about here.
A streamlined, slick look accompanies the HX Effects' capabilities nicely, with a 'less is more' approach proving to be a welcome escape from the usually hectic world of multi-effects. The small "scribble strips" above each footswitch are frustratingly small, but still readable with some focus. As an easy-to-use option, or a first foray into the world of multi-effects, you'd be hard pressed to find something wrong here.
10. Zoom G5N Multi-Effects Processor
The best for replacing your entire backline on a budget
Specifications
Type:
Amp modeler/multi-effects
Amp models:
26 **Connections:** 1x ¼" instrument input, 1x ⅛" aux in, 1x ¼" Headphone output, 2x ¼" stereo outputs, 1x USB out
Reasons to buy
+
Amazing value for money
+
Regular firmware updates
+
Excellent tonal variety
Reasons to avoid
-
Requires a lot of tweaking
The Zoom G5N packs an incredible 100 effects and 26 amp models at a price that in some instances will get you just a single boutique stompbox. Despite the low cost, the G5N sounds absolutely phenomenal and has lots of options for shaping your sound.
All of the great amplifier models are accurately emulated here, including classics like the Marshall JCM800, Fender Twin Reverb, and Mesa Boogie Mk3 all sure to find pride of place on your own backline. The modulation effects are fantastic too, particularly the tremolo and reverb, but you'll get plenty of mileage out of the various overdrives and distortion effects available.
Connect to the Zoom Guitar Lab software and you can load a whole host of presets, including custom patches made by Kiko Loureiro of Megadeth and Jeff Schroeder of Smashing Pumpkins. Combine that with some great connectivity options and you've got a powerful piece of gear at an incredible price point.
Best multi-effects pedals: Buying advice
Choosing the best multi-effects pedal can be as long-winded as a King Gizzard-style jam session. To remedy that, we've put together some buying advice that lets you get down to brass tacks and select the most important aspects you'll need to know when making a choice about your new multi-effects pedal.
What should I look for in a multi-effects unit?
If you're just getting started on your guitar-playing journey, then a multi-effects pedal is your best entry point into exploring this wide world of sound. With such a vast array of sounds at your fingertips, they can really help you hone in on the sounds you love and many multi-effects pedals come with presets that emulate the sounds of famous guitar players to get you started.
For players who've already got a good grasp on the sounds they like, a multi-effects pedal can help condense a large rig down for easier gigging, augmenting your already painstakingly created pedalboard. Mixing with regular stompboxes is a great way to create a hybrid pedalboard, giving you the best in digital and analog effects.
It's not just your old stompboxes that can be replaced with your multi-effects pedal either. The majority of multi-effects pedals will also feature some kind of amplifier and cabinet simulation. This means you can forego your amp entirely, taking your entire rig in the pocket of your gig bag to your next show!
We can hear the tone purists hissing in the back, but for those world-weary guitar players who've been lugging their heavy tube amps across the country for years, the idea of downsizing your entire rig into one unit is certainly a tempting one.
Are multi-effects better than individual pedals?
For what seems like forever, guitarists have been arguing over whether multi-effects pedals are better or worse than their individual brethren. Honestly? The jury's still out. There are convincing arguments for each camp, but there are some factors you should definitely consider before buying one of the best multi-effects pedals.
For one, with a multi-effects all of your pedals and other effects are in one place and one unit, making gigging a lot easier. Sure, you can get a pedalboard and piece together a killer 'board full of brilliant effects, but it won't be anywhere near as convenient as being able to recreate basically any rig and collection of effects, with one unit. The tone you can create with one Helix or Kemper will likely sound much cleaner and more precise too, with less potential for background noise and hum.
One big plus-side for multi-effects and amp modeling is that you can just go straight out to the PA system when gigging, removing the need for a speaker cab on-stage, and saving you a considerable amount of backache. As long as your sound guy doesn't hate you, you should have no problems getting the exact tone you want out into the room, for all to enjoy.
Should I get a floor modeler?
You might have heard the term 'floor-modeler' being bandied around before, and this is because they're all the rage right now amongst guitarists. A floor modeler is a very advanced multi-effects pedal, and as well as imitating your amps and effects, they boast a lot of features and options for routing, meaning you can rock up to your next show with your whole rig in your bag.
This may sound great, but a lot of floor modelers can result in option paralysis for less experienced players, whereby you'll spend more time menu diving and tone tweaking than actually playing. So whilst advanced floor modelers are really quite good, we'd recommend holding back for something simpler if you're just getting into guitar playing and experimenting with sounds.
If you're looking at replacing your entire rig and you're a regularly gigging player, you'll need to think about monitoring. Relying on those thirty-year-old floor wedges at your local venue to translate your scrupulous guitar tone will not end well, trust us on that one. So if you want to take this route, we'd recommend looking at an FRFR speaker to give you a perfect mix on stage or in the rehearsal room.
What connectivity do I need?
It's a good tip to check out what kind of connectivity your multi-effects pedal has. If you're integrating it into a hybrid pedalboard and amp setup, for example, an FX loop will come in seriously handy, as will a preamp input for certain rigs.
If you like to record, a direct or USB out will allow you to go straight into your DAW or audio interface. This means you can use your custom guitar tones for recording demos or even fully-fledged songs. This connection can also double as a method to load in custom presets, or give you more options for sculpting your own that may be beyond the limitations of the small displays on the unit itself.
If you're uncertain of the connections your potential multi-effects pedal has, then it's wise to look at the full specs list on the manufacturer's website. Failing that, you could just find some pictures of the unit online and check those out to see if it has what you need.
At Guitar Player, our team of seasoned musicians recognizes the transformative power of multi-effects pedals in shaping a guitarist's sonic palette. We've extensively explored the realm of multi-effects pedals, rigorously testing various models in real-world scenarios to provide you with practical and dependable reviews and recommendations.
Our curated selection of the best multi-effects pedals embodies exceptional versatility, intuitive interfaces, and outstanding performance. We meticulously assess factors such as effects quality, ease of use, build durability, and overall sonic capabilities to ensure that these pedals stand as prime examples of multi-effects excellence.
With the expertise of Guitar Player as your trusted guide, you can be assured our recommended multi-effects pedals are all meticulously evaluated by actual musicians. Whether you're a stage performer, studio enthusiast, or home player, we're sure you'll find the perfect multi-effects pedal to elevate your playing and inspire your musical evolution.
Read more on how we test gear and service at Guitar Player.
Related buying guides
You can trust Guitar Player. Our expert reviewers spend hours testing and comparing guitar products so you can choose the best for you. Find out more about how we test.
All the latest guitar news, interviews, lessons, reviews, deals and more, direct to your inbox!
James is a freelance writer and former Junior Deals Writer at Guitar World and MusicRadar. Before writing, James worked as a guitar salesman at a local music store, so he knows a thing or two about matching people with their perfect instruments. James also has experience working in other areas of the music trade, having briefly worked for online music distributor, RouteNote. James is a guitarist, bassist and drummer and has also toured the UK and Europe with his old band Hypophora.