Best Multi-Effects Pedals 2022: 10 Do-It-All Multi-Effects Guitar Pedals For All Budgets
Expand your guitar playing horizons with these multi-fx options from Line 6, Kemper, Neural DSP and more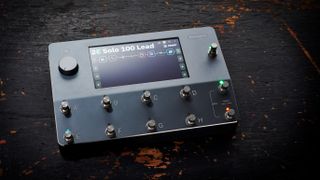 (Image credit: Future)
Getting your hands on one of the best multi-effects pedals is an awesome feeling. It opens up a world of opportunity for you and your playing, and allows you to access and emulate countless effects that may otherwise cost a bomb when purchased individually.
Not only are multi-effects great for consolidating and streamlining a massive pedalboard, but most also have amp modeling capabilities, meaning that your whole rig - made up of multiple guitar amps and potentially hundreds of different effects - fits neatly into a backpack or gig bag.
Now, ask more seasoned guitarists and they'll most likely confirm that multi-effects from days gone by were not worth the plastic boxes they were crammed into - and yeah, we can't really argue that - but fortunately for us, amp and effect modeling is, right now, the most accurate and impressive it has ever been, thanks to ever-improving technology. If you're nerdy for tone, and love versatility, then the best multi-effects pedals in this guide will certainly wet your whistle.
We've included some in-depth buying advice at the end of this guide, so if you'd like to dive deeper, click the 'buying advice' tab above. If you'd rather get straight into our gear choices, keep scrolling.
Looking for a great deal? Check out our Black Friday guitar deals page for all the latest news and the biggest offers.
Best multi-effects pedals: Guitar Player's choice
To be honest, it's been surprisingly difficult choosing our few favorites from this list of killer multi-effects pedals. They're all great in their own right, whether they're offering loads of options in a compact footprint, or super high fidelity amp recreations - but these ones are the best of the best, in our opinion.
Our budget option is the Boss GT-1 (opens in new tab), and it doesn't really get more budget than that. It sits pretty at just over $200/£150, but you do get a whole lot of features for that price. A 32-second looper, 108 different effect types - and can even be powered with AA batteries. Perfect for beginners who want something versatile to help them hone their craft.
Our mid-priced option would be the Line 6 Helix HX Stomp (opens in new tab). For what is essentially an entire rig inside a medium-sized pedal, we have no real complaints. Its impressive capabilities massively outweigh its cons - and let's be honest, you'll probably be too busy thumbing through over 300 effects, amps and cabs to worry about them.
For those lucky ones where money is of little to no object, we'd absolutely recommend the Neural DSP Quad Cortex (opens in new tab). In a nutshell, think of the most sophisticated, impressive sounding amp modeler on the market and this is it. It's a state-of-the-art, rig-in-a-box setup, made by a company whose tagline reads 'algorithmically perfect', and to be fair to them, we've got to agree. The integrated 'superior modeling technology' delivers uncompromising tone, and with 70+ effects to choose from, the QC is a bit like being in a dream.
Best multi-effects pedals: Product guide
1. Neural DSP Quad Cortex
The one to rule them all
Specifications
Type:
Amp modeler/multi-effects pedal
Connections:
2x XLR combo inputs, 2x FX loops, 2x mono ¼" outputs, 2x XLR outputs, headphone output, MIDI In/out/thru, 2x exp inputs, USB output
Reasons to buy
+
Just look at it…
+
More powerful than anything else around
+
Capable of more than just clean and gain
Well, if you've been keeping your eyes and ears open it's likely you've heard of Neural DSP, or at least heard about what they've been up to. They started life as a company producing incredible guitar amp plugins for many of the guitar world's most exciting new talents, and now they've delved into hardware with the impressive Quad Cortex.
You won't be solely using the QC as a multi-effects unit, but with 70+ effects to make the most of, it'd be remiss to gloss over them. Over 50 onboard amp models (with over 1,000 more amp algorithms sat in the Sound Library) and over 1,000 impulse responses make up the basis of your tone, and access to so many different effects makes the Quad Cortex a seriously versatile and creativity-inducing piece of gear. It's by far the best option on the market, if money isn't a worry for you.
It is a bit pricey, but the physical and aural quality that you get in return is pretty stunning. It's probably the closest you'll get to tube amp tone and attitude without throwing a tube stage in there somewhere - and that's a very large tick in the box for us.
Your whole rig in your pocket (if you've got big pockets)
Specifications
Type:
Amp modeler/multi-effects pedal
Amp models:
41 guitar, 7 bass
Connections:
2x input, 2x output, 2x send/return, USB, MIDI in, MIDI out/through, headphones, TRS expression in
Reasons to buy
+
It's a pedalboard-friendly Helix
+
Over 300 effects is mad
+
Could happily be a rig replacement
The HX Stomp is a compact solution for those who're either looking for a rig-in-a-box setup for a great price, or have had their eyes set on the full-fat Helix and want something smaller and simpler to try out.
On the face of it, it's a simple, small unit - but don't let the diminutive size fool you. The capability of the HX Stomp is pretty mind-blowing. With over 300 effects onboard, including legacy Line 6 patches, Helix and M Series effects, we can't fathom a situation where you won't be able to find the sound you're looking for. It's got all the same amp models as the full size Helix too.
Its small size does make it a little bit fiddly to program, but Line 6's HX Edit software gives you a pretty straightforward editing platform if you've got the time to plug in your HX Stomp. Honestly, we aren't fussed that it's a bit fiddly when the pros vastly outweigh the cons.
3. Boss GT-1 Multi-FX pedal
A great entry-level option from Boss
Specifications
Amp models:
COSM Amp tones
Connections:
1x ¼" (instrument), 1x 1/8" (aux in), 2x ¼" (main out) 1x ¼" (headphones), 1x Type B USB
Reasons to buy
+
Simple and easy to operate
+
32 second looper is good fun
+
COSM tones are very impressive
Reasons to avoid
-
Perhaps a little too simplistic
Boss is one of the kings of multi-effects pedals, with their products gaining a reputation for being solid, durable, high-spec and producing some great tones. The GT-1, although aimed at beginners and those who don't have so much pedal experience, doesn't disappoint.
The GT-1 contains 108 different effect types, 99 presets and 99 user patches, as well as a 32 second looper - making this multi-effects unit a versatile and useful learning tool. The looper is also ideal for those who want to practice their timing and internal metronome - especially beginner players.
It can be powered by four AA batteries for up to 7 hours, or you can use a 9V DC power supply to ensure your tone never goes down. The in-built USB port is great for downloading more sounds or using the online editor, or as an audio interface when recording. Granted it's a bit more simple than we would have liked, but for the money, we can't complain.
A surprise contender for the title of best multi-effects?
Specifications
Type:
Amp modeler/multi-effects pedal
Connections:
Aux in, ¼" input/output, XLR out, Type B USB, MIDI in/out, phones, Send/Return fx loop, EXP2
Reasons to buy
+
The price is sensible
+
It offers a lot of effects
+
Looks very neat
Reasons to avoid
-
Mooer aren't a big brand, so this one might depreciate in value quickly
Mooer is a fairly recent entrant into the world of multi-effects, but they've definitely made an impact at many different price points. The GE300 is their best in terms of value for money, and even though they're not one of the 'big' brands, they're definitely worth a look.
The Mooer GE300's 164 onboard effects are the first of many impressive appointments, putting many extensive pedalboards and other multi-effects systems to shame. Combine these effects with 108 preamps, and you've got all the components of a brilliant amp modeler - and with Mooer's Tone Capture software, you can even model your own amps.
If that isn't quite enough for you, the GE300 also contains 43 speaker cab models, a 30 (yes, 30) minute loop station, and a ridiculously cool synth engine that turns any guitar into a synth without the need for trailing MIDI cables or installing special pickups. A programmable FX loop with optional signal chain routing is one of many extra features that makes the GE300 a killer choice for anyone looking to keep costs down. Yes, Mooer is still a bit unknown in some circles and the potentially low second hand value may leave you shook, but why are you selling it?
A great gig-friendly setup that is tried and tested
Specifications
Type:
Amp modeler/multi-effects pedal
Connections:
XLR in, ¼" guitar in, ¼" aux in, 4x ¼" ext control, 4x ¼" return, S/PDIF in, RJ46 Variax in, 2x ¼" expression out, ¼" voltage control out, ¼" amp switching out, 2x XLR out, 2x ¼" guitar out, ¼" headphone out, MIDI in/out/thru, Type B USB
Reasons to buy
+
Strong, solid and dependable
+
Great tones on board
+
Who doesn't like an integrated expression pedal?
Reasons to avoid
-
Not as straightforward as some
The Line 6 Helix is something of a stalwart when it comes to these buyer's guides - and for no other reason than the fact it's absolutely killer. Line 6 spent years crafting each amp, effect, cab and mic model to go into the Helix, and it shows.
With an exceptionally realistic dynamic response, the Helix does what most amp modelers claim to do, but on a level which is likely to blow you away. The folks at Line 6 literally dismantled the amps and effects they wanted to use, to understand each individual component and the effect it has on your signal chain. No wonder it recreates so many different amp tones so impressively well.
The Helix's processing power is also impressive, with the ability to run 4 amps and 32 pedals at the same time, all without breaking a sweat. Talk about live stereo capabilities! The integrated expression pedal extends the levels of versatility even further, and even though the Helix requires some tone tweaking, it's capable of a hell of a lot.
Nearly endless options with a portable footprint
Specifications
Type:
Amp profiler/multi-effects pedal
Effects:
Infinite clean/drive voice capability and 125 banks of 5 patches
Amp models:
As many as you like
Connections:
¼" guitar input, 2x ¼" send, 4x ¼" return, 2x XLR output, 2x ¼" output, 2x ¼" monitor out, headphones out, S/PDIF in/out, 4x ¼" pedal input, MIDI in/out, 2x USB out
Reasons to buy
+
UI is very 'amp-like'
+
Small and compact
+
Some profiles are available for free
Reasons to avoid
-
Not one for the amp tweakers
Kemper has taken the convenience and powerful tonal capabilities of their profiling amplifier range to another level with their Profiler Stage - a powerful, pedalboard-friendly version of their popular head and rack models.
If you've experience with Kemper, you'll notice that the Profiler Stage is housed in a very similar looking control system to the Kemper Remote. Luckily for you, this format is incredibly strong and durable and thankfully, very straightforward to use. Now, Kemper's main selling point is that it actually isn't an amp modeler at all - it's a Profiler. Kemper states that a profile captures the 'sonic DNA' of an amp, and we'd have to agree. The Kemper understands and recreates the personality of an amplifier, rather than just replicating a specific tone. It comes with hundreds of sophisticated and addictive amp profiles already onboard, with thousands more waiting for you in the Rig Manager - you'll never run out of options.
As far as setup goes, like any complex piece of gear it takes a little while to get the hang of, but once you learn it, you're away. Programming footswitches, effects and performances are all straightforward tasks, meaning you can get on with playing instead of having to tweak your settings - and let's be honest, you won't stop playing.
The highly capable flagship offering from the kings of multi-effects
Specifications
Type:
Amp modeler/multi-effects pedal
Amp models:
20 AIRD preamps
Connections:
¼" input, 2x ¼" output, 2x ¼" send, 2x ¼" return, 2x XLR output, ¼" headphone out, Type B USB out, MIDI in/out
Reasons to buy
+
Great sounding amp models
+
Loads of effects
+
Built like a tank
Boss' GT series of multi-effects is apparently as old as time itself, but the GT-1000 seems like it came from the future. The 1000 is portable, powerful and monstrously durable, and is a dependable Boss option for anyone who wants a solid, high quality guitar tone.
The GT-1000's multi-effects capabilities are genuinely huge, with over 145 different types of effects to choose from. Boss' recent and most impressive pedals have been the 500 series, so it's only natural that you've got access to all of them within the GT-1000. For most, that would be all you need - higher than studio quality delay, modulation and reverb - but Boss isn't finished there. With AIRD technology simulating not only the complexities of modern and vintage tube amps, but also the attitude of the air around the cabinet, you can expect some truly high fidelity tones.
Boss has created a new DSP engine which means that the sample rate of 96kHz delivers better-than-studio degrees of tonal quality, and Boss' own multi-dimensional programming responds to how you play, rather than what you play, making the GT-1000 an ideal choice for gigging or bedroom guitarists.
8. TC Electronic Plethora X5
A TC showcase that'll still leave room on your board for more
Specifications
Type:
Multi-effects pedal
Effects:
up to 127 boards of 5 TonePrint pedals
Connections:
2x ¼" input, 2x ¼" output, ¼" fx loop, ¼" expression in, Midi in/thru
Reasons to buy
+
Really easy to use
+
TC effects always sound great
+
Screens are very readable
Reasons to avoid
-
Limited only to TonePrint pedals
The TC Electronic Plethora X5 is a late entry into this battle of the multi-effects, but for the price it could be one of the best of the bunch.
Most of us are fans of TC Electronic's great sounding effects, and as the Plethora X5 makes the most of TC's entire range of TonePrint pedals, you'll honestly struggle to find a bad sound in this unit. The Plethora X5 comes pre-loaded with various different boards - consisting of effects such as the Hall of Fame reverb, Flashback delay, Viscous vibe among many others - so you can either make the most of what's already in the Plethora, or you can create your own boards to really sculpt your tones to suit you.
Despite the Plethora's pedal-choice limitations, what it can do is still pretty remarkable when you take into account that it costs less than a Mexican Strat. Taking advantage of TC Electronic's TonePrint technology, the level of tweakability is impressive. It may not house hundreds of different drive pedals or have mental MIDI capability, but if all you want is multiple effects from your multi-effects pedal, then you may have stumbled upon a winner.
9. Line 6 Helix HX Effects
Multi-effects in its purest form
Specifications
Connections:
2x ¼" jack out, 2x ¼" fx loops, stereo ¼" input/output, MIDI in/out/thru, USB out
Reasons to buy
+
Pedals are spaciously laid out
+
A Helix without the amps
+
Easy to use
The Line 6 Helix HX Effects unit takes the killer array of effects from the Helix amp modeler and strips away the added extras, allowing you to make the most of enveloping reverbs, mind-bending stereo delays and more, without any added extras getting in the way.
Line 6 designed the HX Effects to become part of a pre-existing pedalboard setup, but we found it to be wholly capable of standing alone alongside a clean amp. With complete focus on effects processing, the HX Effects uses the impressive audio engine from the full-fat Helix - meaning the vast array of over 100 onboard effect models can take centre stage and bring your playing and your tones to the next level. Capable of producing great distortion, modulation and pitch/synth tones in the blink of an eye, there's not much to complain about here.
A streamlined, slick look accompanies the HX Effects' capabilities nicely, with a 'less is more' approach proving to be a welcome escape from the usually hectic world of multi-effects. The small "scribble strips" above each footswitch are frustratingly small, but still readable with some focus. As an easy-to-use option, or a first foray into the world of multi-effects, you'd be hard pressed to find something wrong here.
10. Mooer Red Truck Multi Effects
An ultra-portable, ultra-affordable choice courtesy of Mooer
Specifications
Connections:
1x ¼" instrument input, 1x ¼" FX loop in/out, 1x ¼" Headphone output, 2x ¼" stereo outputs
Reasons to buy
+
Super portable
+
No menus to navigate
+
Parallel FX loop great for adding more effects
Reasons to avoid
-
Fewer effects and options than others
For those who prefer analog pedals but don't want to cart around a full 'board, the Mooer Red Truck multi-effects pedal could be the unit for you.
Taking inspiration from products like the Tech 21 Fly Rig, the Red Truck is a compact, condensed multi-effects unit with five of the most commonly used effects included. Modulated reverb, delay, modulation, distortion and drive effects populate this all-in-one unit from Mooer, and if you're looking for a utilitarian unit to consolidate your larger pedalboard, then this should be a contender.
Yes, it's got fewer features than other products in this guide. There are no interesting menus to dive through, the tweakability is limited and there are no amp-modeling capabilities to be seen - but that's not the point of the Red Truck. It's here to simplify your playing experience, so you can focus on the most important thing - not messing up your guitar parts.
Best multi-effects pedals: Buying advice
Are multi-effects better than individual pedals?
Why you can trust GuitarPlayer Our expert reviewers spend hours testing and comparing products and services so you can choose the best for you. Find out more about how we test.
For what seems like forever, guitarists have been arguing over whether multi-effects pedals are better or worse than their individual brethren. Honestly? The jury's still out. There are convincing arguments for each camp, but there are some factors you should definitely consider before buying one of the best multi-effects pedals.
For one, with a multi-effects all of your pedals and other effects are in one place and one unit, making gigging a lot easier. Sure, you can get a pedalboard and piece together a killer 'board full of brilliant effects, but it won't be anywhere near as convenient as being able to recreate basically any rig and collection of effects, with one unit. The tone you can create with one Helix or Kemper will likely sound much cleaner and more precise too, with less potential for background noise and hum.
One big plus-side for multi-effects and amp modeling is that you can just go straight out to the PA system when gigging, removing the need for a speaker cab on-stage, and saving you a considerable amount of backache. As long as your sound guy doesn't hate you, you should have no problems getting the exact tone you want out into the room, for all to enjoy.
What should I look for in a multi-effects unit?
Think long and hard about what kind of features you'd like to go for when researching your new multi-FX purchase. Fortunately, most multi-effects units on the market now double up as amp modelers and loopers, amongst other things, so it's likely that you'll be buying more than you initially need. You don't necessarily need to - as products like the TC Electronic Plethora X5 and Line 6 Helix HX Effects are strictly effects processors - but we'd encourage that you proceed with caution here. We're all suckers for a little extra, and we're all guilty of finding a reason to 'need' the next model up that has a few more features.
Have a think about whether your multi-effects unit is going to make up part of your pedalboard, or replace it completely. We know it sounds really simple, but if you're using your multi-effects as part of a bigger 'board, make sure it all fits on there first. The added expense of upgrading your 'board means you've got less to spend on your pedals - and we've never heard of such a heinous crime.
It's also very much worth considering where you'll be playing the most. If you're only ever going to be jamming at home, then shelling out close to two grand on a Quad Cortex might be bordering on excessive. Likewise, if you're mainly playing pubs and bars full of punters who're likely to spill entire pints onto your pedalboard, then taking your QC along might be a little too brave. You don't need to part with big money to get the tones you want anymore, and we love it.
Read more on how we test gear and service at Guitar Player.
Related buying guides
Thank you for signing up to The Pick. You will receive a verification email shortly.
There was a problem. Please refresh the page and try again.