Best Distortion Pedals For Guitarists 2023: Dirty Up Your Sound With These Top Choices
Where does an overdrive end and a distortion begin? Find out more with our guide to the best distortions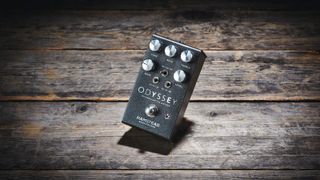 (Image credit: Future)
Overdrive, fuzz, and distortion pedals are second only to amps in importance to the guitar player. Many players have achieved greatness with only one of these devices. Here we're going to focus on the best distortion pedals, the highest gain and tightest-sounding of the three.
When you think of distortion, you think of Marshall stacks going at full tilt. Metal riffs, maybe, or shredding – but distortion isn't so easy to pigeonhole. In this guide, we'll be discussing versatile distortions that can cover all the bases for a gain stage on your board.
Best distortion pedals for guitarists: Guitar Player's Choice
All these pedals are excellent distortions. However, there's a reason for the King of Tone's enduring popularity with pros and amateurs alike. The combination of dual-channel drive, gain stacking, and boost is a huge feature set. Not only that, but its second channel can be set as a distortion by request when your slot comes up with Analogman.
Should you not want to endure the multi-year wait, there are plenty of other distortion pedals out there. One of our favorites is the incredible Walrus Audio Iron Horse V3. This pedal delivers a thick distortion that is perfect for heavy riffing.
For players looking for a modern, single-channel distortion with a wider range, the Revv G3 is hard to beat.
Best distortion pedals for guitarists: Product Guide
The original...
Specifications
Unique features:
Aesthetics
Reasons to buy
+
Awesome core distortion sound
+
Usable as a dirty boost
Reasons to avoid
-
Clones with more options available
The original RAT may be showing its age, but it's housed in a bombproof enclosure and is still relatively cheap to get your hands on.
At lower gain settings, it's a great dirty boost. Meanwhile its filter knob allows you to tighten up the tone. When used in conjunction with the guitar's tone knob, it's very usable for players from blues to hard rock.
Of course, should you dime it, the RAT is more than happy to push your amp into meltdown, whether that's a half-stack or a bedroom practice amp.
Should you want a smaller footprint, there's also the diminutive Mini RAT. Other companies like TC Electronic also make clones like the Magus that combine the original and Turbo RAT circuits into one unit.
2. Walrus Audio Iron Horse V3
For those who like it heavy
Specifications
Unique features:
Si/LED knob
Reasons to buy
+
Switchable clipping options
+
Nice and thick distortion sound
Reasons to avoid
-
Too heavy for some players
The beloved Iron Horse is now on its third iteration and is more versatile than ever. While this version stays true to the original, retaining the thick and meaty distortion Walrus Audio is known for, the mode switch has been replaced with a blending knob, giving you access to even more tones.
The Si/LED knob allows you to blend between silicon and LED diode clipping. When the dial is set all the way to the left, the pedal will be in silicon mode, all the way to the right and it's in LED mode and of course, in the middle, it will be a blend of the two.
For us, this pedal offers players a rich and complex distortion that's perfect for heavy riffage or soaring lead lines.
The do-it-all boutique option
Specifications
Unique features:
Voicing, versatility
Reasons to buy
+
Versatile and expressive distortion
+
Range of EQ and clipping options
+
Sleek aesthetic
Reasons to avoid
-
Potentially expensive for a single channel
The Odyssey is the Swiss army knife gain stage from British ampmaker Hamstead. Covering the bases from gently boosting a tube amp all the way to modern metal is a pretty big ask, but the Odyssey rises to the challenge.
Despite the front-panel implying an amp-like operation with its three-control EQ, it's really more of a standalone drive pedal.
There's three clipping options, with radically different voicings and, crucially, three different options for where the EQ sits in the circuit. This has possibly the biggest impact on the final sound.
At its most extreme, it has almost the feel of an ultra-premium RAT with a far superior EQ section. It's a bonus then that it cleans up to a boost and studio-quality mid-gain drive with little effort.
A Friedman stack, on demand
Specifications
Unique features:
Marshall amp-in-a-box
Reasons to buy
+
Great amp-in-a-box distortion
+
Expressive EQ
Reasons to avoid
-
The two-channel BE-OD Deluxe isn't much more expensive
The BE-OD is, as the design implies, modeled on the gain channel of a Marshall-style amplifier. Designed by Friedman amps, it's not quite an overdrive or a distortion, but more a gain stage in what is often called the amp-in-a-box category.
As such it has a lot of controls along the front panel, including a two-band EQ and presence control. Though it has a lot of gain on tap, it cleans up well at lower settings, and does a good job of pushing a tube amp into saturation when pulled back a bit.
However, it has to be said that the pedal shines when given a little bit of leash to cut loose.
5. TC Electronic Dark Matter
The affordable yet powerful distortion
Specifications
Unique features:
Brilliant dynamic range
Reasons to buy
+
Affordable
+
Vintage-voiced distortion
+
Voice switch
Reasons to avoid
-
Not as smooth as other pedals
This vintage-voiced distortion from the folks at TC Electronic is easily one of the best distortion pedals on the market. It's affordable, reliable, and, most importantly, it sounds killer!
This pedal is lively and dynamic, delivering a face-melting amount of gain when pushed. Better yet, despite its modest price tag, it can be seen at the feet of some of the most prominent artists. Used by everyone from Rodger Glover of Deep Purple, Jordan Rudess of Dream Theater, Volbeat axeman, Rob Caggiano, and Rammstein's Richard Kruspe, this pedal can be found on the biggest stages around the world.
So, if you are looking for a simple distortion that won't break the bank – and one that's endorsed by some pretty big names – look no further than the TC Electronic Dark Matter.
6. Ceriatone Horse Breaker
A twist on two modern classics
Specifications
Unique features:
Circuit pairing
Reasons to buy
+
Two classic circuits in one box
+
Stackable and switchable
The Ceriatone Horse Breaker looks at first blush like a King of Tone derivative, but that's not quite it. Instead, it pairs a version of the famed Klon Centaur circuit with a Marshall Bluesbreaker. There's also a switch to change the effect order, adding to its versatility.
The Klon circuit is usually referred to as a 'transparent overdrive'. The reality is that at higher gain settings, quite extreme clipping is available.
What this means is that both individually and when stacked, these two independent circuits have a very wide range of gain. Not only that, but the voicing and harmonic saturation of combining these two differently-voiced gain stages is useful to have in the tone toolbox.
The Revv tone in a box
Specifications
Unique features:
Amp in a box
Reasons to buy
+
Based on the Revv Purple Channel
+
3 Aggression modes
Based on the famed Purple Channel, the G3 Distortion puts the power of a Revv amplifier onto your pedalboard. As you'd expect, the G3 delivers a sucker punch of gain, making this ideal for players looking for metal distortion.
The onboard three-band EQ makes dialing in a tone a breeze, while the multiple aggression modes allow you to shape the character of gain perfectly.
Revv G3 Distortion is one of the most popular distortion pedals among metalheads at the moment and it's easy to see why. So, if you're looking to bring the house down with some intense riffs, then you'll want to check out the Revv G3 Distortion.
8. Analogman King of Tone
The unobtanium option
Specifications
Unique features:
Circuit, clipping options
Reasons to buy
+
Sounds awesome
+
Dual channel
+
Wide range of gain
+
Usable as a boost
+
Additional options available
Reasons to avoid
-
The waiting list is years long
-
Used, they are several times the price
The King of Tone is a legend for a reason. It's based on the Marshall Bluesbreaker pedal, with the op-amp from the original TS-808 Tubescreamer, plus some tasteful modifications.
By building it as a two-channel design, Analogman created a flexible workhorse that is not only a great standalone drive, but also pairs well with a tube amp as a boost.
The circuit is offered with a number of options, developed over the years. Some of the clipping variations are hard-clipping distortions. Even without those, the Tubescreamer-like voicing means that there is distortion-like clipping available with the gain turned up.
So what's the downside? Simply that these pedals are hugely in demand, and have a multi-year waiting list. There are plenty of alternatives on the market, but for a straight-up clone, you may have to build your own.
Yes, we're serious
Specifications
Unique features:
EQ section
Reasons to buy
+
Punchy core distortion tone
+
Powerful EQ
Reasons to avoid
-
Not true bypass
-
EQ is not that intuitive
For better or worse, the BOSS Metal Zone is one of the most popular distortions of all time. Although it's often derided, it's also the most powerful widely available distortion. The reason for that is its incredible EQ circuit – coincidentally, also the reason many players misunderstand it.
The EQ allows for precise parametric control over the mid band as well as standard bass and treble controls. Getting the EQ settings wrong will result in a fizzy, thin distortion tone.
However, use them right, and it's one of the most flexible distortion pedals on the market. In particular, while it often sounds a bit overwhelming on its own, it excels at punching through a mix live or on record.
The only downside to the Metal Zone is that it is quite compressed. It can do lower-gain tones surprisingly well, and as it's essentially a full preamp, it has more than enough gain to function as a boost too.
Best distortions for guitarists: Buyer's Advice
Where overdrives end and distortions begin is a hotly contested topic. There are a lot of definitions around, but the one we prefer is that overdrives use soft clipping, whereas distortions use hard clipping.
Even then, it's not a perfect definition. Arguably the first true distortion pedal was the ProCo RAT, created in 1978. It used hard-clipping diodes, but its distinctive sound was actually the result of clipping within the LM308 op-amp due to its slow slew rate.
This resulted in a distinctive, almost triangle-wave clipping. However, it brings up an important point. Many fuzzes get their sound from their transistors getting pushed until they run out of headroom. So, if that's little difference from the RAT, then are fuzzes distortions?
The answer is – well, you know a fuzz when you hear it. For this guide, we're not going to be pedantic about the definition of distortion, and also include overdrives that are high gain when dimed.
We're looking for versatility. While we won't expect a distortion to clean up like an overdrive, it should be functional at lower gain settings and work well with a tube amp as a dirty boost. The pedals which achieve this might surprise you...
Related buyer's guides
You can trust Guitar Player. Our expert reviewers spend hours testing and comparing guitar products so you can choose the best for you. Find out more about how we test.
All the latest guitar news, interviews, lessons, reviews, deals and more, direct to your inbox!
Alex Lynham is a gear obsessive who's been collecting and building modern and vintage equipment since he got his first Saturday job. Besides reviewing countless pedals for Total Guitar, he's written guides on how to build your first pedal, how to build a tube amp from a kit, and briefly went viral when he released a glitch delay pedal, the Atom Smasher.