Best Acoustic Electric Guitars 2023: The Best Of Both Worlds At Your Fingertips
Get yourself gig-ready with the best electro-acoustic guitars from Taylor, Martin, Fender, and more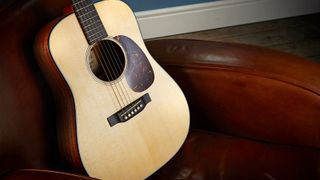 (Image credit: Future)
The best acoustic electric guitars are so inherently versatile that you're likely doing yourself a disservice in not having one, or at least considering one. The option to get the inspiring, raw sound of an acoustic guitar when playing at home, combined with the ability to plug in and turn up the volume during rehearsal and gigs makes an acoustic electric guitar a must-have for any discerning guitar player.
Thanks to their adaptability there is a plethora of choices in the acoustic electric guitar market, ranging from budget to boutique, so to help narrow things down, we've picked out what we consider to be the best acoustic electric guitars available today.
We've also added some useful buying advice to the end of this guide to help make your decision easier.
Best acoustic electric guitars: Guitar Player's choice
There are so many great Taylor acoustic electric guitars that it's hard to pick just one. So it was after much soul searching we eventually went with the Taylor Builder's Edition 517e. This is a pricey guitar, but worth every penny thanks to its well-balanced sound, compound carve neck profile and stunning good looks.
For those without a couple of grand in the back pocket, the Martin DJR-10E (opens in new tab) presents an affordable option that doesn't scrimp on sound. Despite its mid-sized dreadnought body shape, it delivers an incredibly pleasing tonality with a voice that's all of its own.
Best acoustic electric guitars: Product guide
1. Taylor Builder's Edition 517e
The best acoustic electric guitar available today
Specifications
Body Type:
Grand Pacific round-shouldered dreadnought
Top:
Torrefied Sitka spruce
Back & sides:
Tropical mahogany
Fingerboard:
West African Crelicam ebony
Electronics:
Taylor Expression System 2
Reasons to buy
+
Incredibly balanced tonality
+
Comfortable compound carve neck profile
Reasons to avoid
-
On the pricier side
-
Slightly lacking low end
The Taylor Builder's Edition 517E Acoustic Electric is a bold step in dreadnought acoustic guitar design, marrying a classic body shape with thoroughly modern bracing. This means you get a very balanced-sounding guitar that's incredibly adaptable.
A torrefied Sitka Spruce top is pre-aged so you can skip the breaking-in process and get straight to business, delivering fantastic sustain to match its even-tempered tone. The neck profile goes from soft 'V' to rounded 'C' the higher up the fretboard you go, for unmatched playability all across the neck.
The Taylor Expression System 2 features three uniquely positioned and individually calibrated pickup sensors, to ensure that the broad dynamic range of this guitar is accurately translated when you plug it in. Check out more of the best Taylor guitars here.
2. Martin Junior Series DJR-10E Acoustic Electric
A portable sized yet big-sounding electro acoustic
Specifications
Body Type:
D-Junior-14 Fret (000 Depth)
Fingerboard:
Certified Richlite
Electronics:
Fishman Sonitone
Tuners:
Chrome Enclosed Gear
Reasons to buy
+
Unique tonality
+
Great portability
Reasons to avoid
-
Too small for some
-
Not the loudest
Sitting between the Little Martin and a full-sized dreadnought, the Martin Junior Series DJR-10E gives you all the tonal qualities of a full-sized guitar in a package that's easily transportable.
Its smaller dimensions are what lend it a unique voice. It's not boomy like a full-size dreadnought and lacks the thinness you can sometimes get with travel-sized acoustics. It's truly a thing to marvel at, in the way Martin has managed to blend these two guitar types into something totally unique-sounding.
This acoustic electric Martin guitar comes fitted with a Fishman Sonitone pickup system, that has controls hidden away in the soundhole. The pickup conveys this guitar's tight low end and shimmering highs really well through both a PA and an acoustic amplifier.
3. Fender Acoustasonic Player Telecaster
A forward-thinking acoustic electric for the modern player
Specifications
Body Type:
Modified Telecaster
Electronics:
Under-Saddle Piezo/N4 Magnetic
Tuners:
Fender Standard Cast/Sealed Staggered
Finish:
Brushed Black, Butterscotch Blonde, Shadow Burst, Arctic White
Reasons to buy
+
Incredibly versatile tones
+
Plays like an electric
Reasons to avoid
-
Not for traditionalists
-
Quite pricey
Is it acoustic guitar? Is it electric? Some might feel this guitar doesn't deserve a spot on this list, but as far as we're concerned, it's a true acoustic electric guitar. Dismissed initially as somewhat gimmicky, the Fender Acoustasonic Player Telecaster is truly groundbreaking.
Despite its electric guitar-sized dimensions, the combination of a Sitka Spruce top and Mahogany back and side give this guitar a great unplugged projection. A flat 12-inch radius neck with a 'C' profile continues the marriage of acoustic and electric, providing excellent playability.
When you plug this guitar in you'll find a huge amount of options under the hood. It will emulate ten different body sizes and tonewood combinations, whilst the noiseless, magnetic pickup allows you to achieve electric guitar-type tones.
4. Epiphone 'Inspired By Gibson' Hummingbird Acoustic Electric
An all-time classic acoustic electric in an affordable package
Specifications
Body Type:
Square Shouldered Dreadnought
Back & sides:
Solid Mahogany
Fingerboard:
Indian Laurel
Electronics:
Fishman Sonicore
Finish:
Aged Cherry Sunburst Gloss, Aged Antique Natural Gloss
Reasons to buy
+
Outstanding value for money
+
All solid wood construction
Reasons to avoid
-
Fiddly battery pack design
-
Takes time to settle
We've all dreamed of owning a genuine Gibson Hummingbird, but for most of us the price tag puts it out of reach. Luckily Epiphone's 'Inspired by Gibson' Hummingbird gives us an all-solid tonewood construction that comes remarkably close to the Gibson original, at a cost that's around five times less.
This acoustic electric delivers a strong and resonant guitar tone with a low end that underpins everything you play. It's got great character in the high end too, warm sounding and not at all harsh, suiting a wide variety of playing styles.
The Fishman Sonitone system is the same that's found on the full-fat Gibson version, so no compromise here either. It faithfully reproduces all of that low-end character and warmth when you plug the guitar in.
5. Martin D-28E Modern Deluxe Acoustic Electric
A premium acoustic electric for serious guitar players
Specifications
Top:
Torrefied Sitka spruce
Back & sides:
East Indian Rosewood
Electronics:
Fishman Thinline Gold
Reasons to buy
+
Superbly balanced sound
+
Incredible dynamic range
Reasons to avoid
-
Very pricey
-
Might not be for traditionalists
The Martin D-28E is part of the Re-imagined series, whereby Martin aims to revamp some of its industry-standard guitar models with modern materials and technologies. This is a premium-level acoustic electric, so no expense has been spared with the design and execution.
The D-28 delivers an even sound across all the strings, with plenty of mid-range punch and a super-tight low end. It's got a crisp attack that responds quickly, delivering a powerful guitar tone that isn't excessively bright.
Such a glorious unplugged voice needs a good pickup system, and here we find the Fishman Thinline Gold+ VTII pickup system, which delivers the guitar's unplugged sound impeccably, whether you're plugged into a PA or an audio interface.
6. Yamaha A5R ARE Acoustic Electric
The perfect acoustic electric for the regularly gigging guitar player
Specifications
Back & sides:
Solid Rosewood
Electronics:
System 71 SRT2 preamp with SRT piezo pickup
Tuners:
Gotoh chrome open gear
Reasons to buy
+
Sublime electronics
+
Lovely unplugged voice
Reasons to avoid
-
No non-cutaway version
-
A little plain looking
The Yamaha A5R ARE Acoustic Electric has got its sights firmly set on the gigging guitarist, aiming to dispel the notion that you have to compromise on the unplugged sound when you plug into a PA, acoustic amplifier, or audio interface.
It features a torrefied Spruce top for a warm, vintage voice, complemented nicely by the solid Rosewood sides. It's a very bright-sounding guitar overall, but not at all harsh, and will suit a variety of playing styles.
The SRT2 is a unique mic blend system, taking the typical piezo sound and marrying it with a digitally recreated mic sim that can mimic both a Neumann U67 and a Royer R-122. The former is perfect for playing with a pick, whilst the latter will complement your fingerstyle work.
7. Taylor GS Mini-e Koa Acoustic Electric
The best acoustic electric guitar for traveling players
Specifications
Body Type:
Grand Symphony Mini
Back & sides:
Layered Koa
Reasons to buy
+
Well-balanced tonality
+
Excellent electronics
Reasons to avoid
-
Could be too small for some
-
Pricey for a travel acoustic
The Taylor GS Mini-e has had its fair share of plaudits over the past few years and for good reason. It delivers an outstanding tone for a guitar of its size whilst being supremely playable for any kind of guitar player, beginner or veteran.
The GS Mini-e is much louder than you'd first expect when unplugged thanks to its enlarged soundhole. It still remains very balanced across the whole spectrum and there's absolutely no hint of that dreaded travel-guitar boxiness here.
When plugged in, this guitar really shines through and it's comparable to some guitars twice the price. It responds fantastically well to hard-strummed chords and fingerstyle equally well, making it the perfect companion for your next gig.
8. Breedlove Pursuit Exotic S Concertina Acoustic Electric
For players who want a unique acoustic electric guitar tone
Specifications
Electronics:
Fishman Presys I
Tuners:
Copper Closed Gear
Reasons to buy
+
Unique voice with a warm tone
+
Comfortable body size
Reasons to avoid
-
Not for traditionalists
-
Not the loudest
The Breedlove Pursuit Exotic S Concertina carries with it an ethos that emphasizes sustainability whilst still managing to provide a top-quality tone. Featuring an unusual Myrtlewood top, its materials are all sustainably sourced, whilst looking absolutely stunning.
It's a solid Myrtlewood top that helps this guitar deliver its unique voice, marrying the warmth and bass response of Mahogany with that treble snap of Spruce. The neck is slim and comfortable for any kind of playing thanks to its shorter scale.
The Fishman Presys I pickup and preamp system transmits your unplugged tone faithfully, ensuring the unique timbre of the Myrtlewood is heard loud and clear. The pinless bridge system allows for rapid string changes, whilst promoting sustain.
9. Gretsch G9520E Gin Rickey Acoustic Electric
Probably the best acoustic electric guitar for beginners
Specifications
Electronics:
Gretsch Deltoluxe Soundhole Pickup
Tuners:
Die-cast Open Gear
Reasons to buy
+
Outstanding value for money
+
Sounds awesome plugged in
Reasons to avoid
-
Too small for some
-
Looks might put some players off
The parlor-sized Gretsch G9520E Gin Rickey is a fantastically equipped acoustic electric that more than holds its own against its full-sized acoustic guitar brethren. With distinctive looks and a powerful pickup, it's not one to be underestimated.
The unplugged tone of this guitar is surprisingly loud, with a decent bass response, all things considered. Note definition is even up and down the fretboard, and open chords really shine when you're strumming.
Plugged in, this guitar is a whole different beast thanks to the Gretsch Deltoluxe pickup. It turns it from a humble acoustic guitar into a loud and brash instrument with an even tonality that's perfect for slide and blues playing.
10. Takamine GN77KCE Acoustic Electric Guitar
Big body acoustic sound in a smaller package
Specifications
Back & sides:
Hawaiian Koa
Electronics:
Takamine TP-4TD
Reasons to buy
+
Delivers versatile tones
+
Outstanding electronics
Reasons to avoid
-
Needs time to open up
-
Bass response slightly lacking
The Takamine GN77KCE features a unique NEX body that aims to deliver the projection of a jumbo acoustic, minus the outlandish size. Crafted entirely from Hawaiian Koa, it's got bags of character and a distinctive look to match its tone.
This guitar has a balanced sound that leans more towards bright than warm, without ever overstepping the mark. The bass response isn't dominant but it certainly comes through well enough to complement the overall tonality.
Takamine is renowned for its electric pickup construction and this guitar is no different. The TP-4TD electronics ferry your unplugged guitar tone to its destination, whether that's a PA or audio interface, ensuring an accurate translation that's perfect for live performances.
11. PRS SE Angelus A60E Acoustic Electric
A stunning looking instrument for those who want to stand out
Specifications
Back & sides:
Laminated Ziricote
Electronics:
PRS Voiced Fishman Sonitone
Reasons to buy
+
Stunning good looks
+
Warm and balanced tone
Reasons to avoid
-
Pricey for the spec
-
Looks not for everyone
The PRS SE Angelus A60E takes the classic good looks of a PRS electric guitar and applies it to an acoustic, giving you an acoustic electric that will turn heads whether you're in the studio or up on the stage.
It's got a lovely, balanced guitar tone thanks to the Ziricote back and sides, which is a tonewood similar to Rosewood. It's a rich and warm tonality, which is articulate and crisp in the midrange and high end.
The Fishman GT1 preamp and pickup work really well too, cutting through nicely in a full band setting. We found it worked particularly well paired with an acoustic amplifier, which really allowed the natural tone to shine through.
12. Fender PD-220E Dreadnought Electro Acoustic
Designed for players who prefer a vintage voice and look
Specifications
Electronics:
Fender/Fishman Sonitone Plus Soundhole Pickup
Tuners:
Open Back with Nickel buttons
Finish:
3-Color Vintage Sunburst, Natural, Aged Cognac Burst (Mahogany Top Only)
Reasons to buy
+
Great value for money
+
Inspiring and lively tonality
Reasons to avoid
-
Styling not for everyone
-
No lefty option
The Fender PD-220E is a new take on acoustic guitars for Fender, giving players all-solid construction at an astounding price point. The Sitka Spruce top and Mahogany back and sides is a time-tested combo, and there's a lot to love about the sound.
The rumble of low end underpins everything you play on this guitar, holding together the chime-like highs that make your chords and fingerstyle really sing. It's a lively-sounding guitar that's incredibly well balanced across the spectrum.
The Fishman Sonitone Plus Soundhole Pickup System blends a traditional, bridge-mounted piezo pickup with a unique 'body-sensing' transducer pickup that preserves the vintage voice of this guitar. It's an adaptable system that ensures you'll be ready for any situation, whether that's a recording session or your next gig.
Best acoustic electric guitars: Buying advice
Choosing the best acoustic electric guitar for you
Why you can trust GuitarPlayer Our expert reviewers spend hours testing and comparing products and services so you can choose the best for you. Find out more about how we test.
When deciding on the best acoustic electric guitar you'll need to take into account the usual characteristics of a guitar such as tonewood choice, neck profile, and body shape. These are critical to choosing any guitar, acoustic, electric, bass, or otherwise. However, with an acoustic electric, you'll also have the added consideration of the electronics, as these are going to translate that unplugged tone into an amplified signal through a PA or an acoustic amplifier.
Understanding electronics
For the most part, the electronics of an acoustic-electric guitar will be hidden away underneath the bridge or attached to the inside of the guitar's soundboard. More infrequently, you will come across magnetic pickups attached to the soundhole of an acoustic electric guitar, which work similarly to the pickups on an electric guitar.
You'll likely have some way of controlling the volume, and perhaps some EQ sculpting tools, which can be limited to a single tone knob, or you may have separate bass and treble knobs. It's worth knowing what your options are before you purchase, as the ability to tone-tweak will enhance your acoustic electric guitar's versatility. This in turn allows you to dial in different sounds for various venues, whether you're playing at a local bar or busking on your high street.
Which tonewoods are best for an acoustic electric?
Despite the focus on electronics for an acoustic electric (the clue's in the name), you will still need to consider your tonewood, and in particular the top wood. The top wood is what resonates, delivering the unfiltered tone of your acoustic electric guitar to your ears. The type of wood used affects the sound; for example, a Sitka Spruce top wood will have sharper, brighter tonality, whereas a Mahogany top wood will be warmer and more rounded. These materials have a lesser effect on the guitar when it is plugged in, but they still give the guitar a lot of its feel and personality.
Read more on how we test gear and service at Guitar Player.
Related buyer's guides
All the latest guitar news, interviews, lessons, reviews, deals and more, direct to your inbox!
Matt is a Junior Deals Writer at Guitar Player and has been playing guitar as his main instrument for well over 20 years. He also plays drums, bass, and keys producing out of his home studio in Manchester, UK. He has previously worked for Dawsons Music, Northwest Guitars, and freelanced for various magazines and blogs, writing reviews, how-to's, and features. When he's not downloading the latest VSTs or justifying yet another guitar pedal purchase, you'll find him making music with Northern noise hounds JACKALS (opens in new tab).