Best Taylor Guitars 2023: Our Pick Of The Finest Taylor Acoustic guitars You Can Buy Today
Marrying innovation with sustainability, these instruments are Taylor-made for your collection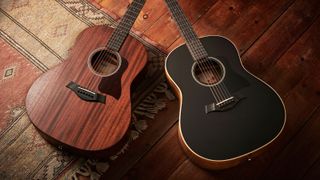 (Image credit: Future)
Curating a list of the best Taylor guitars was never going to be an easy task – there are just so many. Since it was founded by Bob Taylor and Kurt Listug in 1974, Taylor has become one of the world's most respected guitar manufacturers, with a reputation for innovation, high build standards, and an industry-leading commitment to the use of sustainable tonewoods. Now, under the leadership of design guru Andy Powers, the Californian company is soaring to even greater heights.
Our guide to the best Taylor guitars available today reflects the firm's desire to improve and refine its craft, offering players a wide choice of models for home, stage, and studio. Whether you're a strummer, fingerstyle player, regularly gigging guitarist, or just want something to noodle on at home, we've picked out the top choices for you.
Best Taylor guitars: Our top picks
We've gone for the Taylor Builder's Edition 517e as the best all-around Taylor guitar. Marrying that vintage Taylor look with modern playability and bracing, this is a mature instrument with a dreamy tone and buttery playability.
If you're looking to spend a little less, then the Taylor GS Mini-e Koa is the top choice for us. Coming in at well below a grand, you've got portability with a deceptively large voice, excellent build quality, and built-in electronics that make it perfect for gigging.
Best Taylor guitars: Product guide
1. Taylor Builder's Edition 517e
A different kind of dreadnought
Specifications
Launch price:
$2,899/£2,100
Type:
Grand Pacific round-shouldered dreadnought
Top:
Torrefied Sitka spruce
Back & sides:
Tropical mahogany
Fingerboard:
West African Crelicam ebony
Electronics:
Taylor Expression System 2
Reasons to buy
+
Super finish and feel
+
Advanced V-Class bracing and compound carve-neck profile
+
Balanced sounds with a rounded tonality
Reasons to avoid
-
Some dreadnought fans will prefer a boomier low end and hi-fi trebles
When Taylor launched its Builder's Edition 517e Grand Pacific in 2019, it came as a surprise to many. Here was a vintage-look, round-shouldered dreadnought that had been brought kicking and screaming into the 21st century by Andy Powers' innovative V-Class bracing (read more about that in our buying advice at the bottom of the page).
The torrefied Sitka spruce top and Silent Satin finish help to deliver a mature, broken-in voice that comes without those tactile 'squeaks' you normally expect from a new gloss guitar. Meanwhile, the compound carve-neck profile transitions from a subtle 'V' at the nut to a rounded 'C', providing superb comfort and facilitating higher fret work.
That V-Class bracing provides wonderfully consistent sustain across the fretboard, along with pristine intonation that means there's less chance of hitting a sour note while fingerpicking.
A benchmark for travel guitars
Specifications
Type:
Scaled-down Grand Symphony
Back & sides:
Koa laminate
Fingerboard:
West African Crelicam ebony
Reasons to buy
+
Great portability for travel
+
A big sound from a small body
+
ES-B system makes it giggable
Reasons to avoid
-
There's still no cutaway GS Mini design
Over a decade after its introduction, the GS Mini remains the standard for travel guitars, delivering projection that belies its scaled-down dimensions.
A great choice for those who want a go-to home and away acoustic (a high-quality gigbag is included), the GS Mini-e Koa offers easy playability combined with stunning figured grain.
Its versatility is further boosted by its ES-B pickup/preamp combo, which comes with a handy onboard tuner – ideal for gigging guitarists.
3. Taylor Builder's Edition 324ce
Sustainability meets premium features
Specifications
Launch price:
$2,999/£2,172
Type:
Grand Auditorium electro cutaway
Fingerboard:
West African Crelicam ebony
Electronics:
Taylor Expression System 2
Reasons to buy
+
An impressive debut for Urban Ash
+
Builder's Edition appointments enhance playability
+
Strong midrange tonality
Reasons to avoid
-
Some may find it pricey for a guitar made from reclaimed tonewood
Taylor's trailblazing commitment to using sustainable tonewoods in its guitar building is a cornerstone of its identity, and the 324ce showcased a new chapter in that story, being constructed from Urban Ash – Shamel ash from damaged trees found in urban Californian areas.
The manufacturer has described Urban Ash as being similar to coveted Honduran mahogany, and, true to the comparison, there's a strong mid voice on this Grand Auditorium, with excellent sustain clarity when fingerpicking.
The Builder's Edition appointments are subtle rather than showy, but they definitely matter, the upper-bout armrest and chamfered body/fingerboard edges adding comfort, and the Gotoh 510 tuners' 21:1 ratio offering outstanding precision.
Read the full Taylor Builder's Edition 324ce review
Amazing value for a pro-spec guitar
Specifications
Launch price:
$1,699/£1,230
Type:
Grand Pacific round-shouldered dreadnought
Back & sides:
Solid ovangkol
Electronics:
Taylor Expression System 2
Reasons to buy
+
Offers a pro spec at a competitive price
+
A great all-rounder
+
Expression System 2 captures the strengths well
Reasons to avoid
-
Blacktop look may not appeal to fans of traditional aesthetics
While The Everly Brothers and Johnny Cash brought black acoustic finishes to the fore, they're a rare sight in the Taylor line-up. However, there's much more to admire with this Grand Pacific dreadnought than stealthy looks.
The American Dream series is where you'll find Taylor's most affordable solid-wood acoustics. Despite its value, though, the AD17e Blacktop offers a professional spec, its V-Class bracing delivering a wonderfully detailed single-note response in the higher frets, along with a strummed character that recalls Gibson's J-45.
Add in a deliciously sweet high end, and you have an acoustic guitar that you won't be able to put down.
A new medium
Specifications
Launch price:
$1,599/£1,158
Type:
Reduced-scale Grand Theater
Electronics:
Taylor Expression System 2
Tuners:
Taylor Nickel Mini
Reasons to buy
+
This new scale feels great and could become a preference for many
+
C-Class bracing offers superb response across the fretboard
+
An easy player
Reasons to avoid
-
A cutaway option would make sense, too
Featuring an adapted version of the V-Class bracing system – called the C-Class – the GTe Urban Ash is a higher-end and larger successor to the GS Mini; a mid-sized acoustic that falls somewhere between that travel guitar and a full-fat Taylor.
The new 24⅛" scale length works very well. Compact but wonderfully playable, it could well become the favorite acoustic guitar size for many who try it. The C-Class bracing means that the compromises of higher fret tonality you often get with smaller acoustics don't apply here – and it really inspires your playing, with wonderful treble resonance and no hint of dead spots.
Elsewhere, the inclusion of Urban Ash and eucalyptus showcases Taylor's sustainable approach to guitar building, the scale is akin to playing with a capo on the first fret, while the clear midrange and strong EQ balance offer a compelling combination.
Read the full Taylor GTe Urban Ash review
An eye-catching Taylor guitar with excellent playability
Specifications
Electronics:
Taylor Expression System 2
Reasons to buy
+
Fantastic looks
+
Great value for money
+
Small and lightweight
Reasons to avoid
-
Lacking a little in low-end
Part of Taylor's no-frills American Dream series, the Taylor American Dream Grand Theater AD11E-SB is a fantastic value-for-money Taylor that doesn't skimp on build quality. With an eye-catching look and small, lightweight body it's great as a sofa guitar or for beginner players.
It's got a jangly voice thanks to that small body, and whilst there is a respectable low end, it's not going to compete with full-size dreadnoughts. The midrange focus is delightful with a sparkly high end and light fingerpicking brings a nuanced response and lovely sustain. Plugged in you can handily boost the bass with the onboard EQ, making up for its shortfalls unplugged.
The small body size means it's really a really comfortable playing experience and out of the box the action was set very low, so it asks to be played softly to avoid any fret splat. The shorter scale offers an easy playing feel, with open chords feeling like they've got a capo applied and barre chords effortlessly easy.
Read the full Taylor American Dream Grand Theater AD11E-SB review
A classical classic
Specifications
Back & sides:
Sapele laminate
Fingerboard:
West African Crelicam ebony
Reasons to buy
+
Classical tones with steel-string, acoustic-style neck
+
A friendly experience if you're new to nylon strings
+
ES-B does a fine job
Reasons to avoid
-
It has a lot of competition in this price range
If you'd like to start playing classical with an excellent foundation guitar, then the 12e-N is hard to beat. Part of the Academy range aimed at providing new players with a positive first experience, its playability is something that all guitarists could benefit from – though it comes in a relatively utilitarian package by Taylor's standards.
The Grand Concert shape works beautifully with classical nylon strings, but the neck is narrower than the usual classical fare, making this a good option for those looking to make the transition from an electric or steel-string acoustic. A thin satin varnish helps to enhance the resonance, though it leaves the body more susceptible to knocks.
The open midrange reveals a Latin-style voicing that's ideal for clear complex chords, and even flamenco when played harder. Taylor ES-B is the company's entry-level preamp system, but offers a balanced and clear representation of the 12e-N's acoustic strengths, with a low end that doesn't require taming.
8. Taylor 362ce 12-string
The best value for money Taylor 12-string guitar
Specifications
Type:
Grand Concert 12-string cutaway
Back & sides:
Tropical Mahogany
Fingerboard:
West African Ebony
Electronics:
Taylor Expression System 2
Reasons to buy
+
Incredible tone
+
Simple and classy
+
Excellent build quality
Reasons to avoid
-
Extra strings take getting used to
When you pick up a Taylor you know you're getting a quality instrument and that's no different with the Taylor 362ce 12-string acoustic guitar. It's a simple, yet classy-looking instrument that's not top-of-the-range Taylor, but nor is it a low spec either.
If you've never played a 12-string before, trust us you're in for a treat. The 362ce is open and airy with loads of brilliant chime when playing chords or individual notes and plenty of action in the mid and lower ranges too. The all-mahogany construction makes it more balanced than a Sitka-topped guitar, giving a rewarding playing feel.
Some 12 strings are quite difficult to play due to the extra strings and string tension, but that's not the case here. Playability is nice and easy, and fingerstyle sounds absolutely fantastic, with barre chords coming with ease.
Best Taylor guitars: Buying advice
To further understand why Taylor acoustic guitars are among the very best on the market, let's home in on some of the company's unique features:
What is V-Class bracing?
Bracing is the name given to an acoustic guitar's internal framework, and it can have a significant effect on the sound. The manufacture of steel-string guitars has traditionally been dominated by X-shaped bracing, but in 2018 Taylor revealed a new approach called V-Class. Andy Powers' V-shaped bracing changes the way the guitar top vibrates, resulting in "a more orderly rocking motion across both sides of the top" for greater sustain and notes that are "more in tune with each other". Taylor's claims of improved sustain are undeniable to us, with the higher register especially benefiting from sweeter clarity and resonance.
V-Class bracing has now been introduced to existing Taylor lines in the 300 series and above, as well as new designs.
Why do Taylor guitars use Expression System 2?
While many guitar companies use third-party preamps and pickups for their electro-acoustic models, Taylor decided to develop its own. The consistently strong performance of the current Expression System 2 adds to the versatility of its instruments.
Expression System 2 uses three adjustable pickup sensors under the guitar saddle, as opposed to the traditional single piezo sensor. These work together with Taylor's preamp, offering volume, treble and bass to provide onboard tone-shaping for players.
The ES-B system found on models including the GS Mini-e and the Academy series includes a digital chromatic tuner, but features only tone and volume controls.
What are the Taylor body shapes?
A guitar's shape and size can make a real difference to its sound and playability. Taylor offers five distinctive shapes that are unique to the company and should be considered as part of any buying decision:
Grand Theater: Taylor's most compact body shape, this is used for the GTe Urban Ash, the GT 811e and the GT K21e
Grand Concert: Sitting somewhere between the reduced-scale Grand Theater and the Grand Auditorium, this is Taylor's most compact full-scale body shape, and is ideally suited to fingerstyle
Grand Auditorium: Before the Grand Pacific arrived in 2019, this was Taylor's main 'all-rounder' body shape
Grand Pacific: Taylor's take on a traditional round-shouldered dreadnought, the Grand Pacific's balanced tone is ideal for strumming
Grand Symphony: This shape now includes a soundport cutaway, while its curves are the basis for the reduced-sized GS Mini
Grand Orchestra: Taylor's largest body shape, the Grand Orchestra lends itself to low-end response and louder volume
Are Taylor guitars sustainable?
Taylor is a wise choice for those who are concerned about the impact their guitar purchases have on the environment. The manufacturer is committed to sourcing sustainable tonewoods, and in 2011 became the joint owner of the Ebony Project, a scalable replanting initiative in Cameroon, Africa, that provides employment for an entire community.
More recently, Taylor formed a partnership with West Coast Arborists Inc., a tree maintenance and management service based in California. The collaboration sees the guitar manufacturer recycling wood from ash trees that have been felled in urban Californian areas due to age, safety and other factors.
How we choose the best Taylor guitars
You can trust Guitar Player. Our expert reviewers spend hours testing and comparing guitar products so you can choose the best for you. Find out more about how we test.
At Guitar Player, we are a team of dedicated guitarists who have immersed ourselves in the world of acoustic guitars. With our profound admiration for Taylor's craftsmanship and tonal excellence, we have meticulously explored and played numerous instruments to identify the best Taylor guitars available today.
To compile our list of top Taylor guitars, we combine our hands-on experience, meticulous research, and insightful discussions with our editorial team. We consider a range of factors including tonal quality, playability, build quality, aesthetics, and value for money, ensuring that we showcase the finest Taylor guitars on the market.
As passionate musicians ourselves, we understand the importance of finding the perfect instrument that resonates with your playing style and musical preferences. Whether you're a fingerstyle virtuoso, a strummer, or an all-around player, our goal is to provide reliable and informed recommendations that help you discover the ideal Taylor guitar for your musical journey.
Read more on how we test gear and service at Guitar Player.
Related buying guides
All the latest guitar news, interviews, lessons, reviews, deals and more, direct to your inbox!
Rob is the Guitars Editor for MusicRadar, handling news, reviews, features, tuition, advice for the strings side of the site and everything in between. Before that he worked on guitar magazines for 15 years, including Editor of Total Guitar, and is a regular contributor to Guitar Player and Guitar World.