Best PRS Guitars 2022: Our Top Pick Of The Finest Guitars From Paul Reed Smith
We break down the most extraordinary offerings from PRS. From the iconic Custom 24 and top of the range signature guitars, to budget-friendly SE models, we have everything covered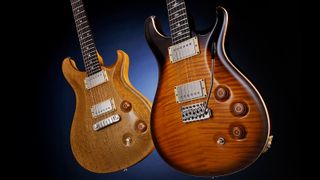 (Image credit: Future)
For many, PRS guitars have long been the standard by which all other guitars are measured. Coveted for their extremely versatile sound, first-class quality, and impeccable good looks, PRS make some of the greatest electric guitars in the world. Paul Reed Smith now offers guitars made in various different factories - and countries - with their ever-expanding catalog ranging from entry-level, beginner-friendly guitars to top-of-the-range private-stock instruments. The sheer amount on offer can make your head spin, but don't worry, Guitar Player has you covered with this in-depth guide to the best PRS guitars available right now.
No matter your playing style, or musical leaning, you'll be sure to find your next guitar among this list of versatile beauties. We have modern classics that will rock your world, semi-hollow guitars that will cure the blues, and signature guitars to help you achieve the tone of living legends. So, without further ado, let's jump into the best PRS guitars on the market right now.
Best PRS Guitars: Product Guide
A love letter to the golden age of guitars
Specifications
Launch Price:
$4,560/£4,329
Body:
Mahogany/Carved Figured Maple
Controls:
Volume and Push/Pull Tone Control w/ 3-Way Toggle Selector
Finish:
18 Core Finish Options Available
Reasons to buy
+
Plays like a dream
+
Traditionalists and modern players will love it
+
Thicker body
Reasons to avoid
-
Not 24 frets like some other PRS models
Anyone who loves guitars knows the name Ted McCarty. The former president of Gibson guitars has had a hand in not only shaping rock and roll but music as a whole. Ted became somewhat of a mentor to a young Paul Reed Smith, consulting on various guitar designs. In 1994 PRS would release a guitar to honor their now friend Ted, and the McCarty model was born.
This guitar perfectly blends the modern, forward-thinking PRS with the vintage style and sensibilities of the golden age of guitars. This beautiful instrument features a slightly thicker than usual mahogany body, with a carved figured maple top - not too dissimilar to a Gibson Les Paul - while the Pattern neck profile is based on the original neck Paul designed before PRS officially began.
At the heart of this guitar are the 58/15 pickups. These deliver bags of retro tone that will cut through the densest of mixes. The addition of a push/pull tone control adds another modern flair to this guitar, making it even more versatile.
The guitar that built an empire
Specifications
Launch Price:
$4,510/£3,449
Body:
Mahogany/Carved Figured Maple
Controls:
Volume and Tone Control with 5-Way Blade Switch
Finish:
18 Core Finish Options Available
Reasons to buy
+
85/15 pickups are outstanding
+
Extremely versatile
+
Fantastic range of colors
Reasons to avoid
-
Tremolo is not for everyone
If you were to ask 100 guitar players to name a PRS model, at the top of the board, without a shadow of a doubt, would be the Custom 24. This is hardly surprising since it was the guitar that kicked off PRS, making its debut at the '85 NAMM show.
Favored by session players for combining the best elements from Fender and Gibson, this modern classic is sure to get any job done. The 25" scale length neck is set into a mahogany body, with a maple top, which is adorned with a Strat-style tremolo system. The 85/15 humbucking pickups offer superb clarity, while the five-position switch allows you to access Strat-style tones at the drop of a hat.
This is a Swiss army knife of a guitar and can easily jump from soulful blues to hi-gain metal and everything in between.
3. PRS John Mayer Silver Sky
The guitar that broke the internet
Specifications
Launch Price:
$2,399/£2,399
Fingerboard:
Rosewood/Maple
Controls:
One Volume and Two Tone Controls with a 5-Way Blade Switch
Finish:
Roxy Pink, Frost, Dodgem Blue, Golden Mesa, Midnight Rose, Moc Sand Satin, Orion Green, Polar Blue, Tungsten
Reasons to buy
+
Effortless to play
+
Tone for days
+
The new Roxy Pink finish is epic
Reasons to avoid
-
Hard case doesn't come as standard
A few years ago, it would have been inconceivable that John Mayer would part ways from Fender - I mean, John was inseparable from his vintage '64 Strat. I suppose if any company was going to entice Mayer away, it would be PRS.
The Silver Sky model takes what people love about vintage S-Type guitars and brings it into the modern day. The body manages to look and feel familiar, while the extra sleek contour on the bottom horn reminds you that you're playing a PRS guitar. The reversed headstock not only looks great but is there to "keep a consistent length of string behind the nut", resulting in more stable tuning.
The newly designed 635JM pickups are a single-coil lover's dream. They are full, warm, and never too bright - even in the bridge position. Since its release back in 2018, the Silver Sky has seen some great finish options hit the market, with our favorite being the new Roxy Pink variation.
The classic PRS look with a bolt-on neck
Specifications
Launch Price:
$1,999/£2,525
Controls:
Volume and Push/Pull Tone Control w/ 3-Way Toggle Selector
Reasons to buy
+
Sometimes you just need a bolt-on maple neck
+
The same quality you'd find on the set-neck options
Reasons to avoid
-
Some players will prefer the classic PRS construction
If the original Custom 24 blurs the lines between Fender and Gibson, then the CE24 takes it a step further. This version of the famous Custom 24 sports a bolt-on maple neck, giving this guitar a completely different feel and tonal character.
CE stands for Classic Electric and we have to say, it certainly lives up to its name. The neck feels familiar but exciting at the same time. The satin finish is incredibly smooth, and Pattern Thin profile is sure to fit in any player's hands.
So, if you're looking for the classic PRS look but fancy something a little different, then the CE24 is definitely worth checking out.
You'll embrace this guitar with arms wide open
Specifications
Body:
Mahogany/Maple Top with Flame Maple Veneer
Controls:
Volume and Tone Control for Each Pickup and 3-Way Toggle Pickup Selector
Finish:
Amber, Black, Blue Matteo, Dark Cherry Sunburst, Eriza Verde, Faded Blue Smokeburst, Fire Red Burst, McCarty Sunburst
Reasons to buy
+
This thing seriously rocks
+
Meaty pickups
Reasons to avoid
-
People who aren't fans of Tremonti may want to look elsewhere
It's difficult to separate metal guitar powerhouse Mark Tremonti and his PRS guitar. Tremonti is best known as the guitarist for the much-loved Alter Bridge, the opinion-splitting Creed, and his successful solo efforts. In fact, Tremonti became the second musician to become a PRS signature artist - right after Carlos Santana.
With multiple variations of his signature axe being released since 2000, we had to include one on this list. We have chosen to go for the SE Tremonti, as we feel it offers the most bang for your buck, and frankly, it rocks!
The single-cutaway mahogany body is adorned with a rather gorgeous flame maple veneer, which is beautifully finished in the rather understated Charcoal Burst. The Wide Thin maple neck is a shredder's dream, while the more aggressive nature of the Tremonti S pickups are sure to bring the house down.
6. PRS SE Starla Stoptail
Stand out from the crowd
Specifications
Pickups:
PRS-Designed DS-02
Controls:
Volume and Push/Pull Tone Control with 3-Way Blade Switch
Finish:
Black, Powder Blue
Reasons to buy
+
A truly unique look for PRS
+
DS-02 pickups offer a different sonic pallet
Reasons to avoid
-
The look isn't for everyone
It's fair to say all PRS guitars have a particular look and vibe about them. Well, the Starla certainly takes the PRS aesthetic and runs in a completely different direction. This unique-looking single-cut is drenched in vintage mojo, and wouldn't look out of place in the hands of a 60s guitar hero.
The solid mahogany body comes in a jet black finish with a tortoise pickguard or in a drop-dead gorgeous Powder Blue - which would definitely be our choice. The PRS-Designed DS-02 pickups offer a completely different sonic pallet. They are brighter, with a top-end response you can't get from other PRS models. Fans of clean to mid-gain tones are sure to love these pickups.
The mahogany Wide Fat neck will most definitely fill your hands, it feels substantial and is great if you are a player who likes a fuller neck profile. It shouldn't come as a surprise, this isn't a shredder's guitar, it would make one hell of a blues guitar, though.
7. PRS Fiore Mark Lettieri
A bold new guitar for PRS
Specifications
Launch Price:
$2,449/£2,599
Controls:
One Volume and Two Push/Pull Tone Controls with 5-Way Blade Pickup Switch
Finish:
Amaryllis, Black Iris, Sugar Moon
Reasons to buy
+
Swamp ash body
+
HSS set up
Reasons to avoid
-
The look isn't for everyone
Mark Lettieri isn't exactly a household name, but that hasn't stopped PRS from issuing him a rather stunning signature guitar. Drawing inspiration from the super-strat style guitars of the 80s and blending it seamlessly with the artistic stylings of PRS, this guitar is quite something to behold.
This distinctive guitar strays pretty far from the usual specs you'd expect from Paul Reed Smith. The first of which - and biggest departure - is the inclusion of a swamp ash body. Lettieri has stated that swamp ash is "just kinda my sound" and therefore needed to have that design element in his signature axe. This beautiful body is paired with a 25.5" scale length maple neck with outlined bird inlays and a custom flower truss rod cover.
Integral to the sound of the Fiore is the HSS pickup configuration. These pickups have been designed purely for this guitar, with dynamics and maximum expression in mind. The bridge humbucker is wound for power and punch, whereas the single coils are extremely responsive and articulate. The Fiore is available in three district finish options, with the white - or Sugar Moon as PRS calls it - definitely speaking to us the most.
8. PRS S2 Vela Semi-Hollow
An offset design with bags of personality
Specifications
Launch Price:
$1,549/£1,359
Pickups:
PRS-Designed DS-01/Type-D Singlecoil
Controls:
Volume and Push/Pull Tone Control w/ 3-Way Toggle Selector
Finish:
Antique White, Black, Frost Blue Metallic, Frost Green Metallic, McCarty Tobacco Sunburst, Vintage Cherry
Reasons to buy
+
Type-D Singlecoil pickup is glorious
+
Lightweight and resonant
Reasons to avoid
-
For this price, we'd prefer a case
Next up is a semi-hollow offset guitar with bags of personality - and the first from the S2 range to be featured in this guide - the PRS S2 Vela Semi-Hollow. For those who aren't familiar, the S2 range is a collection of guitars that take a back-to-basics approach, opting for a more straightforward design.
The Vela is a little more basic when compared to the likes of the Custom 24. Although the flamboyant flamed maple top, iconic bird inlays and intricate tremolo system are absent, this quirky guitar still shares a lot of the DNA that makes it a Paul Reed Smith instrument.
The sleek curves and effortless playability means this is unmistakably a PRS, while the brass saddle T-type bridge and Type-D Singlecoil pickup bring something new to the table.
An affordable version of a modern classic
Specifications
Body:
Mahogany/Maple Top with Flame Maple Veneer
Controls:
Volume and Push/Pull Tone Control with 3-Way Blade Switch
Finish:
Black Gold Burst, Bonni Pink, Charcoal Burst, Faded Blue Burst
Reasons to buy
+
The PRS features you love at a more affordable price
+
Comes with a very nice padded gig bag
Reasons to avoid
-
Not as many color options compared to the USA line
The PRS SE range has a devoted following all of its own, and that is in no small part, down to the sheer attention to detail seen in these wallet-friendly options. Arguably the most popular SE model - like the USA line - has to be the Custom 24.
Like its more premium brother, the SE Custom 24 features a mahogany body, but this time the beveled maple top is capped with a flame maple veneer. The impeccably finished maple neck sports the Wide Thin profile, and even includes the bird inlays - although that wasn't always the case.
PRS themselves refer to the SE Custom 24 as a "workhorse", and it's pretty hard to disagree. This stunning guitar is just as versatile as its more expensive counterpart, and you don't need to remortgage the house to own one. So what's not to love?
The first PRS signature artist
Specifications
Launch Price:
$4,150/£4,055
Body:
Mahogany/Carved Figured Maple
Controls:
Volume and Tone Control w/ 3-Way Toggle Pickup Switch
Finish:
18 Core Finish Options Available
Reasons to buy
+
Unlike any other PRS model
+
24.5" scale length
Reasons to avoid
-
The headstock isn't for everyone
We couldn't have a list of PRS guitars and not include one of the many Santana models. Santana's relationship goes way back to the start of the PRS story, and the Santana Retro model pays homage to the company's early days.
The Retro model sees a deeper body carve and the original "pre-factory" headstock, as well as a set of Santana pickups made to his exact specifications. This guitar is also a fraction shorter, with a scale length of 24.5". We aren't too sure if any of us mere mortals would notice such a small change, but clearly, the man himself does, and who are we to argue.
With this being PRS, the Santana Retro is available in a rainbow of finish options. Still, for us, the standard - and aptly named - Santana Yellow has a certain charm that we simply can't look past.
Best PRS Guitars: Buying Advice
When Did PRS Start?
PRS officially started producing guitars in 1985, with their first official Custom model making its debut at that year's NAMM show. Before the company officially came to be, Paul would make guitars for himself and local musicians, selling them at shows. He would then go on to start selling to touring musicians at local venues. In an interview on the PRS website (opens in new tab), Paul said, "I remember hanging out at the local concert arenas for six or seven hours before a show to make friends with the roadies. With a backstage pass in hand, I'd peddle my guitars to the stars. One night in ten, I'd make a sale". Well, this approach certainly worked as Paul managed to get his early guitars into the hands of Carlos Santana, Al Di Meola, and Howard Leese.
Today PRS are building guitars with state-of-the-art machines and pioneering techniques, leading them to be known as the gold standard for quality control.
Why Does PRS Have Birds On The Fretboard?
Each guitar brand has a signature. Gibson has the "open book" headstock, Fender has pastel colors, PRS has the bird inlays. You'd be forgiven for thinking that this was the result of tirelessly working on ideas to help the new brand stand out from the crowd. But, in reality, the ornate inlays happened somewhat by chance. Way back in 1976 - that's right, the birds pre-date the official launch of PRS - Paul was working on a guitar for Peter Frampton and just happened to pick birds for the inlays, and well, the rest is history.
In case you were wondering, the birds featured on the fretboard are a peregrine falcon, marsh hawk, ruby-throated hummingbird, common tern, coopers hawk, kite, sparrow, storm petrel, hawk landing, and a screech owl on a branch.
What Is The Best PRS Guitar For You?
PRS guitars can be broken down into five categories - Core, Bolt-On, S2 Series, SE Series, and Private Stock. So let's take a quick look at what each of these series' has to offer.
The Core lineup is where you'll find the guitars that are at the heart of PRS. With models such as the Custom 24, McCarty, and Signature series, these genuinely stunning instruments can be thought of as the quintessential guitars that make PRS the company it is. These guitars are manufactured in the main PRS facility in Stevensville, Maryland.
The Bolt-On range of guitars, as the name suggests, offers the same quality and features found in the Core line, but this time with a bolt-on neck. The most notable models in this series are the CE range, Silver Sky and Fiore. Again, these guitars are made in the Maryland factory.
All the glitz and glamour of the Core and Bolt-on range not for you? Well, the S2 Series offers a stripped-down American-made instrument at a more affordable price.
These straightforward guitars also feature a variety of different pickup options not found on the Core line, as well as unique body shapes.
The SE range - or Student Edition - first started way back in 2001 with the SE Santana and now includes a budget version of almost any PRS model you can think of. SE guitars for a time were manufactured by World Musical Instruments in Korea, but as of 2019 are - mostly - made in a designated SE factory in Surabaya, Indonesia.
Lastly, we have the private stock instruments. This is where you'll find the most exotic offerings from PRS. From the heaviest flamed tops to insane eye-catching finishes, these are the crème de la crème of PRS guitars - and well… the price reflects that. You have the option to customize your dream axe or pick up a great guitar that's already put together by one of the master luthiers.
Read more on how we test gear and service at Guitar Player.
Related buying guides