Best Semi-Hollow Guitars 2023: The Top Choices From PRS, Fender, Eastman, Gibson and More
We give our expert opinion on the top semi-hollow body guitars available today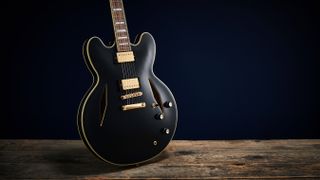 (Image credit: Future)
First commercialized in the late 1950s, semi-hollow guitars have been played by some of the greatest musicians of all time, including BB King, Barney Kessel, John Lennon, Larry Carlton, Johnny Marr, John Scofield, Freddie King, George Harrison, and Cream-era Eric Clapton. And the legacy has been continued by modern arena rockers such as Dave Grohl and Noel Gallagher. Not only do the best semi-hollow guitars offer a superb acoustic response, they can deliver great tones when plugged into a guitar amp, too.
As the name suggests, semi-hollow guitars sit somewhere between the hollow-body archtops and solid-body guitars. Able to deliver articulate and expressive tones across jazz, blues and rock, semi-hollows offer a warmer, resonant alternative to their solid-body counterparts. They usually feature a wooden center block that the pickups are mounted to, and this mass helps to reduce the risk of feedback that fully hollow-body guitars are so susceptible to – especially with gain and gig volumes.
We've hand-selected our favorites from various price points and brands in this guide to the best semi-hollow body guitars. This list is also in price order to make it easier for you to find the guitars that best fit your budget. So, without further ado, let's jump right in.
Best semi-hollow guitars: Our top picks
Our top pick has to be the Gibson ES-335 Figured (opens in new tab). This stunning guitar has inspired some of the greatest guitar icons of all time and continues to inspire millions of guitarists today. The Gibson ES-335 is versatile, gorgeous to look at and insanely playable. For though seeking a similar tone on a budget the Epiphone Emily Wolfe Sheraton Stealth (opens in new tab) is a fantastic option, and a very cool guitar indeed.
We also have to give a shot out to the Squier Affinity Series Starcaster (opens in new tab), this may be an entry-level guitar, but it has bags of style and a tone to match. Don't let the small price tag fool you, this is a serious guitar with a sound all of its own.
Best semi-hollow guitars: Product guide
The no-nonsense, affordable hollow body
Specifications
Pickups:
Infinity R Ceramic Humbuckers
Controls:
1 x master volume, 1 x master tone
Hardware:
Gibraltar Performer Bridge with Quik Change III Tailpiece
Reasons to buy
+
Super affordable
+
Well built
The Ibanez Artcore series has long been a popular alternative to brands such as Epiphone, and the AS53 model is one of the most affordable options out there for those seeking a slightly smaller body that doesn't compromise on tone.
Featuring an exotic blend of Sapele and Nyatoh, this guitar is most definitely striking to look at, and the tasteful sunburst finish beautifully highlights the elegance of the body shape. Equipped with a set of the Infinity R Ceramic Humbuckers, this guitar sounds just as good as it looks, delivering the warm creamy tone you'd expect from a semi-hollow guitar.
So if you are longing for the tone only a hollow body guitar can provide - but you don't want to break the bank - then the Ibanez AS53 Artcore should most certainly be on your list of guitars to try.
2. Squier Affinity Series Starcaster
Something a little different from Fender
Specifications
Pickups:
Standard Humbucker
Controls:
Master Volume, Master Tone, 3-way switch
Hardware:
6-Saddle Adjustable Bridge
Finish:
3-Color Sunburst, Olympic White, Candy Apple Red, Black
Reasons to buy
+
Nice color options available
+
Highly playable
Reasons to avoid
-
The headstock does divide opinion
The Starcaster was once a guitar that was almost lost to history, as a short-lived quirky hollow body that didn't quite take off. No one could have predicted that this wonky semi-hollow would go on to find a new audience almost 45 years after its initial release.
Fender has brought out a few guitars that harken back to this 70s oddity, but the Squier Affinity Series Starcaster may just be the most wallet-friendly one yet. This affordable axe strips the Starcaster down to its most essential elements while still delivering plenty of 70s mojo.
The Standard Squier humbuckers do a fantastic job of recreating a rich, full-bodied sound that can just as easily handle modern rock as well as vintage tones, while the comfortable maple neck delivers an effortless playing experience.
3. Gretsch G2655-P90 Streamliner Center Block Jr Double-Cut P90
Semi-hollow but packed with value
Specifications
Body:
Laminate mahogany with chambered spruce center block
Neck:
Nato; thin 'U' profile
Fingerboard:
Indian laurel; 12" radius
Controls:
Volume; master tone; master volume; 3-way selector switch
Hardware:
Nickel adjust-o-matic bridge with 'V' stoptail; sealed die-cast tuner (Bigsby version available for $599/£440)
Finish:
Brownstone, Claret Burst
Reasons to buy
+
FideliSonic pickups offer superb versatility
+
Excellent value
+
Widens the appeal of Gretsch
Reasons to avoid
-
Finish options are limited
In terms of accessible price points, Gretsch offers one of the most impressive electric guitar ranges out there – and this new addition to its value-packed Streamliner collection widens that further.
A convincing school of thought suggests that P-90s are the ultimate pickup, and Gretsch's FideliSonic spin on the single-coil offers clarity and treble bite without overpowering the mid thump in the bridge. While the format feels great for rock, the neck pickup will handle a jazz set and will love some raucous fuzz even more.
Which is handy because the chambered spruce block that runs through the centre of the Gretsch G2655-P90 from bridge to neck should keep unwelcome feedback at bay in high-gain scenarios.
4. G&L ASAT Classic Bluesboy Semi-Hollow
Leo's other T-style
Specifications
Neck:
Hard rock maple; medium 'C' profile
Fingerboard:
Maple; 9½" radius
Pickups:
G&L AS4255C alnico neck humbucker; Leo Fender-designed G&L MFD single-coil bridge
Controls:
Volume; tone; 3-way selector
Hardware:
Traditional boxed-steel bridge with individual brass saddles
Finish:
Red Burst; Blonde (both with Brazilian cherry fingerboard); Natural Gloss; Clear Orange
Reasons to buy
+
Pickup combo covers good ground for rock and blues
+
Lightweight
+
Good value
Reasons to avoid
-
Finish options aren't particularly contemporary
Here's a modded take on Leo Fender's final single-cut bolt-on electric guitar design. The G&L ASAT Classic Bluesboy Semi-Hollow offers great value for money, with a swamp ash body and a versatile tonal palette that comes courtesy of a G&L alnico humbucker and Leo's Fullerton-made high-output single-coil MFD (Magnetic Field Design) bridge pickup.
The emphasis of low end over high-end twang and snap works to the humbucker's advantage, while the single-coil delivers significant poke in the mid-range.
Elsewhere, six individual brass saddles deliver precise intonation, while 18:1-ratio tuners offer impeccable stability.
A unique take on the hollow body guitar
Specifications
Fingerboard:
Roasted Jatoba
Pickups:
ESP Designed LH-150N/B
Controls:
Volume/Volume/Tone(Push-Pull)/Tone(Push-Pull)/Toggle Switch
Hardware:
TOM & Tailpiece
Finish:
Pearl Pink, White, Black
Reasons to buy
+
A unique offset body
+
Coil-split functionality
Reasons to avoid
-
The pearl pink finish may be a step too far for some
It's rare to see shapes and styles that break the mold, but that's precisely what the LTD Xtone PS-1 does, and boy, does it do it well. This offset may be somewhat reminiscent of an LP-style guitar, but with the addition of a wonky waist and semi-hollow construction, you get a radical new look that begs to be played.
The PS-1 offers a slew of modern tones, with the ESP Designed LH-150 humbuckers bringing the power, while the handy coil-split functionality gives you the ability to soften your sound at the pull of a tone control.
So if you find yourself looking for a semi-hollow six-string, but you don't want something as conventional as a 335-style guitar, then this is one you should definitely check out.
6. Epiphone Emily Wolfe Sheraton Stealth
The right kind of Wolfe notes
Specifications
Neck:
Mahogany; '60s slim taper 'C' profile
Fingerboard:
Indian laurel; 12" radius
Pickups:
2 x Epiphone Alnico Pro Humbuckers
Controls:
2 x volume; 1 x tone
Hardware:
Lightly aged gold-plated Epiphone LockTone tune-o-matic bridge and stopbar; Grover Rotomatic tuners
Reasons to buy
+
Finish balances a fresh approach with played-in look
+
A quality build at a good price
+
Pickups handle a range of styles well
Reasons to avoid
-
It's on the heavier side by design, and that may not suit some
A firm Sheraton fan, Emily Wolfe had clear ideas of the kind of guitar she wanted her name on (her signature is embossed on the back of the headstock in a suitably stealth-like manner that's visible only at certain angles), and it's resulted in a superb semi-hollow.
While the Sheraton is long-established in the Epiphone line, Wolfe's model features some diversions to the design. The diamond holes doff their cap to the Gibson Trini Lopez model that Dave Grohl loves, while the thinner Black Aged Gloss finish (a first for the brand) lands somewhere between satin and a gloss guitar that's been played for years. It looks great, and the pairing with gold hardware adds a classy contrast.
At 9lbs, the model we tried is comparable to a Les Paul, but it's a comfortable, balanced experience on the strap, and the '60s thin taper neck with low action on our test model felt a breeze for lead runs and bends. Much like Wolfe's songs, the Epiphone Alnico Pro humbuckers confidently bridge the worlds of blues and fuzzier modern rock, with the neck showcasing the singing sustain on offer. A great guitar for those who want something with a different aesthetic that feels premium for its price.
A semi with classic styling
Specifications
Launch price:
$1,710/£1,299
Neck:
3-piece (mahogany/maple/mahogany)
Fingerboard:
Rosewood; 9½" radius
Pickups:
2 x Guild LB-1 humbuckers
Controls:
Bridge volume; bridge tone; neck volume; neck tone; 3-way selector switch
Hardware:
Guild tune-o-matic bridge with rosewood base (also available with a Bigsby); Guild vibrato; Grover Sta-Tite open-gear 14:1 tuners
Finish:
Cherry Red, White, Black
Reasons to buy
+
Classic feel and tones
+
Fine vintage looks
+
Good value
The Starfire V's style is undoubtedly Guild, but its classic vibes could well be aimed at tempting players away from the ES-335s out there. How could anyone resist those generous cutaways and the wooden, tune-o-matic bridge? The guitar's Gibson-style four-knob control layout is augmented by a Gretsch-style master volume control on the treble horn, giving the player an additional choice for on-the-fly tweaks.
The LB-1 pickups replicate Guild's early-'60s Anti-Hum models, offering low-end articulation and a bright bridge pickup with impressive sustain – it'll shine when playing indie, mod or Americana. The Guild vibrato tailpiece allows for chord expression as well as the usual pitch fun for lead lines.
The full-length maple center block means the Starfire V is in the upper end of the weight scale for a semi, but this is an impressive guitar for those with a penchant for vintage aesthetics.
9. PRS SE Hollowbody II Piezo
A semi-hollow with acoustic ambitions
Specifications
Launch price:
$1,899/£1,349
Body:
Laminated mahogany sides with beveled maple top and back, both with a flame-maple veneer
Neck:
Mahogany; glued-in; wide fat shape
Fingerboard:
Rosewood; 10" radius
Pickups:
2 x PRS 58/15 'S' humbuckers; LR Baggs/PRS piezo system
Controls:
Magnetic volume; piezo volume; tone; 3-way selector switch
Hardware:
PRS adjustable stoptail piezo
Finish:
Black Gold Burst, Peacock Blue
Reasons to buy
+
Versatility would really suit a covers band
+
Excellent value considering its high-quality build and tonal range
+
Lightweight for stage comfort
Reasons to avoid
-
The wide fat neck girth may be too chunky for smaller hands
The PRS SE Hollowbody II Piezo is different to the other models in our best semi-hollow guitars list, since it can be played both acoustically and plugged-in. This is thanks to the piezo-equipped stoptail bridge, which enables electro-acoustic sounds via the six saddles, as well as magnetic. PRS keeps this added technology low key; the biggest giveaway is the dual output jacks that give you the option of splitting the piezo sound to a PA or separate acoustic combo.
Superb playability is now a given with PRS, and it's very much in evidence here. The gloss finish with exposed maple binding looks premium. The wide fat mahogany neck is also cleverly designed, segueing from a slight 'V' to a rounder profile the further you move up the neck.
The PAF character of the humbuckers is great for playing classic rock and blues guitar, while dialing the piezo into the mix with them offers a wide and rich quality to the sound. SE may stand for Student Edition, but this is certainly a pro-standard semi.
Read the full PRS SE Hollowbody II Piezo review
A diminutive dark horse
Specifications
Launch price:
$2,299/£1,999
Body:
3-ply (maple/poplar/maple)
Neck:
Mahogany; rounded 'C' profile
Fingerboard:
Rosewood; 12" radius
Pickups:
'57 Classic (neck); '57 Classic Plus (bridge)
Controls:
Bridge volume; neck volume; bridge tone; neck tone; 3-way selector switch
Hardware:
ABR-1 tune-o-matic bridge; aluminum stopbar; Grover Rotomatic tuners
Finish:
Cherry, Trans Ebony, Figured Blueberry Burst, Figured Sixties Cherry (the latter two cost extra)
Reasons to buy
+
A great option for those who want a more compact Gibson semi-hollow
+
'57 humbuckers offer classic Gibson versatility
+
Excellent response and taper on the volume controls for cleaning up
Reasons to avoid
-
Smaller size doesn't equate to much weight reduction over a vintage ES-335
Introduced in 2007, the Gibson ES-339 is a smaller version of the ES-335, intended for those who are more comfortable wielding a guitar with Les Paul-esque dimensions.
Smaller certainly doesn't mean inferior, though, and the ES-339's maple center block and quarter-sawn spruce bracing make it a genuine downsized take on its bigger, older brother.
If the ES-339 feels like an ES-335 / Les Paul mix, then the '57 Classic / Classic Plus humbuckers suit the platform with thick bridge position tones, open-neck character and an added twang to the mid position that enables more scope for chord jangle than you'd find on an LP. It's a very inviting halfway house.
A guitar to fall in love with
Specifications
Launch price:
$2,744/£1,999
Body:
Solid spruce carved top with F-holes; laminate mahogany back and sides
Neck:
Lightly figured maple; traditional even 'C' profile
Fingerboard:
Ebony; 12" radius
Pickups:
2 x Lollar Imperial humbuckers
Controls:
2 x volume; 2 x tone; 3-way selector switch
Hardware:
Gotoh GE104B bridge; Gotoh GE101A tailpiece (both Nickel); Gotoh 510 H.A.P. tuners (X-Nickel)
Reasons to buy
+
Looks stunning
+
High-quality build
+
Versatile Lollar pickups
A few years back, Eastman's head of design, Otto D'Ambrosio, posed the question: "What would the Telecaster of the archtop guitar world look and sound like? And how do we create a unique electric guitar that honors Eastman's carved-body archtop roots?"
The manifestation of those musings came in 2019 with the launch of the Eastman Romeo: a gorgeous, 1950s-inspired thinline electric guitar that boasted a cutaway archtop body complete with a solid spruce top, F-holes and a striking Gold Burst finish.

And this semi-hollow stunner was as versatile as it was handsome, thanks to a pair of custom-wound Lollar Imperial humbuckers, along with a bridge, tailpiece and tuners that came courtesy of Gotoh.
Earlier this year, Eastman followed up the Romeo with a new-look model, the Romeo LA. According to the manufacturer, the guitar's Celestine Blue finish "evokes Los Angeles' classic skyline". But for us, the 2019 original is the one that really takes the breath away.
Read the full Eastman Romeo review
More than a thinline
Specifications
Launch price:
$3,065/£2,249
Neck:
Maple; deep 'C' profile
Fingerboard:
Rosewood; 9½" radius
Pickups:
Custom Shop vintage-style single-coil Tele (bridge); Custom Shop hand-wound Texas Special single-coil Tele (neck)
Controls:
Master volume (S-1 switch); master tone; 3-way selector switch
Hardware:
6-saddle string-through-body bridge; Fender ClassicGear tuners
Reasons to buy
+
S-1 switch adds a new depth to the thinline experience
+
Great neck for playability
+
Looks gorgeous
Reasons to avoid
-
The finish will put some players off
The Spoon and Divine Fits musician's signature model is one of the finest thinline launches from Fender in recent years. Its blueprints were two late-'60s thinlines that Daniel favored, but it adds some distinct mods to the vintage influence.
The 6-saddle bridge allows for individual string intonation, while the Fender ClassicGear tuners offer an accurate 18:1 ratio. Two hand-wound Custom Shop pickups were selected by Daniel, with S-1 switching allowing both to be run in series in addition to the more traditional parallel. The result is a thinline with exceptional versatility.
Thanks to the deeper 'C' profile and the fingerboard's 9½" radius, bending and chord work are a pleasure. And the pickups are also hugely satisfying – the bridge's mid-range punch combining with the neck's Texas Special openness to fantastic effect. The S-1 switching is a massive boon for rhythm work, too.
Read the full Fender Britt Daniel Tele Thinline review
12. Gibson ES-335 Figured
A premium version of an iconic semi-hollow guitar
Specifications
Launch price:
$4,199/£3,499
Body:
3-piece AAA-figured maple/poplar/maple with figured maple top
Fingerboard:
Rosewood; 12" radius
Pickups:
2 x calibrated T-Type humbuckers
Controls:
2 x volume; 2 x tone; 3-way selector switch
Hardware:
Aluminum ABR-1 tune-o-matic bridge and stopbar tailpiece
Finish:
Sixties Cherry, Antique Natural, Iced Tea
Reasons to buy
+
The best contemporary ES-335 you can buy today
+
Stunning figured maple top
+
Versatility in a classic package
Reasons to avoid
-
A premium experience demands a premium price here
The most famed semi-hollow of them all deserves special treatment, and it gets it here. The AAA-figured maple finish offers stunning depth, and this model's maple center block and Adirondack spruce bracing make it acoustically louder, which transfers to a more open plugged-in experience.
The premium treatment extends to a lightweight aluminum ABR-1 bridge and stopbar tailpiece that are anchored with steel thumb-wheels and studs.
Instead of '57s, it comes with medium-output-calibrated T-Type humbucking pickups, but they provide a perfect showcase for an ES-335 and reveal the expression on tap here: warm without a hint of muddiness, but touch-sensitive with bite when overdriven.
Special by name…
Specifications
Launch price:
From $5,490/£3,999
Body:
Mahogany with flame-maple top
Neck:
Mahogany; pattern shape
Fingerboard:
Rosewood; 10" radius
Pickups:
2 x PRS 58/15 LT humbuckers; 1 x PRS Narrowfield single-coil
Controls:
1 x volume; 1 x tone; 5-way selector switch; toggles for coil-splitting the humbuckers
Hardware:
PRS Phase III locking tuners; PRS Gen III patented tremolo
Finish:
18 different color options
Reasons to buy
+
Huge array of tones
+
Stunning build quality
+
A smooth and expressive tremolo system
The first thing that catches your eye when picking up this guitar is its distinctive three-pickup configuration – a PRS Narrowfield single-coil being sandwiched by a pair of PRS 58/15 LT humbuckers. These come with independent taps to provide a total of 12 pickup combinations.
There's a huge array of tones at your disposal, enabling you to perform anything from Texas blues to jazzy cleans with articulate distinction. Having the expressive and nuanced PRS Gen III patented tremolo on board only adds to the wonderful playability.
As for how it looks and feels, the guitar's lightweight build and fuller, pattern-neck profile make it a pleasure to wield. The latter – an update of PRS's wide fat design – is based on the guitars Paul Reed Smith built for Carlos Santana and Peter Frampton. If it's good enough for them...
Best semi-hollow guitars: Buying advice
What is a semi-hollow guitar?
Why you can trust GuitarPlayer Our expert reviewers spend hours testing and comparing products and services so you can choose the best for you. Find out more about how we test.
The term 'semi-hollow' refers to the construction of the guitar. Unlike the fully hollow option, these guitars feature a wooden center block to which the pickups are mounted. This drastically changes the tone by increasing sustain, as well as limiting feedback at loud volumes.
Though they all share a similar aesthetic – boasting at least one F-hole – semi-hollow guitars vary greatly in terms of pickups, bridge and shape. Fender uses the word 'Thinline' as a name for its own semi-hollow models, but the term predates that in the guitar world. It refers to the slimmer body that semi-hollow guitar design introduced, making these electric guitars easier to gig with than the semi-acoustics that jazz musicians had been using. Semi-hollow electric guitar bodies remain generally thinner than their hollow-body counterparts to this day.
While it's understandable to assume that a hollow body area would equate to a lighter weight, many semi-hollows are larger in body width than their solid counterparts, and can still weigh around 8 or 9lbs. However, in the case of Telecasters, thinline models can weigh up to 1.5lbs less than their solid siblings. PRS Hollowbody models offer a similar weight reduction compared to the solid models with the same double-cut body shape.
How does a semi-hollow guitar sound?
Humbuckers, P-90s and traditional single-coil pickups can all be found on semi-hollow guitars, and as a result, it's virtually impossible to define a semi-hollow sound. But it's fair to say that the hollowed area of the body instils more tonal warmth over the brightness that some solid-body electrics can offer.
These guitars are often described as rich and bell-like. They offer a more complex harmonic spectrum, just not found in their solid counterparts. It's no surprise then, that these are usually the six-string of choice for blues and jazz players looking for a guitar that simply offers more than the standard solid-body instrument.
How to choose the right semi-hollow for you
With so many options available, it can get overwhelming. Still, just like choosing a solid guitar, it's essential to think about the tone you are looking to get out of your new axe.
For those seeking a quintessential semi-hollow tone, it's worth looking at an ES-335. Now, whether that's a Gibson, Epiphone, or even some other brand, this large-bodied guitar delivers a simply iconic tone and is what most of us think of when we think of a semi-hollow guitar.
That said, there are many models on the market that break the 335 mold. So, if traditional isn't for you, the Fender Thinline, G&L Bluesboy or PRS might be a more viable option. These guitars offer the warmth of the ES, but with entirely different pickup configurations, tonewoods and features.
Read more on how we test gear and service at Guitar Player.
Related buyer's guides
Get the latest news, reviews and product advice straight to your inbox.
First and foremost, I'm a guitar enthusiast – a fanatic, some might say. I'm a firm believer that most of the world's problems can be solved with a Gibson SG and a catastrophically loud amp. Before writing about guitars for a living as a Senior Deals Writer on Guitar Player, I worked in music retail for 7 years, giving advice on guitars, basses, drums, pianos, and PA systems. I also have a passion for live sound; I'm a fully qualified sound engineer with experience working in various venues in Scotland.
Thank you for signing up to The Pick. You will receive a verification email shortly.
There was a problem. Please refresh the page and try again.