The PRS Special Semi-Hollow is a high-end tone machine that pares a super-premium build and design with one of the most versatile pickup setups you could hope to find.
Pros
+

Excellent range of sounds.

+

Righteous playability.

+

Drop-dead looks.
You can trust Guitar Player. Our expert reviewers spend hours testing and comparing guitar products so you can choose the best for you. Find out more about how we test.
The latest PRS guitars model introduced this year is the Special Semi-Hollow, which is special indeed, thanks to its hum/sing/hum pickup configuration, which uses a PRS Narrowfield unit in the middle position flanked by two 58/15 LT humbuckers in the bridge and neck.
The Narrowfield is designed to deliver single-coil clarity and bite, but without the hum, and the whole idea is to enhance the versatility of this elegant design.
The Special's amplified performance centers on an electronics package consisting of a five-way blade switch that provides the usual pickup selections (neck, neck/middle, middle, bridge/middle, and bridge), along with two mini toggles that independently tap the humbuckers to provide single-coil flavors.
It adds up to 12 pickup combinations, and, coupled with master volume and tone controls, the system offers easy access to a ton of sounds. The way that the Narrowfield pickup is situated a little lower than the humbuckers makes it more accommodating to picking without feeling cramped for space.
A beautiful guitar with its violin-carved striped-maple top – a 10-Top on our review sample – the Special Semi-Hollow wears a new and striking Purple Iris nitro-over-cellulose (CAB) finish that really shows-off the purple-ish colorations in this highly figured piece of wood.
The guitar is available in 19 other colors, and you can subtract $660 from the price for a standard maple top. The carved-out mahogany body enhances the guitar's vibrational qualities and is a big factor in its light weight and nimble feel.
The Pattern set neck has an ideal shape for those who like the girth of vintage-Gibson necks, and it's topped with a rosewood 'board with 22 PRS Standard frets and sweet-looking abalone bird inlays. A smooth synthetic nut and an excellent factory setup make for righteous playability and accurate intonation.
Hardware consists of a PRS patented Gen III tremolo with a push-in arm, and a set of open-gear PRS Phase III locking tuners that turn easily and keep the strings from slipping on the winding posts.
From a functionality standpoint, the bridge is a cool piece of machinery that offers butter-smooth operation, has no sharp edges to interfere with your hand, and looks neat with the nickel-plated steel body and brass saddles and screws.
Strings load from the back into the brass inertia block, and the unit is set up to float with four springs attached. The system has a light bending feel that makes it very expressive to the touch, and it returns to pitch reliably when worked hard.
We tested the Special Semi-Hollow using a Fender Deluxe Reverb and a Matchless Chieftain combo, as well as a variety of OD pedals. It has a resonant acoustic sound, and the pickups do a fine job of capturing that airy character at all volume levels, particularly when the guitar is up loud enough to enjoy the singing, edge-of-feedback sustain that semi-hollows do so well.
The PAF-style, low-wind 58/15 LT humbuckers are a great match, as they sound super clear and detailed when played cleanly, and they're smooth and sinewy, with plenty of bite when pushing a distorted amp or pedal.
The sweet-sounding neck pickup is superb for rhythm and jazzy solos, and it also sounded cool with the coil-tap switch activated (where its slimmer response was dynamite with a lower-gain pedal) and used like an overdrive to get more amp grind. What a killer SRV-style blues tone with the Deluxe!
Image 1 of 5
Sounding like a big single-coil, but rounder and more even sounding than, say, a P-90, the Narrowfield pickup has an output that matches well with the humbuckers, so there's very little loss in level when you flick it on.
The Narrowfield is also great in positions two (neck/middle) and four (middle/bridge) when you want a funkier tone, especially with the humbuckers in tapped mode, which is where the Special Semi Hollow yields its chimiest and most Strat-like tones.
The fourth and fifth positions provide instant access to a lot of cool tones for rhythm and lead, and depending on how much gain you're running, that bridge 'bucker covers a ton of ground, delivering everything from fat, bright Tele-style snap to super buttery sustain, with plenty of stops along the way for dirty/clean textures, all of which respond beautifully to how the volume and tone controls are voiced.
The bottom line is, anyone looking for a superbly playable, do-it-all axe that's armed with great tones and looks sexy as hell should take the Special Semi-Hollow for a spin.
Specifications
PRICE: $4,200 base, molded hardshell case included. $4,860 as tested with 10-Top
NUT WIDTH: 1.687"
NECK: Mahogany, Pattern shape
FRETBOARD: Rosewood, 25" scale
FRETS: 22 PRS Standard
TUNERS: PRS Phase III locking tuners
BODY: Flame-maple top with violin-carve, mahogany back
BRIDGE: PRS Gen III trem
PICKUPS: Two 58/15 LT humbuckers, one Narrowfield single-coil
CONTROLS: Volume, tone, 5-way selector, mini-toggles for coil-splitting the humbuckers
FACTORY STRINGS: PRS Signature .010-.046
WEIGHT: 6.78 lbs (as tested)
BUILT: USA
CONTACT: PRS Guitars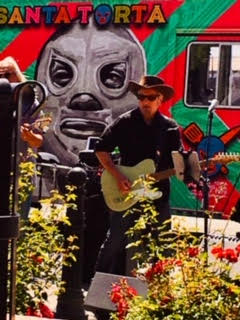 Art Thompson is Senior Editor of Guitar Player magazine. He has authored stories with numerous guitar greats including B.B. King, Prince and Scotty Moore and interviewed gear innovators such as Paul Reed Smith, Randall Smith and Gary Kramer. He also wrote the first book on vintage effects pedals, Stompbox. Art's busy performance schedule with three stylistically diverse groups provides ample opportunity to test-drive new guitars, amps and effects, many of which are featured in the pages of GP.