Best Electric Guitars Under $1,000 in 2023: Our Picks From Fender, Epiphone, Gretsch, PRS And More
If you're on a budget, here's our list of the best electrics under $1000 that will serve you well on the road, in the studio, or at home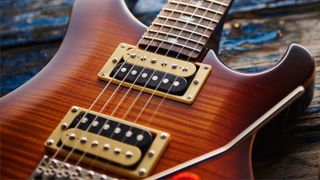 (Image credit: Future)
So, you're looking to buy a new guitar, but you want to keep to a budget? Well, fear not, as we've scoured the market and selected what we believe are the best electric guitars under $1,000 right now. Whether you're playing blues, rock, country, jazz, or anything else, these guitars will serve you well on the road, in the studio, or just at home.
These days $1,000 can get you a lot of guitar, as this guide proves. We have cut-price vintage reissues from Epiphone, do-it-all workhorses from PRS, shred machines from Charvel, and even a tasty offset from Music Man, as well as many more options for you to choose from.
With so many excellent guitars at this price point, undoubtedly, there were many that didn't make the list, but we think we've chosen a good cross-section of what is available right now.
Best electric guitars under $1,000: Our top picks
The best electric guitar under $1000? It's a tough one, but if you're going down the humbucker route, then the Epiphone 1959 Les Paul (opens in new tab) takes our top spot. Fitted with a pair of Gibson USA pickups, it recreates the hallowed Burst sound as best as possible under a grand, plus it comes with a good quality hard case included in the price.
If you're more into single coils, then our favorite pick under the $1,000 price point might be a little controversial – it's the PRS SE Silver Sky (opens in new tab). "Why not pick a Strat?" You may ask – well, the Player Strats are great, no doubt, but the SE Silver Sky just has a little something else. The Vintera Strats are also superb, but in this scenario, they're over budget. The craftsmanship of the PRS SEs is really good; combine this with the sorts of sounds we're used to hearing from a Strat-style guitar, refine them a little in typical PRS fashion, and you're about there. What's not to love?
Best electric guitars under $1,000: Product guide
The best electric guitar under $1000 for that hallowed Burst-era tone
Specifications
Body:
Mahogany with Maple Cap
Fingerboard:
Indian Laurel
Pickups:
Gibson USA Burstbucker 2 & 3
Neck Profile:
'50s Vintage
Finish:
Aged Dark Burst, Aged Dark Cherry Burst
Reasons to buy
+
High-end pickups
+
Classic Les Paul sound
+
Comes with hard case
+
A lot for your money
Reasons to avoid
-
Some may want a modern sounding guitar
This represents the first collaboration between Epiphone and the Gibson Custom Shop, and it truly is one of the best electric guitars under $1,000. Aside from its incredible looks, this Epiphone Les Paul features a pair of Gibson USA Burstbucker 2 & 3s that do a superb job of recreating that hallowed late-'50s Burst-era tone. Other specs include CTS pots, Mallory caps and '50s-era wiring.
In true Les Paul fashion, a solid mahogany body sits underneath a maple cap offering plenty of sustain, and a nice snappy attack. There's also the fairly chunky but comfortable '59 neck profile that so many players love, plus it comes shipped in a good quality hard case.
There's a lot of magic in these Gibson pickups, and the build quality coming out of the Epiphone factory at the moment is very, very good. This is the closest you can get to those holy grail, late '50s Les Pauls without dropping some serious cash.
Read the full Epiphone 1959 Les Paul review
John Mayer's recent SE signature model out-Strats a Strat
Specifications
Finish:
Dragon Fruit, Ever Green, Moon White, Stone Blue
Reasons to buy
+
Five great pickup positions
+
Classic design
+
Feels more expensive than it is
Reasons to avoid
-
Limited color choice
-
The birds and headstock aren't for everyone
The Strat that isn't a Strat recently received the SE treatment from PRS, making it more affordable for a wider audience. They've managed to do this without greatly reducing the overall quality or performance of the instrument. Whilst the sound and look of the SE Silver Sky is hardly groundbreaking, there is something different about it.
All five pickup positions are nicely balanced and all very usable – there's nothing harsh about the bridge position, and the neck pickup is lovely, deep and rich. It sounds, and indeed feels like a more expensive guitar. Whilst the guitar is made in Indonesia, as opposed to the US like the previous Silver Skys, it still features the classic Paul Reed Smith workmanship that we've all come to know and love. Right out of the box (well, gigbag), this thing plays great and we know it will continue to do so, year on year.
Whilst the PRS Silver Sky is only a few years old and essentially just a reworked Strat, it has become a guitar in its own right, and the SE version looks set to continue that. Is it one of the best electric guitars under $1,000? John Mayer and his band certainly seem to think so!
Read the full PRS SE Silver Sky review
3. Fender Deluxe Nashville Telecaster
A Telecaster, and then some…
Specifications
Fingerboard:
Rosewood/Maple
Pickups:
Vintage Noiseless
Finish:
Daphne Blue, White Blonde, Sunburst
Reasons to buy
+
Superbly versatile
+
Noiseless pickups
+
Iconic body shape
Reasons to avoid
-
If you play heavier styles
This is a really well spec'd-out three pickup Telecaster that offers up all the classic Tele tones, and more. It's fitted with pair of Vintage Noiseless Tele pickups in the bridge and neck position. These do exactly what you'd expect; from bright and twangy to mellow and smooth. However, in the middle of these you've also got a Vintage Noiseless Strat pickup, as well as a five-way pickup selector that works in the same way as a Strat.
This is a really versatile guitar, and it's nice to have those classic Tele tones, but also be able to switch to something a little more choppy for funk rhythms, or something more glassy for bluesy lead lines. Also, with these being Noiseless pickups, you don't have to worry about unwanted hum or hiss. It's right up towards the top end of our budget, but it's worth it.
4. Gretsch Electromatic G5420
The best electric guitar under $1,000 for that classic Gretsch sound
Specifications
Pickups:
Black Top Filter'Tron
Finish:
Aspen Green, Candy Apple Red, Fairlane Blue, Orange Stain
Reasons to buy
+
Chunky, warm tones
+
Great pickups
+
Stylish
Reasons to avoid
-
May feed back with the gain cranked
Gretsch makes some of the best looking guitars in the business, but they also sound killer too. The fully hollow body makes it really resonant and helps deliver a warm, full-bodied tone, and the BlackTop Filter'Tron pickups add some chime and sparkle to the top end. Whether you're playing blues, jazz, rockabilly or rock, the Gretsch G5420 really is one of the best electric guitars under $1,000.
The guitar is visually striking too – it comes in some incredible finishes, the body is nice and big, and the Bigsby tailpiece and arm adds a nice little touch of class. This style of guitar has been around for decades now, and, after playing one, you'll discover why!
Jazz, blues, rock and more for well under $1,000
Specifications
Neck:
3pc Nyatoh/Maple, Set
Fingerboard:
Macassar Ebony
Finish:
Antique Yellow Sunburst, Violin Sunburst, Transparent Cherry
Reasons to buy
+
Feels very premium
+
Detailed, vintage-voiced pickups
+
Nice size
+
Good value
Reasons to avoid
-
Not for those seeking a solid guitar
The perfect electric guitar under $1,000 for blues, jazz and rock. Whilst Ibanez are well known for their high-performance rock and metal guitars, they also excel when it comes to hollow and semi-hollow instruments. This guitar's semi-hollow construction makes for a resonant instrument with plenty of sustain.
The Ibanez AS93FM comes with a pair of sweet-sounding, vintage-voiced Super 58 humbuckers. Whether you're dialling back on the tone knob for mellow jazz tones, or you're pushing that bridge humbucker through an overdriven tube amp, you'll hear some detailed tones, with a nice attack, deep bass, and a rich top end. Good quality hardware helps the guitar stay and play in tune, plus it helps resonance. It looks really classy and it's sometimes surprising that it comes in at way under $1,000.
6. Charvel Pro-Mod So-Cal Style 1 HH
One of the best super-Strat style guitars out there for under a grand
Specifications
Pickups:
Seymour Duncan Distortion TB-6/SH-6N
Finish:
Grey, Satin Orange Blaze, Black, Vintage White
Reasons to buy
+
Seymour Duncan pickups
+
Coil split option
+
Superb playability
Reasons to avoid
-
High output pickups too much for some
-
Floyd Rose makes restrings trickier
There are some great choices when it comes to super Strats at the moment, but none outperform the Charvel Pro-Mod So-Cal at under $1,000. Shredders and rock guitarists will love this, but it's by no means a one-trick pony. It's actually super versatile.
A pair of fairly high output Seymour Duncan humbuckers offer a tight bass response, along with a sweet top end. Dial back on the volume knob though, and they will clean up – though that's probably not what you're getting this guitar for. The volume knob also works as a push/pull switch activating a coil split giving you single-coil sounds – this really isn't just a shredder's guitar!
They look great, and they're made well, plus that slim neck profile is incredibly comfortable, for rhythm and lead work. The Floyd Rose trem system might not be for everyone, but if that's your cup of tea, then you'll love it.
Paul Reed Smith's quintessential SE electric guitar, coming in at under $1,000
Specifications
Body:
Mahogany, Maple Cap
Finish:
Black Gold Burst, Bonni Pink, Faded Blue Burst
Reasons to buy
+
Superb build quality
+
Great pickups
+
Versatile
Reasons to avoid
-
Bird inlays not for everyone
The classics are classic for a reason. The Custom 24 has established itself as a major player in the world of guitars, alongside the likes of the Fender Strat and the Gibson Les Paul. This latest PRS SE Custom 24 features a pair of 85/15 'S' humbuckers, based on their US-made counterparts. These are ideal for rock, blues, jazz and loads more. However, if you need more tones at your disposal, the tone knob also acts as a coil-split function so you can get more single-coil like tones, making this a really versatile instrument.
We've become so used to PRS's great craftsmanship and superb playability, and the SE Custom 24 is no exception. It's a joy to play, regardless of what style of player you are. Whether you're a gigging musician, bedroom guitarist or producer who needs a reliable 'do-it-all' guitar, then this has you covered. Absolutely one of the best electric guitars under $1,000.
8. Squier Classic Vibe '60s Strat
An affordable take on the legendary '60s pre-CBS Strat
Specifications
Fingerboard:
Indian Laurel
Pickups:
Fender Designed Alnico Single-Coil
Finish:
Sunburst, Lake Placid Blue, Candy Apple Red
Reasons to buy
+
Classic Strat tones
+
Affordable
+
Good build quality
Reasons to avoid
-
Not quite as good as a Fender
The entire Classic Vibe range from Squier offers amazing value for money, but we've picked out the '60s Strat as being one of the best guitars under $1,000 for its playability, looks and sound. You don't quite get the same note definition and frequency range as you would with some more expensive models, but this guitar gives all the classic Strat tones for not a lot of money.
The Classic Vibes are built to a good standard – these will act as great instruments on the road, or just at home. Vintage pre-CBS Strats are serious money, and Custom Shops and American Originals are well over our $1,000 limit. This sits comfortably under $500 – half of our budget here, and it's a whole lot of fun to play.
9. Yamaha Revstar Standard RSS02T
Twin P-90s, great build quality, versatile electronics and some incredible finishes, all under $1k
Specifications
Body:
Chambered Mahogany, Maple Cap
Pickups:
VP5n/b Alnico V Single-coil
Finish:
Swift Blue, Sunset Burst, Black, Hot Merlot
Left-handed?:
Humbucker version only
Reasons to buy
+
Great pickups
+
Versatile electronics
+
Beautiful finishes
Reasons to avoid
-
Not the most exciting guitar on this list
Yamaha are one of the biggest names in the world of musical instruments. They introduced the Revstar range a few years ago and recently overhauled it. The Revstar RSS02T is a stunning guitar fitted with two P-90 pickups that will dish out bright, upper-mid rich, bitey tones, and smooth, full and warm sounds in equal measure. P-90s are versatile pickups, and this guitar is one of the best ways of showcasing this.
The Revstar RSS02T also has a passive boost built-in that gives you the sound of slightly hotter, overwound pickups, as well as a five-way pickup selector, as opposed to three like you might expect.
Whilst this might be a fairly new design, the guitar looks classy and timeless. It also has a few modern tricks up its sleeve, with a mahogany and carbon neck for extra stability. The mahogany body has also been strategically routed out so it's lighter, but you still get plenty of sustain and resonance.
10. Sterling By Music Man Mariposa
Floats like a butterfly, stings like a bee
Specifications
Pickups:
Sterling by Music Man Humbucker
Hardware:
Vintage Tremolo
Finish:
Dorado Green, Pueblo Pink
Reasons to buy
+
Gorgeous finish options
+
Famous Music Man build quality
Reasons to avoid
-
The shape isn't for everyone
From the mind of Mars Volta and At The Drive-In axeman Omar Rodríguez-López, the Mariposa is as quirky and unique as the prog guitarist himself.
This stunning signature guitar is a more affordable version of the USA variant but is every bit as cool. This Sterling By Music Man option keeps the distinctive, angular body as the original, but this time it's made from Nyatoh rather than Okoume and opts for a roasted maple neck with rosewood fingerboard rather than ebony.
At its heart sits a robust set of Music Man humbuckers that deliver a warm, punchy tone perfect for hard rock, prog, and of course, hardcore punk.
Unfortunately, the budget version is missing the ornate laser-etched pickguard, but we can't complain too much, as this guitar is under half the price of its USA big brother!
For us, this stylish offset offers players a unique twist on the standard twin humbucker formula and is most definitely worth your time - whether you're a Mars Volta fan or not.
Best electric guitars under $1,000: Buying advice
If you're in a position where you can spend up to $1,000 on a new guitar, you want to make sure that you're getting the best one for the money, that will serve the purpose you need it for. There are some really good choices, from well-known brands, including Fender, Epiphone, Gretsch, Ibanez and more. When making the choice between them, there are some key considerations you can make to ensure that you end up with the right instrument for you.
How important are the pickups on an electric guitar?
When it comes to choosing a new guitar, you should pay careful attention to the pickups. Of course, many players have a preference when it comes to humbuckers, single coils and P-90s, with each having its own tonal characteristics. As you'd expect, different pickups are more suitable for individual playing styles and types of music than others, so make sure you choose wisely.
There are always exceptions, but generally speaking, humbuckers tend to sound a little warmer and thicker, with a touch more output, and single coils brighter, thinner and crisper with a lower output. P-90s are still essentially single coil pickups, with a slightly altered design that has an impact on their sound – sonically, they're usually punchier, with more mid-range bite than a regular single coil. What is right for you largely boils down to personal preference. Within blues, rock and jazz, you'll find a range of different pickups used.
Some modern guitars fitted with humbuckers allow you to tap, or split the coils, giving you more single coil-like tones. This can be especially useful if you want an array of tones all from one guitar.
How does the construction of the guitar affect tone?
The construction of the guitar can also have an effect on how it sounds. Bolt-on necks, as opposed to set necks, can lend the guitar a snappier and more articulate sound – they're also easier to replace should you need to do so. Set necks, which are glued into the body, can help with a warmer and fuller tone, with more sustain.
Hollowbody electric guitars usually mean more resonance, which is great for some players. Bear in mind though, if you're cranking the gain quite high, then these are more prone to feedback. A middle ground would be a semi-hollow bodied guitar, that has a solid block running through the middle.
Follow the feel
You can trust Guitar Player. Our expert reviewers spend hours testing and comparing guitar products so you can choose the best for you. Find out more about how we test.
How the guitar feels to play is another big factor in choosing the best sub $1k guitar for you, and a lot of this is in the neck profile. Nowadays, modern guitars tend to cater to a variety of playing styles, with neck profiles that are neither too thick nor too thin, however, they're certainly not all the same.
Thinner necks can lend themselves nicely to speedy, shreddier players, especially if they're combined with a flat fingerboard radius. Thicker neck profiles fill out the fretting hand a bit more, though, for most people, that doesn't hinder them from playing in any particular way.
How we test electric guitars
Now, we are very aware that so much of an electric guitar comes down to personal preference, but that said, there are still a few key criteria that a guitar must meet for us to consider recommending it to our readers.
As you'd expect, the first and probably the most important is build quality. When putting a new six-string through its paces, we'll thoroughly check every element of the build, from head to tail-piece, to ensure it feels robust. We are checking to ensure the neck is fitted correctly, that the hardware feels solid, and of course, that there are no electronics issues. Once we are satisfied, we will move to the guitar's overall finishing, looking for any anomalies in the paintwork.
Next up is playability. A guitar must be playable straight out of the box. Yes, we will accept that slight adjustments may need to be made to the action to meet our personal tastes, but the guitar should be in a playable state when we first try it.
We will check how comfortable the neck is, as well as how well the frets have been fitted - no matter the price point, we will not accept shoddy fret ends.
Lastly, we'll look at tone. Again, this is very subjective, but we are looking to see if the guitar lives up to the manufacturer's claims and is fit for purpose.
Read more on how we test gear and services at Guitar Player (opens in new tab).
Related buyer's guides
All the latest guitar news, interviews, lessons, reviews, deals and more, direct to your inbox!
After spending a decade in music retail, I'm now a freelance writer for Guitar Player, Guitar World, MusicRadar and Reverb, specializing in electric and acoustic guitars bass, and almost anything else you can make a tune with. When my head's not buried in the best of modern and vintage gear, I run a small company helping musicians with songwriting, production and performance, and I play bass in an alt-rock band.