Best Blues Guitars 2023: Play Away The Blues With Our Top Choices From Gibson, Fender, Duesenberg, PRS, And More
We hope you have your best pentatonic licks at the ready because with blues guitars this good, you're going to need them!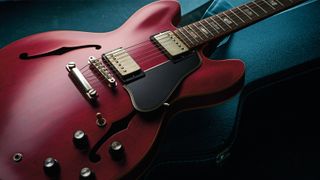 (Image credit: Future)
Let's be fair, you don't need a particular guitar to play the blues, it comes from the deep depths of your soul. Any one of the blues greats could play a broom with a string attached and still manage to elicit a strong emotional response from their audience. That said, there is definitely a particular sonic palette we associate with the blues, and that's a full-bodied, warm tone, with singing sustain and plenty of rich overtones. Using these characteristics, we've put together a list of the best blues guitars that are sure to become your pride and joy.
We have chosen to focus solely on more advanced electric guitars in this guide. So, you won't find any entry-level six-strings here. Instead, we have made sure to select guitars that are giggable and of a certain quality.
So, no matter if you are influenced by the retro blues stylings of the three Kings and Muddy Waters, or the rocking blues of Billy Gibbons and Bonamassa, you'll be sure to find a guitar on this list to help you play away the blues and you won't need to take a trip down to the crossroads, and sell your soul to Beelzebub, to get it.
Best Blues Guitars: Product Guide
1. Gibson Original ES-335
The hollow-body that ruled the world
Specifications
Body:
3-ply Maple/Poplar/Maple
Pickups:
Calibrated T-Type
Controls:
2 Volumes, 2 Tones & Toggle Switch
Hardware:
Nickel ABR-1 Tune-O-Matic
Finish:
Sixties Cherry, Vintage Ebony, Vintage Burst
Reasons to buy
+
Timeless look
+
Even more timeless tone
Reasons to avoid
-
Fans of smaller guitars may want to look at the ES-339
The list of players who have used an ES-335 to devastating effect is as long as your arm, and it's easy to see why. The rich, complex, bell-like tone has a sound that just inspires you to play away the blues.
There have been many, many versions of the 335 over the years. Still, the current iteration offered by Gibson stays pretty true to the 60s era of this gorgeous semi-hollow guitar. Featuring an insanely playable hand-rolled, rounded C profile neck, sweet-sounding Calibrated T-Type humbucking pickups, hand-wired control assembly, and beautiful glass-like nitro finish.
The Gibson ES-335 has its feet so firmly in the blues, it's hard to separate them. So, if you are looking for one of the best blues guitars around, then you can do far worse than this timeless instrument.
The retro classic makes its way back to the USA
Specifications
Body:
3-ply Maple/Poplar/Maple
Pickups:
Gibson USA P-90 Dogear
Controls:
2 Volumes, 2 Tones & Toggle Switch
Hardware:
Nickel ABR-1 Tune-O-Matic
Finish:
Vintage Sunburst, Royal Tan
Reasons to buy
+
Come on, who doesn't love a P-90?
+
Lavish tone
Well, after 50 years of being made in various factories - and countries - the Casino has finally come home to the USA, and we couldn't be more excited about it. So many great players have opted for the deep, hearty tone of the Casino, such as the unstoppable Keith Richards, the late great John Lennon, and modern blues master Gary Clark Jr, to name a few.
Although this guitar may look similar to its brethren above, it's a somewhat different animal. The Casino forgoes the maple center block in favor of fully hollow construction, resulting in a slightly warmer, woodier tone. This, coupled with the P-90 pickup, means this Epiphone has its own sonic identity, perfect for not only the blues but also as a jazz guitar and even rock - just be careful with your volume, as they do like to squeal.
Okay, this might not be a real vintage Casino, but frankly it's as close as you will get, and with the constant rise in vintage guitar prices, the most cost-effective purchase you can make - if you want an American-made Epiphone.
3. Fender American Original '50s Stratocaster
If a Strat is good enough for Buddy Guy, it's good enough for you!
Specifications
Controls:
Master Volume, Tone 1. (Neck Pickup), Tone 2. (Bridge/Middle Pickup)
Hardware:
Pure Vintage 6-Saddle Synchronized Tremolo
Finish:
White Blonde, 2-Color Sunburst, Inca Silver
Reasons to buy
+
As versatile as it gets
+
Fantastic pickups
Reasons to avoid
-
Soft V neck not for everyone
It seems like the humble Fender Stratocaster has always been the weapon of choice for the trailblazer. The incredibly versatile nature of the Strat has meant that guitar innovators such as Hendrix, Clapton, or SRV were able to bend the Fender classic to their will, resulting in some of the most remarkable guitar tones of all time.
We could've picked several Stratocasters for this guide, but we succumbed to the vintage charms of the American Original '50s. This retro-inspired axe features a plethora of period-correct specifications, such as an ash body with a lacquer finish, three Pure Vintage '59 single-coil pickups, and chunky 50s style soft V neck with a 9.5" radius fingerboard.
So, suppose you are looking for the vintage sound and feel of a golden age Fender, with a few modern features. In that case, the American Original series is most definitely for you.
Where beauty meets function
Specifications
Body:
Laminate Flame Maple
Pickups:
USA Seymour Duncan 59 Humbucker
Controls:
neck volume, neck tone, bridge volume, bridge tone, push/pull coil-tap
Hardware:
D'Angelico Stairstep tailpiece
Finish:
Vintage Natural, Viola, Black Dog
Reasons to buy
+
Stunning look
+
Seymour Duncan pickups
Reasons to avoid
-
Some players may find it expensive for a Korean guitar
It's hard to deny the sheer beauty of the D'Angelico Excel SS. This 15-inch-wide single-cutaway hollow body has quickly become the flagship model of the re-invented D'Angelico range, and for good reason.
Although this guitar wouldn't look out of place in a smokey blues club in a New York City back alley, it is concealing a few modern features among its retro stylings. The Seymour Duncan 59 humbuckers provide a full, fat tone, while the inclusion of coil-tapping push/pull tone knobs offers a crystal-clear clean tone. In addition, the modern slim C neck is a joy to play and will most certainly fit the majority of player's hands.
So if you are looking for your new guitar to be dripping with vintage mojo, and seek some mod cons, then this is most certainly the instrument for you.
5. Gibson Custom Shop 1959 Les Paul Standard
The icon. The myth. The legend.
Specifications
Body:
1-Piece Lightweight Mahogany, 2-Piece Figured Maple, Hide Glue Fit
Frets:
22 Historic Medium-Jumbo
Pickups:
Custombucker Alnico III (Unpotted)
Controls:
2 Volume/2 Tone CTS 500K Audio Taper Potentiometers, Paper-in-Oil Capacitors
Hardware:
Nickel ABR-1 Tune-O-Matic
Finish:
Washed Cherry Sunburst, Iced Tea Burst, Dirty Lemon
Reasons to buy
+
As far as LPs go, it doesn't get better
+
Arguably one of the most comfortable necks you'll play
There are a handful of guitars out there that have taken on a whole legend of their own and become, in some ways, more famous than the players who wielded them. Peter Green's "Greeny" has to be one of those guitars. This mythological '59 Les Paul is responsible for some of the most replicated guitar sounds of all time - and the reason modern LPs have an out-of-phase setting!
Now, it's doubtful that we will ever get our hands on an original burst, and even if we did, it's even more unlikely that we'll have enough dough to make it ours. So, in that case, it's better to stick to the Gibson reissues. For us, Gibson is making the best recreations of these priceless guitars they ever have done - and although they may be expensive, they are a damn sight cheaper than an original.
Gibson has used state-of-the-art technology to capture every little detail - from laser-scanning the necks to get the exact profile to recreating the plastics down to a molecular level. If you are chasing the tone of the blues rock greats, such as Peter Green, Gary Moore, and Billy Gibbons, then you're going to need your very own '59 Les Paul.
6. Fender Vintera '60s Telecaster Modified
Where vintage meets modern
Specifications
Pickups:
Vintage-Style '60s Single-Coil Hot Tele
Controls:
Master Volume, Master Tone, 4-Position Blade Switch
Hardware:
3-Saddle Vintage-Style Strings-Through-Body Tele® with Chrome Barrel Saddles
Finish:
Lake Placid Blue, Seafoam Green
Reasons to buy
+
Who doesn't love the simplistic beauty of the Tele?
+
Super comfortable neck
Reasons to avoid
-
Some players won't use the S-1 switching
Suppose you fancy channeling your inner Albert Collins or Muddy Waters. In that case, you're going to need to rely on the simplistic beauty of the Fender Telecaster. For our money, one of the best Telecasters on the market right now has to be the Fender Vintera '60s Telecaster Modified.
The Telecaster has a tone that stands on its own. It's spikier than a Strat, brighter than a Les Paul, and has a focused treble that cuts through a mix like a hot knife through butter.
The Vintera manages to perfectly blend the classically handsome looks of a vintage Telecaster with the modern features we have all come to rely on. The hotter single-coil pickups are designed to push your amp, delivering a punchy attack. At the same time, the sophisticated modern wiring allows you to broaden the tonal possibilities of this twang machine.
7. Duesenberg Starplayer TV
The most unique guitar on this list?
Specifications
Body:
Laminated spruce/maple
Pickups:
Domino P90/GrandVintage Humbucker
Controls:
1 Volume,1 Tone & Toggle Switch
Hardware:
Duesenberg Diamond Deluxe Tremola
Finish:
Wide range of colours available
Reasons to buy
+
German Engineering
+
Bold look
+
Quality tones
Reasons to avoid
-
It may be a little out there for the more reserved player
The Duesenberg Starplayer is a unique take on a tried and true formula. We have a semi-hollow guitar with a feedback-busting center block. Still, unlike the ES-335, they have swapped the laminated maple top for spruce, keeping the maple on the rear of the instrument. Duesenberg has opted for a one-piece maple neck rather than the mahogany, typically found on a Gibson guitar.
At the heart of the exemplary instrument is Duesemburg's proprietary pickups. In the bridge position, we have the GrandVintage Humbucker. As the name suggests, it delivers all the creamy retro tones you'd want out of a blues guitar. In the neck position, we have the Domino P90, a genuinely outstanding pickup and easily one of the best P90s on the market.
So, if you are looking for something a little different from your next blues guitar, then the Starplayer TV has to be on your list of instruments to check out - you will not be disappointed!
8. Yamaha Revstar RS502TFM
A tonal powerhouse
Specifications
Controls:
1 Volume, 1 Tone
Hardware:
Tune-O-Matic/Aluminium tailpiece
Finish:
Vintage Japanese Denim
Reasons to buy
+
Stylish good looks
+
Way lighter than a Yamaha SG!
It shouldn't be much of a surprise that we would feature a Yamaha guitar in a list of best blues guitars, with legends such as Carlos Santana favoring the old school Yamaha SG back in the day. Now, while the SG is still available, we have decided to include its younger - and equally cool - little brother, the Yamaha Revstar RS502TFM.
The new Revstar series hit the ground running when they were released back in 2015, with the likes of up-and-coming blues player Chris Buck using his Gold Top variation to absolutely slay modern blues licks on YouTube.
These guitars are undoubtedly reminiscent of the now vintage SGs, featuring a maple and mahogany body, distinctive horned cutaways, a 3-piece mahogany neck, and killer P-90 pickups.
9. PRS SE Custom 22 Semi-Hollow
The classic PRS tone with extra depth and body
Specifications
Body:
Mahogany with Maple Vaneer
Controls:
Volume and Push/Pull Tone Control with 3-Way Blade Switch
Hardware:
PRS Patented Tremolo
Finish:
Sunburst, Santana Yellow
Reasons to buy
+
A blues guitar with a touch of class
+
Phenomenal tones
+
Lightweight
Reasons to avoid
-
Not the most traditional
PRS makes some of the most versatile guitars in the world - and not to mention the most beautiful, so it was only natural that we would include one on this list, but which one do we choose?
Our first instinct was to go straight for the PRS Silver Sky, the signature model of pop megastar and blues fanatic John Mayer. The problem is, we already have a bunch of those tones covered with the Strat above. So instead, we decided to go with the SE Custom 22 Semi-Hollow. This rocking guitar covers a lot of the same ground as the Les Paul, but with the added benefit of being semi-hollow, adding an extra layer of resonance, and depth to the tone.
As you'd expect from PRS guitars, this model features an incredibly comfortable neck that begs to be played. In addition, the dual 85/15 S pickups with push/pull tone controls mean you can achieve - literally - any tone imaginable.
10. Gretsch Electromatic G5420T
That classic Gretsch sound
Specifications
Pickups:
Black Top Filter'Tron
Controls:
Volume 1. (Neck Pickup), Volume 2. (Bridge Pickup), Master Volume, Master Tone
Finish:
Aspen Green, Candy Apple Red, Fairlane Blue, Orange Stain
Reasons to buy
+
Gretsch pickups have their own thing
+
Bigsby adds a different level of expression
Reasons to avoid
-
The larger body isn't for small players
When it comes to Gretsch guitars, it's hard to look past the Electromatic series. They're reliable, sturdy, sound fantastic, and even look the part - what's not to love?
Like the Strat above, we had quite the choice when selecting a Gretsch guitar for this list. In the end, we ended up going for the classic large, fully hollow body of the G5420T. The dual Black Top Filter'Tron humbucking pickups are surprisingly versatile, delivering a bright, crisp tone, perfect for cleaner leads. The massive body balances the bright attack of the pickups with plenty of low-end.
Now, you can't have a Gretsch guitar without a Bigsby - that's the law - and here we have the ever-popular Bigsby B60. This is a fantastic vibrato system and, used correctly, can add a whole extra level of expression to your playing.
Best blues guitars: Buying Advice
What Makes A Great Blues Guitar?
Why you can trust GuitarPlayer Our expert reviewers spend hours testing and comparing products and services so you can choose the best for you. Find out more about how we test.
The reality is, just about any guitar you can think of makes a great blues guitar - well, maybe not a Floyd Rose loaded Ibanez Jem, but you get the point. The truth is most of the blues greats didn't think about what guitar they were playing - or even the tone for that matter - it was all about what they could get their hands on. Most of the influential players of yesteryear got their signature axe by default. Whether that was by grabbing the first guitar they could afford or even simply playing a hand-me-down guitar, no one sought out a "blues guitar," so to speak.
Today things are a little different. Guitars are more affordable and accessible than ever before, and many players are looking to recreate the sound of their heroes. So, where do you start when looking for the ultimate blues machine?
For us, the obvious place to start is with the classics. Whether that's a Fender Stratocaster or Telecaster, Gibson Les Paul, or ES-335, you can't go wrong with an iconic guitar. These special instruments offer not only fantastic playability but also invoke a particular response from the player, and ultimately that's what the blues is about.
It's essential that whatever guitar you choose is highly playable. At the end of the day, you don't want your guitar to get in the way of your playing. Your new guitar should feel like an extension of your hands and be a vehicle for your creativity.
Best Blues Guitars: Single Coil or Humbucker?
This isn't a question solely asked by blues players, but the entire guitar community - what is better, single coils or humbuckers?
Well, unfortunately, there is no definitive answer to this question. It all boils down to the individual player and the tone they are chasing. If you are looking to recreate the soaring lead sound of Stevie Ray Vaughan, then you're going to need single coils - as well as bags of talent, a crazy loud tube amp, and you should probably throw in a Tube Screamer for good measure. On the other hand, perhaps you're looking for a warmer, rounder attack with extra sustain. Well, in that case, you're looking at humbuckers. Now, which guitars those pickups are attached to is entirely up to you - experiment!
Read more on how we test gear and service at Guitar Player.
Related buying guides
All the latest guitar news, interviews, lessons, reviews, deals and more, direct to your inbox!
First and foremost, I'm a guitar enthusiast – a fanatic, some might say. I'm a firm believer that most of the world's problems can be solved with a Gibson SG and a catastrophically loud amp. Before writing about guitars for a living as a Senior Deals Writer on Guitar Player, I worked in music retail for 7 years, giving advice on guitars, basses, drums, pianos, and PA systems. I also have a passion for live sound; I'm a fully qualified sound engineer with experience working in various venues in Scotland.