Best Acoustic Guitars 2021: 12 Intermediate To Top-End Acoustics
By James Farmer
Guitar Player's pick of acoustic guitars from Martin, Taylor, Gibson, Guild and more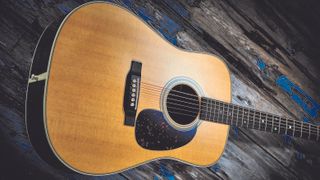 (Image credit: Future)
When it comes to buying one of the best acoustic guitars, it's crucial to make sure you're getting exactly what you want. You'll need to ask yourself all the most important questions, like which tonewoods you want, what body size or type you're after, and fundamentally, how much you want to spend. It's worth noting that all 12 of the guitars in this round-up are, in our opinion, the best acoustic guitars you can get your hands on right now - so no matter what you walk away with, you'll have a great guitar. But, in reality, 'great' just isn't good enough. It needs to be perfect.
Whatever style you play, and whatever style you have, there'll be an acoustic guitar in here for you. We've got depression-era classics, modern workhorses and true icons from the likes of Martin, Takamine, Gibson and Epiphone - and even an appearance from relative acoustic newbies PRS.
You've got a lot of factors to consider and to help you out a bit we've included some expert buying advice at the bottom of this guide. If you'd like to read it, click the 'buying advice' tab above and you'll go straight there. If you'd like to get straight to the products, then keep scrolling.
Best acoustic guitars: Guitar Player picks
When it comes to choosing our favorite, it's a bit like choosing your favorite child. You know they're all great in their own right - but we've all got one we'd rather spend our time with. Guitar Player's choice has to be the Martin D-28 Authentic 1937 VTS, and it's because when you weigh up every single pro and con, you still come out with an incredible guitar that'll do just about anything.
In terms of sheer value of parts, the Adirondack spruce/Madagascan rosewood combination is a collectors dream, but the sound it creates is genuinely moving, and nigh-on priceless. Yeah, it's not an actual 30's D-28, but it's darn close.
Best acoustic guitars: Product guide
1. Martin D-28 Authentic 1937 VTS
Grab your very own 'golden era' Martin without needing a second mortgage
Price: $6,899/£6,999 | Body type: Dreadnought | Top: Adirondack spruce with VTS | Back & sides: Madagascan rosewood | Neck: Mahogany | Fingerboard: Ebony | Scale: 25.4 " | Bracing: Forward-shifted X-bracing | Frets: 20 | Tuners: Nickel open-gear | Finish: Vintage Gloss
One of the most iconic acoustics of all time
Adirondack spruce is highly sought after
Still cheaper than a genuine '30s D-28
Price is still pretty eye-watering
There are few acoustic guitars as iconic as the Martin D-28 - especially a 'golden era' D-28. But if, like most of us, you don't have that kind of money knocking around, then this might be the next best thing.
Crafted from highly sought-after Adirondack spruce, the top and braces get Martin's own VTS (Vintage Tone System) thermochemical treatment. This removes moisture from the wood at very high temperatures, allowing the top to resonate as freely as possible, and to sound as sweet as a genuine vintage Martin. If that wasn't enough harmonious beauty, the Madagascan rosewood back and sides help produce a rich low end and sparkling clarity - with dark resonant undertones. Combined, this leads to a balanced and truly satisfying tone that will make this guitar worth every penny.
At close to seven grand, it's a price tag that some will still find pretty prohibitive - and that's fair enough. This guitar is the culmination of decades of R&D and millions of dollars worth of research, and that comes with a price. But honestly, listen to this guitar and it will all make sense. And then, like us, you'll want one. Or two.
2. Martin 000-15SM
An all-mahogany masterpiece, without the price tag
Price: $1,599/£1,635 | Body type: 000 12-fret | Top: Mahogany | Back & sides: Mahogany | Neck: Mahogany | Fingerboard: Morado | Scale: 25.4" | Bracing: X brace, non scalloped | Frets: 20 | Tuners: Golden Age Bright Nickel Side Mount | Finish: Satin
Classic look is just stunning
000 12-fret size is ultra comfortable
Can handle strummers surprisingly well
Only a 15 series, so no frills here
Rolling on back to the mid-'30s, Martin, like many other companies, was struggling in the midst of a crushing financial crisis. In order to fight their way through the Great Depression, they decided to start making cheaper, all-mahogany acoustic guitars in order to boost sales and help them survive - and we're glad they did.
This 000-15SM looks oddly different to a standard '000', but the reasoning is very simple. With its vintage-inspired appointments, the SM is a 12-fret as opposed to a standard 14. This, alongside the slotted headstock, provides a classic vibe that oozes style, and gives this guitar its very own personality. The difference in body shape makes a tonal impact, as well as an aesthetic one, with the slightly deeper shoulders warming up the tone ever so slightly and creating a fantastic harmonic resonance.
It might not be the most impressive looking guitar on the list. It might not be the most versatile either - but as an affordable USA-made Martin, and as a tip-of-the-hat to days gone by, we don't think it gets any better than this sub $/£2,000.
3. Fender Paramount PM-3 Triple-0
A fantastic, versatile guitar for not a lot of money
Price: $629/£599 | Body type: 000 | Top: Sitka spruce | Back & sides: Mahogany | Neck: Mahogany | Fingerboard: Ovangkol | Scale: 25.3" | Bracing: Quartersawn scalloped X bracing | Frets: 20 | Tuners: Nickel | Finish: Gloss Polyester
Really comfortable to play
Fender build quality is impressive
Love the old-school logo
Fender not a name in high-end acoustics
Fender is a name we're all well aware of when it comes to electric guitar, but do they make a decent acoustic guitar? The answer is yes - and the proof is right here.
The Paramount PM-3 is an affordable showcase of Fender's acoustic-building prowess, with a spruce top and mahogany back and sides delivering a classic, dependable precision that allows you to cut through any mix in any live situation. The 000 size is a fantastic middle-ground body type for those that want a blend of rich warmth and a prominent upper mid-range, and the cutaway makes playing the PM-3 easier than most.
Vintage touches, such as the fingerboard inlays, logo and checkerboard purfling really set this PM-3 off, giving it a tremendously cool vibe that will make you never want to put it down. It definitely feels like a Fender guitar - solid, bright, punchy - and we really love that.
4. Gibson Hummingbird Original
An iconic, inspirational square-shoulder dread'
Price: $3,849/£3,399 | Body type: Dreadnought | Top: Sitka spruce | Back & sides: Mahogany | Neck: Mahogany | Fingerboard: Rosewood | Scale: 24.75" | Bracing: Traditional hand-scalloped X bracing | Frets: 20 | Tuners: Gotoh keystone | Finish: Nitrocellulose
Sounds absolutely massive
Spruce & mahogany is a dream combination
Heritage Cherry Sunburst in particular looks dreamy
Huge sound comes at the expense of comfort
The Gibson Hummingbird is one of those guitars that never fails to make us guitarists smile. There's something about the look, sound and feel of the 'hummer' that acts like an auditory comfort blanket. We've heard it so many times before on so many huge records that the powerful, direct tone has become almost instantly recognisable - and we love it.
Gibson's first ever square-shouldered model, the Hummingbird utilizes perhaps the greatest pairing of tonewoods, sitka spruce and mahogany. The interplay between these prized top and body woods will fill any room with jangly vintage charm, all the while dishing out some punchy, rich sounding tones to help your playing transcend. The top is treated, so sounds weathered and played in - allowing you to get the best from your Hummingbird straight out of the gate.
We do like the Hummingbird, a lot - but there's one thing we aren't so fond of that we'd like to mention - it's a pretty massive guitar. We know it's no bigger than a standard dreadnought, but the square shoulders especially make this guitar feel bulky and sometimes awkward to play. Granted, that shape is what helps to produce the massive sound we love so much - but it's still a bit too much of a handful sometimes.
5. Guild F55E Maple
The best jumbo bodied acoustic guitar on the market
Price: $3,899/£3,399 | Body type: Jumbo | Top: Spruce | Back & sides: Arched flamed maple | Neck: Mahogany | Fingerboard: Ebony | Scale: 25.6" | Bracing: Adirondack scalloped X | Frets: 20 | Tuners: Gotoh SE700 open-gear | Finish: Gloss Nitrocellulose
Flamed maple looks incredible
Sounds humongous
Maple back and sides creates important clarity
It's in SJ-200 territory
Guild is definitely the quiet, unassuming one of the bunch. They've been tirelessly plugging away in the background creating some of the world's finest and most recorded acoustic guitars since 1953, so it's promising to see their name featuring more prominently in the world of guitar again.
The F55E maple jumbo is Guild's take on the classic Gibson jumbo of the late '40s. A maple back and sides fit the jumbo perfectly - both aesthetically and tonally - and that's the way it has stayed. Sure, there have been other versions with different body woods, but the incredible flamed maple on this iteration of the F55E delivers clarity and articulation in the form of a delectable mid and treble bump. This counteracts the low-end that comes from the sheer size of the guitar, creating a rich, balanced tone.
The F55E, although firmly within Gibson SJ-200 territory, has a killer vibe of its very own. For some, Guild is one of the go-to names in acoustic guitar - but this guitar has the potential to be a delightful 'sleeper', placing more emphasis on your playing than on your fancy jumbo guitar.
6. Epiphone USA Texan
A faithful recreation of an Epiphone icon
Price: $2,699/£2,243 | Body type: Dreadnought | Top: Solid spruce | Back & sides: Mahogany | Neck: Mahogany | Fingerboard: Indian Laurel | Scale: 25.5" | Bracing: Traditional hand-scalloped X-bracing | Frets: 20 | Tuners: Grover Cream Button | Finish: Nitrocellulose
It's a remake of a true classic
Slope-shoulder dreads are the best of both worlds
Build quality is excellent
You can buy a Gibson for less
Played by legends such as Paul McCartney and Peter Frampton, it was only a matter of time before Epiphone reissued the Texan to be built at Gibson's Bozeman plant - and it lives up to expectation.
The Texan gets its charm and charisma from the classic combination of a Sitka spruce top and mahogany back and sides. Thankfully, its slope-shouldered design allows it to sit in the 'comfortable dreadnought' region of playability, allowing you to make the most of the smooth low end and punchy balanced mids that make this guitar so ideal for pop, country, rock 'n' roll - you name it.
Built with the utmost care and attention to detail, you'll be struggling to find anything on this guitar that doesn't scream quality - and yes, we know it's an Epiphone. In all honesty, that's our only gripe, and we know it seems petty. For north of two grand, the world of Gibson starts to open up. If you're looking for something to play and love and keep forever, then this could be perfect, but if you're investing your money in a guitar? We'd probably take a Gibson.
7. Yamaha TransAcoustic CSF-TA
A big sound from a small guitar
Price: $759/£663 | Body type: Parlor | Top: Spruce | Back & sides: Mahogany | Neck: Nato | Fingerboard: Rosewood | Scale: 23.6" | Bracing: Scalloped X-bracing | Frets: 20 | Tuners: Die-Cast chrome | Finish: Natural
TransAcoustic tech is really cool
Shorter scale makes this a perfect sofa guitar
Looks great
A bit gimmicky?
Now, Yamaha has been known to push the boundaries when it comes to innovating new ideas for their instruments - and the TransAcoustic series just might be their biggest flex to date.
TransAcoustic is, in a nutshell, a system that adds effects to your unplugged acoustic guitar. The back panel of the CSF-TA features an actuator that vibrates in response to string vibration, and those vibrations are conveyed through the guitar's body and into the air inside the guitar. It's pretty out there, and it's okay if we lost you there for a minute - but fancy new effects aren't the only thing about the CSF-TA.
Independent of this incredible tech, the CSF-TA's solid spruce top and mahogany back and sides deliver bags of punch, clarity and power - impressive for such a small-bodied guitar. We were shocked to note that this parlor has a rich depth about its tone, something which again we wouldn't expect from a guitar this size. If you're partial to a smaller acoustic, and don't want to shell out the big bucks, the CSF-TA is absolutely worth considering.
8. Gibson SJ-200 Studio Walnut
A slimmed down jumbo that won't break the bank
Price: $3,149/£2,399 | Body type: Jumbo | Top: Solid Sitka spruce | Back & sides: Walnut | Neck: Mahogany | Fingerboard: Walnut | Scale: 25.5" | Bracing: Traditional hand-scalloped X-bracing | Frets: 20 | Tuners: Grover Rotomatic | Finish: Nitrocellulose
Slimmer than the standard SJ-200
Walnut body adds something different to the mix
Slightly more affordable than most SJ-200's
Not quite a full-fat 200
Gibson's SJ-200 Studio model takes the iconic SJ-200 down a notch, and to be honest that doesn't seem like such a bad idea.
Much like the Guild F55E we mentioned earlier, this jumbo has an impressively balanced tone for a guitar which is still so massive. The depth of the SJ-200 Studio is actually slimmed down a little bit from the dimensions of a standard SJ-200, and this improves the overall playability quite considerably. As well as upping the comfort stakes a little, this also reduces the potential for live feedback - making the SJ-200 Studio a brilliant choice for live performers.
A solid sitka spruce top and walnut body is not the most traditional of tonewood pairings, but it certainly works a treat in the case of the SJ-200 Studio. The punch and attack of a sitka spruce top works pleasantly with the warmth of the walnut back and sides, creating an ultra resonant, chimey, almost piano-like tone that will be heard no matter what you play.
It's not a full-fat SJ-200, but what you may lose in tone you definitely make up for in terms of ease-of-use. And come on, it's hardly a bargain basement option.
The best combination of tonewoods and ergonomics on the market
Price: $5,499/£5,229 | Body type: Grand Auditorium | Top: Hawaiian koa | Back & sides: Hawaiian koa | Neck: Tropical mahogany | Fingerboard: West African ebony | Scale: 25.5" | Bracing: V-Class | Frets: 20 | Tuners: Gotoh | Finish: Silent Satin
Koa construction is stunning
Silent Satin actually reduces arm/hand noise
Beveled cutaway increases upper fret access
Has the potential to look better than it sounds
Taylor's innovation and guitar design is frankly next level, and that's wholeheartedly proven with the Builder's Edition K24ce.
Built entirely from solid Hawaiian koa, it's easy to see why this guitar commands the price that it does. Tonally, it's somewhere between maple and rosewood, so expect some fantastically crisp clear high-end, as well as a rich low-end boost.
Taylor guitars are known for their slightly brighter voicings, and the K24ce stays true to that theory - without being overbearing or thin-sounding. The grand auditorium body shape and beveled cutaway deliver ergonomic playability in droves, and combined with the addictive and unique tone this guitar creates, you'd be forgiven for thinking you've found 'the one'.
For those of us who aren't so fussed about exotic woods or fancy inlays, this could run the risk of being a little too garish and over-the-top - but what you've got here is really a work of modern art. In our constantly changing world, there will come a time when we need to start thinking and acting more sustainably, and if something this beautiful can come from a sustainable source? Sign us up.
Read the full Taylor Builder's Edition K24ce review
10. Takamine TSP178ACK
An innovative acoustic, with unbeatable playability
Price: $2,399/£1,999 | Body type: Thinline cutaway | Top: Solid arched koa | Back & sides: Solid arched koa | Neck: Mahogany | Fingerboard: Ebony | Scale: 24.8" | Bracing: X | Frets: 21 | Tuners: Die-cast | Finish: Gloss
Koa construction is a head-turner
Thinline body makes this a perfect 'plugged-in' option
Electric playability is a major bonus
Not one for the purists
Always pushing the envelope, Takamine has done it yet again. This TSP178ACK isn't exactly your standard acoustic-electric guitar, but in a world where 'traditional' has been done so much already, a little change is welcome.
Crafted in Japan, Takamine's heavy koa usage on this model sets an interesting and unique precedent as to what this guitar can do. Paired with a mahogany neck and ebony fingerboard, the all-koa body delivers a satisfying warmth, while also allowing for some articulate high-end to creep through. Described as sharing tonal elements with 'mahogany and maple', Takamine believes that their koa approach can help players find their unique voice - and to be honest, we'd have to agree.
Another main event here is the Thinline body which Takamine has employed on this model. Designed to offer greater levels of playability, the thinline body also combats unwanted feedback during live performances and introduces a more 'electric-like' feel to playing, something which will appeal to those looking to put on a great performance with a guitar that's easy to play.
This will definitely upset some purists, and rightly so - Takamine has taken everything we knew about the acoustic guitar and flipped it on its head - but as a feat of acoustic guitar engineering? Well, it's a beauty.
11. Taylor American Dream AD17e Black Top
An affordable Taylor that sounds way beyond its price point
Price: $1,699/£1,629 | Body size: Dreadnought (Grand Pacific) | Top: Solid spruce | Back & sides: Solid ovangkol | Neck: Tropical mahogany | Fingerboard: Eucalyptus | Scale: 25.5" | Bracing: V-Class | Frets: 20 | Tuners: Taylor Nickel | Finish: 2 mil matte
Wood choices are more sustainable than most
Playability is bang on, as per usual from Taylor
Ovangkol adds a tasteful mid-bump
Matte finish is a scratch-magnet
Taylor's American Dream series of guitars, although one of their lowest priced offerings, is far from cheap. Crafted from all-solid tonewoods (some more unusual than others however), the AD17e is ready to be played, enjoyed and cherished.
Another slope-shouldered dreadnought (that Taylor refers to as a 'Grand Pacific' body shape), the AD17e consists again of a solid spruce top, but this time with a solid ovangkol body. This pairing of tonewoods, along with the eucalyptus fingerboard, creates a responsive and powerful tone that is equal parts rich and bright. Ovangkol is a relative of rosewood - so expect to hear those warmth, smooth traits in the low end, while the midrange comes across a little more pronounced.
The matte finished top and satin back and sides allow the AD17e to breathe, creating an intense resonance that feels organic and natural. Unfortunately, it'll only be a matter of time before that matte top is covered in finger marks, pick scratches and other playing wear, but if you don't mind that kind of thing, the AD17e could be a great choice.
12. PRS SE A60E
A glamorous option for those who want to turn heads on a budget
Price: $1,099/£818 | Body size: Angelus | Top: Sitka spruce | Back & sides: Ziricote | Neck: Mahogany | Fingerboard: Ebony | Scale: 25.2" | Bracing: PRS Hybrid X/Classical | Frets: 20 | Tuners: PRS Designed | Finish: Gloss natural
Ziricote body gives the finest rosewood a run for its money
Inlays aren't too garish
PRS SE quality is arguably the best for this budget
Pay a bit more and you'll get a USA made guitar
From the kings of glitz and glamour, comes something a little less in-your-face. PRS's SE range has made its name in the world of electric guitars, and now it's time to see how they fare when it comes to acoustics, with the very pretty A60E.
Like much of this guide (and most other acoustic guitars on the market), a solid sitka spruce top adorns this model. However, things start to get interesting when we delve into the solid ziricote body. Ziricote is an alternative to rosewood and has had some serious comparisons made about its tonal qualities. It's closer to Brazilian rosewood in terms of density, and is a brilliant way to get close to that tone on a reasonable budget. Of course, it's not quite the same, but overall the A60E still possesses that little bit of magic.
The iconic abalone bird inlays and flamed maple accents scream PRS, even from a distance - but when you take into consideration the care and attention paid to this guitar in the manufacturing and finishing process, you start to realize just how perfect these SE's can sound and play. We currently live in a weird world, where value for money is more important than ever before, and although you could spend a little more on a USA-made Martin or Taylor, is there much point when a PRS SE is calling your name?
Best acoustic guitars: Buying advice
Which body type is best for me?
When it comes to choosing the most appropriate body type, you should think of two things, and two things only: comfort and tone. For most, a smaller bodied guitar will feel more comfortable to hold and to play than a larger bodied one, but not provide the depth of tone desired. On the other hand, you'll get a huge, rich tone from a Dreadnought or Jumbo, but you'll probably find it awkward to play - especially sitting down.
Folk acoustic guitars
Most smaller bodied acoustic guitars are described as 'Folk', but within this you've got some pretty reasonable variation. Martin's way of categorising these body types, from '0' through to '000', is probably the most popular and most straightforward way to do it.
'0' bodies are small, punchy and have a pronounced midrange, making them an ideal fit for fingerstyle and blues players. Sometimes also referred to as 'parlor' sized, they're small and comfortable, with slimmer upper and lower bouts.
'00' and '000' bodies, although getting gradually bigger, are still an ideal choice for delicate, controlled fingerpicking - but with a little more low end to round out your tone. As the body gets bigger, the air within the guitar can move around more, resonate more and generally create more volume and power. The '000' is considered to be within the goldilocks zone for most guitarists, as the tone it produces is balanced - with a brilliant suggestion of low-end chucked in to satiate strummers' needs. If you're after a little more string tension from your '000', then an 'OM' type acoustic could be just the one for you, with a scale length extension of 0.5".
What about Dreadnoughts?
A Dreadnought truly is a singer-songwriter's best friend - and who's going to argue with the likes of Joni Mitchell and Neil Young? As the size of the upper and lower bouts grow and the waist of the guitar is straightened out, a powerful midrange is ever present. The Dread' is another one of these guitars that sits brilliantly in that middle ground between small and large bodied acoustics, and although it might be a little bit big for some, it's popularity is something that can't be challenged.
Square shoulders or sloped shoulders?
Especially within brands like Gibson and Epiphone, you'll likely be offered one of two Dreadnought shapes - square shoulders or sloped shoulders? In brutal honesty, it doesn't really make a difference to the sound, but can sometimes have an influence on the playability, depending on the player.
If you look at a Gibson Hummingbird, you'll notice that the shoulders (the section of the body in front of the soundhole) are significantly more square than the sloped shoulders on the Epiphone Texan. Tonally, the difference is incredibly marginal, but as there is generally more body mass up around the neck joint on a Hummingbird, it will feel just that little bit bulkier in the hand.
Jumbos
The jumbo is, as the name suggests, pretty massive - tonally, as well as physically. Gibson, Martin and Guild are just some of the companies whose jumbos have put them on the map, and although pretty huge, unwieldy guitars, they have been used by some of music's most iconic names - Elvis, Bob Dylan, Orianthi, to name a few.
Capable of some exceptionally and surprisingly balanced tones, 'jumbo' guitars are not all just 'beefy low end' as you might expect. A jumbo, when you look at it, is most similar to a '000' or 'OM' in shape, but with another roughly 20-30% added on for good measure. This means, while it might need some powerful playing to get the air moving, you'll be bathing in rich lows, mids and treble, and you'll never want to put it down.
Which tonewoods should I choose?
In our current, slightly more climate conscious world, guitar manufacturers are having to find new ways to make their instruments without harming ecosystems or future timber stocks. As a result, we've seen Martin adopt their successful HPL (High Pressure Laminate) in some of their X Series guitars, Taylor introducing Urban Ash into some models, and even use of other synthetic materials like Richlite.
Luckily for us, the classics - spruce and mahogany - are still readily available, and so leads us to the question, which is better? Well, if you're looking for a definite answer, you might be disappointed.
Spruce tops vs mahogany tops
If we're talking tops, then it's important that you know what kind of sound you like and what you're going for - as this will influence your entire decision making process.
Spruce is a go-to top material, used and adored by luthiers and guitarists for well over a hundred years. Not only is this due to the fact that spruce (especially sitka) is one of the most readily available tonewoods around, but it also has an exceptionally balanced and consistent tone. It reacts favorably at almost all volumes, making it a versatile and ideal choice for guitars of all sizes and body types. It naturally projects mid and treble frequencies, creating a punchy, present tone that'll fit into pretty much all musical scenarios.
Adirondack spruce (used on the Martin that features at number one in this guide) is used much less often due to a lack of available stock, but sometimes crops up on high-end guitars. It's heavier and more rigid than sitka, so it can resonate more freely, creating a generally livelier and louder sound.
On the other hand we've got Mahogany. Used initially by Martin during the Great Depression as a way of making cheaper guitars, players soon discovered that it possessed a wholly desirable character of its own. With a sweet bass presence, articulate midrange and a gorgeous 'woody' resonance, mahogany-topped guitars became a favorite for blues players, and are still sought after today. Luckily, they tend to be a little cheaper too.
Do the back & sides make a difference?
Absolutely - although not quite as much as you'd think. Obviously, as the back and sides are attached to the rest of the guitar and resonate with each pluck of a string, they do have a bearing on the overall tone of the instrument. But, when you take into consideration the fact that the main point of string contact and resonance (the bridge) is on the top of the guitar, and that every string vibration passes through that point, you can safely assume that the top makes up a significant proportion of the tone produced.
Obviously, a guitar with a solid back and sides will resonate more freely and richly than something with a laminate back and sides, but beyond that, the difference is pretty minimal. Mahogany, rosewood, koa - they've all got their own characteristics, but buying something specifically for the body wood may become a futile task. Look out for that combination of woods that really catches your eye (or ear). For some, it's spruce and mahogany; for others, cedar and rosewood. The only way to find out is to play them.
Get the latest news, reviews and product advice straight to your inbox.
Thank you for signing up to The Pick. You will receive a verification email shortly.
There was a problem. Please refresh the page and try again.