Best Acoustic Guitar Pedals 2023: 12 Pedals Acoustic Players Should Check Out
12 outstanding pedals to take your acoustic guitar tone to the next level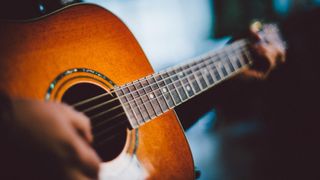 (Image credit: Getty/Kay Fochtmann / EyeEm)
The acoustic segment of the guitar effects kingdom is a different beast. Plenty of acoustic cats take pride in sounding as pure as possible as they travel along a traditional path. Many others are seeking the best acoustic guitar pedal to wash the woodiness right out of their acoustic tones. In addition, loopers, high-tech direct boxes, beat boxes, and all-in-one multipurpose machines can be godsends as practice tools, as well as to raise live performances to new heights.
Looking at the effects beast from all angles, I selected 12 pedals for their innovation, price, controls, connectivity, and, of course, tone. This list is by no means meant to be comprehensive, but, hopefully, each pedal represents the kinds of processing today's acoustic guitar player should consider.
BOSS
Waza Craft CE-2W Chorus
$199 street
Chorus is the tried-and-true modulation effect for acoustics, because a good one can make your 6-string sound as big and beautiful as a 12-string, and a 12-string sound like a symphony. The CE-2W combines the chorus and vibrato effects of the fabled BOSS CE-2 and CE-1 pedals.
boss.info
D'ADDARIO
Chromatic Tuner Pedal
$69 street
Even if you're only messing around with different tunings, you need a quick, accurate chromatic tuner, and it's absolutely essential for open-tuning aficionados. This one is affordable, small, and has a fine full color display. A reliable tuner has to be one of the best acoustic guitar pedals you can own.
daddario.com
EARTHQUAKER DEVICES
Avalanche Run
$295 street
The Avalanche Run produces a rich stereo reverb and delay with tap tempo, and it offers oodles of sound-shaping controls with six functions assignable to an expression pedal. Bound to inspire creativity.
earthquakerdevices.com
ELECTRO-HARMONIX
Tone Corset
$89 street
Compression is essential for acoustic fingerpickers, harmonic slappers, and body tappers alike. This great-sounding, yet affordable analog compressor/sustainer features controls to dial in specific amounts of attack, sustain, and overall blend. Plus, it's quiet in operation, and has true-bypass switching.
ehx.com
ERNIE BALL
Ambient Delay & Expression Overdrive
$199 street each
Adding just the right amount of effect is paramount for acoustic performance, and these expression-based pedals are fab for finding the perfect dose of digital delay or acoustic-appropriate overdrive on the fly.
ernieball.com
FISHMAN
Aura Spectrum DI Preamp
$349 street
The Aura transforms the sound of an undersaddle or soundhole pickup into the sound of a well-miked acoustic. It also offers tons of tone-sculpturing capabilities and a tuner. This is easily one of the best acoustic guitars pedals on the market.
fishman.com
L.R. BAGGS
Session Acoustic DI
$224 street
This active direct box and preamp with analog saturation and multiband compression/EQ was designed to bring the high-fidelity sound of a professional studio session to the stage.
lrbaggs.com
ONE CONTROL
BJF Series Granith Grey Booster
$125 street
The Granith Grey is a remarkably quiet mini-sized pedal that's just big enough to house a 9V battery, and it simply boosts or cuts whatever signal it receives up to 15dB without altering your acoustic's tonal character.
one-control.com
PIGTRONIX
Infinity Looper
$449 street; $49 street for SPL-R remote switch
High-fidelity sound, flexible I/O (including Loop Only Aux Out and slave MIDI clock), plus all the features a live-looping lover could ever ask for. Add the remote switch for Reverse and Undo.
pigtronix.com
SINGULAR SOUND
BeatBuddy
$299 street
A great-sounding drum machine in a stompbox can help transform a solo singer-songwriter into a one-man band.
mybeatbuddy.com
TONEWOODAMP
$249 direct
This innovative multi-effects processor magnetically attaches to the back of any acoustic-electric, adds lush digital effects, and then shoots the signal out through the sound-hole. The TWA is electrifying at a campfire jam, and it doubles as fine stage D.I.
tonewoodamp.com
TRACE ELLIOTT
Transit A Preamp Pedal
$299 street
Here's practically everything for the acoustic player all in one groovy-looking portable package, including 3-band EQ, boost, chorus, tap-tempo delay, reverb, tuner, and a software bundle.
traceelliot.com
All the latest guitar news, interviews, lessons, reviews, deals and more, direct to your inbox!
Guitar Player is the world's most comprehensive, trusted and insightful guitar publication for passionate guitarists and active musicians of all ages. Guitar Player magazine is published 13 times a year in print and digital formats. The magazine was established in 1967 and is the world's oldest guitar magazine.
When "Guitar Player Staff" is credited as the author, it's usually because more than one author on the team has created the story.