Best Acoustic Guitars Under $500 In 2022: 9 Killer Acoustic Guitars That Offer Superb Value For Money
Wallet-friendly acoustic guitars from the likes of Epiphone, Yamaha, Takamine, Ibanez, Fender and more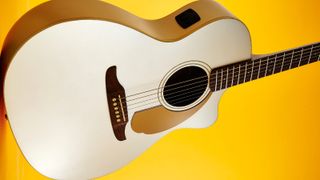 (Image credit: Future)
If there's one thing every guitarist can appreciate, it's a good deal – and with the quality we're seeing in the budget gear space right now, bagging a stellar cut-price acoustic has become way more manageable than ever before. No longer are cheap acoustic guitars reserved for beginners or casual players, with the best acoustic guitars under $500 able to hang with six-strings in the thousands. These affordable guitars prove just how far technology has come, bringing highly playable and incredible sounding guitars to the masses. Really, with guitars this good, there's no excuse to have a nasty acoustic guitar tone.
Nowadays, all the big guitar brands offer a budget range of instruments, meaning it can get pretty tricky to narrow it down to a select few, but we think we've got all the bases covered in this guide. We have electric-acoustic options from D'Angelico and Yamaha, statement pieces from Epiphone and PRS and many more. So without further ado, let's dive into our favorite sub-$500 acoustic guitars.
Looking for a bargain? Well, our Cyber Monday guitar deals page is the place to go. From now until the end of Cyber weekend, we'll be bringing you the very best offers we can find on a range of guitar gear.
Best Acoustic Guitars Under $500: Guitar Player's Choice
If we are trying to think of a well-made, reliable acoustic guitar that sounds as good as it looks, our mind instantly goes to the striking Epiphone Dove Studio. This guitar is perfect for those looking for the tone, feel, and stylings of the Gibson Dove at a fraction of the cost – suiting anyone from the beginner player looking for an inspiring first instrument to the seasoned pro looking for a guitar to take on the road and everyone in between.
For those looking for something a little different, then the Yamaha Storia I should most definitely be on your list of six-strings to check out. The premium aesthetic of the Storia really captured our hearts, while the rich tone and effortless playability sealed the deal for us.
Lastly, we need to give a shout–out to the Fender Newporter Player. This small-bodied acoustic delivers a mellow, smooth tone and the electric-style neck makes it perfect for those who don't get on with the cumbersome nature of a traditional acoustic guitar.
Best Acoustic Guitars Under $500: Product guide
Take flight with this budget rendition of a classic
Specifications
Back and Sides:
Select Maple
Electronics:
Fishman Sonicore
Reasons to buy
+
Classic Dove look and sound
+
Very thin neck profile
Reasons to avoid
-
The dreadnought body may be too large for some players
The original Gibson Dove will go down in guitar history as one of the most beloved flat tops of all time. Its striking beauty is only surpassed by its unmistakable voice and rich harmonic overtones, but there is a catch – its excessive price tag.
Luckily Epiphone has an option that delivers all the Dove goodness at a far more reasonable price – enter the Epiphone Dove Studio. Now, the eagle-eyed among you may recognize this guitar. This ornate acoustic once had a slightly different moniker, going by the title of the Epiphone Dove Pro – and while Epiphone has rebranded the Dove, the impressive specs have stayed the same.
Featuring the classic combination of a solid spruce top and maple back and sides, this Epiphone is brimming with top end, with a bright, immediate attack only found on the Dove. Couple this stellar sound with an extremely playable neck and onboard Fishman electronics and you have a guitar that would be just as well-received at twice the price.
2. D'Angelico Premier Series Gramercy CS Cutaway
The jazzers prove they can make an extraordinary affordable acoustic
Specifications
Type:
Grand Auditorium Cutaway
Electronics:
D'Angelico MG–30 Onboard Preamp/Tuner
Reasons to buy
+
A neck electric players will love
+
Cutaway allows access to high frets
Reasons to avoid
-
The headstock isn't for everyone – although we love it
Okay, when you first think of D'Angelico, your mind doesn't automatically go to wallet-friendly acoustic guitars – but we think it should! The legacy jazz brand may be more favored for their bespoke archtops and, in recent years, their modern hollow bodies, but they actually have a rather impressive collection of flat tops in their catalog.
The D'Angelico Premier Series Gramercy CS Cutaway is one of our favorites, as we are massive fans of the smaller body size – when compared to a standard dreadnought – and the super slim neck profile is a breeze to play.
This fine acoustic also comes loaded with a D'Angelico branded preamp and tuner, meaning it's geared up to accompany you on stage at your next gig or feature on the next track you record at home.
Renowned PRS quality on a budget
Reasons to buy
+
Classy style
+
Warm tone
+
Electric-friendly neck
Reasons to avoid
-
Parlor guitars can be a little boxy
Simply put, this all-mahogany parlor is an absolute triumph – regardless of the modest price tag. It may have a rather contemporary look – exactly what we'd expect from the style masters at PRS – but under that slick modern veneer is a mellow parlor that will transport you to the warm bank of the Mississippi with a single strum of an E7 chord.
So, if you've always been curious about the tone of a parlor guitar, or you fancy a small-bodied flat top to practise your best delta blues licks on while sitting on the sofa, the PRS SE P20 would be our top choice.
It's worth noting that the price of the PRS SE P20 does fluctuate, but you can often find it for $499 - for example at Sweetwater right now. That said, we strongly believe it's well worth picking one up when it's not on sale.
Yamaha gives the budget acoustic a modern revamp
Specifications
Electronics:
Passive undersaddle pickup
Reasons to buy
+
Perfect for beginners
+
Solid top
Reasons to avoid
-
The look will divide people
Okay, Yamaha acoustics may not be as sexy as Gibson and Taylor or have the historical gravitas of Martin, but make no mistake, they craft some of the finest instruments around. With the Storia range, Yamaha has set out to "transform the traditional acoustic guitar into a one-of-a-kind statement piece" – and well, we think they have nailed it.
The attention to detail in this guitar is somewhat of a rarity in this price category, and it's refreshing to see Yamaha pull out all the stops for a guitar they say is aimed at the beginner end of the market. The off-white top with light blue interior is striking enough on its own, but add in the champagne-gold machine heads and bridge pins, as well as a mahogany and synthetic ivory rosette and it culminates in a rather luxury-looking guitar that wouldn't look out of place in the swankiest of New York apartments.
As we've already mentioned, the Storia is designed with beginners in mind, with its smaller body and slightly shorter scale making it very comfortable and easy to navigate. So, if you're looking for a guitar that has bags of style, is easy to play, and sounds wonderful, the Storia is most definitely the instrument for you.
An exotic acoustic from the shred guitar masters
Specifications
Electronics:
Ibanez T–bar II Undersaddle pickup and AEQ–TTS preamp
Reasons to buy
+
Comfortable neck
+
Unique design
Who says all acoustic guitars should be spruce and mahogany? Well, certainly not Ibanez. This slender acoustic is a concoction of exotic woods such as Bocote and Nyatoh that is accented by a beautiful flower motif on the headstock and fingerboard – it really is hard to believe that this acoustic is under $500.
Ibanez is well known for their slim and comfortable neck profiles, and they bring this detail to the AEG550. We'd go as far to say that it is a perfect guitar for electric players who find it difficult to navigate the thicker neck shapes of more conventional acoustic guitars.
If you're an electric guitar player who is seeking a reliable – and giggable – acoustic guitar that brings something a little different to the table, then the Ibanez AEG550 is right up your alley.
6. Takamine G Series GD51
A budget–friendly, no–nonsense dreadnought
Specifications
Back and Sides:
Black Walnut
Sometimes you just want to sit in the sun, crack open a couple of beers, and belt out some songs with a few friends – and the best guitar for that is the trusty dreadnought. Famed for its larger-than-life tone and powerful projection, the dreadnought has long been a firm favorite among singer-songwriters.
If you are looking for a back-to-basics approach to your next guitar – but you don't want to compromise on tone or build quality – then the G Series GD51 might just be the guitar for you. Combining a solid spruce top with black walnut back and sides, this traditionally handsome acoustic delivers all the rich low-end you'd expect from this iconic shape, with a harmonically complex tone that more expensive guitars could only dream of.
The slim mahogany neck and 12" radius bound laurel fingerboard are sure to fit most player's hands, while the abalone rosette, mother-of-pearl dot inlays and gold finishing touches bring a hint of class to this modestly priced guitar.
7. Fender Newporter Player
Fender injects some much-needed color into the world of acoustic guitars
Specifications
Electronics:
Fishman CD–1
Reasons to buy
+
Very slim neck
+
Unique body shape
+
Fishman pickup system
Reasons to avoid
-
The look isn't for everyone
In a world of beige and brown guitars, Fender carves out their own little section of the market with the bold, creative stylings of the Newporter. With a whopping six finish options, ranging from the frosty Ice Blue Satin to the delectable Candy Apple Red, there's a finish here to suit every personality and playing style - oh, and if you want to play it safe with beige and brown, you can get that as well.
Now, it's not all style over substance with the Newporter, it also delivers where it counts. The slim-taper, C-shaped neck is insanely comfortable and is perfect for beginners and professionals alike – as an added bonus, the mahogany neck is crowned with the iconic 6-in-line headstock completing the look.
The body of the Fender Newporter is unique to this guitar and comes in smaller than the standard dreadnought, while the optimized bracing offers exceptional resonance and a clear, punchy tone.
8. Martin DJR-10 Sitka Top
The massive sound of the dreadnought in a smaller package
Reasons to buy
+
Small size, big sound
+
The Martin look
Reasons to avoid
-
Other guitars in this category have solid tops
If you are looking for the best acoustic guitar under $500, then you may believe that completely rules out the legends that are Martin – well, that's not strictly true. Okay, you may not be able to bag yourself a D-28 or HD-35, but Martin does produce a range of affordable instruments that will get you that iconic Martin sound without you needing to remortgage the house.
Chief among these affordable guitars is the Martin DJR-10, which scales down the large dreadnought body into a more playable option for those who don't get on with the cumbersome nature of Martin's most iconic shape.
Featuring a satin finish, sapele back and sides, spruce top, and a hand-rubbed neck with a slim taper, this guitar is built for performance, feeling solid and well built - not that we'd expect anything else from the grandfathers of the modern acoustic guitar.
Best Acoustic Guitars Under $500: Buying advice
Are acoustic guitars under $500 any good?
This one is easy – yes! The truth is guitar manufacturing has never been better – especially at the lower end of the market. Today budget guitars are consistent, reliable, and downright brilliant sounding, which is something we wouldn't have been able to say as little as ten years ago.
We believe that players shouldn't be scared of budget – or cheap – guitars. Instead, we suggest going out and giving a few a strum, we guarantee you'll be surprised by the results.
So whether you're looking for your first-ever acoustic guitar, a second six-string for alternative tunings, or you're just sick of paying over the odds for your instruments, there's sure to be an acoustic guitar under $500 you'll fall in love with.
Who makes the best acoustic guitar under $500
These days every guitar manufacturer offers an affordable range, with the likes of Fender, Martin, Epiphone, Takamine, Ibanez and more offering plenty of choices under $500. It's for that reason that we suggest you stick to the big-name brands, as at least you know exactly what you are getting for your money.
We'd avoid the super cheap options that plague Amazon and eBay. While these guitars may look the part, they often suffer from problems such as bad fretwork, cheap hardware, basic tonewoods, and patchy finishing. So save your money and stick to the big guns.
What to look for in an acoustic guitar under $500
You can trust Guitar Player. Our expert reviewers spend hours testing and comparing guitar products so you can choose the best for you. Find out more about how we test.
When it comes to looking for the best acoustic guitar under $500 for your needs, there are a few things you'll want to be on the lookout for. The first of which is tone. Now, the tone of an acoustic guitar is usually dictated by two factors, the body size, and the materials used. So it's important that you pay careful attention to these two areas.
Let's start with the size of the guitar. Generally speaking, the smaller the body, the smaller – or more delicate – the tone. The dreadnought is the most common shape, and it produces a rich, full-bodied tone with plenty of low-end – with the larger frame of the jumbo exaggerating the bass response even further.
At the other end of the scale, shapes like the humble concert, auditorium and parlor each produce a gentler sound, with more presence. This has the added benefit of making them brilliant finger-picking guitars.
Next is the tonewoods used to create the guitars. The traditional spruce top, with mahogany back and sides, is famed for its balanced and measured delivery, whereas a maple guitar will have a stronger top-end and brighter attack. If you are seeking a mellower tone, then you'll want to consider an all-mahogany guitar, as these tend to have a smoother tone when compared to the likes of spruce, maple or koa.
Obviously, to get a guitar that sounds exactly how you want, you need to marry these two elements together, combining the right tonewoods with the perfect body shape. Luckily the budget guitar space has never had so many options, so you'll have no trouble finding your ideal guitar at this price point.
Related buyer's guides
All the latest guitar news, interviews, lessons, reviews, deals and more, direct to your inbox!
First and foremost, I'm a guitar enthusiast – a fanatic, some might say. I'm a firm believer that most of the world's problems can be solved with a Gibson SG and a catastrophically loud amp. Before writing about guitars for a living as a Senior Deals Writer on Guitar Player, I worked in music retail for 7 years, giving advice on guitars, basses, drums, pianos, and PA systems. I also have a passion for live sound; I'm a fully qualified sound engineer with experience working in various venues in Scotland.