Best Electric Guitars 2023: 17 Fine Electrics For Beginner To Pro Players
We run down the best electric guitars for all budgets currently available from the likes of Gibson, Fender, PRS, Reverend, Music Man, Jackson and more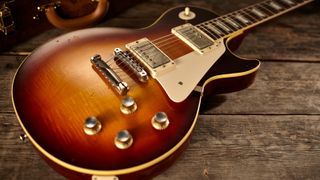 (Image credit: Future)
Offering an unparalleled level of expression and creativity, it's easy to see why the glorious electric guitar has captured the hearts of so many. In this guide, we're breaking down the very best electric guitars on the market right now, from iconic designs that have stood the test of time to modern-day classics that are redefining what a six-string can do.
We know that the term "best electric guitar" is very subjective. Some players are looking for a workhorse that can easily handle the harsh conditions of the road, while others are seeking a beautifully handcrafted instrument that looks just as good as it sounds. Of course, the best electric guitar might also look different to a professional player with a few decades worth of experience under their belt, compared to a beginner seeking their first entry into the wonderful world of six strings.
As such, we've covered a lot of ground in our list of the best electric guitars currently available. So, whether you're an experienced shredder, or you've always fancied dipping a toe into the sonic landscape of jazz, rock, or blues, we've got you covered. Regardless of price or style, all the guitars on this list are gig-worthy, can record well, and are built to a very high standard.
Best electric guitars: Guitar Player picks
The single best electric guitar available is hard to pin down, however, if you're going down the route of bright, spanky single coil sounds, then the Fender American Pro II Strat is hard to beat. It offers superb build quality, a wide range of clear and defined quintessential Strat tones, amazing playability and some great finishes. It's everything a Strat should be, without having to spend an extortionate amount.
If you're more into humbuckers, then you don't need to look much further than the Gibson Les Paul Standard 60s. It's a classic for a reason and Gibson's Original series harks back to the company's golden era, with vintage style tones, looks and feel. The Les Paul offers up a ton of beef and sustain, with plenty of punch in the mid range, and has been the number one choice of rockers for over half a century.
For those on a budget - or indeed a newcomer to guitar - it's worth considering the quirky nature of the Squier Paranormal Offset Telecaster. This striking guitar certainly has a bold look but also has the tone to match - and with such a wallet-friendly price, it's hard not to fall in love with this crooked axe.
Best electric guitars: Product guide
1. Squier Affinity Telecaster Deluxe
Kick-off your guitar journey in style
Specifications
Pickups:
Ceramic Humbuckers
Controls:
2 x Volume, 2 x Tone, 3-way Toggle Switch
Hardware:
6-Saddle String-Through-Body Hardtail With Block Saddles
Finish:
Charcoal Frost Metallic, Black, Burgundy Mist
Reasons to buy
+
Great look
+
Very playable
+
Extremely affordable
Reasons to avoid
-
Some players may prefer single-coils
If you wanted to start playing the electric guitar back in the day, your choice of weapons was very limited. Today, however, there are more entry-level guitars than you can shake a stick at - with lots of them looking almost identical to their more expensive counterparts.
Our pick for the best beginner option has to be the Squier Affinity Telecaster Deluxe. This lightweight starter guitar draws inspiration from the classic '72 Fender Deluxe Telecaster and is loaded with a set of Squier humbuckers, delivering bags of rich, rock tones. The slim and comfortable C-shaped neck profile is incredibly playable and is a great jumping-off point for most players.
It's hard to believe just how affordable this stylish guitar is. It may have a wallet-friendly price, but it certainly doesn't scrimp on quality - or playability for that matter. This is one of our top choices for the best electric guitars under $500.
2. Squier Paranormal Offset Telecaster
The Telecaster just got wonkier
Specifications
Controls:
3-Position Blade Switch, Master Volume, Master Tone
Hardware:
3-Saddle Vintage-Style Strings-Through-Body Tele with Chrome Barrel Saddles
Finish:
Olympic White, Butterscotch Blonde, Shell Pink
Reasons to buy
+
Gorgeous design
+
Classic Tele sound
+
Nice finish options
Reasons to avoid
-
Offset body not for everyone
Sometimes you just need a guitar that will allow you to stand out from the crowd - and the Squier Paranormal Offset Telecaster certainly does that. Combining the feature set of a Telecaster and the fabulously wonky body of the Jazzmaster, this unique guitar is more than the sum of its parts.
The dual Fender-designed alnico single-coil pickups and string-through bridge design ensure you get the classic Tele twang you are looking for, while the slim neck - with gloss finish - is effortless to play for beginners or pros.
So if a traditional guitar simply won't cut it, then it's worth considering this surprisingly budget-friendly offset. This Squier not only offers superb value for money but also a fun take on a classic - and is easily one of the best electrics under $1,000.
The straight-shooting rock and roll machine
Specifications
Pickups:
Alnico V Humbuckers
Controls:
Volume, Tone (Dry Switch Push/Pull), 3-way Toggle Switch
Hardware:
Tune-O-Matic Bridge
Finish:
Black, Neon Yellow, Swift Blue, Red Copper, Vintage White
Reasons to avoid
-
Not the most exciting guitar
This new and improved entry-level Yamaha is as simple as it comes, choosing to forgo fancy features in favor of a fairly no-nonsense approach. This striking horned axe is reminiscent of the old-school Yamaha SG, giving you the look and vibe of this cult classic at a far more affordable price.
Housing two pretty high output humbuckers, the Revstar RSE20 most definitely brings the noise, making it the perfect choice for hard rock, punk, or even metal. There's also a Dry switch that enhances the top end a little, and controls the low end. The chambered mahogany body is light and resonant so is ideal for gigging, while the reshaped neck profile is a joy to play.
If you are looking for a back-to-basics rock and roll machine that would break the bank, then definitely consider the Yamaha Revstar RSE20.
4. Epiphone Inspired By Gibson ES-339
A shrunk down ES with a massive tone
Specifications
Pickups:
Epiphone Alnico Classic PRO
Controls:
Neck Pickup Volume, Bridge Pickup Volume, Neck Pickup Tone, Bridge Pickup Tone
Hardware:
LockTone Tune-o-matic
Finish:
Cherry, Pelham Blue, Vintage Sunburst
Reasons to buy
+
Very playable neck
+
Great pickups
Reasons to avoid
-
Finish can feel a little thick
It's hard to deny how good an ES-335 sounds. They are full-bodied, rich, and bell-like in their tone, but one stumbling block some players have is the excessive size of the instrument. That's why Gibson introduced the ES-339 in 2007. This kept everything players loved about its big brother but shrunk the body down to a more manageable size.
Epiphone now offers the pint-sized hollow-body at a far more affordable price and doesn't scrimp on the quality. The Alnico Classic PRO humbuckers do a surprisingly good job at recreating the PAF tone, and the rounded neck profile is incredibly satisfying to play. You have to constantly remind yourself that this guitar is under $/£500 while playing it.
The Epiphone ES 339 may not be the flashiest - or indeed the most expensive guitar on this list - but its tasteful looks, unmatched comfort, and glorious tone mean it can most definitely hang with the big boys in this guide.
For those seeking a single cut on a budget
Specifications
Fingerboard:
Roasted Jatoba
Controls:
Volume/Volume/Tone(Push/Pull)/Toggle Switch
Finish:
Black, Snow White
Reasons to buy
+
Very affordable
+
Lightweight/ slim body
+
Beginner-friendly
Reasons to avoid
-
Not an exact replacement for a Les Paul
The ESP Eclipse may have started life as a tribute to another very famous single-cut but it has gone on to develop a following all of its own. While a full-fat EC can cost a pretty penny, the LTD EC-256 allows you to get the bone-crushing tone of its big brother, at a much more manageable price and is a valuable alternative to an Epiphone Les Paul.
The beginner-friendly guitar market is a fiercely competitive one. Still, this stylish, well-built guitar carves out its own place, delivering the single-cut tone you'd expect but in a slimmed-down and lightweight package.
We also have the inclusion of a coil-split, which allows you to turn this hard rocker into the ultimate clean machine with a pull of the tone control. So, if you're looking for a versatile LP-style axe, that's extremely friendly on your wallet, then look no further than the ESP LTD EC-256.
6. Gretsch Electromatic G5622T
An affordable option for the country gent
Specifications
Pickups:
Black Top Broad'Tron
Controls:
Volume 1 (Neck Pickup), Volume 2 (Bridge Pickup), Master Volume, Master Tone
Finish:
Aspen Green, Dark Cherry Metallic, Georgia Green, Imperial Stain, Orange Stain, Single Barrel Burst
Reasons to buy
+
That Gretsch sound on a budget
+
Great variety of finishes
Gretsch guitars can sometimes get overlooked by many players who think that they are just a one-trick pony used for country twang. Well, it's simply not true. Yes, Gretsch does the country thing better than most, but they can do so much more - go ask Billy Duffy.
Over the last few years, the Gretsch Electromatic range has been going from strength to strength, with the release of new models, exciting new finishes, and updated revoiced pickups. One of the most popular from this range is the G5622T - and it's easy to see why.
The addition of the center block gives the Gretsch an added power and aggression not present in the fully hollow options. While the dual Black Top Broad'Tron™ humbucking pickups deliver the classic Gretsch chime you'd expect while retaining the guitar's natural dynamics. It just wouldn't be a Gretsch if it didn't sport the iconic Bigsby, and the one on offer here works very well-staying in tune beautifully - and adds just the right amount of wobble to your chords and lead lines.
A double agent that won't double-cross you
Specifications
Fingerboard:
Pau Ferro/Roasted Maple
Pickups:
HA5 Bridge, 9A5 Neck
Controls:
Volume, Tone, Bass Contour, 3-way
Finish:
Venetian Gold, Rock Orange, Metallic Alpine, Metallic Silver Freeze, Midnight Black
Reasons to buy
+
Unique shape
+
Humbucker and P-90 combination very effective
Reasons to avoid
-
The bass contour control not useful to every player
It's easy to think we've seen every possible shape for an electric guitar, but then along comes Reverend with the Double Agent. The love child of a Telecaster and Les Paul, with maybe a little offset thrown in there for good measure, this is a truly striking looking guitar.
The South Korean guitar not only looks different but is also concealing a number of tone-shaping features, such as a treble bleed circuit to maintain your high-end when rolling off the volume and a passive bass roll-off control for tightening up the low-end.
This is also the only guitar on this list made from the mythical Korina - also known as White Limba. Arguably most famous for being the original material for the '58 Gibson Explorer and Flying V, this alluring wood is famed for its lightweight and resonant qualities. So if you are looking for something a little different, then you should definitely check one of these out.
8. Charvel Pro-Mod DK24 HSS
A shred-friendly guitar, that's more versatile than you might think
Specifications
Fingerboard:
Caramelized Maple
Pickups:
1 x Custom Seymour Duncan Full Shred SH-10B, 2 x Seymour Duncan Custom Flat Strat SSL
Controls:
Volume, No-Load Tone ,5-way Toggle Switch
Hardware:
Gotoh Custom 510 Tremolo, Locking Tuners
Finish:
Shell Pink, Snow White
Reasons to buy
+
Superb Seymour Duncan pickups
+
Covers a lot of ground
+
Great looks
Reasons to avoid
-
Might be too much for purists
This high-performance super-Strat style guitar caters to a massive range of players. Shredders will rejoice at the hand-rubbed, speed neck profile and heel cut, while its more traditional body style and overall aesthetic appeal to a much wider audience.
The humbucker is medium output, with strong bass frequencies and a slight mid-scoop. It's enough for chunky metal tones, but dynamic and responsive enough for blues, rock, soul - even pop. Having the two single coils, and the five-way pickup selector allows for an array of chimey and glassy tones as well. High-quality hardware, including locking tuners ensure great tuning stability and plenty of resonance.
The Charvel DK24 is super versatile and boasts amazing playability and great looks, earning its place on our list of the best electric guitars.
9. Fender Vintera 60s Telecaster
A Mex-made Tele bursting with vintage mojo
Specifications
Pickups:
Vintage-Style '60s Single-Coil Tele
Controls:
Volume, Tone, 3-way Toggle Switch
Hardware:
Bigsby-Licensed B50 Vibrato
Reasons to buy
+
Classic Tele tones
+
Mostly period-correct
+
Bigsby looks great
The Telecaster truly is a timeless guitar; nothing exemplifies this more than how little has changed over the years - if we don't count a name change and a very brief stint with no name at all. So many players have fallen for the Tele's bright, articulate attack and singing upper-mids that mean it's heard in even the densest of mixes.
This Mex-made Vintera Tele is a great replication of the renowned 60s models, with the addition of a Bigsby tailpiece (though if that trem unit isn't your thing, it's also available as a hardtail). Expect plenty of bite and twang from the bridge pickup, alongside mellow warmth in the neck pickup position, with some great sounds in between too.
The guitar boasts a period-correct and comfortable early 60s C neck profile, vintage style frets and a 7.25" fingerboard radius lending it a vintage-style feel.
Shoot to thrill with this Gibson classic
Specifications
Controls:
2 Volumes, 2 Tones & Toggle Switch (Hand-wired with Orange Drop Capacitors)
Hardware:
Nickel ABR-1 Tune-O-Matic
Finish:
Heritage Cherry, Ebony
Reasons to buy
+
Who doesn't love a cherry SG?
+
Lightweight design
Reasons to avoid
-
There are more versatile guitars out there
The Gibson SG - the horned devil that has been the best-selling Gibson Guitar of all time. This solid mahogany guitar has not just been a firm favorite of Angus Young, but also Derek Truck, Tony Iommi, and Frank Zappa.
We don't need to tell you that the SG was released in 1961, as a direct response to the dwindling sales of the Les Paul, as this is pretty much common knowledge at this point, but one thing a lot of players get wrong about the Gibson's "Solid Guitar", is they think it's just a slimmed-down LP. Well, in fact, the feel and - more importantly - sound completely different. Hence why both have earned a spot on our list.
The Gibson SG Standard has a tighter bottom-end and more pronounced upper mids and means it cuts like a knife on stage - not to mention it is significantly lighter! This year's version of the iconic guitar features a '60s rounded neck profile, bound rosewood fingerboard, long tenon, and of course a solid mahogany body.
11. Fender American Pro II Stratocaster
The American Pro gets a face-lift
Specifications
Fingerboard:
Maple/Rosewood
Pickups:
V-Mod II Single-Coil Strat
Controls:
Master Volume, Tone 1. (Neck/Middle Pickups), Tone 2. (Bridge Pickup)
Hardware:
2-Point Synchronized Tremolo with Bent Steel Saddles, Pop-In Tremolo Arm and Cold-Rolled Steel Block
Finish:
Miami Blue, Black, Dark Night, Mercury, Mystic Surf Green, Olympic White, Roasted Pine, Sienna Sunburst, 3-Color Sunburst
Reasons to buy
+
Great pickups
+
Improved neck profile
+
Massive range of finishes
Reasons to avoid
-
Not for the vintage purist
The Fender Stratocaster is arguably the most versatile guitar of all time. The three-pickups and five-way switch offer a range of tones you simply can't achieve on other guitars - with clever switching and parlor tricks, you can get close, but you can't nail those Strat tones perfectly without a genuine Stratocaster.
The American Pro II is the sequel to the acclaimed guitar released in 2017. Like most second installments, this guitar is very similar to its predecessor, with a few minor changes. The popular "deep C" neck now sports rolled edges for a more comfortable feel, making it even easier to play those Jimi chords with your thumb.
The newly updated V-Mod II single-coil pickups offer all the tones you'd expect from a high-quality Strat, while the redesigned 2-point tremolo with a cold-rolled steel block increases sustain and clarity.
For the player seeking elegance and class
Specifications
Body:
Laminated Sycamore / Soft Maple Center Block
Pickups:
Yamaha Humbucker/Alnico V
Controls:
Front Volume, Rear Volume, Front Tone, Rear Tone, 3-Position Toggle Switch
Finish:
Violin Sunburst, Brown Sunburst
Reasons to buy
+
Playability is second to none
+
Superb build quality
Reasons to avoid
-
At this price, some players might want a Gibson
Whether Yamaha is making guitars, pianos, trumpets, mixing desks, or motorbikes they do it to the absolute highest standard - and nothing showcases this more than the Yamaha SA2200. This elegantly turned-out hollowbody proudly wears its influence on its sleeve, but strays from the proven formula slightly with the addition of immaculate gold hardware and heavily flamed Sycamore body. However, traditionalists will be happy to hear that there is a maple center block present at the heart of this classy guitar, and it provides the much-needed mid-range push and feedback-busting qualities you'd expect from an ES-style guitar.
The mahogany neck feels thin, fast, and insanely playable. This is the type of guitar you could play for hours and hours without fatigue - which you will want to do once you plug it in! The ebony fingerboard carries on the theme of high-end and luxury, while the split block inlays clearly take inspiration from the likes of the ES-345.
Suppose you are in the market for a reliable, well-built, gorgeous semi-hollow guitar. In that case, Yamaha SA2200 is one of the best around. It really does have it all - the sound, the look, the feel - and certainly gives the Gibson a run for its money.
13. Fender American Ultra Jazzmaster
A Jazzmaster for modern sensibilities
Specifications
Fingerboard:
Maple/Rosewood
Pickups:
Ultra Noiseless Vintage Jazzmaster
Controls:
Volume 1. (Neck Pickup, S1 Switch), Volume 2. (Bridge Pickup), Master Tone, Slide Switch, Volume Offset 1 (Neck Pickup), Volume 2 (Bridge Pickup)
Hardware:
American Professional Jazzmaster
Finish:
Cobra Blue, Mocha Burst, Ultraburst
Reasons to buy
+
Noiseless pickups that actually sound great!
+
Great finish options
+
One of the most comfortable Jazzmasters on the market
Reasons to avoid
-
Some players may not like having lots of switches
The Jazzmaster hasn't changed all that much since it made its debut in 1958 - quite the year for the electric guitar! - and the Fender American Ultra Jazzmaster might just be the most technologically advanced the offset has ever been.
Fender applies the Ultra treatment to this underground classic, turning it into the ultimate modern Jazzmaster. This guitar is a breeze to play, featuring an incredibly comfortable "modern D" profile neck with a 10"-14" compound-radius fingerboard. While the tapered neck heel allows unprecedented access to the higher frets.
You never need to worry about excess noise, as the Jazzmaster comes loaded with a set of Ultra Noiseless Vintage Jazzmaster pickups, bringing all the vintage flavor you'd ever want, just without the hum! There are also other hidden tonal secrets under the hood, such as a treble bleed circuit to maintain high-end at any volume and an S-1 switch to override the pickup selector toggle and activates both pickups in series. So if you are looking for a modern take on a classic, then this guitar is definitely worth considering.
14. Gibson Les Paul Standard '60s
One of the best electric guitars setting the standard