This top-gun shred machine is a bad-ass
Pros
+

Fast, shred-friendly neck and fretboard

+

Great sustain

+

Five balanced tones

+

Iconic look
Cons
-

High-friction volume pot hinders pinkie swells

-

Case could fit better
You can trust Guitar Player. Our expert reviewers spend hours testing and comparing guitar products so you can choose the best for you. Find out more about how we test.
Some things – the Porsche 911 GT3 comes to mind – just plain look fast. Others – like the tail of a scorpion – look obviously dangerous.
Then there are those objects that exude both those qualities. In the world of electric guitars, one such fast and dangerous object is the new Jackson American Series Soloist SL3.
Rigged with a locking nut and two dozen thick, slippery nickel rails, its speedy neck dares you to, sonically speaking, burn rubber as fast as you can up and down its ebony dragstrip of a fretboard.
Meanwhile, the guitar's menacing, backward-angled headstock is so pointy, you'd almost expect a drop of venom to be dangling from it. (Bandmates beware!)
Until September of this year, you could only get Jackson Soloists as imports – or, if you had extra money and time, you could custom order one from Jackson's California shop. (Currently, custom order fulfillment is taking Jackson up to 18 months.)
But that whole situation has changed.
Impressed by Jackson's strong performance the past few years, Andy Mooney (CEO of Fender, Jackson's parent company) challenged the specialty brand to come up with a production model that would put American-built Jacksons in the hands of shred guitar lovers everywhere.
The first model off this new line (built in Corona, California) is the new SL3, a top-gun shred machine built for the (slightly well-heeled) masses.
If you've never rocked a Soloist before, one of the first questions to ask yourself is, "Am I – or can I be – a neck-through-body player?"
Some die-hard bolt-on devotees maintain that while through-body or set necks may sound fuller and even offer more sustain, they lack some of the snappy midrange delivered by a neck held to the body by mere bolts.
While the juicy, distortion-friendly Seymour Duncan JB bridge humbucker is the star of the SL3's pickup party, after a month running the guitar both clean and dirty through EL34-powered Mesa/ Boogie and Marshall heads, as well as into a coffee-table-friendly Yamaha THR10 modeling amp, I was impressed by the spankiness of the Stratocaster-style sounds called in via positions 2 (bridge plus middle pickups) and 4 (middle plus neck) on the guitar's five-way selector. I also vibed well with the round, fluty sound of position 5 (neck).
What may be most striking about the SL3's three-piece maple neck, though, is its rigidity. Maybe it's the internal graphite shafts that flank the truss rod, but this neck just won't bend.
In other words, pushing hard on the back of the SL3's headstock in no way causes ringing strings to drift flat the way they would on a Stratocaster or Les Paul. (Careful with your Pauls, people – Slash once exploded a Les Paul-style headstock trying to get vibrato this way.)
I like this trait – it means that, although the Jackson headstock is angled back like a Paul's, it's less delicate. Of course, the SL3's stiffness is less notable when you're playing the guitar conventionally, but it contributes to the guitar's very fast, very enjoyable zero-wasted-energy playing feel.
Other things you may notice about the new Soloist's neck: There's no more truss-rod cover behind the nut (yay!) because the rod is now instantly adjustable via a wheel at the neck heel. Just insert the narrower of the two onboard hex wrenches mounted behind the headstock (another new feature) into one of the wheel's holes and turn slightly.
And while you're behind the headstock, dig how Jackson has included a convenience atypical of locking-nut guitars – locking tuners! (I guess this guitar's "Fast as F***" tagline is meant to apply not just to its playability but also to string changes.)
Back to those wrenches. Really, any narrow enough metal rod can be used to turn the truss wheel. The wrenches' main application, of course, is for use with the Floyd Rose 1500 locking bridge and nut.
Some Floyd Rose cognoscenti may complain that the base plate isn't cast steel, like those of the German-made Floyds, but the Korean-made 1500 (which is a bent-steel plate) has a worthy competitor – its specs are virtually identical to the German one, the molds are apparently newer and more accurate, it's more affordable, and, in my experience with the SL3, works flawlessly and should keep up just fine with other Floyds, longevity-wise.
And not only are the 1500's stainless-steel bridge and nut clamping bolts corrosion resistant, their metallic hue just plain looks cool, especially in contrast to the otherwise all-black Floyd hardware.
For those who play a lot of different styles, it's not impossible to imagine a folk singer somewhere (perhaps ironically?) making this predatorial looking shark's-tooth-inlay-sporting beast of a six-string their main instrument.
There are no rules in 2022. But the reality is that if you walk onstage with this new Jackson Soloist, most guitar fans are going to expect to hear high-adventure, high-adrenaline (or at least high-volume) riffage erupting volcanically from your fingers.
And while I'm fascinated with the idea that this distinctive shred weapon could become more accepted in jam band, jazz fusion, pop, and other genres, I must admit that, like a teenager hopping on a WaveRunner for the first time, the second I first plugged this guitar in I immediately "opened the throttle wide."
I instantly got in touch with my inner shredder and cranked that bridge Duncan for hours – days, really – reveling in how fun scale patterns, tapped licks, hammers and pulls, and distorted harmonics are to play on the wide-radius, warm-sounding nickel frets.
Hardcore Soloist fans may moan about certain touches they miss from some other iterations, such as the "Made in USA" text of custom Soloists (a phrase that is legally complicated nowadays), steel frets (Jackson swears they would have put them on this guitar if they were the right fit sonically), or neck binding.
But, speaking of the latter, I actually don't gravitate toward posh guitar touches. Rather, I dig guitars that are broken in way beyond their first scratch, and for that reason I like the subtly rolled, worn-in feel of the SL3 neck's unbound edges.
In fact, I wouldn't mind seeing this guitar get the full Mad Max treatment – its black paint thrashed down to the primer in places, like an old Camaro. The Jackson American Series Soloist SL3 is not a cheap shred machine – few top-spec American built guitars these days are – but it's bad-ass.
Rev up this race car of a guitar for a few minutes and you're not going to want to give up the driver's seat any time soon.
Specifications:
NUT: Floyd Rose locking, 1.6875" (42.86mm) width
NECK: Three-piece graphite-reinforced "soft D-shaped" maple through-body
FRETBOARD: Ebony, 25.5" scale, 12"–16" compound radius
FRETS: 24 Jim Dunlop 6100 jumbo nickel
TUNERS: Gotoh MG-T locking
BODY: Alder, available in polyester-coated Gloss Black or Riviera Blue, urethane-coated Platinum Pearl, or polyester-coated matte Slime Green
BRIDGE: Floyd Rose 1500 locking with push-in vibrato arm
PICKUPS: Seymour Duncan JB TB-4 humbucker (bridge), Seymour Duncan Custom Flat Strat SSL-6 RWRP single-coil (middle), Seymour Duncan Custom Flat Strat SSL-6 single-soil (neck)
CONTROLS: Master Volume (500K), Master Tone (250K)
FACTORY STRINGS: Fender USA nickel-plated steel .009–.042
EXTRAS: Foam-core case, Jim Dunlop Straplok strap retainers and buttons, Luminlay luminescent side dots, neck-heel-mounted truss rod wheel, headstock-mounted hex wrench holder, matching headstock paint
WEIGHT: 7.8 lbs
BUILT: USA
Visit Jackson for more information.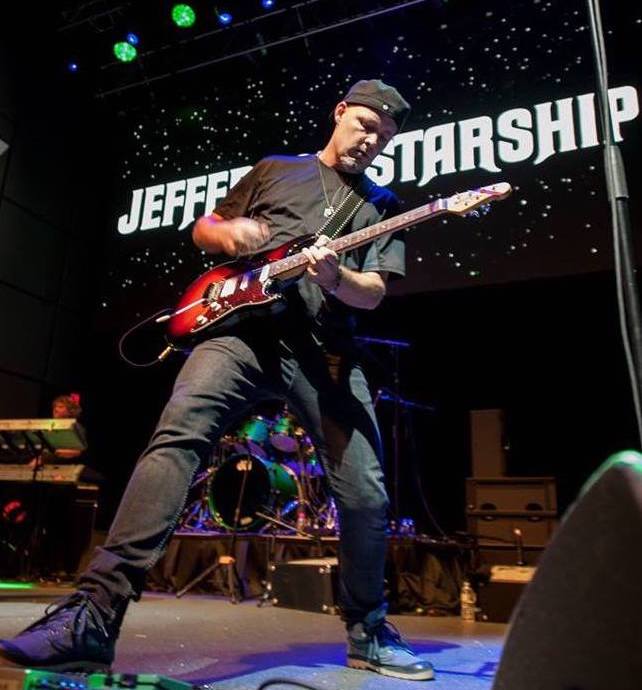 Los Angeles Editor, Guitar Player
Whether he's interviewing great guitarists for Guitar Player magazine or on his respected podcast, No Guitar Is Safe – "The guitar show where guitar heroes plug in" – Jude Gold has been a passionate guitar journalist since 2001, when he became a full-time Guitar Player staff editor. In 2012, Jude became lead guitarist for iconic rock band Jefferson Starship, yet still has, in his role as Los Angeles Editor, continued to contribute regularly to all things Guitar Player.
Watch Jude play guitar here.