Best Guitar Amps 2022: 10 Supreme Tube And Solid-State Amps For Home, Studio And Stage
By Daryl Robertson published
Our pick of the best amplifiers for all budgets from Fender, Vox, Tone King and more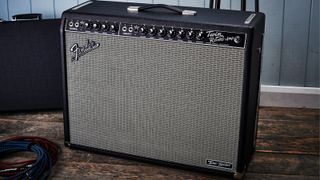 (Image credit: Future)
As guitar players, we are constantly trying to carve out our own unique sound in an effort to stand out from the crowd - and a big part of that comes from the amp we choose to play our electric guitar (opens in new tab) through. While it's true, our choice of six-string certainly influences our guitar tone greatly - as do our hands and overall technique - we would argue that our amp selection plays an equal-sized role in the quest for tone as the guitar. So, therefore, choosing the best guitar amp for your needs is not a decision to be made lightly.
So, if you aren't happy with your current rig, or you're looking to buy your first amp, let us up your tone game with this guide to the best guitar amps. From high-powered tube amps (opens in new tab) perfect for the stage to solid-state practice amps that won't annoy the neighbors - and everything in between - we break down our favorite amps out there right now. We have put the amps in order of price to make things easy, starting with the most affordable, leading up to the more boutique offerings on this list.
Best guitar amps: Guitar Player picks
For the bedroom players - or beginners - it's hard not to recommend the Positive Grid Spark (opens in new tab). This clever little amp is versatile, robust, and sounds fantastic - and with a slew of intelligent practice features, it really is one of the best guitar amps on the market for home use.
If you find yourself longing for the tone only a valve amp can provide - but you don't want to spend a fortune - then the Orange Rocker 15 (opens in new tab) should be a consideration. This British icon delivers bags of rock 'n' roll tone while giving you the ability to drop the output power to a bedroom-friendly 0.5 watts. Sticking with legendary British tones, we highly recommend the Vox AC30 (opens in new tab)
for the gigging musician looking for a fierce mid-range bark and a clean tone that will transport you back to the swinging sixties.
For those looking for the best guitar amp money can buy, the Tone King Imperial MKII (opens in new tab) is the cream of the crop. This 6V6 loaded amp has its feet firmly in the world of vintage Tweed tones but is loaded with modern features such as the Ironman II Attenuator.
Best guitar amps: Product guide
Is this the smartest amp on the planet?
Reasons to buy
+
Every sound you could ever want
+
Auto Chord/ Smart Jam features
+
Affordable
Reasons to avoid
-
Not for those who dislike apps
Hitting the scene in late 2019, the Positive Grid Spark changed the face of home practice amps forever. This unassuming 40W amp may look like all the other practice solutions on the market, but don't be fooled - it's concealing some very advanced technology.
Powered by the highly revered BIAS tone engine, this amp is capable of recreating some of the most popular tube amps and effects of all time, and when used in conjunction with the Spark app, this plucky little amp becomes the ultimate practice tool.
The revolutionary Auto Chord feature is hands down one of the most remarkable elements of this amp - giving you the ability to figure out the chords in any song from Spotify, Apple Music, or Youtube. While, the Smart Jam feature carefully analyses the notes you're playing and creates a backing track in a style of your choice - no, seriously, your amp will jam along with you! Now, if all of this wasn't enough, the app also gives you access to over 10,000 tone presets.
The Friedman tone on a shoestring budget
Reasons to buy
+
Plenty of gain on tap
+
Lightweight
+
An affordable way to get close to the Friedman tone
Reasons to avoid
-
Some players would prefer a valve amp
-
High gain sounds
At this point, Friedman has become somewhat of a modern classic with the likes of Jerry Cantrel, Bill Kelliher and Billy Duffy using the golden-faced amps to devastating effect on stages around the globe. Now, while most of us would love nothing more than playing our Les Paul through a full-fat BE 100 Deluxe or even a Runt, there is one problem - price.
Luckily, Friedman has an incredibly affordable option for those seeking the BE bark without breaking the bank. Enter the Friedman BE Mini, a solid-state take on the famous preamp circuit wrapped up in a handy 30W mini head format.
This stripped-down amp provides only the bare essentials for quality tone, with a single channel set-up that delivers top-class high gain sounds, while the tiny footprint, lightweight nature, and 30W of power mean the BE Mini can be used in a myriad of situations, from playing live, recording in the studio or practicing at home.
The tiny valve tailored to home practice
Reasons to buy
+
Perfect for home practice
+
Lightweight and small
+
Built-in reverb
Reasons to avoid
-
8" speaker too small for some players
Okay, let's face it, as much as we all love the sound of a tasty set of humbuckers into a cranked valve amp, it isn't always practical - especially at home. For most of us, we turn to a digital modeling amp to virtually recreate the tone we are longing for - but what if you really need it to be valve?
Well, in that case, it's best to keep the wattage as low as possible to ensure you get as much natural break up as possible, and the Blackstar HT-1R does this perfectly. This petite combo amp kicks out plenty of gain, natural compression, and the tone you've come to expect from the folks over at Blackstar.
Housed inside this pint-sized combo are two distinct channels, each with two voices, giving you a surprisingly versatile range of tones, while the built-in digital reverb adds the much-needed ambiance we've all come to rely on. As an added bonus, the MKII comes with the ability to record via the USB port found on the rear of the unit - making this a valuable amp to have in your home studio.
The ultimate practice amp with a tone that cuts
Specifications
Speakers:
1x 12" Katana Speaker
Channels:
Five - with three variations
Reasons to buy
+
Great selection of sounds
+
Power attenuator
+
Boss reliability
Reasons to avoid
-
Some may prefer a tube amp
The Boss Katana may not be the most expensive amp on this list - I mean, there isn't even a tube in sight - but there's a reason it's one of the most popular practice amps to be released in recent years - it sounds fantastic.
These days whether an amp is solid-state or tube doesn't really matter all that much. With advancements in technology, digital modeling amps sound better now than they ever have done before, and Boss proves this with the Katana.
Offering users access to five channels - Clean, Crunch, Lead, Brown, and Acoustic, as well as 15 in-built effects, this is a highly versatile little amp. As you would expect from Boss, the effects are of superb quality. Whether it's delay, chorus, or tremolo, all sounds are taken from Bosses famous stomp-boxes. Hookup the Katana 100 to your PC, and you'll be able to gain access to 60 different additional effects via the Boss Tone Lab.
A throwback to the origin of epic guitar tones
Specifications
Speakers:
1 x 10" Celestion V type
Reasons to buy
+
One of the best looking Marshall amps in years
+
Simple control layout
+
Vintage British tones
You can't have a list of the best guitar amps and not include Marshall - arguably the most recognizable amplifiers in the world. Of course, we could have chosen a myriad of models to be featured in this guide, but the one that stands out is the Marshall Origin 20C.
Marshall fans breathed a collective sigh of relief when the iconic amp manufacturer dropped the Origin series back in 2018. Finally, Marshall was going back to their roots and releasing a no-nonsense single-channel tube amp that was a perfect throwback to their past yet included modern features that players demanded. This is easily one of the best Marshall amps in recent years.
The Origin 20C is capable of producing rich, warm cleans, on the edge of break-up blues-tones and righteous rock tones, all by playing with the gain control in conjunction with the power attenuator. This mighty amp also features an in-built gain boost if you find yourself needing more juice and also a footswitch controllable FX loop. So if you have an itch only Marshall could scratch, then the Origin 20C might be the best option out there for you.
6. Hughes and Kettner TubeMeister Deluxe 20 Head
When tone meets technology
Reasons to buy
+
Built-in Red Box AE DI
+
Lead boost switch
+
Solid build quality
Reasons to avoid
-
20 Watts may not be enough for some players
Hughes and Kettner - when outstanding German engineering meets high-fidelity guitar tones. The TubeMeister Deluxe was released back in 2016 and is still one of the most popular Hughes and Kettner models to date, perfectly combining glassy clean tones and super articulate gain sounds.
There is plenty of gain on tap here for most applications, while the addition of a "lead boost" allows you to push the overdrive to a whole other level - but don't worry, there may be an abundance of gain, but the tone never gets fizzy or harsh.
Where the TubeMeister really comes into its own is actually the technology hidden on the back of the amp. Concealed on the back panel is the incredibly clever RedBox AE DI. This smart feature turns your already great amp into the ultimate studio partner. This is a switchable DI output, which gives you the ability to emulate either a 4x12 or 1x12 cabinet, as well as choose between vintage and modern modes. Of course, you can also turn this feature off, but it sounds so good, we're not sure why you would.
One for the rocker at heart
Specifications
Speakers:
1 x 10" Voice of the World Gold Label
Reasons to buy
+
Classic Orange tone
+
Super easy to use
Reasons to avoid
-
Some players may want more headroom
Orange may seem like the sometimes forgotten British amp brand behind the juggernaut that is Marshall and the provenance of Vox. Still, they offer a tone that sits right in between the two offering the best of both worlds. The punchy and not too fizzy tone is perfect for rock 'n' roll.
The Orange Rocker 15 is designed to easily switch between the bedroom and the stage - something Orange has perfected with the Terror series - going from 15 watts down to the super neighbor-friendly 0.5 watts. In addition, the "natural" channel features a solitary volume control - not unlike the AC30 - and is designed to let the natural tone of your guitar shine through.
The "dirty" channel, on the other hand, is a little more of a standard affair, with a three-band EQ, gain control, and master volume. Crank this channel to unlock those face-melting rock tones.
8. Fender Tone Master Twin Reverb
All the Fender tone, none of the weight
Specifications
Launch price:
$999/£1,071
Speakers:
2 x 12" Jensen N-12K Neo
Reasons to buy
+
The Fender tone you know and love, without the weight
+
Still looks like a Twin Reverb
Reasons to avoid
-
Some may consider it expensive for a solid-state amp
While the enormous, deep tone of the Twin Reverb brings a smile to the face of most guitar players, the back-crushing weight certainly does not. The clever folks over at Fender have been tirelessly working away on solving this age-old grievance - enter the Fender Tone Master Twin Reverb.
Most of the other modelling amplifiers on the market are more concerned with simulating as many different amps as possible, giving the player a digital-smorgasbord of different tones. This can result in a few great sounds, but usually a few unusable ones with it. Where the Tone Master differs is in its intent. This hi-tech Twin's sole purpose is to perfectly recreate one amp, down to every last detail.
So if this amp looks like a Fender Twin and sounds like a Fender Twin, what's the main difference? Well - apart from the lack of tubes - it weighs in at only 33 lbs! Meaning you can comfortably carry this to and from gigs with no hassle.
A small blast from the past
Reasons to buy
+
Jensen speaker
+
Tube driven spring reverb
+
Old school design
This may be the smallest amp on this list, but don't let its small stature fool you. The Supro 64 Reverb sounds enormous! Like many entries in this guide, this amp takes inspiration from what has gone before but adds a few modern twists to make it work for today's player.
This fierce 5-watt combo is oozing with vintage style and has the tone to match. The 6V6 tubes and 1x8 Jensen speaker deliver a powerful retro bark that is dynamic and a delight to play. This is the sort of amp that just begs to be played - especially when you set it right on the edge of break up.
The Supro also has a few clever features hidden behind its old-fashioned facade. Located at the rear of the amp is a set of line outputs that offer the ultimate flexibility, whether you want to use them to drive another amp or even for home recording. The "Dry" signal output - as you'd expect - provides the dry signal only, with no reverb. This also stops the dry signal from being sent to the power amp. The "Reverb" output does the same but with only the reverb signal, while the "Mix" output combines the two and doesn't affect what is sent to the power tubes.
10. Fender '68 Custom Deluxe Reverb
A Fender classic re-visited
Specifications
Launch price:
$1,299/£1,299
Speakers:
12" Celestion G12V-70
Reasons to buy
+
Perfect Fender tone
+
One of the best for reverb/tremolo
+
Classic vintage look
No matter the decade, you'll be sure to find a Fender amp sitting pride of place on any stage - from smokey jazz and blues clubs to lively country bars and sticky rock stomping-grounds - they are an enduring presence in every music scene. The big reason Fender amps have been so loved for so long is that they offer a clean, harmonically rich, and mid-scooped tone that always seems to bring out the best in your playing.
The Fender '68 Custom Deluxe Reverb is the ultimate throwback to the silver face era of amps, delivering vintage twang and the touch-sensitive dynamics the original was famous for - all while looking the part as well. For the traditionalist, the aptly named "vintage channel" belts out all the silver panel tone you could ask for, while the "custom channel" is loaded with the iconic Bassman tone circuit for more sonic possibilities.
The 22-watts of power is right in the sweet spot for gigging, allowing you to really push the amp and get the best out of it - although it may be a little much for the house! So if you are looking for the ultimate Fender tone, this might be one of the best guitar amps for you.
The sound of the British invasion
Specifications
Launch price:
$1,399/£870
Speakers:
2 x 12″ Celestion G12M Greenback
Reasons to buy
+
Plenty of mid-range bark
+
Classic tremolo
+
Gorgeous looks
Reasons to avoid
-
Not the lightest - it has three handles for a reason
The Vox AC-30 is a cultural icon and favored by the likes of Tom Petty, Brian May, The Edge, and even Dave Grohl - oh, and the Beatles, you might have heard of them? This 30-watt diamond-clad-combo is responsible for some of the most remarkable guitar tones in history and has a sound that is purely its own - and not many amps can say that.
The AC-30 uses three 12AX7 preamp valves, as well as a quartet of EL84s to deliver its fabulously mid-focused sound. There's a power to an AC30 that hits you right in the gut - especially when it's cranked! Dial it back, and you can achieve those sparkly clean sounds that can cut glass if you're not careful.
The reverb and tube-driven tremolo are welcome additions, bringing the ability to soften the sometimes harsh nature of all that mid-range. At the same time, the master "tone-cut" provides even more tone-shaping capabilities. So if you are looking for an amp that will bring those classic British tones, take pedals incredibly well, and look impeccably stylish while doing it, then look no further than the Vox AC-30 C2.
12. Victory V40 The Duchess Head
A small victory for your guitar tone
Specifications
Launch price:
$1,399/£1,099
Reasons to buy
+
Surprisingly versatile for a one channel amp
+
Fantastic value for money
Reasons to avoid
-
Not for high-gain players
This relatively small English company has really made a name for itself since launching in 2013. Offering competitively priced, hand-made amplifiers that are durable, roadworthy, and most importantly, sound fantastic!
The V40 is a single-channel, all-valve head that offers both American clean tones and British overdrive sounds. Through a series of clever switches, you can shape the tone to exactly how you like it, without any fuss. For example, the "voice" control shapes the upper mids. Voice I mode allows less of these frequencies through to the subsequent gain stage, whereas Voice II allows more through. This may seem like a simple feature, but it really does allow you to dial in your perfect tone - it works particularly well when playing with a band.
It's not just glorious high power on offer though, as the front panel switch allows you to lower the overall power to around 7 watts. In case that wasn't quite enough, you also have the option to use single-ended mode, which selects to just one or other of the power valves in Class A operation, resulting in a minuscule 1 watt RMS.
13. Tone King Imperial MKII
The king of boutique tone?
Specifications
Launch price:
$2,595/$2,379
Speakers:
12" Custom Eminence
Reasons to buy
+
Built-in power attenuator
+
Tweed era tones with a modern twist
+
Stunning unique looks
Reasons to avoid
-
Only 20W - some player may need more power
The name Tone King is synonymous with extremely high-quality, hand-built boutique amplifiers that look like they have just jumped out of the '50s. The Imperial is one of the first amps produced by the Maryland amp gurus way back in 1993 and has been a firm favorite ever since.
The Imperial MKII clearly has its roots in the sound of the Fender Tweed and Deluxe amps of yesteryear, but with a few modern twists that make it desirable to the contemporary player. This 6V6 loaded dual-channel amp offers two distinct tones - rhythm and lead. The rhythm channel is voiced to deliver those classic '60s clean tones, but - thanks to a few clever tweaks in the new MKII - it also boasts a smooth overdrive sound as well as shimmering cleans. The lead circuit still has its hand firmly in the tweed tone world, but the addition of the "mid-bite" control means it can deliver scorching classic rock tones.
The 20W all valve power could be considered overkill for most home practice sessions, so Tone King has included the Ironman II Attenuator, which gives you the ability to drop the volume to a manageable level without sacrificing tone.
Best guitar amps: Buying advice
There is something so effortless about buying an electric or acoustic guitar. Usually, within five minutes, you know if it's right for you. The guitar just clicks with you, and you know right then and there that you need to make it yours - so you pay the person in the shop, put it in the case, and carry on your merry way.
For some reason, many players have more of a problem choosing the best amp for them. I suppose they aren't as tactile as, say, a guitar or bass, but that doesn't mean it should be more challenging to choose the right one. There are few things to keep in mind that should make things a little easier.
Combo or head?
The first consideration is whether to go for a head and cab or combo. Of course, both have their benefits and pitfalls. Still, we have definitely seen a resurgence in the demand for high-quality stage-ready combos in recent years. Gone are the days of multiple 4x12 stacks crowding stages around the world. Instead, today's players are typically looking for small easy to carry solutions that are not only giggable but can be used just as easily at home.
Obviously, a combo may not necessarily be the best option for you. Perhaps you already own a great-sounding cab, and you want to just change your head for something new, or you like the idea of being able to mix and match cabs and experiment. Whatever the reason is, go with the solution that suits your needs.
Tube or solid-state?
Next up is tube vs. solid-state. Now, this argument will still be raging long after we are all gone - and the only thing left is Keith Richards and the cockroaches - but the truth of the matter is, it doesn't really matter all that much anymore.
Technology has come on leaps and bounds over the last decade, and both valve and solid-state amps sound better than they have ever done before. So our advice would be not to get too bogged down with whether it's transistor or tube. Play it, does it sound good? Well, it is good. It's that simple.
Choosing the right wattage
Now, this is one of the most essential elements you need to keep in mind when choosing the best guitar amp for you. Really it boils down to intent. Suppose it's a home practice amp you are looking for. In that case, the 100-watt mega stack is going to be overkill and likely result in a knock at the door from the fuzz - not to mention that you'll never be able to get the full sound out of your amp. Instead, look at the low wattage options available to you, such as the Supro or the Orange Rocker featured in this guide.
This advice changes somewhat when we are looking at a live situation. Now it's all about headroom. While it's true that you could gig the 5-watt Supro, you'll struggle to get them clean headroom out of it at those volumes. Now, this might be precisely what you want, if not, it's worth looking at something larger. The Vox AC30 offers the best of both worlds, enough headroom for bright cleans, and can also be driven to natural overdrive.
What tone are you looking for?
Lastly, we need to talk about tone. Like guitars, all amp brands have their own unique voices, and it's essential to keep that in mind. If you are looking for enough mid-range to scrape the paint off the walls, you're not going to get it with the Fender Twin Reverb. Similarly, you don't turn to Marshall for pristine clean sounds. This might sound obvious, but seriously think about the tone you are looking for and seek out a brand that delivers on that brief.
It's all about frequency and, more importantly, mid-range, that's where a lot of the characteristics are in a brand's sound. Even narrowing down whether you want a mid-pushed or mid-scooped amp is an excellent place to start.
Having a clear idea of the sound you are searching for is half the battle. Unfortunately, so many players walk into the guitar store with no clear plan and expect the perfect guitar amp to jump out at them. While this approach may work for some - and let's be honest, it's probably just luck - it will be way more efficient to have an idea of the overall sound you are looking for before you even enter the store or buy online.
Buying your first guitar amp
Buying a guitar amp for the first time can be daunting, but don't worry, we'll help you through it. When you are just starting out, you probably don't really know what sounds you like just yet - and that's fine, none of us did! It makes sense then to go for an amp that will allow you to try a range of different tones and, in the process, help you find your own voice.
Digital modeling amps are perfect for this, and with the technology becoming widely available in recent years, you can pick up a powerful modeler for next to nothing. All the big brands have a digital amp in their catalog, and to be honest, you can't go wrong with any of them. The Fender Mustang, Line 6 Spider, Vox VT, Positive Grid Spark and Marshall Code are all viable options, at the end of the day, it all comes down to how much you are willing to spend.
These amps not only feature a variety of amp tones but are also chock full of guitar effects such as reverb, delay, and chorus, which will help you better emulate the songs you are trying to learn.
What should I spend on a guitar amp?
There aren't any hard and fast rules when it comes to how much to spend on a guitar amp. That said, there are a few things to think about before you make a purchase.
There's no shortage of wallet-friendly amps on the market, and you can pick up an all singing all dancing modeling amp for well under $/£500 - with the ever-popular Positive Grid Spark routinely coming in under $/£300! This price point is fantastic for beginner or bedroom players looking for an amplifier that will give them an approximation of many different tones at an affordable price.
The next level up - $/£500 - $/£1,000 - is where you'll find the majority of giggable amplifiers. This price bracket is by far the most diverse, with almost every style of amp you can think of represented here. From hard-rocking valve amps, ultra-modern metal monsters, and hi-tech solid-state options, you are sure to find an amp to do the job at this price point.
Over the $/£1,000 mark, we are getting into some serious pieces of kit. The amplifiers in this class are professional grade and made using the best of components. Amps like the Tone King featured in this guide are more boutique in nature, with high-end features that appeal to the ultimate tone chasers.
So there you have it, that's our guide to the best guitar amps on the market right now. No matter which one you choose, just make sure you plug in, turn up and make some noise!
Read more on how we test gear and service at Guitar Player.
First and foremost, I'm a guitar enthusiast – a fanatic, some might say. I'm a firm believer that most of the world's problems can be solved with a Gibson SG and a catastrophically loud amp. Before writing about guitars for a living as a Junior Deals Writer on Guitar Player, I worked in music retail for 7 years, giving advice on guitars, basses, drums, pianos, and PA systems. I also have a passion for live sound; I'm a fully qualified sound engineer with experience working in various venues in Scotland.
Get the latest news, reviews and product advice straight to your inbox.
Thank you for signing up to The Pick. You will receive a verification email shortly.
There was a problem. Please refresh the page and try again.