Best Tube Amps 2023: Top Choices from Fender, Marshall, MESA/Boogie and More
Looking for the rich tone only a valve amp can provide? Well, these are our top picks of the best tube amps on the market right now for all budgets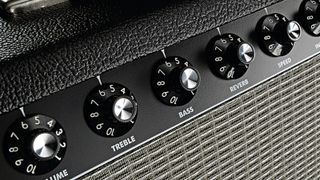 (Image credit: Future)
Despite having been invented in the 1930s, the best tube amps are still the gold standard for guitarists today. Many contenders to the throne of great guitar tone have arrived since its inception, with solid-state amps and more recently, modeling amps all attempting to recreate that iconic tone. But there's just something about a real tube amp that makes the hairs on your arm stand on end.
Tube amps (also known as valve amps) deliver a sound that's particularly nefarious to mimic because the analog construction of the amplifier makes it so tonally rich. They distort in a very musical way, rich in harmonic content resulting in a warmth and depth of tone that really needs to be experienced to be understood.
They also compress in a way that's very natural, responding to your picking dynamics from the softest pluck all the way to the hardest strum. This allows your expressivity to really shine, with all the detailed nuance of your playing shining through.
Best tube amps: Guitar Player's choice
If you're on a budget or looking to buy your first tube amp, the Blackstar HT-1R will be the perfect introduction. With two channels, switchable voices, and even a USB recording output, you get a lot of bang for your buck here.
Our mid-level pick is the PRS MT 15 Mark Tremonti Signature Head. Its 'lunchbox' form factor and delightful array of tones make it perfect for guitarists who are regularly gigging. It's packed with features and if you need more convincing, it looks stunning too.
Money no object? Well then, you better take a look at the Fender '64 Custom Princeton Reverb. Based on the hallowed mid-60s Princeton tube amp, it has one of the nicest clean tones you'll ever hear. It also does an amazing drive tone when you push it too, making it a super versatile amplifier for any serious backline.
Best tube amps: Product guide
1. Fender '64 Custom Princeton Reverb
The best tube amp for full-bodied cleans and classic American drive
Specifications
Preamp tubes:
1 x 12AT7, 3 x 12AX7
Power amp tubes:
2 x 6V6, 1 x 5AR4 rectifier
Speaker:
1 x 10" Jensen Vintage Alnico P10R
Reasons to buy
+
Classic Fender cleans
+
Lush tremolo and tube-driven reverb
+
Great mid-level overdrive
Reasons to avoid
-
You have to really push the volume for breakup
The hand-wired '64 Custom Princeton Reverb delivers all the dynamics and nuances that mid-'60s Princetons were famed for. Incredibly responsive, it offers full-bodied, chimey cleans and, when pushed, classic American drive. It's warm with a smooth mid-range and clear, sparkling highs, all of which are delivered by a 10" Jensen Vintage Alnico P10R. The tube-driven spring reverb and on-board tremolo are both foot-switchable and add a layer of versatility to an already incredible amp.
Two 6V6 tubes in the power amp section help to deliver an output of 12W, which will be loud enough for small gigs but not so loud that you won't be able to gain incredible tones at home. There's a good amount of clean headroom, though when playing live you'll likely mic it up. Once you crank the volume to around halfway, you'll start noticing some really sweet and musical breakup; keep going and you'll get some really nice natural compression, too. The '64 Custom Princeton Reverb is one of the most usable tube amps out there, and works really well as a pedal platform.
2. Blackstar HT-1R MKII Combo
The best tube amp for home practice
Specifications
Power amp tubes:
1x 12AU7
Speaker:
1x 8" (head and cab configuration available)
Weight:
12.34 lbs / 5.5kg
Reasons to buy
+
Lightweight and very portable
+
USB output allows for silent recording
+
1 watt is the perfect practice level
Reasons to avoid
-
8" speaker can sound boxy
Blackstar's small all-tube 'HT' series of amps put the company on the map soon after their release. We're now on the MKII series of these amps - and they've got even better.
The HT-1R MKII adds a satisfying digital reverb into the mix, and along with the introduction of 'voice' switches on both channels - offering you a tasteful switch between UK and US tones - the versatility of the HT-1R has been improved which can only mean good things for us guitarists. With the HT-1R MKII being a small 1 watt, 1x8" combo for just a dash over 300 bucks, you'd expect to compromise on features - but that's not the case here. This is potentially the best home practice amp for those who want tubes on a budget - and the level of compromise here is, like the amp itself, very small.
The only downside we can see with this amp is that the 8" speaker can sometimes lack the low-end presence we'd like to hear. To be honest though, it's a small, all-tube practice amp for the price of a good overdrive pedal, so realistically there are no complaints here. It's even got a USB output to enable silent home recording, as does the head version.
3. PRS MT 15 Mark Tremonti
Take it to the (Alter) bridge
Specifications
Pre-amp tubes:
6x JJ EC83S
Power amp tubes:
2x JJ 6L6GCMS
Speaker:
N/A (matching cab available)
Reasons to buy
+
Looks stunning
+
Sounds huge for such a little amp
+
Durable padded cover included
Reasons to avoid
-
A 30 or 50 watt version would be amazing
PRS, while being mostly well-known for their electric guitars, has produced some impressive amplifiers over the years. Their Archon, Sonzera and J-Mod amps have graced stages all over the world, so it's no surprise that Mark Tremonti - one of PRS' longest-standing artists - has entrusted his tone with them in the form of the MT 15.
As you've probably guessed, the MT 15 is the 15 watt Mark Tremonti signature amp, and as such, it produces some huge tones despite its small lunchbox-style design. With two channels - one clean, and one overdrive - the MT 15 offers the versatility of amps considerably more expensive than itself, while still remaining simple, fun and easy to operate.
Now, 15 all-tube watts is a lot of power, and in most practice situations it can be a bit too much. Thankfully, PRS has introduced a low power circuit, producing 7W to make your practice sessions that little bit more manageable. This also allows you to drive the tubes to breakup, without driving your landlord to eviction or your neighbors to noise complaints.
4. MESA/Boogie Mark Five 35
One of the best modern tube amps, with incredible clean and high-gain tones
Specifications
Output:
35W, switchable down to 10W
Power amp tubes:
4 x EL84
Speaker:
1 x 12" Celestion Custom 90
Reasons to buy
+
Wide range of incredible tones
+
Power reduction
+
Three voicings per channel
Seeking a premium, high-end, hand-wired tube amp? The MESA/Boogie Mark Five 35 ticks all the right boxes. Built to celebrate 35 years of the company's flagship range, it takes some of the most popular features from previous models and repurposes them into an impressive new package.
It's a 35W combo, with four EL84 power tubes, a 12" Celestion Custom 90 speaker and the ability to switch down to 25W or 10W, should you require a different feel and quicker breakup. This adjustable output means that the amp is just as well suited to home use as it is to stage or studio work. With two channels, each offering independent preamp stages and three modes, you can mine an almost unlimited array of sounds. Navigate from sweet clean tones, to a classic rock mid-range bite, to smooth saturation, all via an intuitive and well-thought-out control panel.
Add in the classic MESA five-band EQ panel, tube-driven reverb and a cabinet-simulated DI output, and you have one of the best tube amps for anyone seeking world-class tones.
A versatile tube combo from the golden era of guitar tone
Specifications
Speaker:
1 x 12" Supro DK12
Reasons to buy
+
Enough power for small gigs
+
Beautiful clean tone
+
Onboard boost and reverb
Reasons to avoid
-
Slightly awkward controls
Don't let the small size of the Supro Delta King 12 surprise you, this cute little box is packing some serious power and functionality. The successor to Supro's super popular Blues King, this great little tube combo sounds just as good as it looks.
The clean tone is gorgeous, sounding great with jazz chords and country licks. Drive the volume past halfway and you get that delicious tube breakup, perfect for rock and blues. Two boost modes let you push the amp even harder, taking you right into punk rock and grunge territory.
It's just about quiet enough for home practice, yet more than loud enough to compete with your drummer at the next rehearsal. A dedicated line out lets you send your signal straight to front of house or use it for recording purposes. Combine that with the stunning-looking cabinet and you've got yourself one amazing little tube amp.
The best tube amp for dishing out classic rock crunch
Specifications
Output:
20W, switchable down to 5W
Preamp tubes:
2 x 12AX7, 1 x 12AX7 phase splitter
Power amp tubes:
2 x EL34
Speaker:
1 x 10" Celestion V-type
Reasons to buy
+
Classic tones at lower levels
+
That overdrive is hard to beat
+
True to the originals
The Marshall Plexis of the 1960s shaped the sound of rock music as we know it. The likes of Pete Townshend, Jimi Hendrix and Eric Clapton all relied on Marshall amps for their genre-defining tone, so why shouldn't you?
The Marshall SV20C is a scaled-down, all-in-one combo version of the manufacturer's iconic 100W Super Lead Model 1959, reducing the output to a more manageable 20W. This is perfect for gigs and band rehearsals; however, you'll also have the option to run it at 5W, meaning you can crank it up at home too – it'll still be loud, but your neighbors are more likely to forgive you!
It's laid out in the same way as the originals, with two inputs for each channel, and delivers the same classic, mid-range bite that helped shape the Marshall sound. Whether you're looking for old-school clean tones or want to crank up the volume for that definitive classic rock crunch, this tube amp will deliver the goods.
An ever-present pillar of British rock and roll tone
Specifications
Power amp tubes:
4 x EL84
Speaker:
2x 12" Celestion G12M
Reasons to buy
+
Amazing clean tones
+
Built-in tremolo and reverb
+
Lovely crunchy drive sounds
One of the bastions of the British invasion of the 60s, the Vox AC30 is synonymous with great rock and roll tone from the likes of Brian May and The Beatles. This modern version of a classic amp serves up great tone with loads of functionality, making it one of the best tube amps going.
You've got two channels to play with, giving you jangly clean chime right through to classic rock crunch. The Top Boost channel features separate controls for treble and bass, but the Tone Cut knob on the master channel is where the magic happens, providing plenty of scope for refining your sound.
Built-in tremolo and reverb effects let you augment your sound further, adding flutter and space to your guitar tone. The four inputs are 'jumpable' too, so you can plug into channel 1, use a pedal cable to connect to channel 2, and use both at the same time for even more tone-tweaking options.
9. Fender Blues Junior Lacquered Tweed
A versatile, sweet-sounding, practical tube amp – what's not to love?
Specifications
Power amp tubes:
2 x EL84
Number of channels:
1 (with Fat switch)
Speaker:
1 x 12" Jensen C12N
Reasons to buy
+
Versatile
+
Sounds good at low volumes, too
+
Lovely reverb
Reasons to avoid
-
Not enough headroom for some players
For years now, the Fender Blues Junior series has given guitarists quality tube amp tones at a great price point. With 15W of output at your disposal, you'll probably get away with performing smaller shows with it, but it's the perfect amp for playing at home.
It delivers lush and warm cleans with a sparkling top end, as well as some classic-sounding overdriven tones. Stick a boost in front of it to really work the preamp section, or, for heavier tones, run it clean and use your favorite distortion pedal.
Whatever you choose to do with it, the amp's 12" Jensen C12N speaker boasts the necessary quality to make your guitar work sing.
The legendary rock and old-school metal icon gets a 20W makeover
Specifications
Output:
20W, switchable down to 5W
Power amp tubes:
2 x EL34
Reasons to buy
+
Legendary rock tones
+
Power reduction helps drive the tubes
Reasons to avoid
-
Not the most versatile amp
A few years ago, the Marshall JCM800 – one of the most pivotal amps in rock history – was reimagined as part of the Studio series. The SC20H is a 20W version of that classic tube head, which was used by nearly every rock and metal guitarist of the '80s and early '90s.
You can run it clean, add a touch of drive and push the preamp with pedals, or dial up both the master and pre-amp volumes to get all the tubes singing. As with all the models in the Marshall Studio series, the SC20H benefits from a power reduction option that enables you to run it at 5W and get the most out of it at more sensible volumes. Plus it's got a DI output.
More often than not, the classics are classic for a reason, and this 20W take on the JCM800 is one of the best tube amps for rock and metal that you can get.
11. Blackstar JJN-20R MkII
Unleash your inner blues power with a signature amp from one of the world's hottest players
Specifications
Output:
20W, switchable down to 2W
Power amp tubes:
2 x EL84
Speaker:
1 x 12" Celestion G12T-75
Reasons to buy
+
Covers a lot of ground
+
Giggable, but will sound great at home too
+
Impressive feature set
Reasons to avoid
-
Green finish not for everyone
This artist-signature tube amp comes courtesy of Blackstar and chicken-pickin' bluesman Jared James Nichols. It's an incredibly versatile and feature-laden amp – fitted with EL84 power amp tubes – that will cover you for a wide range of applications and playing styles.
It's a two-channel amp; however, each channel has two voices – a British one and an American-style offering. You can use the first channel to dial in everything from warm, rounded cleans to on-the-edge breakup sounds, while your dirty channel offers everything from subtle blues crunch to higher-gain saturation.
Not only does it sound great, it's highly practical too. You can switch it from a giggable 20W to 2W, which will enable you to really work those tubes while retaining sensible at-home volumes. There's also a USB output for recording directly, and a speaker-emulated DI that'll come in handy for gigging and recording.
Best tube amps: Buying advice
How to choose the best tube amp for you
You can trust Guitar Player. Our expert reviewers spend hours testing and comparing guitar products so you can choose the best for you. Find out more about how we test.
The best tube amps can quite often be a significant investment, so it's worth doing your research to make certain your pick is going to work for you. As with picking any guitar amplifier, the emphasis will be on sound, portability, usability, and connectivity.
Next, you'll need to think about the number of sounds you use. If you only ever play clean, then an amp with a great gain channel is probably wasted on you, and vice versa. Do you rely on effects pedals for your overdrive and distorted tones? If so, you'll need to know which amps meet your needs.
You'll then want to figure out the type of amp sound you want, and which type of amp will suit your tone. USA-made amp brands like Fender and Mesa/Boogie will produce a different type of tone than a Marshall or Vox.
It sounds like a complex bunch of questions, but it's important to make sure your tube amp is perfect for you. A good amp can make any guitar sound amazing and boost your playing confidence through the roof.
What makes a tube amp good for gigging?
If you're going to be using your tube amp onstage, then you'll want to look for something with a good amount of power. That way, you'll have no problems being heard.
Tube heads can be good if you play regular shows, as many venues will already have a cab, meaning you can turn up with just your guitar and your head - but the inconsistency of some venues' gear means that sometimes a tube combo can be the preferred option. Having your own amp and speaker in the same box means that your tone has the potential to be more consistent - and this can be a life-saver for us guitarists.
What makes a tube amp good for practice?
If you want a tube amp to use solely at home, then it's best to get something with a lower wattage so that you can drive the tubes while keeping the volume at a steady level. Many modern tube amps now feature power reduction, which will enable you to run them at a higher wattage when you need the volume, then switch them down for home practice.
It's worth thinking about the physical space you want your practice amp to take up. Something like the Fender '64 Custom Princeton Reverb or the Blackstar HT-1R MKII is perfect for those with not much space - and as a rule, the smaller the wattage of a tube amp is the smaller the amp itself will be.
How much power does my tube amp need?
This is one of the most important things to think about when buying a tube amp. It all depends on how loud you need to be, and how big the gigs you're playing are. If you're just using your tube amp for home practice, then you really don't need any more than 15 watts - and if your 15 watt amp has a reduced power mode, then that's even better.
For those who play gigs, you should be looking at amps with between 15 and 50 watts. 15 watts will start to get distorted at lower volume than the 50 watt alternative, but that volume will still likely be enough for most smaller shows. 50 watt tube amps are brilliant for people who want a lot of clean headroom (which means the tone stays clean at higher volumes) or get all of their sounds from pedals.
If you're in the 50+ watt world then you'll likely be playing huge venues - most of which you'll never be able to turn your amp up properly in. At this power level, it's unlikely you'll get the most from your tube amp, so make sure to do some serious research before buying that hundred watt beast you've been dreaming of.
How do tubes affect the tone of my tube amp?
Of course, the tone of a tube amp is important. If you want a similar sound to some of your favorite players, check out what sort of amps they use. Tube amps can sound quite different depending on the brand; for example, many Marshalls have an aggressive, mid-heavy sound that's commonly associated with British artists, whereas Fender amps are often more present in the lows and highs, and represent more of an American sound.
How does a tube amp sound?
Tube amps from different sides of the pond tend to have differing tones. Fender amps are highly regarded for their clean tones whereas a Marshall excels at dirty sounds. Although it's not an absolute rule, amps from America tend to have more treble clarity, whereas British amps sound a lot darker.
If you like to get the majority of your sound from pedals, then finding a tube amp with a great clean tone will be your best bet. If you're not into pedals, then you'll almost certainly need something like a gain channel to get those crunchy rhythm and lead tones.
How loud is a tube amp?
Volume is also something to think about. Even a 15-watt tube amp will be seriously loud and although you can get away with that for practicing at home, anything more than that will likely result in noise complaints!
The issue is tube amplifiers need to be turned up to sound their best, so you'll always be at risk of irritating others when using one at home. Using them at lower volumes means you're not getting the best of their tonal quality, negating the reason for having one in the first place.
Thankfully many modern tube amplifiers now feature power attenuation so you can harness the power of tube tone without blowing the cat away or completely ruining your already fragile relationship with your neighbors. The best thing is you can turn them right back up at rehearsal or at your next show, and still get the same great tone.
Are tube amps portable?
Tube amps are heavy, there's no getting around that, unfortunately. Although there is the Blackstar St James amp series which is making strides in the right direction when it comes to weight saving, the majority of tube amps you come across will have some serious heft to them.
Smaller tube amps like the Supro Delta King can be a lot lighter though, so if this might be an issue for you don't fear, there are still plenty of smaller combos available that will deliver that sought-after tone without the back-breaking weight.
How easy is it to use a tube amp?
Some tube amps have one channel, one tone knob, and an input. Just plug in, dial in a quick tone setting, and away you go. Others will have myriad channels, EQ knobs, and other options for sound sculpting. It's up to you to decide whether you want an amp that you can just turn on and rock out with or something that will require time to find your desired guitar tone.
This can depend on whether you only play in a particular genre, or for example, you might use pedals to get the majority of your tones so just need a solid base to build upon. It's a great question to ask before you commit to purchasing as it can save you money on your initial purchase to do away with features you don't really need.
What connection options does a tube amp have?
Finally, we come to something that many guitar players overlook when purchasing new amps, the amount and type of connections on offer. If you're running a load of time-based effects on your pedalboard, an FX loop will help declutter your sound by placing them after the preamp and before the power amp. A cab out for expanding your rig might be helpful if you're looking to beef up your tone by adding some more speakers to your setup.
Many modern tube amps also come with direct outs for recording or sending to front of house. USB outs are featuring more and more too, giving you options to record your sound without having to crank the amplifier and mic it up. Features like these can be a lifesaver when inspiration strikes late at night, so be mindful of what your amp of choice features and ensure you get yourself exactly what you need.
Read more on how we test gear and service at Guitar Player.
Related buyer's guides
All the latest guitar news, interviews, lessons, reviews, deals and more, direct to your inbox!
After spending a decade in music retail, I'm now a freelance writer for Guitar Player, Guitar World, MusicRadar and Reverb, specializing in electric and acoustic guitars bass, and almost anything else you can make a tune with. When my head's not buried in the best of modern and vintage gear, I run a small company helping musicians with songwriting, production and performance, and I play bass in an alt-rock band.