Best Telecaster Pickups 2023: Nail The Perfect Tone For Your Fender
Freshen up an old classic with our choice of the best Tele pickups on the market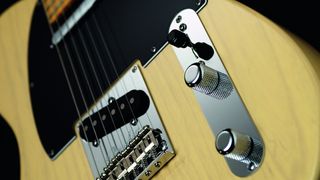 (Image credit: Future)
The Fender Telecaster has been around for more than 70 years and it's still one of the most popular guitars in the world. If you've got one and feel it needs a new lease of life, then you might want to consider fitting it with the best Telecaster pickups currently available.
Players have looked to the Telecaster for its unique twang, punchy mid-range and sparkly top end, along with a smooth and mellow neck position. The best Telecaster pickups tend to retain most of these characteristics, but will exaggerate some and tame others. There have also been many different iterations of the Fender Telecaster over the years, so you can hone in on particular eras with different pickup sets.
Pickups are one of, if not the most, important factors when it comes to tone and it can be surprising how much of a difference they can make. Fitting your T-style guitar with a set of the best Telecaster pickups can completely transform the sound of the instrument, making it brighter or darker sounding, more dynamic, more aggressive, more mellow – whatever you want.
There are loads of different pickup sets which all offer different styles of Telecaster tone. We've put together our list of the best Telecaster pickups from some of most respected manufacturers in the world.
Best Telecaster Pickups: Our Top Picks
Choosing the best Telecaster pickups obviously depends on the sound you're after, which is why we love the Fishman Fluence Greg Koch Gristle Tone so much. With a simple switch located between the two knobs, you can flick between two distinct voices that essentially give you two Telecasters in one.
We also really like the Seymour Duncan Quarter Pound Telecaster pickups for a humbucker-style punch in a single coil format. There's also the Fender Pure Vintage 52 pickups, which deliver serious old school mojo.
Best Telecaster Pickups: Product Guide
1. Fishman Fluence Greg Koch Gristle Tone pickups
The best Telecaster pickups for versatility
Specifications
Magnets:
Alnico IV (bridge), Alnico V (neck)
Features:
Two distinct Tele voices
Reasons to buy
+
Black and whiteguard style tones
+
Super versatile
+
Dynamic
Fishman Fluence pickups have been making waves, particularly within metal guitars. However, the Telecaster set they've come up with alongside Tele man and six-string acrobat Greg Koch is nothing short of amazing. These pickups provide two distinctive classic Telecaster voicings – one of an early 50s blackguard model and one of a late 50s/early 60s whiteguard.
Voice 1 is lovely and airy – perfect for clean playing and chicken pickin' away. This is the whiteguard voicing and can easily be changed by pushing the small switch that lies between the control knobs, which will take you to the blackguard voicing. This is a little punchier, more present in the mids and is perfect if you want to push your amp just a little bit harder.
It's great having access to both styles in one pickup set, plus they're noiseless, so you won't ever have to battle with that annoying hum. The only downside is that you'll have to charge the pickups via mini USB on the jack plate though an hour and half charge will get you around 300 hours play time.
2. Seymour Duncan Quarter Pound Telecaster pickups
The best Telecaster pickups for delivering humbucker style punch
Specifications
DC Resistence:
17k (bridge), 11.8k (neck)
Reasons to buy
+
High output
+
Super punchy
+
Still retains the Telecaster bite
Reasons to avoid
-
Too much for some players
Ever want a Fender Telecaster pickup that just delivers more? Well, the Quarter Pounder might be the one for you. Seymour Duncan's aim with this was to deliver humbucker style punch and saturation while still keeping it a true single coil pickup.
You still get some of that classic Telecaster bite and twang in the bridge position, but it's a little more mellowed out. You do still hear a lot of note definition though, as well as a great attack to the notes. The neck pickup is again, classic neck Telecaster sound – but more. It's warmer, it's punchier and works incredibly well for solos, especially if you're using gain. You also still get a superb blend of the two in the middle position with a touch of that quack.
If you're after some of the best Telecaster pickups for rock, or even metal, then these will do just the trick.
3. Fender Pure Vintage 52 pickups
The best Tele pickups for recreating that classic '52 sound
Specifications
DC Resistence:
6.6k (bridge), 7.2k (neck)
Features:
Enamel-coated magnet wire, copper-plated steel base plate
Reasons to buy
+
Classic '52 Telecaster tone
+
Tried and tested
+
From the company that created the Tele
Reasons to avoid
-
Won't deliver a more modern sound
These pickups are proof that you don't need to spend tens of thousands on an original vintage Telecaster to get that classic old-school sound. Made by the company that invented the guitar in the first place, the Fender Pure Vintage 52 Telecaster pickups are based on original pickups to give you an authentically vintage tone.
Expect plenty of mid-range, snap, clarity and articulation while retaining a smooth and strong low end. With everything turned up, you can easily get the classic Telecaster twang should you want it, though rolling off on the tone can mellow it out a little. Whether you're playing clean or with gain, you'll still get great note definition making it perfect for rhythm and lead players.
There really isn't much more to say other than if you're seeking that hallowed early Telecaster sound, then these pickups are one of the best ways to get there.
4. Lollar Special T pickups
The best Telecaster pickups for warm and a punchy sound
Specifications
DC Resistence:
8k (bridge), 6.3k (neck)
Features:
42-gauge wire, wax potted coils, vintage style cloth covered lead wire
Reasons to buy
+
50s style pickups with a twist
+
Extra kick from the output is nice
+
Very dynamic
Lollar make some superb pickups in various styles and the Special T is no exception. It's based on the 50s pickups, though they have made a few adjustments to make them slightly more usable for modern players.
The top end has been slightly tamed which makes them nicely balanced. They're lovely and punchy in the mids with a strong low end. You've still got top end clarity but they're not quite as shrill as some Telecaster pickups can be. They are also a touch hotter than a true 50s pickup, so if you're straying into rock and hard rock territories, then these might suit better.
They'll clean up nicely for sure, and they're very dynamic, responding to your touch beautifully, but if you want something that can rip through riffs and solos without peaking too much in the upper frequencies, then the Lollar Special Ts might be the best Telecaster pickups for you.
5. Fender Twisted Tele pickups
The best Telecaster pickups for those who want a bit of Strat in the mix
Specifications
DC Resistence:
10.16k (bridge), 5.9k (neck)
Features:
Formvar-coated neck pickup magnet wire, enamel-coated bridge pickup magnet wire
Reasons to buy
+
Punchy bridge pickup
+
Nice to have a bit of Strat character
+
Unique sound
Reasons to avoid
-
Not for those who just want Tele tone
If you've ever wanted to infuse your Telecaster with a little of the Strat's sonic profile, then you can do just that with the Fender Twisted Tele pickups. It's not going to instantly transform your Tele into a Strat, but there's definitely something different going on here, especially with the neck pickup.
The bridge has a little more punch and a darker mid-range, ultimately resulting in a slightly warmer sound. It's got a vintage vibe about it and it works perfectly for blues and rock. You can still get some Tele bite and twang out of it, but it's less pronounced. The neck pickup is a little more like a Strat, with more airiness, brightness and openness to the sound. They're also fairly hot pickups so these will drive a tube amp very nicely.
6. Bare Knuckle Blackguard Flat 50 pickups
The best Telecaster pickups for a wide range of genres
Specifications
DC Resistence:
10.6k (bridge), 6.8k (neck)
Features:
43AWG plain enamel wire, thick zinc plated steel baseplate
Reasons to buy
+
Nice, fat bottom end
+
Pushed mids
+
Versatile
Simply because of their sheer versatility, the Bare Knuckle Blackguard Flat 50s can be deemed some of the best Telecaster pickups out there. This pickup set will perform incredibly well regardless of the style of music you play; from jazz, rock and blues, to metal, country, pop and more. They're really dynamic, and a 'hot vintage' kind of output; they've got a really nice bite and punch that can push a tube amp but still clean up beautifully.
Like many of the best Tele pickups, these are based on some of the legendary 50s models, though these have a higher output. You can revel in classic Tele tones, but push them into slightly more throaty, mid-heavy aggression when you want to. The neck pickup is clear, smooth and warm, with none of the muddiness that sometimes plagues them. Overall, a great vintage Tele pickup set, with a little more attitude.
7. Seymour Duncan APTL-3JD
The best Tele pickups for vintage, mellow warmth
Specifications
Features:
Copper plated steel bottom plate, raised D& G string poles
Reasons to buy
+
Great for mellowing out a bright instrument
+
Based on a '52 pickup
+
Tamed top end and nice mid-range punch
Reasons to avoid
-
Not enough bite for some
This is the signature bridge pickup from one of the best and most underrated Tele players of all time, Jerry Donahue. He has played on countless hit records and had a stint with folk rock legends Fairport Convention. Like many others, Jerry loved the sound of a 52 Tele, which is what this bridge pickup is based on.
It's very musical and sweet sounding, while the top end is mellow and not over-bearing. It's warm with a nice mid-range punch. Like those early 50s models, it's got plenty of attitude and as well as the twang and articulation that Tele bridge pickups are known for, this will push your tube amp beautifully into a warm organic overdrive when you want it to, with plenty of sustain. It's worth noting that the two middle poles are raised which make it perfect for Teles with a vintage neck radius,
There is only the bridge pickup available, but Seymour Duncan recommend pairing this with their Alnico II Pro Tele neck pickup.
The best Telecaster pickups for those on a budget
Specifications
DC Resistence:
8k (bridge), 5.8k (neck)
Features:
Overwound for maximum output
Reasons to buy
+
Nice and balanced
+
Well priced
+
Very focused sound
Reasons to avoid
-
Sound might be too aggressive for some
These are bright, hot and aggressive sounding pickups. Rest assured, they'll clean up nicely, giving you clean and glassy tones, but they'll also push the front end of an amp really well. These pickups are overwound, really lively and have a great mid-range snarl. With Alnico V magnets, they're very focussed and offer great playing dynamics too.
Of course, in the neck position, you've got plenty of mellow warmth, but still lots of clarity and sparkle in the top end. They're great for any type of music, and really allow your guitar to cut through a mix, both in live and recording scenarios. They're also really well priced, and are made by Fender themselves.
Best Telecaster Pickups: Buying Advice
Vintage sounds
You can trust Guitar Player. Our expert reviewers spend hours testing and comparing guitar products so you can choose the best for you. Find out more about how we test.
When talking about the best Tele pickups, you'll often hear the term 'Blackguard' – this simply refers to any first generation Telecaster made up to 1954. Conversely, a 'Whiteguard' is one that's made from 1954 onwards. How much difference there is in tone between those two is widely debated, as Fender's pickup making process wasn't particularly consistent at the time.
It's worth remembering that there are multiple factors that contribute to the sound that you end up hearing. The materials used, the strength of the magnets, wire gauge and number of turns all come together to create your guitar's tone, and Leo was known for basically using whatever he had lying around!
What we can say though is that those early Tele pickups tend to be fairly punchy, with strong lows, present mids and a lovely, sparkly high end. You also get a lot of note separation and great balance because of how the pickups were made at the time. Many pickup producers offer very similar specs to these early Tele pickups meaning you can get that 'Blackguard sound' (if one exists), for a lot less than what a real one would cost you. When people refer to the 'Whiteguard sound', they'll usually mean that they're a little cleaner, brighter, and twangier.
Output
One factor that many people consider when changing pickups is output. A few things can affect the output – the baseplate material on the Tele bridge pickup is one, as is the type of magnet used in the pickup, and the number of turns of wire around that magnet. Many of these can also alter the EQ response of the pickup too.
The higher the output, the more signal you're putting into your amp. This affects the tone, but also changes how and when this will push your amp into overdrive (if using a tube amp). A hotter pickup (one with a higher output) will break up sooner, as it's making those tubes work a little harder, whereas a lower output pickup will stay cleaner for longer.
Do I Need A Full Set Or Just One Pickup?
Many of the best Telecaster pickups are available in sets, meaning you get both the neck and bridge pickup. If you're after a complete tonal overhaul, then a set is probably best as you're going to get new sounds in all three pickup switch positions. However, if you're already happy with the sounds you're getting in one position, then consider only swapping out the pickup you don't like. Just remember that you'll also have a slightly different tone in the middle position when you blend the two.
Read more on how we test gear here at Guitar Player.
Related buyer's guides
All the latest guitar news, interviews, lessons, reviews, deals and more, direct to your inbox!
After spending a decade in music retail, I'm now a freelance writer for Guitar Player, Guitar World, MusicRadar and Reverb, specializing in electric and acoustic guitars bass, and almost anything else you can make a tune with. When my head's not buried in the best of modern and vintage gear, I run a small company helping musicians with songwriting, production and performance, and I play bass in an alt-rock band.