Fender Stratocaster Vs Telecaster: Which Of These Timeless Guitars Is Right For You?
We take a closer look at what makes the Strat and Tele so different and discuss which of these icons is best for you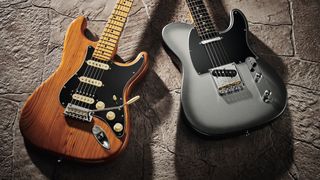 (Image credit: Future)
We guarantee that one question has been asked daily in guitar stores up and down the country since the mid-'50s – Fender Stratocaster vs Telecaster: what's the difference? Well, if you've asked yourself this very question, we hope to give you some answers here.
It could be argued that no one has had a more significant impact on popular music than Clarence Leonidas Fender. Despite never actually being able to play himself, "Leo" went on to forever change the landscape of pop culture with the release of two of the most revolutionary electric guitars of all time, the Telecaster and Stratocaster. Oh, and not content with simply making guitar history, he went ahead and invented the gold-standard of electric bass guitar while he was at it.
The Strat and Tele share much of the same DNA and are both unmistakably Fender, but with that said, they are very different animals, with each guitar bringing something different to the sonic table. So if you have ever wondered which of these timeless six-strings is the best option for your personal playing style, then allow us to help you. In this article, we'll discuss how these guitars came about, the tonal differences between them, notable players of each, and give you a few recommendations if you are in the market for a new axe.
Stratocaster Vs Telecaster: History
Although the Telecaster was officially released in 1951, its story started a little earlier. Fender would unleash the Broadcaster and its single pickup little brother, the Esquire, on unsuspecting guitarists in 1950 – and in turn, the first commercially available mass-produced electric guitars were born.
Unfortunately, Gretsch would take umbrage with the Broadcaster moniker, as it was very similar to their Broadkaster drum kit, and Fender had to change it. Being a famously thrifty man, Leo simply cut off the 'Broadcaster' part of the decal, which led to these unnamed Broadcasters being affectionately referred to as 'No-Casters'. Once 1951 rolled around, the new Telecaster name was bestowed to the now-iconic guitar, and the rest was history.
Most of us think of the Stratocaster as the archetypal guitar, but its flowing lines, double-cut design and body-hugging contours were revolutionary back in 1954. The Strat was otherworldly and perfectly captured the imagination of a pre-space race America.
The Strat would go on to marry elements of Leo's other hits, taking the dual horns from the P-bass and other design and manufacturing elements from the Tele. The added sonic possibilities provided by the three single-coil pickups, as well as the ultra-modern synchronized tremolo, made the Stratocaster an instant hit – and it's just as popular today.
Stratocaster Vs Telecaster: Players
With both of these iconic six-strings sharing such a rich history, it will come as no surprise that countless players from every genre imaginable have donned one of them at some point in their careers.
When it comes to the Telecaster, there are some artists that are simply inseparable from this historic guitar. The first that comes to mind for us has to be Rolling Stones legend and master of the open G blues riff, Keith Richards. Keef's well-loved '50s "Micawber" Tele has arguably inspired more people to pick up the guitar and become rock gods than any other. Other notable Tele-wielders include everyone from Jeff Buckley to Graham Coxon, George Harrison to Jim Root – showing just how versatile the humble Telecaster can be.
As you'd imagine, the Stratocaster has a similar list of rock royalty endorsing its beautiful curves. The list of players associated with a Strat reads like a who's who of the greatest players to ever pick up the instrument. For a certain generation, the Strat will always be intrinsically linked to Shadows axe-man Hank Marvin. In contrast, others simply can't separate the Strat from the Voodoo Chile himself, Jimi Hendrix. That said, younger players aren't short of a Strat-wielding guitar hero either, with players such as John Mayer and Cory Wong employing the spanky sound of this legendary six-string to achieve their signature tones.
Stratocaster Vs Telecaster: Sounds
Now, obviously, the Tele and Strat draw from a similar tonal pallet but diverge enough to ensure they have their own sonic identity.
We've always thought of the Telecaster as a straightforward tone machine – simply set it to stun, point and shoot. We can't help but feel the secret to the Tele's success – besides its handsome good looks – is its versatility. The bright and sharp attack of the bridge pickup is just as at home on a country record as it is delivering alt-rock riffage. There's something about the tone of a Tele that can cut through the densest of mixes like a hot knife through butter.
The Stratocaster, on the other hand, has a few extra sounds locked away inside. Arguably the most beloved Strat tone is the combination of the bridge and middle pickup, which results in a smooth, slightly out of phase tone that just begs you to play your favorite Hendrix-esque chord riffs. The neck position on the Strat is a lot warmer sounding than some players might first think, and for us it has the perfect balance of low-end for a rich, clean tone. For the funk-masters out there, you'll most definitely want to stick to the percussive attack of the middle position.
So, if you fancy a simple but versatile axe, then the Telecaster is your first port of call. On the other hand, if you are seeking an equally adaptable guitar, but you want a few extra tones you can pull out when you need them, the Strat might be for you.
Stratocaster Vs Telecaster: Buying advice
If you are in the market for one of these guitars, no doubt you'll have noticed that both the Tele and Strat come in various guises – not all that surprising since they have been around since the '50s. So how do you decide which is right for you?
Well, no matter if you are looking for a Strat or Tele, you'll want to ask yourself one simple question – do you want a classic tone or a modern one? If it's the former, then you'll want to head down the vintage-reissue route. These guitars, as the name suggests, are faithful recreations of the instruments of yesteryear. Typically, they'll have lower output pickups, larger necks, smaller frets, and will ooze retro class. Now, obviously going down this road, you won't get all the modern bells and whistles that are omnipresent in the six-strings of today, but if you are longing for a classic guitar, you won't need them.
Not all players are looking backward and trying to recreate the sounds of the past, some players are looking to the future, and thinking about where they can take the guitar next. If that's you, then you'll want a modern guitar to complement your contemporary style. Fender offers a great selection of forward-thinking axes, from the Player Series to the American Pro II and many more. Modern-style Strats and Teles can come loaded with awe-inspiring features that are designed to tackle some common problems that plague guitarists, from noiseless pickups to locking tuners, via tall frets, coil-splits and treble bleed circuits.
As you'd expect, Fender currently offers a myriad of options at every price point imaginable, so you'll find something to satisfy your latest guitar craving no matter your budget. You aren't short of excellent guitars from the super-affordable Squier range to the mid-priced Mexican-made guitars, high-end American models, and luxury Custom Shop creations.
Stratocaster Vs Telecaster: Recommended Telecaster models
1. Squier Classic Vibe '50s Telecaster
The affordable retro option
Specifications
Pickups:
Alnico Single-Coil
Finish:
Butterscotch Blonde, White Blonde
Reasons to buy
+
Has the look and sound
+
Very affordable
Reasons to avoid
-
Not for the contemporary player
If you'd love to own a '50s-era Fender, but you don't want to re-mortgage your house, then the Squier Classic Vibe '50s Telecaster is the guitar for you. The Classic Vibe takes all the features you'd expect from a vintage Tele, such as alnico single-coil pickups, narrow frets and vintage-style Telecaster bridge with barrel saddles, and makes it accessible to pretty much everyone.
Available in both the quintessential Tele finishes, Butterscotch Blonde and White Blonde, it has to be said just how good this guitar looks. It is dripping with vintage mojo and, better yet, it sounds the part as well. There is plenty of Tele spank in these Fender-designed alnico pickups.
So if you want a Tele that will transport you back to the birth of the electric guitar, but you don't have access to an endless money pit or a DeLorean, then the Squier Classic Vibe '50s Telecaster might be your best option.
2. Fender Player Telecaster
A player grade Tele at an unbeatable price
Specifications
Fingerboard:
Maple or Rosewood
Pickups:
Player Series Alnico 5 Tele Single-Coil
Finish:
3-Color Sunburst, Black, Tidepool, Polar White, Butterscotch Blonde, Capri Orange
Reasons to buy
+
Very well built
+
Great modern-sounding pickups
+
Slim neck profile
Reasons to avoid
-
Some players may find it boring
Fender has always found success with Mexican-made alternatives to the main US line, but the Players series may be the best they've ever produced. The Player Tele is one of the best giggable guitars on offer right now – it's reasonably priced, extremely reliable, and sounds the part as well. What's not to love?
Clearly aimed at modern players, this Tele features a slim C profile neck with a 9.5" radius fingerboard and 22 medium jumbo frets. Meaning it's insanely comfortable to play, and you get plenty of clearance on those frets for your giant gravity-defying bends.
The Player series pickups – while still single coils – offer a little more oomph when compared to the vintage reissues. That said, they certainly provide the jingle-jangle you've come to expect from a Tele. If you want your Tele to rock, then you may want to consider the dual humbucker option.
Read our full Fender Player Telecaster review
3. Fender American Pro II Telecaster
A very advanced option
Specifications
Launch price:
$1,999/£1,799
Fingerboard:
Maple/Rosewood
Pickups:
V-Mod II Single-Coil Tele
Finish:
3-Color Sunburst, Olympic White, Mystic Surf Green, Mercury, Dark Night, Black, Miami Blue, Sienna Sunburst, Butterscotch Blonde, Roasted Pine
Reasons to buy
+
American-made
+
V-Mod II Pickups sound incredible
+
Treble Bleed Circuit
Reasons to avoid
-
Not for the traditionalist
Fender has curated the best of the advancements in guitar building and brought them together in one new instrument – the American Pro II. The epic guitar is loaded with modern features while keeping it faithful to the original design we've come to know and love.
Features like the handy Treble Bleed circuit, which is used to retain the high-end when the guitar volume is turned down, and the improved 'ashtray' bridge have been designed to provide modern solutions to problems players have had with the earlier models.
The Deep C neck and rolled fretboard edges offer an unparalleled level of comfort, and the 'Super-Natural' satin finish means you'll never get stuck to the neck ever again. And better yet, the newly tweaked V-Mod II pickups sound simply fantastic.
Stratocaster Vs Telecaster: Recommended Stratocaster models
1. Squier Contemporary Stratocaster
Not your grandad's Strat
Specifications
Fingerboard:
Roasted Maple
Pickups:
Squier SQR Alnico Single-Coil
Finish:
Sky Burst Metallic, Black
Reasons to buy
+
Great finish options
+
Sculpted neck heel
+
Roasted maple neck
The Contemporary Series proves that Strats aren't just for those seeking pristine clean tones – they can also melt faces as well. At the heart of this model is the Squier SQR alnico pickups, which despite the look, are actually single-coils. The middle pickup has just been moved closer to the bridge position, for a completely different range of tones.
The absolutely stunning roasted maple neck provides a different tonal flavor, and a sculpted heel design allows brilliant access to the highest frets. This is undeniably a high-performance guitar for the high-performance player.
We also have to say, we love the eye-catching finish options, and the pitch-black hardware and painted '70s headstock complete the look.
2. Fender Vintera '60s Stratocaster
Vintage stylings, modern playability
Specifications
Pickups:
Vintage-Style '60s Single-Coil
Reasons to buy
+
Great value for money
+
Revoiced '60s pickups
Reasons to avoid
-
7.25" radius fingerboard is not for everyone
If you long for the feel and tone of the swinging '60s, then you may want to check out the new Vintera Strat. This special guitar harks back to the golden era of guitars with period-correct features such as a '60s neck profile with 7.25" radius fretboard, re-voiced pickups, six-point synchronized tremolo, and vintage-style tuning machines.
You get a lot for your money here, with all the classic Stratocaster tones locked away inside. The pickups are bright and articulate, and we'd happily put them up against some of the more expensive custom shop pickups on the market.
The Fender Vintera '60s Stratocaster is available in the stunning Ice Blue Metallic, the ever-popular Surf Green, and bog-standard 3-Color Sunburst finish, so you're sure to find one that suits you – and better yet, it comes with a Fender branded deluxe gig bag.
3. Fender American Ultra Stratocaster
Do Strats get much better than this?
Specifications
Launch price:
$2,299/£2,199
Fingerboard:
Maple/Rosewood
Pickups:
Ultra Noiseless Hot Strat
Finish:
Cobra Blue, Ultraburst, Arctic Pearl, Texas Tea
Reasons to buy
+
S-1 switch adds extra tones
+
Modern D neck profile is very comfortable
Reasons to avoid
-
Retro players may not like the modern features
The American Ultra is one of the highest spec'd Strats on the market, with every element of this guitar designed to make the guitarist's life easier. The carefully thought-out new body contours and tapered heel make the guitar insanely comfortable at any playing position, while a trio of Ultra Noiseless single-coils offer hum-free performance, no matter how much gain you throw at it.
The clever S-1 switch adds the neck pickup to any position and expands your sonic palette dramatically. Add this to the Modern D profile, compound radius fingerboard and locking machine heads, and you get one of the best Strats out there.
The list of finish options is pretty expansive, with Ultraburst, Arctic Pearl, Mocha Burst, Texas Tea and Cobra Blue among the options available, and as you'd expect at this price point, the guitar also comes with a premium molded Fender hardshell case.
All the latest guitar news, interviews, lessons, reviews, deals and more, direct to your inbox!
First and foremost, I'm a guitar enthusiast – a fanatic, some might say. I'm a firm believer that most of the world's problems can be solved with a Gibson SG and a catastrophically loud amp. Before writing about guitars for a living as a Senior Deals Writer on Guitar Player, I worked in music retail for 7 years, giving advice on guitars, basses, drums, pianos, and PA systems. I also have a passion for live sound; I'm a fully qualified sound engineer with experience working in various venues in Scotland.