Best Electric Guitars Under $500 in 2023: Budget Axes To Suit All Players
Our pick of the best cheap electric guitars from brands including Squier, Epiphone and Ibanez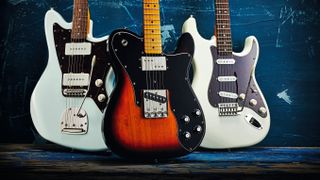 (Image credit: Future)
Buying one of the best electric guitars under $500 seems like an easy task, but in reality, it's anything but. The amount of choice which confronts us when browsing through sites and stores is greater than ever, and with the overall quality of budget instruments increasing exponentially, we've even started wondering whether you could get away with spending even less.
In our opinion, it depends what you want from your sub-$500 electric guitar – are you after a practice guitar on a budget, a live workhorse that you don't mind taking on the road, or something different altogether? This is a crucially important question to ask yourself before buying one, as if you spend too little, you'll miss out on some nicer materials, better quality control and overall get something you're not happy with. Spend too much and, well, you'll have no cash left to fill the rehearsal-room beer cooler, at the very least.
We think it's also worth asking yourself where you're at on your guitar journey. Although all electric guitars under $500 are going to be perfect for beginners, you may find it makes more sense for you to start your guitar playing journey a little lower down the price spectrum - just to make sure you enjoy it first before spending more. There's no rules on what you can and can't spend - and we'd usually recommend you buy the best guitar you can for your budget - but that doesn't always mean the most expensive one.
Nearly all the major guitar brands offer a great range of electric guitars under $500, meaning that no matter where your loyalties lie, you'll be able to grab a brand new axe knowing that you got a great deal on it.
We've included some in-depth buying advice at the end of this guide, so if you'd like to read more about the best electric guitars under $500 and what to know when buying one for the budding guitarist in your life, then click the link. If you'd rather get straight to the products, keep scrolling.
Best Electric Guitars Under $500: Guitar Player's Choice
If you're in need of a fantastic guitar for as little money as possible, then we'd suggest you look no further than the Squier Bullet Stratocaster. The Strat is an iconic guitar, and is well known for its impressive versatility, playability and comfort – and when you consider the fact that the Bullet Strat is the joint cheapest guitar on this list, at under $200, the value speaks for itself also. Sure, you can spend more if you want to, but if you're looking for the cheapest possible way to get a good electric guitar, you've got your answer.
If you've got a little more cash to splash, then we'd recommend you take a look at the Squier Classic Vibe '60s Stratocaster or the Epiphone Les Paul Junior. They're very different guitars for different types of players, but they both manage to cover a lot of tonal ground. The Strat is, like we said, a very versatile instrument with a slim, carved body and lots of tones available thanks to the three Fender Designed single coil pickups. The neck is a delight too; a comfortable '60s 'C' shape which sits in the palm of your hand nicely.
The Les Paul Junior is a slightly more crude affair, but by no means in a bad way. It's one of the most simple, straightforward guitars around, with one pickup in the bridge position, a volume control and a tone control. If you're someone who likes simplicity, then this guitar should be a true contender for you.
Best Electric Guitars Under $500: Product Guide And Reviews
1. Squier Classic Vibe '60s Stratocaster
A touch of vintage class for not a lot of cash
Specifications
Fingerboard:
Indian Laurel
Pickups:
3x Custom Alnico V single-coils
Controls:
Master volume, tone 1, tone 2, 5-way selector switch
Finish:
3-tone sunburst, Candy Apple Red, Lake Placid Blue
Reasons to buy
+
Era-appropriate looks
+
Alnico V pickups sound great
+
Very comfy neck
Reasons to avoid
-
Laurel fingerboard looks a bit cheap
When it comes to buying an electric guitar under $500, we're in a much better position now than where we were 10 years ago. Brands have begun to understand that with more and more of us opting for budget instruments, it's more important than ever that they stand up to the rigors of daily use. While some budget brands do this with varying levels of consistency, Squier is one of the all-time greats in the budget guitar market, manufacturing great instruments for not a lot of cash – specifically, the Classic Vibe range.
The Squier Classic Vibe '60s Stratocaster delivers a traditional playing experience that is hard to match for under $500. The alder body, maple neck and three alnico V single coils combine to deliver that iconic, memorable Strat tone which we all know and love. Full of punch, brightness and clarity, the Strat is one of the most versatile instruments on the market – and even the budget friendly version from Squier can keep up with the pack.
With the CV Strat being such an affordable instrument, there has been a small amount of corner cutting from the folks at Squier – in the form of an Indian Laurel fingerboard over a Pau Ferro or Rosewood one. We think this looks a little cheap – ours was pretty anemic – but overall, it's a sacrifice we're willing to make. The playing feel was impacted not one iota, so we can't complain.
As close as you'll get to the Gibson equivalent for under four digits
Specifications
Pickups:
2x Alnico Classic PRO
Controls:
2x volume, 2x tone, 3-way toggle
Finish:
Heritage Cherry, Ebony, Alpine White
Reasons to buy
+
It's that look
+
Sounds huge
+
Very comfy both sat and on a strap
Reasons to avoid
-
I'd love some' proper' single coil tones
The SG is one of the most iconic rock guitars around. With a long list of iconic players which includes Tony Iommi, Angus Young and Derek Trucks to name just a few, it's no surprise that the SG has found its way into this best electric guitars under £500 guide. Hell, it's even more popular than the Les Paul.
The SG is most well-known for its punchy, mid-heavy tone which can produce some fierce, biting gain tones. You'll be pleased to know that it can produce some incredible clean tones when you bring things down a notch – but we're guessing you're not interested in an SG for the clean tones. This guitar is a firm favorite in the world of rock, blues and metal, and after spending some time with this Epiphone SG, we can understand why.
While it's not a full-fat Gibson model, judging from the tones this guitar creates, you wouldn't be able to tell the difference. The current 'Inspired by Gibson' range from Epiphone is truly impressive, and when you consider that this guitar costs roughly a third of the price of the US-made equivalent, the level of finish and overall feel of the Epiphone model becomes even more incredible. If you can't bring yourself to spend four digits on an SG, then this could be one for you.
3. Squier Bullet Stratocaster
One of the best beginner guitars out there
Specifications
Pickups:
3x Standard single-coil Strat
Controls:
Master volume, tone 1, tone 2, 5-way pickup selector
Finish:
Black, Brown sunburst, Olympic white
Reasons to buy
+
It's a sub $200 Strat
+
A great beginner guitar
+
Level of finish is impressive
Reasons to avoid
-
Not much more money for something better
The Bullet range from Squier provides beginner guitarists and those on a budget with all the tools and features they need to start honing their craft. Although it's Squier's entry-level range, the instruments on offer will gladly see you through years of playing. They're well-made, from materials you'd expect to see on guitars at twice the price – so we can't complain an awful lot.
Speaking of those materials, the Bullet Strat consists of a poplar body, maple neck and a fingerboard made from Indian laurel. The body is lightweight and surprisingly resonant, and when combined with extra brightness and snappiness of maple and laurel, the tonal territory we find ourselves in is firmly Strat-like.
With budget electric guitars, the equipped hardware is often where things fall short. Although the Bullet Strat doesn't have the best hardware in the world, it's strong, solid, and doesn't have any obvious flaws – all you need for a great budget guitar, in our books. If you want a guitar which won't let you down for not a lot of money, then this could just be the one.
A fusion-friendly masterpiece on a budget
Specifications
Pickups:
3x Essentials single coils
Controls:
Master volume, master tone, 5-way pickup selector, Dyna-MIX9 switch
Finishes:
Vermillion, Ivory
Reasons to buy
+
The AZ body shape looks great
+
25" scale aids playability
+
It's so cheap
Reasons to avoid
-
Alter switch is cool, but maybe a bit much?
The AZ range from Ibanez has been a best-seller in recent years, with guitarists from all walks of life opting for one over the other raft of super-Strat style guitars on the market. We were thoroughly excited to find out that Ibanez was introducing a budget-friendly version, then – and it really doesn't disappoint.
Long story short, the AZES31 is one of the very best budget electric guitars around, and we can say without a doubt that it's the best guitar under $300 that you can buy today. Everything you'd like a Strat-style guitar to do, this guitar is capable of. Tonally the poplar body, maple neck and jatoba fingerboard provide this guitar with that snappy, sweet top-end you'd expect from a bolt-on double cutaway, and with these materials being so lightweight, the guitar is resonant and easy to play for long periods of time.
The scale length adds to that great playability too. 25" sits in a sort of 'golidlocks zone' middle ground, and offers enough string tension that you can really dig in for those percussive funk tones, and enough movement that string bending and legato runs are easy to master too. We know we're bigging this guitar up a lot, but it's for a good reason – it's really, really good.
Probably the best for beginners
Specifications
Pickups:
1x Alnico V humbucker (bridge) 2x Alnico V single coils
Controls:
Master volume, master tone, 5-way pickup selector
Finish:
Natural Satin, Old Violin Sunburst, Raspberry Red, Sonic Blue, Black, Silver Metallic
Reasons to buy
+
Build quality is excellent
+
Very versatile
+
Body feels lightweight and comfortable
Reasons to avoid
-
It's not got the most personality
Yamaha guitars are some of the most solid and impressive on the market, all things considered. Although in the sub-$500 category, there are some more expensive, more fancy models available, nothing quite represents value for money like the Yamaha Pacifica 112V.
The Pacifica has set the benchmark for beginner guitars for a very long time, and the 112V upholds our expectations quite happily. Although the frills have definitely been removed from this guitar, and instead the focus is on providing the bare necessities, this isn't a negative thing. Instead, Yamaha has created an impeccable instrument which helps players focus on their playing, and nothing else. It's versatile and sounds brilliant, thanks to its HSS pickup configuration, and will see you through the vast majority of musical scenarios.
Speaking of the pickups, we were definitely surprised at how fat this set sounds. We were naïve enough to assume that a budget guitar would sound cheap and a bit flimsy, but this guitar is anything but. The bridge humbucker is beefy without being too mid-range heavy, and although the coil-split proves a little bit uninspiring when played clean, with a distortion boost its voice comes to life.
6. Squier Classic Vibe Starcaster
A spacious tone from an exceptional budget guitar
Specifications
Pickups:
2x Fender-designed wide-range humbuckers
Controls:
2x volume, 2x tone, 3-way toggle
Finish:
Natural, Walnut, 3-Tone sunburst
Reasons to buy
+
Probably the nicest sounding semi-hollow guitar ever
+
Wide range pickups bring us sheer joy
+
Walnut finish is next level
Reasons to avoid
-
It's bigger than you think
In terms of semi-hollow guitars, there's not much around under $500 that blows us away quite like the Squier Classic Vibe Starcaster. Due to their more involved manufacturing process, it's harder to make a good, cheap semi-hollow guitar, and most under $500 feel a bit sub-par. Squier seems to have this conundrum figured out, however – and the Classic Vibe Starcaster is living proof.
The Classic Vibe build quality always impresses, but to see that same quality carried through into the world of hollow and semi-hollow guitars is something we love. Squier very rarely puts together a guitar that doesn't cut it, and we're happy to announce that this guitar is definitely up to scratch. The level of finish is tremendous, with tidy fret edges, solid hardware and no visible flaws in the paint or the wood. The neck is comfortable, even though it's a little on the chunky side – and we found that this extra mass in your left hand helped to give us some extra confidence to really dig in to our playing.
The pair of wide-range humbuckers are the Starcaster's most exciting feature, in our opinion. They sound, full, thick and rich like a regular humbucker, but have a much more open tone with loads of personality. This sets the Starcaster well above its rivals for us, and it's the reason why we'd rather have one of these than pretty much any other semi-hollow guitar in the same price bracket.
7. Epiphone Les Paul Junior
Taking it back to the good ol' days
Specifications
Controls:
Master volume, Master tone
Reasons to buy
+
It's a Les Paul Junior!
+
The most simple setup known to man
+
Neck feels amazing
If you're all about simplicity, then there's really nothing better than the Epiphone Les Paul Junior. It was initially introduced by Gibson as a budget-friendly student model, but it ended up becoming an icon in the world of punk and rock music, as its straightforward approach and bright, punchy tone fit the no-nonsense vibe of the time.
This Epiphone equivalent continues that simplistic theme with a straightforward mahogany slab body, mahogany neck and single dog-ear P90 pickup. The neck is a chunky '50s profile, and while it's really only suited for those who like big necks, it's what we'd expect from a guitar which has all of its DNA rooted in the Gibson original. Finished off with a master volume and tone control, wrapover tailpiece and Deluxe Vintage tuners, this guitar isn't about frills. It's about solid playing, and nothing but.
Like we said before, if you're all about simplicity, then this is the guitar for you. The big neck may put some people off, but this guitar was never designed to be the most versatile, people-pleasing option. It was designed to kick some serious ass, and that's what it does.
8. Kramer Baretta Special
An iconic superstrat reborn
Specifications
Pickups:
1x Alnico V humbucker
Controls:
1x volume control
Finish:
Purple, Candy Blue
Reasons to buy
+
Looks amazing
+
Classic Kramer vibe to the guitar
+
Feels way more expensive than it is
Kramer is one of the classic guitar brands we're most excited to see back on our radar. Throughout the '80s, Kramer dominated the industry making super-Strat style guitars for near enough every type of player. The Baretta has always been a solid favorite of ours, so seeing a 'special' version released for under 200 bucks is something we don't particularly want to miss out on.
The body is made from mahogany, and when combined with the maple neck and fingerboard, you've got a guitar which is both tonally and physically well-balanced. The single bridge humbucker is bright, punchy and pretty in-your-face as you'd expect from a guitar like this, so the mahogany works nicely in taming that sound ever so slightly. That being said, this guitar was never meant to be tamed. If you're into classic super-Strats or any hair metal, then this guitar will do virtually all you might ever need – and for under 200 bucks? Well, we're impressed – thoroughly.
The tuners feel strong and have just the right amount of resistance in our opinion. You never want them to feel too loose or like your tuning is going to slip, so that solid feeling was reassuring to say the least. It's equipped with a Kramer-style tremolo as well, and while you may not coax too many divebombs out of it, it'll do pretty much everything else.
Best Electric Guitars Under $500: Buying Advice
Choosing a sub-$500 guitar
You can trust Guitar Player. Our expert reviewers spend hours testing and comparing guitar products so you can choose the best for you. Find out more about how we test.
When buying one of the best guitars under $500, it's important to consider just how much you want to spend on a new guitar. Setting yourself a budget of $500 is a good starting point, but sometimes it's really not necessary to spend that much.
Fundamentally, it comes down to what you want to get out of your new guitar. If you're an absolute beginner who's looking to buy their first ever electric guitar, then realistically, you needn't spend more than $250. For that kind of money, there's options from the likes of Sqiuer and Yamaha on the table – as well as options from other big brands – so if all you need is something basic to see you through the first few stages of your playing career, then $250 is all you really need to spend.
Obviously, if you want a bit more from an electric guitar, then spending up to $500 is entirely reasonable. There's a huge amount of guitars on the market sub-$500, and some of them are exceptionally good, so you're almost guaranteed to find what you need for that money. $500 represents the point where the guitars on offer change from being more beginner-focused to being suitable for intermediate players – although considering options like the Squier Classic Vibe and Epiphone Standard ranges, they're nothing short of great guitars for 'beginner' money.
You get what you pay for with budget electric guitars, and you will end up with something better if you spend more on it – but whether that's necessary or not? You tell us.
What matters most - comfort or features?
With beginner guitars – and near enough every electric guitar, in fact – we'd say that comfort is king. The most important thing is that your guitar is fun, easy and comfortable to play. Any other aspect of your instrument – the hardware, pickups, controls and all electrics – can be replaced, changed or upgraded at any time, but if you go as far as replacing bodies or necks, then you might as well buy a different guitar.
That being said, it's important to take into account the features of a guitar. While they're not as important as how the neck or body feels, it's still a good idea to buy a guitar which sounds exactly how you want it to. While you can change pickups or hardware, those upgrades can cost hundreds.
Obviously, if you're buying a guitar based on a certain feature, pickup configuration or hardware setup, then the answer to your question will be different – but for the vast majority of those buying guitars for under $500, comfort is where the focus needs to be.
Which brands make the best electric guitars under $500?
Luckily, the vast majority of the major guitar brands make budget friendly versions of their most high-end instruments.
Sometimes, a manufacturer will keep using its original name and branding, but nowadays, we're seeing more and more manufacturers introduce sub-brands which are dedicated to budget-friendly options.
These budget-dedicated brands include Squier and Epiphone, of which both have had guitars included in this guide, as well as more — but those brands are the main two whenever beginner or budget guitars are mentioned.
Some other great brands that produce guitars under $500 include Yamaha and Ibanez. Yamaha electric guitars – just like everything else Yamaha makes – are incredibly reliable, easy to play and will provide you with a solid place to start your guitar playing journey. They may not have the personality of a Squier or an Epiphone guitar, but what they lack in that regard, they make up for spectacularly in consistency, versatility and quality.
Ibanez sometimes gets forgotten as a guitar brand for metal heads and virtuosos, but what it's shown over the last 10-15 years is that it can happily play with the big boys when it comes to sub-$500 guitars.
Does it matter where my guitar is made?
Under $500? Absolutely not. As virtually all brand-new electric guitars under $500 are made in far-eastern factories in countries such as Indonesia and China, and the level of quality is largely the same throughout, we'd say that the only time a country of origin matters is when a guitar is made in either Korea, Mexico, Japan or the US.
The quality of guitars made in China and Indonesia is always impressive for the money these guitars cost. While you won't find a premium guitar from one of these countries in this price bracket, the quality of instruments made in the Far East is always improving – with the current quality of these instruments being significantly higher than they were 10 years ago.
The only instance in which the country of origin makes any impact on an electric guitar under $500 is whether you're buying second hand or not. If you do decide to go down the route of buying a second hand electric guitar under $500, then you're likely to find Mexican and Korean-made guitars too, as well as the odd Japanese-made model.
What's the deal with 2nd hand guitars?
If you're working on a really tight budget, then buying a second hand guitar could be a great way to get a more premium instrument for a decent price. Obviously, you'll be buying something that doesn't have a manufacturer warranty and is likely free of any returns policy, but as long as you're aware of the potential risks of buying second hand, then we'd say it's overall quite a good idea.
There are many benefits to buying an electric guitar second hand, the most notable being that nearly all of the value depreciation has already happened – meaning that you're buying a guitar for its lowest possible value, and that you'll most likely get all of your money back if you decide to sell it on.
Another pro is that, as the depreciation has occurred already, you can nearly always afford to get a much higher spec guitar than you might otherwise. On average, a second hand guitar will cost roughly between two thirds and three quarters of its new value – so if you've been looking at buying one of the best electric guitars under $1,000 – Mexican Fender guitars, high-end Epiphones or Japanese Ibanez' – but found they're all just out of your price range, then buying them second hand should be something you think about too.
Related buying guides
All the latest guitar news, interviews, lessons, reviews, deals and more, direct to your inbox!
James is a freelance writer and former Junior Deals Writer at Guitar World and MusicRadar. Before writing, James worked as a guitar salesman at a local music store, so he knows a thing or two about matching people with their perfect instruments. James also has experience working in other areas of the music trade, having briefly worked for online music distributor, RouteNote. James is a guitarist, bassist and drummer and has also toured the UK and Europe with his old band Hypophora.