Black Friday Guitar Deals 2021: The Latest News And Early Deals
Everything you need to know about the November shopping event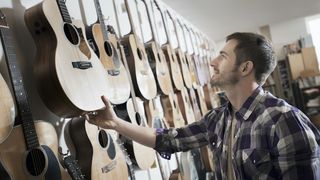 (Image credit: Getty/© Hiya Images/Corbis)
Black Friday is a time when some of the biggest guitar and music shops - both online and bricks and mortar stores - apply massive discounts to guitar gear, from acoustic and electric guitars, to guitar amps, multi-effects pedals and loads more. If you're looking to land yourself a Black Friday guitar deal this year, this page is the place for you.
Over the coming weeks we'll be bringing you the latest news on where to find the best deals and our pick of the early deals ahead of the November 26 event, as well as guidance on how to prepare and how to spot the best deals when Black Friday comes around.
With so much on offer, it can be overwhelming and difficult to cut through the noise but don't worry, we'll be working around the clock to deliver the latest information on where to find the best deals.
You don't need to wait until November to secure a great guitar bargain though. Right now, Guitar Center is running its Guitar-A-Thon promotion, with up to $400 off a range of guitars from Fender, Gretsch, Epiphone, Taylor, Yamaha and more. Meanwhile, it's Rocktober over at Musician's Friend, where you can save up to 30% off a range of guitars, amps and effects, including $50 off the excellent Marshall Origin50C 50W tube combo.
Black Friday guitar deals 2021: latest deals
While these aren't Black Friday deals per se, if you're in the mood for a bargain right now, these are worth checking out...
Rocktober sales: Save up to 30% off guitar gear
Get big money off brands including Vox, Fender, Mesa Boogie, Gibson and D'Angelico in Musician's Friend's Rocktober sale. Offers run throughout October.View Deal
Guitar Center Guitar-A-Thon: Save big on guitar gear
With deals on electrics and acoustics, amps, effects and accessories, including big brands like Fender, Gibson, Vox and MXR, you may not need to wait until the official Black Friday guitar deals to land a bargain.View Deal
Sweetwater Beat The Rush sale: Stocking fillers and gifts
Ok so it might be a little early to be talking about Christmas gifts, but with unpredictable stock levels potentially causing availability issues closer to the time, now could be the best opportunity to stock up on things like strings, straps, cables and other easy stocking fillers.View Deal
When will the Black Friday guitar deals arrive?
Black Friday 2021 will land on Friday November 26, the day after Thanksgiving in the US. The deals will extend across that weekend (also known as Cyber Weekend) before finishing up with Cyber Monday guitar deals on Monday November 29.
In our experience these deals won't be restricted to just that four day period though. In the past, some of the best Black Friday guitar deals have emerged well in advance of the event – as early as late-October, so keep checking this page to see what epic deals we uncover. Many deals will hang about until well into December too.
Black Friday guitar deals 2021: what to expect
All the major musical instrument retailers go large when it comes to Black Friday guitar deals, cutting prices on a wealth of products - in the past we've seen huge discounts from Sweetwater, Guitar Center and Musician's Friend, amongst others.
Not only is Black Friday a great time to get your hands on accessories and more beginner-focused gear, but there's certainly big money to be saved on premium brands like Gibson, Fender and PRS, too.
The Amazon and Walmart Black Friday sales will be huge, too. Not only do both of these retail giants sell a fair range of music-making gear, but these are also the places to pick up things like wireless headphones, Amazon Echo devices and other smart tech for your home, as well as vinyl, record players and more.
When it comes to the deals themselves, things get a little harder to predict. Deals can land at any time – sometimes even in the middle of the night – so it's important to keep your eye on your favorite retailers so you don't miss out. Signing up to mailing lists and keeping pages like this bookmarked will help you keep on top of the offers.
Some Black Friday guitar deals may stick around for the entirety of Cyber Weekend, while others may only stick around for a matter of hours. Stock levels have also been pretty volatile this year - and we believe there may be fewer units available of the biggest offers - so if you spot a good deal, our advice would be not to sleep on it.
Black Friday guitar deals 2021: how to prepare
If you're thinking that the Black Friday guitar deals may be the best time to finally invest in that new acoustic guitar or add some new additions to your pedalboard, our recommendation would be to get your research done now.
It's also important to be clear on what you actually need so you don't get swept up in deals fever and end up with boxes of stuff that seemed like a good deal at the time but you won't end up using.
Where possible, make a note of the current price of the gear you're after so that when the time comes you can see whether the deals you're looking at really are as good as they seem.
To help you create your dream shopping list, take some time out to explore our expert buying guides and product reviews.
Black Friday guitar deals: Buying online
If you're concerned about buying a guitar or other gear online on Black Friday without playing it first - and particularly higher-end gear - you really don't have to be. Online music instrument retailers like Guitar Center , Musician's Friend and Sweetwater offer hassle-free returns as standard, meaning you can purchase a guitar, give it a spin in the comfort and privacy of your own home and send it back without issue if it's not right.
We'd recommend you check the specific returns policy for the retailer you're thinking of buying from ahead of time, but most offer between 30-45 days to return an item, as long as the item is in original condition.
Black Friday guitar deals 2021: Last year's top deals
Here's a small taste of the Black Friday deals that floated our boat last year. We're expecting all this and more in 2021.
Last year's top Black Friday guitar pedal deals
TC Electronic pedals: were $69, now $39 each, save $30
11 TC effects pedals have received hefty discounts at Guitar Center this year, so if you're looking to expand your pedalboard, now's the time. Chorus, reverb, delay, distortion, drive, overdrive – whatever you're after, all effects are covered in one of the best deals you'll see right now.
Last year's top Black Friday electric guitar deals
Fender Player Strat, Black: $699 $599 at Guitar Center
This limited-edition David Gilmour black Player Strat is your ticket to channeling those Pink Floyd vibes, while its trio of articulate single coil pickups will have your leads shining. This is one crazy diamond of a deal.
Fender Player Tele Plus: $730, now only $600
Who doesn't want a Tele on their guitar rack? Especially one with $130 off the asking price. With a lightweight solid alder body, comfortable C-shaped maple neck and fingerboard and tonally diverse single coil pickups, this Fender Player Telecaster Plus is a total winner.
Gretsch G2657T Streamliner: $549, now $399, save $150
This show-stealer is decked out in a stunning Ocean Turquoise finish and packs Gretsch's Broad'Tron humbucking pickups and a licensed Bigsby vibrato. All this for under $400? No. we're not kidding.
Last year's top Black Friday guitar accesory deals
Ernie Ball Regular Slinky electric strings: 6 sets for $21.99
The perfect blend of durability, performance, sound and price. Get six packs of these ultra-dependable strings for just $21.99 now.
Last year's top Black Friday guitar amp deals
Vox AC30S1 1x12" combo: $899, now $699, save $200
Bag yourself a rock 'n' roll classic for $200 less! This 1x12" Vox AC30 will have you chiming all the way to the tone-bank, with its 12AX7/EL84 valves, single-channel based on the AC30 Top Boost circuit, digital reverb, and Celestion speaker.
Positive Grid Spark amp + bag: $359/£269, now $251/£188
Save 30% off the ever-popular Positive Grid Spark guitar amp. The Spark is packed to the rafters with tones, effects and impressive features, while the free app lets you explore even more. This deal includes the Spark Traveler Gig Bag, so you can keep up your practice routine wherever you go.
Last year's top Black Friday acoustic guitar deals
Epiphone Hummingbird PRO Cutaway: $449, now $379
The finish alone on this Epiphone Hummingbird PRO Cutaway in Wine Red is a head-turner, but that pickguard decal just demands attention. If you're a learner with a little more budget to spend, this guitar will be a worthy ally in your quest for acoustic wizardry.
Martin Special X1-DE Acoustic Electric: $599.99, now $479.99
Martin's affordable X-Series propelled Ed Sheeran to stadiums worldwide. With a high grade solid spruce top, combined with Martin's 'forest-friendly' HPL back and sides, Martin prove that you don't need to break the bank to achieve a fantastic tone. The X1-DE even has a Fishman Sonitone pickup/preamp, which provides a killer natural tone when you need to plug in.
Get the latest news, reviews and product advice straight to your inbox.
Thank you for signing up to The Pick. You will receive a verification email shortly.
There was a problem. Please refresh the page and try again.