Best Guitar Amps Under $1,000 in 2023: Great Guitar Tones Without Breaking The Bank
Make your move into serious amplification territory with the best sub-$1,000 guitar amps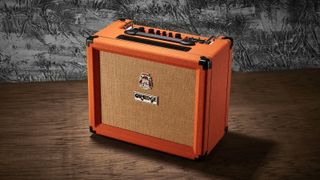 (Image credit: Future)
If you're ready to make the move up from your first amp to a proper gigging machine, then you're in the right place. The best guitar amps under $1,000 are that natural next step from smaller-sized amplifiers, giving you much more choice in terms of power and tone. There's loads of choice in this price bracket, with major manufacturers like Fender, Marshall, Vox, Orange, and loads more offering incredible bang for your buck.
Even if you're not gigging but want an upgrade to your tone, there are some great options for every kind of guitar player. Whether you want a pedal platform to pair with your extensive 'board, or a proper tone machine for that simplicity of just player, guitar, and amplifier you'll find the perfect option for you here.
There are loads of options at this price point, so we've taken the hard work out of it and used all of our expertise to pick out the top choices. If you're uncertain or need more information before you buy, then make sure to check out our buying advice section at the bottom of the article. If you just want to see the best amps under $1,000, then keep scrolling…
Looking for a great deal on guitar amps? We're keeping track of all this year's biggest savings over on our Black Friday Guitar Deals page.
Best guitar amps under $1,000: Guitar Player's choice
Our top choice at this price point goes to the Fender Blues Junior IV, delivering pristine clean tube tones with the addition of a 'fat' boost switch for adding some overdrive to your tone. It takes pedals beautifully and is lightweight, yet loud enough for gigging.
If a tube amp is too loud for your needs, or you want a little more variety in your tone, then the Boss Katana 100 will make an excellent choice. Packed with amp tones and effects, this ingenious modeling amp will take you from home practice right through to regular gigging.
Best guitar amps under $1,000: Product guide
1. Fender Blues Junior IV
One of the world's most popular tube combo amplifiers
Specifications
Channels:
1, with fat boost
Speakers:
1x12" Celestion A-Type
Reasons to buy
+
Stunning tones
+
Reasonably lightweight
Reasons to avoid
-
Not enough for bigger gigs
-
Not high gain
The Fender Blues Junior has been a staple of the guitar community since its launch in 1993. It's a lightweight, EL84-powered combo with a single 12-inch Celestion A-Type speaker, perfect for playing at home and small to medium size gigs.
The Blues Junior gives you both the classic 'spank' of a Fender clean amp, as well as a lovely and warm drive sound that's perfect for rock and blues. It sounds like a boutique tube combo but at less than half the price of some of its more expensive brethren.
The 'fat' switch gives you a massive midrange boost, quite literally fattening up your guitar tone, which you can engage via a footswitch. The onboard reverb circuit has that '60s 'blackface' aura, warm and washy without overpowering your core sound.
A straightforward tube amp with great tone and ease of use at its core
Specifications
Tubes:
2 x EL84, 1 x ECC83, 2 x ECC81
Speaker:
Orange Voice Of The World Gold Label 10"
Reasons to buy
+
Versatile enough for gigging and home use
+
Great pedal platform on clean channel
+
Outstanding drive tones
Reasons to avoid
-
Might not be enough power for some
The Orange Rocker 15 was designed to fill a gap in the market. Many tube amps at this price point are way too loud for home use, but anything with less power just won't do at gigging volumes. Lucky for you Orange has come up with the answer.
At the heart of this amp lie two EL84 power amp tubes, delivering that searing tube tone so many guitar players long for. Featuring Orange's own Voice of the World 10-inch speaker, this thing really kicks when you crank it. Channel one lets your guitar's natural tone shine through, whilst channel two gives you that signature Orange gain sound.
However, this amp also has a specially designed attenuator with a clever headroom/bedroom switch allowing you to dial 15, 7, 1, and even a half Watt setting. This makes it perfect for bedroom playing, studio work, or hitting the big stages. Add in an FX loop and you've got yourself one versatile bit of kit that can do pretty much anything.
One of the best modeling amps in the world
Specifications
Output:
100W, switchable to 50W, 0.5W
Speakers:
1x12" Custom WAZA
Reasons to buy
+
Variety of sounds
+
Built-in effects
Reasons to avoid
-
Not a tube amp
-
Better with the additional footswitch
The Boss Katana has rapidly become one of the most popular guitar amps on the planet, partly due to its awesome tones, and partly due to its versatility. If you're the kind of player who likes to change it up, then the Katana will be your perfect partner.
It has five different amp models, each with a voice variation switch which gives you plenty of options from pristine clean through to high gain. There are also a plethora of Boss effects, of which you can run five simultaneously.
Having ten amp sounds and a full pedalboard available at the push of a few buttons makes this amp a serious consideration for any guitar player, but particularly those who like to change their sound often.
Boutique amp tone at a brilliant price
Specifications
Speakers:
1x12" Supro DK12
Reasons to buy
+
Outstanding tones
+
Beautiful reverb
Reasons to avoid
-
Looks may put people off
-
Upside down controls
Supro's discontinuation of the popular Blues King left many a guitarist scratching their heads. Thankfully though, they've followed it up with the absolutely brilliant Delta King 12, which firmly takes a place as one of the best tube combos available today.
The Delta King delivers a smooth and sweet clean tone and, with a little tweaking of the gain knob, you can get it to go into full blues drive and hard rock mode. Engage the boost and things go even further, drastically increasing the volume with a punchy guitar tone.
The unit itself is very distinctive looking, which may put some traditionalists off, but there's a range of colors to suit your style, with black on black for those who prefer things more reserved.
5. Roland JC 40 Jazz Chorus
The greatest clean amp ever manufactured
Reasons to buy
+
Great for stereo set-ups
+
Brilliant pedal platform
Reasons to avoid
-
Pricey for the wattage
-
Needs pedals to excel
The Roland JC line of amps is a stalwart in the world of electric guitar, and unusual because it's not a tube amp. But let's face it there aren't many amps that can serve both James Hetfield and Johnny Marr equally well.
The Roland JC is well known for being one of the best pedal platforms on the planet, and its high-headroom clean tone sounds absolutely phenomenal. Tube amp aficionados might not enjoy how sterile it is, but for some players, it's exactly what they need.
The two inputs for hooking up your stereo rig allow you to run a wet/dry set-up without carrying another amplifier, utilizing each speaker differently for a three-dimensional tone. Onboard effects include Chorus, Vibrato, and Reverb, giving you luscious soundscapes aplenty.
A compact amp perfect for playing at home
Specifications
Output:
30W on mains power, 15W on battery power
Speakers:
2x 3.5" special design full range
Reasons to buy
+
Simple to use
+
Superb sounds
Reasons to avoid
-
Slightly lacking in the low end
-
Pricey for what it does
Yamaha's THR range of amps was a surprise hit when it first emerged, bridging the gap between the ever-popular small combo, and the somewhat limiting headphone amps that are so good for home practice.
The Yamaha THR30IIW features five unique amp tones with three variations, giving you plenty of scope whether you're a clean country picker or a hard riffing rocker. The amp models are detailed and realistic, delivering the touch sensitivity that is so loved by tube amp enthusiasts.
There are various onboard effects including chorus, phaser, flanger, and tremolo alongside a dedicated echo/reverb control, and they make the amp sound huge considering its small form factor. There's also a line out so it's not just for home practice, you can gig it too.
7. Quilter Labs Atlantic Cub UK 50
A trio of legendary British amps in one box
Reasons to buy
+
Three stellar sounds
+
Built in reverb
+
Line/headphone out
Reasons to avoid
-
Some players may still prefer tubes
When it comes to buying a budget amp, most people are searching for a unit that can deliver a wide array of tones. That said, you don't want a jack of all trades, you want an amp that does a handful of sounds very well, and the Quilter Labs Aviator Cub UK 50 certainly does that.
Containing three of the most legendary British amps of all time - AC Normal, AC Top Boost and JMP - the Aviator Cub will transport your guitar tone across the Atlantic to a place of tonal bliss. This amp may be solid-state, but in our opinion, you'd be hard pushed to tell. This sleek 50-watt combo delivers plenty of power, a full mid-range and a harmonically rich overdrive that would make some tube amps jealous.
The additional line and headphone out also means that the Atlantic excels as a home practice amp as well as a studio companion. So if you want to nail a trio of British hard rock tones, but you don't have space - or cash - to buy two Vox amps and a Marshall, this is the combo for you.
Simple, portable and brimming with dark high-gain tones
Reasons to buy
+
Very portable
+
Great metal tones
Okay, so the Orange Micro Dark isn't the most feature-laden amp in the world, but it's not trying to be. Instead, this is a small head for those of us who want a simple to use, easily transportable amp that sounds killer – and that blacked-out Orange styling is just an added bonus.
In terms of tone shaping abilities, it's a fairly basic affair, with controls for gain, shape and volume. The gain will happily do on the edge of break-up when turned down and full-on metal when gunned all the way.
The intuitive shape control is the same found on other amps in the Dark series and allows you to go from scooped mids on one side and mid-pushed on the other – providing a surprising level of versatility.
Boutique British tone without the price tag
Specifications
Tubes:
3x 12AX7 (ECC83) Preamp, 2 x EL84 Power amp
Speaker:
12" Celestion G12M Greenback
Reasons to buy
+
Plenty loud enough to gig
+
Harmonically rich sound
+
Built-in reverb and tremolo
Best guitar amps under $1,000: Buying advice
What is the best guitar amp under $1000?
When spending this amount of money, making a decision isn't something you should take lightly. Whilst all of the amps presented here will make a great choice, you need to be certain that it suits your wants and needs. There are a few core things that you'll need to look at when choosing the best guitar amps under $1,000 – and, luckily for you, we've got years of experience using them.
By far the most important aspect is the kind of music you play. Like those Texas blues tones with loads of bends and vibrato? You're probably not going to be sold on that futuristic modeling amp. Likewise, if you're at the stage where you're still trying to find your musical voice, a simple one-channel tube amp with a distinct sound isn't going to help you find your unique voice.
Each amp brand has its own character and flavor of guitar tone, and without experience in each type, your only recourse is to do some research. Fender amps, for example, tend to excel at clean tones, great for players who like to build their sound with pedals. On the other hand, a Marshall isn't going to have quite as pristine a clean tone, but the drive channel will be stellar – great if you like a simpler set-up with a dirty base tone.
Using a mixture of experimentation and research is best here; if you can try some different amplifiers out, that's great, but there are also plenty of sound demos online if you can't get to your local shop. An excellent place to start is by looking at what your favorite guitar players are using on their own rigs. Of course, a portion of the way a guitarist sounds is in their hands, but using a similar amp will certainly get you some of the way towards emulating your idols.
Should I choose solid state or tube?
If you've spent any time in the guitar community you've no doubt come across this debate, it's been going on for quite some time! But whilst the passage of time hasn't diminished the intensity of the arguments, the slow march of technology has brought these two options a lot closer together.
Nowadays, thanks to the wonders of digital signal processing, modeling amps have gotten incredibly close to accurately emulating tube guitar tones. A purist might be able to spot the difference but for a player who hasn't spent years and years listening to tube amps, you're not likely to be able to tell the difference between the two.
That said there are plenty of pro guitarists who swear by tube amp tones and won't use anything else, but it's important not to get too bogged-down in whether or not it's a tube amp or solid state. The most important factor in choosing any amplifier (or guitar or pedal for that matter) should be the sound. So long as the amp sounds great and does what you need it to, who cares if it's a boutique tube combo or a modeling amp?
Which wattage should I choose?
This is a big one too. Essentially wattage boils down to how loud the amp will be. If you're practicing at home and not gigging, then that 100-watt 2x12 will be overkill. Likewise, if you need to crank it in the rehearsal room to fight a noisy drummer, a 15-watt practice amp just won't cut it.
There's also another important distinction to make here because tube amps and solid-state amps will differ in volume, even though they may have the same wattage on the label. Tube amps are considerably louder than solid state thanks to their analog circuitry, which means that a 15-watt tube amp will be comparable to a 50-watt solid state amp in volume. Be sure to bear this in mind when making a selection, or you may get a nasty surprise when you find your amp is deafeningly loud despite only being set to 1 on the volume control!
What inputs and outputs do I need?
Lastly, you'll want to look into what connectivity options the amp offers. If you like recording at home, a direct out is a must, and many amps now come with USB outs so you can use them as the interface between your computer and your recording software. If you're gigging you may need extra power at times, so a cab output could end up being useful. Power attenuation is another great feature of some modern tube amps too, allowing you to dial down the volume without losing any of the harmonic richness and saturation.
As with any of the aspects we've covered here, it's important to do your research and align it with your own needs and wants. Spending this kind of money is a significant investment, so you'll want to make sure you get the amplifier that suits you best.
How we choose the best guitar amps under $1000
You can trust Guitar Player.