Best Online Guitar Lessons 2023: Improve Your Guitar Playing With Our Pick Of Online Lessons For Every Skill Level And Budget
Whether you've been playing for 30 years or 3 days, it's possible to evolve your guitar skills from the comfort of your home with the right online lessons platform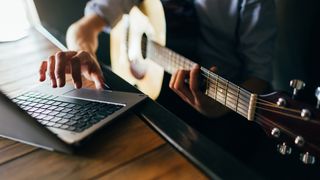 (Image credit: Getty)
Playing the guitar is a lifelong journey; regardless of how long you've been at it, the learning never stops. Although there are many merits to self-teaching, guitar lessons tend to be the best method if you want to achieve steady progress. There are a number of reasons you may be thinking about taking up guitar lessons, whether you're a self-taught player who wants to smooth out some bad habits, a long-term player looking for new challenges, or you've never picked up a guitar in your life, the best online guitar lessons can give your playing a vital boost.
Back in the day, guitarists would sit next to a record player repeating segment after segment, painstakingly trying to pick out their hero's chops by ear. Although this approach helped develop a keen ear, today there are much more efficient ways of learning, particularly if you want to learn remotely.
If the thought of an online lesson strikes fear in your heart, worry not, as the breadth of resources and quality of online tools have improved dramatically over recent years. Online guitar lessons helped thousands start learning during the era of Covid and there have been more and more brands, websites and apps springing up since to help tighten up your playing.
Although there are many benefits of physical one-to-one guitar lessons, an online guitar lesson may work better for your personal situation. You may be on an anti-social work rota, perhaps you live in an isolated area without a guitar teacher for miles. Maybe you don't have a huge budget for lessons, or perhaps you appreciate a more casual learning pace and like doing things in your own time. If any of these points resonate, online guitar lessons could be your best way forward.
The sheer volume of different online platforms can be a bit overwhelming at first, but that's where we step in. We've whittled down the surplus and tried a bunch of online lessons services to bring you our pick of the best ones right now – all of which will help you reach the desired destination on your guitar-playing journey.
Best Online Guitar Lessons: Latest Offers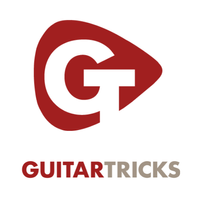 Guitar Tricks: Get 1 month for only $1
If you've decided that our number one pick Guitar Tricks is for you then you can currently take advantage of this Guitar Player exclusive deal – get your first month of Guitar Tricks for just $1. There aren't many things you can buy for a single dollar these days, and certainly not access to 11,000+ premium guitar lessons!
Best Online Guitar Lessons: Guitar Player's Choice
In a crowded market, it takes something impressive to stand out from the rest. Whilst testing different platforms it became apparent that Guitar Tricks was the best of the bunch, particularly for intermediate players. The comprehensive sections will appeal to experienced players as you can pick and choose between categories like artist studies and tone guides. We love the concise yet detailed lessons and having over 1,000 carefully-selected songs to learn is a real treat. What's more, it's all packaged within a slick, easy-to-use website. Guitar Tricks is impossible to ignore.
If you're new to the world of guitar, then Fender Play is your best bet. With detailed, structured lessons, high quality video and excellent tutors, you can easily track your progress on Fender's user-friendly website, or via the iOS/Android app. Fender Play explains guitar fundamentals in a very digestible way, so if you're unfamiliar with guitar jargon and want to start from the ground up, we'd recommend checking them out.
Best Online Guitar Lessons: Product Guide
The best overall – setting the standard in online guitar lessons since 1998
Specifications
Price:
$19.95 per month, $179 annual payment, 14-day free trial
Key features:
11,000+ video lessons, 1,000+ songs, guitar maintenance advice, artist and tone studies, diverse band of instructors, useful tools like chord finder and fretboard diagram, 60-day money back guarantee
Reasons to buy
+
Huge lessons catalog
+
Blues and rock covered very well
+
Ideal for intermediate players
+
Many licensed songs
Reasons to avoid
-
Not all music genres are covered as comprehensively as blues and rock
With over 23 years in the industry, Guitar Tricks have been teaching guitar online since the idea was first conceived. During that time they have amassed a dense catalog of over 11,000 video lessons.
Rightly lauded as a pioneer of online guitar lessons, Guitar Tricks offers lessons in a sensible, topical order, mapped out with a clear progression route. There are 33 professional instructors in the Guitar Tricks program and, although there are other platforms that boast more, the faculty is diverse enough to cover a wide breadth of styles and helps breed a sense of familiarity with your teachers as you work through the lessons.
Unlike some other platforms, Guitar Tricks have made sure their content will appeal to intermediate and advanced players as well as beginners. In particular, those with a penchant for blues and rock 'n' roll are well served here. This is most apparent when looking at their song catalog, which is one of the largest in the game. With over 1,000 licensed songs to choose from, including classics from Stevie Ray Vaughan, The Beatles, B.B. King, Steely Dan and Bob Dylan, you won't get bored anytime soon. We believe that learning the guitar via your favorite songs is one of the most enjoyable methods, so this is a huge tick in the box for us.
Beginners are well catered for, too. Newcomers will start at Guitar Fundamentals Level 1. This will take you right back to basics, teaching you simple songs, plus instrument maintenance and essential skills such as how to tune your guitar. If you're more familiar with the guitar you can jump straight to the more experienced section where you can dive deep into four genres: blues, country, rock and acoustic.
If the promise of additional tools like fretboard diagrams, chord charts and a scale finder isn't enough to convince you to give Guitar Tricks a whirl, you can dip your toes in by signing up to their 14-day free trial. They're so confident you'll love their program that they even offer a 60-day money-back guarantee on paid subscriptions if you're not completely happy.
The best option for beginners from the biggest brand in guitar
Specifications
Price:
$14.99 per month, $99.99 per year, 7-day free trial
Key features:
Curated learning paths, easily digestible lessons, guitar, bass or ukulele lessons available, high quality 4K video lessons, over 700 songs to learn
Reasons to buy
+
An informative introduction to guitar fundamentals
+
Lessons are well paced
+
Good balance of theory and practical
+
A generous helping of songs to learn
Reasons to avoid
-
Intermediate players will want more
Compared to other entries on our list, Fender Play is a relative newcomer. Created in 2017, Fender offers a sleek and attractive learning platform that is very intuitive and well structured. The production of their video content is nothing short of stunning, with many available in 4K. They make great use of different camera angles, getting up close and personal with the tutor's hands to show you exactly what they are playing. This is very useful for those intricate parts that you may struggle to pick up immediately.
At the start of your journey you will be asked what your preferred instrument is – in addition to acoustic or electric guitars, ukulele and bass lessons are also available – then you can select one of five genres: blues, rock, folk, country or pop. Your course will then be curated as per your choices and will take you through five different levels. Song-based lessons are a great way of keeping things entertaining and Fender has done a good job at selecting an eclectic mix for each genre.
Each level has multiple lessons to progress through and covers both theory and practical playing elements. The lessons are very well structured and we believe this approach will benefit beginners the most. Advanced players may find the rigidity and chronological progression a bit suffocating and the intricate details somewhat tedious.
There are over 700 songs to learn within Fender Play which you can access via the sidebar at any given moment. The collection of songs are impressively diverse and feature artists ranging from Rory Gallagher to Dolly Parton. Throughout all the learning materials on Fender Play, there is play-along tablature on screen that will keep you on track.
The most obvious drawback to Fender Play is the lack of material aimed at intermediate and advanced players. Although the rigid lesson structure is perfect for beginners, advanced players will yearn for more freedom to hone specific skills. Although comprehensive, the lessons primarily focus on guitar fundamentals, and if you've covered them before there won't be much worthwhile on offer.
The best option for lesson quantity
Specifications
Price:
$29 per month, $249 annual pass, 14-day all access trial
Key features:
Over Over 51,000 lessons available, 300-strong instructor portfolio, new courses updated weekly, 20,000 jam tracks, looping and slo-mo learning tool, Interactive synced tab
Reasons to buy
+
A huge repertoire of teachers
+
The largest lesson library online right now
+
Looping and slo-mo features are useful
Reasons to avoid
-
Not structured enough for beginners
TrueFire has a never ending amount of content to choose from. They host the largest video library of all the online guitar learning platforms with, at the time of writing, over 51,770 lessons available. This number is constantly growing since new courses are being added and updated weekly.
Honestly, with over 300 award-winning instructors and 20,000 jam tracks on hand, there is more content on TrueFire than you will ever realistically find the time to work through.
Their lessons are straightforward to navigate and tools like synced tablature and a slo-mo/looping feature will help you nail any tricky riffs.
Although TrueFire offers beginner-targeted learning paths that allow you to track your progress, we believe their content is best suited to intermediate and advanced players. There is more freedom to pick and choose what lesson or courses to complete and the platform operates in quite a free-flowing manner. This is great if there is a specific style or technique you know you need to work on, but not so great if you are still quite green and need detailed structure to get you underway.
The best for learning from your guitar heroes
Specifications
Price:
3-month plan $35 per month, 6-month plan $30 per month, 12-month plan $23.50 per month
Key features:
35 world-famous instructors, interactive video exchange submissions, instrument backing tracks, 50,000 video lessons available
Reasons to buy
+
Your chance to learn from the best
+
Good for sharpening existing skills
+
Video exchange feedback
Reasons to avoid
-
More expensive than the rest
Created by ex-AOL executive David Butler in 2008 after trying to master jazz guitar, ArtistWorks is an online learning platform that takes interaction to the next level. Although operating in a similar video lesson style as other platforms, ArtistWorks' USP is offering a video exchange with their tutors. This means you can directly ask your tutor any nagging questions or advice about particular sections and submit your own videos for scrutiny and feedback.
This is made even more exciting when you learn who the instructors are. ArtistWorks have drafted world-famous musicians such as Andy McKee, Keb' Mo' and Paul Gilbert to teach the genres they are best known for. There are 35 famous instructors in total with over 50,000 video lessons spanning genres including acoustic fingerstyle guitar, Americana roots, rock guitar and blues guitar. Plenty to get your teeth sunk into.
The lessons are divided up into 'schools' and each teacher is responsible for teaching an entire genre. For example, Keith Wyatt teaches the entire blues guitar genre. This gives consistency between lessons and familiarity which assists learning. The blues school consists of several different modules which are defined by varying degrees of difficulty such as fundamental, intermediate and advanced. Each module comprises around 25 different video lessons and we found this to be really comprehensive and cover a lot of detail.
Unlike TrueFire, you don't have to pay any additional charges for the premium teachers and there are far more big names accessible on ArtistWorks. That being said, ArtistWorks monthly charges are the highest on our list. However, objectively speaking, $35 per month to be taught by Andy McKee? That sounds like a pretty good deal to us.
A one-man operation run by a mammoth of the guitar and online content creation worlds
Specifications
Price:
Starting from $5.99 per month or $44.99 annually
Key features:
Practical and theory lessons, 721 songs, 321 artists, Tommy Emmanuel endorsed, downloadable resources, from beginner to advanced grades
Reasons to buy
+
Heaps of content
+
Justin is a fantastic teacher
+
Plenty of free material
+
Useful downloadable material
Reasons to avoid
-
One teacher has its limitations
Justin Sandercoe has been imparting guitar wisdom to the masses since 2003. If you are a self-taught YouTube learner, chances are you will have stumbled across Justin's page. With over 1.5 million subscribers and 1,300 free video guitar lessons available, Justin is impossible to ignore in the best possible way.
Justin's website – JustinGuitar – offers a wide range of video lessons aimed at beginner to advanced players. Courses are laid out in an organized, rigid structure that will help you advance in a steady manner. Justin teaches 3 playing levels – beginner, intermediate and advanced – which are each split into 3 grades. Grades are then split into around 10 different modules and each module comprises multiple lessons; some with as many as 12 video lessons.
JustinGuitar is very reasonably priced. Starting from as little as $5.99 per month, you are getting access to incredibly well curated tuition with a cornucopia of downloadable materials to support your journey. In terms of value for money, we certainly can't complain. There is also a generous selection of free beginner material available, which will allow you to decide if you like Justin's teaching style.
In terms of songs, you can learn classics like Van Morrison's Brown Eyed Girl, through to newer material like Hysteria by Muse.
Some of Justin's older videos are littered throughout the website and are now showing their age. Videos filmed in 240p definitely look rather dated, but luckily these are few and far between.
Naturally, an instructor will tend to focus on their own strengths and interests as that is what they are most comfortable teaching. As far as JustinGuitar is concerned, only having the one teacher instead of multiple perspectives like other platforms in this guide does narrow the scope of knowledge somewhat – we definitely prefer the variety of perspectives from multiple tutors. That said, if you are looking to learn electric blues, rock or acoustic fingerstyle you will feel right at home here as Justin teaches those styles very well.
Best for a fun lesson experience
Specifications
Price:
$30 per month, $240 per year, first month free
Key features:
Over 1,000 songs, Artist courses, 10-level curriculum, Student experience team to help, Wide palette of lessons
Reasons to buy
+
You are supported closely throughout
+
Fun lessons
+
Easy website to navigate
+
The instructors are very personable
Reasons to avoid
-
Content may be too general for some
Guitareo is a very accessible site for beginners who are wanting a quick route into guitar playing. Presented mostly through energetic, bite-size video lessons with very likeable instructors, Guitareo has a gigantic collection of lessons to help you improve.
Boring guitar lessons are a surefire way of putting you off playing or practising, but Guitareo does a brilliant job of covering guitar basics without becoming monotonous or predictable. This is largely thanks to their slick video editing and modern aesthetic.
Guitareo is a great platform for those who aren't able to dedicate huge amounts of time to learning as video lessons are concise, usually lasting around 15 minutes.
The lessons are broken into different sections on the website and all follow a progressive, step-by-step layout. Rudiments like guitar anatomy, string theory, notes on the fingerboard and practice tips are covered in sleek, high-definition videos. If you start from the beginning and discover you already know the talking points, Guitareo has designed their video player so you can easily skip ahead.
We also found that Guitareo has a dense back catalog that covers more sophisticated topics like scales, songwriting, soloing and song anatomy. Although a little overwhelming at first, it is well worth your time exploring what's on offer – there are few categories that aren't covered here.
The lessons are always captivating thanks to the impressive roster of instructors, including teachers like YouTube sensation Rob Scallon. The only issue we have with Guitareo is the lack of material for more proficient players. Although many topics are covered, subjects are rarely covered deep enough to intrigue an experienced player. Those out there who already know a thing or two may want to look elsewhere.
Best for intermediate and advanced players
Specifications
Price:
£/$14.99 per month, free version available
Key features:
Bootcamp online courses, mentored learning, personal feedback, 13 different playing styles, interactive notation and tab, 450+ videos, 100+ tabs, artist packages
Reasons to buy
+
Impressive collection of talented instructors
+
An attractive interface
+
Unlimited streaming access for members
+
Dense lessons suited for experienced players
Reasons to avoid
-
Not suitable for beginners
JTC Guitar – aka JamTrackCentral – is a dense online platform that harnesses some of the best guitarists in the world to deliver informational videos about specific playing styles. Although there are beginner options on JTC, we found the platform suits intermediate and advanced players best. The lesson packs are very specific and focus on particular types of playing, like blues improvisation, modern rock soloing and bossa nova jazz. It's a fantastic platform to expand already existing skills and for targeted learning.
$14.99 per month will grant you access to unlimited streaming of lesson packs and masterclasses (excluding Bootcamp) which are taught by talented instructors like Guthrie Govan, Lari Basilio and Aynsley Lister. A premium account also opens up a 25 percent discount on downloadable materials should you prefer to save lessons on your device instead of streaming.
Tools like the speed-adjustable interactive tab are a brilliant learning aid and there are accessible tips from instructors throughout lessons which we felt were always on time and supportive. Once you are confident enough to branch out and apply your newly learned skills, there are over 1,000 jam tracks you can access at any time. Rock and blues soloists are best catered for here as there are 375 rock and 191 blues jam tracks, over half the total number of tracks.
Get jamming in no time with this enormous selection of resources
Specifications
Price:
$14.95 per month or $159.95 annually
Key features:
4K video quality, progress reports, time adjustable video playback, apps available across devices, 9,347 lessons, 137 instructors, 20+ music genres
Reasons to buy
+
Fantastic video quality and production
+
Huge range of genres
+
Quality apps for different devices
Reasons to avoid
-
The interface is looking dated
JamPlay operates on the principle that too much choice doesn't exist. With over 9,347 lessons, 137 instructors, 450+ guitar courses and 20+ music genres, their catalog of learning materials is astronomical. With over 500,000 pupils taught, it looks like their principle may be successful…
Shooting video lessons in either 4K or 1080p, the clarity is stunning. You can see every detail and nuance throughout each lesson, making note-heavy sections easier to digest. The learning paths section of their platform is ideally suited to beginners as it will take you right back to basics. The paths are genre specific and you can choose either rock, blues, country or fingerstyle guitar.
If you want to learn from the best, JamPlay has got them. Famous recording and performing artists like Billy Sheehan, Tommy Emmanuel and Mark Lettieri are on hand to teach a wide array of genres and playing styles. Learning the skills of the trade from genuine legends is a real treat, especially considering the detail most go into.
We particularly love JamPlay's app which you can download on iOS and Android devices, ideal if you prefer to learn on a tablet or smartphone. Although JamPlay has delivered high-definition videos and a very usable app, the interface is looking a bit tired and could do with a spruce up.
Best for learning your favorite songs
Specifications
Price:
$15.99 per month or £143.99 annually (3 months free)
Key features:
Over 2,000 songs, 1-on-1 support available, in-depth courses, 1,000+ backing tracks, 40+ professional teachers, 5,000 lessons
Reasons to buy
+
Impressive song catalog
+
New lessons added monthly
+
Video looping and speed controls
Reasons to avoid
-
The video quality isn't the best
Those out there who have been in the game for a while may be familiar with LickLibrary. Their collection of guitar lesson DVDs was a rite of passage for many. Although very successful, DVD lessons had their disadvantages. We remember spending half of our time trying to rewind to the correct section without skipping directly back to the start.
LickLibrary made the transition to online video lessons a few years ago and they brought with them a wealth of teaching knowledge and classic song dissections. With over 2,000 songs available, LickLibrary is the ideal platform if you want to learn your favorite tunes.
Albums from the likes of AC/DC, ZZ Top and Joe Satriani are taught by professional teachers including Danny Gill, Andy James and blues sensation Chris Buck. Every note expression is taught with maximum accuracy and the instructors do a fantastic job of teaching you the soul of the music.
Technique courses will help intermediate players work on any blind spots in categories like soloing, scales, improvisation and picking techniques. There are also tailor-made courses for different skill levels. From easy to expert, LickLibrary's platform is impressively comprehensive.
Best Online Guitar Lessons: Buying Advice
Is it worth paying for online guitar lessons?
100 percent, yes. Although there is a deluge of free learning material out there on platforms like YouTube, we can't understate the benefits of structured online lessons. Online guitar lessons help keep you on track whilst allowing you to visualize your progress and destination.
Many online guitar lesson platforms offer personalized feedback to their members. If you encounter a tricky technique or need help with something, remote instructors are just a message away. Most online guitar websites offer tailor-made courses that are aimed at every skill level. If you have never touched a guitar in your life, beginner courses will start with the fundamentals. Advanced players can benefit too, with specialized platforms focusing on specific guitar techniques or playing styles that you're yet to master.
Jumping from tutorial video to tutorial video on YouTube can mean a disjointed learning curve, potentially pushing you towards bad habits. Online guitar lessons are specifically designed to give you the fullest and most consistent experience possible.
Online lessons are also a fraction of the price of in-person tuition, with most platforms asking for a reasonable monthly subscription of around $15 per, with the option to cancel at any time.
Another benefit of online guitar lessons over in-person tuition is the sheer volume of knowledge on offer. Where a singular tutor may have their core areas of expertise, online guitar lessons usual offer multiple instructors – sometimes world-famous ones – who are masters in their field.
If you're still unsure of the benefits of online guitar lessons, most platforms offer some form of a free trial too, so you can take a closer look with no obligation to sign up until you've found the right one for you.
What technology do I need for online guitar lessons?
The chances are, if you're reading this, you already have the right technology to hand to learn the guitar online. Most platforms do so through instructional videos. If you have an internet connection, plus a smartphone, tablet, laptop or computer that is capable of playing YouTube videos, you can take online guitar lessons.
Some platforms offer high-resolution videos which will require a robust internet connection to download or stream without buffering. That said, this is not completely necessary, it will just mean a smoother experience. So, if your internet connection isn't the best, this is jus something to be aware of.
Depending on what online guitar lesson provider you decide to go with you may also need a camera. Quite a few providers offer instructional feedback that requires you to video yourself playing. If you want to utilize this feature then you'll need some sort of webcam. Most tablets and all smartphones have front-facing cameras so if you have one of these to hand you needn't worry.
How we choose the best online guitar lessons
You can trust Guitar Player. Our expert reviewers spend hours testing and comparing guitar products so you can choose the best for you. Find out more about how we test.
Here at Guitar Player, we are experts in our field, with many years of playing and product testing between us. We live and breathe everything guitar related, and we draw on this knowledge and experience when selecting the products for our guides. When choosing what we believe to be the best online guitar lessons available right now, we combine our hands-on experience, user reviews and testimonies and engage in lengthy discussions with our editorial colleagues to reach a consensus about the top products and services in any given category.
First and foremost, we are guitarists, and we want other players to find the right product for them. So we take into careful consideration everything from budget to features, ease of use and learning path to come up with a list of what we can safely say are the best online guitar lessons on the market right now.
Read more on how we test gear here at Guitar Player.
All the latest guitar news, interviews, lessons, reviews, deals and more, direct to your inbox!
Ross has been a music lover and guitar player since the age of 8. He has spent the five years since graduating from university working in music retail, selling guitars, amps and more. Ross is particularly interested in electric guitars, pedals and amplifiers and his current rig includes a trusty 2009 American Standard Stratocaster and Vox AC30S1 with a few Walrus Audio and Way Huge pedals in between. He currently writes for Guitar Player and Guitar World.