Cyber Monday Guitar Deals 2022
By Guitar Player Staff published
Did you miss out on a fantastic Cyber Monday guitar deal? Don't worry these mega deals are still live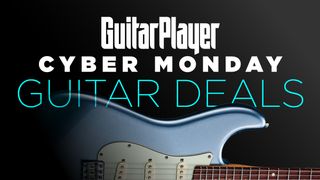 (Image credit: Future)
On the hunt for a great bargain on a new electric guitar, or maybe an upgrade to a multi-effects pedal? Well, the official Cyber Monday guitar deals may be over for another year, but there are still plenty of amazing offers to take advantage of right now. Below you'll find all of the best deals we could find, that are still very much alive and kicking.
If you want to dive straight into the deals, there are two places we'd recommend you head first: at Guitar Center, there is a live Cyber Monday sale in play with big discounts to be had on Fender, Epiphone, Boss, D'Angelico and more. That will stay live through to December 8th. Sweetwater is also slashing prices as part of its week-long Cyber sale, with up to 80% off a huge range of guitar gear until December 7.
Cyber Monday is a time when some of the biggest guitar and music shops - both online and bricks and mortar stores - apply massive discounts to guitar gear, from acoustic and electric guitars to guitar amps, multi-effects pedals and loads more, and while some of the deal may be put to bed now, there are still a few to snap up! If you're looking to land yourself one of the Cyber Monday guitar deals that are still available, this page is the place for you.
With so much on offer, it can be overwhelming and difficult to cut through the noise but don't worry, we've hand-selected a few of our favorites. We've also added quick links below, so you can see which shops and brands are offering the best deals.
Cyber Monday guitar deals: Quick links
Cyber Monday guitar deals: Top deals
Cyber Monday guitar deals: Electric guitars
Cyber Monday guitar deals: Acoustic guitars
Cyber Monday guitar deals: Bass guitars
Cyber Monday guitar deals: Guitar amps
Cyber Monday guitar deals: Effects
Cyber Monday guitar deals: Strings
Cyber Monday guitar deals: Online lessons
When will the Cyber Monday guitar deals arrive?
Cyber Monday 2021 will land on Monday 29 November, the day after Thanksgiving in the US and 3 days after Black Friday.
In our experience these deals won't be restricted to just that four day period though. In the past, some of the best Cyber Monday guitar deals have emerged well in advance of the event – as early as late-October, so keep checking this page to see what epic deals we uncover. Many deals will hang about until well into December too.
Cyber Monday guitar deals 2021: what to expect
All the major musical instrument retailers go large when it comes to Cyber Monday guitar deals, cutting prices on a wealth of products - in the past we've seen huge discounts from Sweetwater, Guitar Center and Musician's Friend, amongst others.
Not only is Cyber Monday a great time to get your hands on accessories and more beginner-focused gear, but there's certainly big money to be saved on premium brands like Gibson, Fender and PRS, too.
The Amazon and Walmart Cyber Monday sales will be huge, too. Not only do both of these retail giants sell a fair range of music-making gear, but these are also the places to pick up things like wireless headphones, Amazon Echo devices and other smart tech for your home, as well as vinyl, record players and more.
When it comes to the deals themselves, things get a little harder to predict. Deals can land at any time – sometimes even in the middle of the night – so it's important to keep your eye on your favorite retailers so you don't miss out. Signing up to mailing lists and keeping pages like this bookmarked will help you keep on top of the offers.
Some Cyber Monday guitar deals may stick around for the entirety of Cyber Weekend, while others may only stick around for a matter of hours. Stock levels have also been pretty volatile this year - and we believe there may be fewer units available of the biggest offers - so if you spot a good deal, our advice would be not to sleep on it.
Cyber Monday guitar deals 2021: how to prepare
If you're thinking that the Cyber Monday guitar deals may be the best time to finally invest in that new acoustic guitar or add some new additions to your pedalboard, our recommendation would be to get your research done now.
It's also important to be clear on what you actually need so you don't get swept up in deals fever and end up with boxes of stuff that seemed like a good deal at the time but you won't end up using.
Where possible, make a note of the current price of the gear you're after so that when the time comes you can see whether the deals you're looking at really are as good as they seem.
To help you create your dream shopping list, take some time out to explore our expert buying guides and product reviews.
Cyber Monday guitar deals: Buying online
If you're concerned about buying a guitar or other gear online on Cyber Monday without playing it first - and particularly higher-end gear - you really don't have to be. Online music instrument retailers like Guitar Center , Musician's Friend and Sweetwater offer hassle-free returns as standard, meaning you can purchase a guitar, give it a spin in the comfort and privacy of your own home and send it back without issue if it's not right.
We'd recommend you check the specific returns policy for the retailer you're thinking of buying from ahead of time, but most offer between 30-45 days to return an item, as long as the item is in original condition.
Cyber Monday guitar deals 2021: Last year's top deals
Here's a small taste of the Cyber Monday deals that floated our boat last year. We're expecting all this and more in 2021.
Last year's top Cyber Monday guitar pedal deals
Last year's top Cyber Monday electric guitar deals
Last year's top Cyber Monday guitar accesory deals
Last year's top Cyber Monday guitar amp deals
Last year's top Cyber Monday acoustic guitar deals
Get the latest news, reviews and product advice straight to your inbox.
Thank you for signing up to The Pick. You will receive a verification email shortly.
There was a problem. Please refresh the page and try again.