Best Epiphone Les Pauls 2023: 10 Wallet-Friendly Single-Cuts That Give Gibson A Run For Its Money
This epic guide to the best Epiphone Les Pauls proves you don't need to spend big to get those legendary rock tones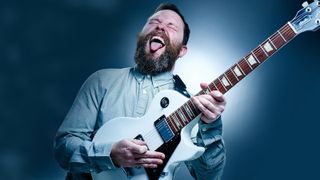 (Image credit: Future)
The Les Paul is a tonal powerhouse, offering players infinite sustain, a powerful mid-range bark, and a creamy warm tone not found in other guitars. It's no surprise then that so many aspire to own a Gibson Les Paul one day - although the rather sizable price tag can make them unobtainable. Well, luckily for us, Gibson's sister company has seriously upped their game and started to produce some of the best Epiphone Les Pauls ever - giving us all a chance to harness the power of the LP for less.
It can seem like a daunting task to find the best Epiphone Les Paul for you, considering there are so many variations on offer - not to mention they all look very similar and have a lot of features in common. Well, not to worry, that's what we are here for.
No matter your personal style and playing technique, you'll be sure to find an Epiphone Les Paul that will suit you. So, whether you're playing away at the blues, bringing the house down with technical-shred, or donning a top hat for your best Slash impression, we're pretty sure we can find your next axe among this list. We have put the entries into price order, to make it a little easier to find what you are looking for, and also included some handy buying advice to help you make an informed decision.
Best Epiphone Les Pauls: Our top picks
If we had to recommend one guitar, it would be the Epiphone Les Paul Standard 60s. At the end of the day, this is the guitar all the others on the list are measured against and is what we think about as the quintessential affordable Les Paul. Featuring the surprisingly great-sounding ProBucker humbuckers, as well as CTS potentiometers - which is a nice touch - this Les Paul just rocks. So if you're looking for a straightforward LP that won't break the bank, then this has to be it.
The Epiphone Les Paul Studio would be our top pick for beginners or, indeed, the budget-conscious. This fantastic entry-level LP offers all the tone you'd expect from the famed single-cut, just without the flashy extras.
Best Epiphone Les Pauls: Product guide
1. Epiphone Les Paul Studio
The budget option that's a classic in its own right
Specifications
Fingerboard:
Indian laurel
Pickups:
Epiphone Alnico Classic PRO Humbucker
Controls:
2 Volume with Coil Split, 2 Tone with CTS Potentiometers
Finish:
Wine Red, Alpine White, Smokehouse Burst, Ebony
Reasons to buy
+
Affordable
+
Nice finish options
Reasons to avoid
-
Too basic for some players
The Les Paul Studio has gone on to develop an identity all of its own. Originally released in '83 as a stripped-down alternative to the flashy Les Paul Standard, the Studio offered the same great tone, without all the bells and whistles.
This Epiphone version has the exact same mission statement, offering players the thunderous LP tone they're searching for in a no-nonsense, affordable package. Straying slightly from the other models on this list, the Studio is equipped with the Alnico Classic PRO pickup set, which offers a somewhat different flavor from the standard ProBucker found on the other models. The coil-split option also means the Studio lives up to its name as the perfect recording partner.
It's great to see a few new colors available, with the Alpine White giving you the option of channeling your inner Frank Iero or Jade Puget. The other options are Smokehouse Burst, Wine Red, and Ebony. So if you're looking for a pure Les Paul tone, with none of the flashy extras, then the Studio is the perfect choice for you.
2. Epiphone Les Paul Junior
Sometimes one pickup is all you need
Specifications
Fingerboard:
Indian laurel
Reasons to buy
+
Who doesn't love a P-90?
+
Classic look
+
Lightning Bar wrap bridge
Reasons to avoid
-
One pickup isn't for everyone
There is something so elegantly simple about a Les Paul Junior. Conceived initially as a student model and later picked up by countless punk and rock players, the Les Paul Junior is famed for its no-nonsense playability and spikey tone. Unlike the other guitars on this list, the Junior isn't concerned with a fancy carved top, binding, or even two pickups, for that matter. All it cares about is tone - and boy, does it have it in spades! This 1950s classic is certainly one to try if you haven't heard the aggressively mid-focused sound of the P-90. Like the punks that made the Junior their own, this pickup has bags of attitude.
The Epiphone Les Paul Junior has all the DNA that made the original so beloved. Featuring a sturdy mahogany body, and chunky 50s profile neck - which is not for the faint of heart - and a single dog-ear P-90 pickup. Epiphone has also included the Deluxe Vintage tuners, which completes the retro vibe.
So if you're looking for a no-nonsense guitar that you can just plug in, turn up and let rip, then this has to be the best option for you. However, if you find yourself craving the second pickup, you're in luck as Epiphone offers the Les Paul Special, as well.
3. Epiphone Les Paul Muse
Plug in baby
Specifications
Body:
Mahogany (chambered, thin, belly scarf), Maple Cap
Fingerboard:
Indian laurel
Pickups:
Alnico Classic Pro
Controls:
2 Volume with coil-splitting, 2 Tone with phase switch
Finish:
Pearl White Metallic, Wanderlust Metallic Green, Radio Blue Metallic, Purple Passion Metallic, Jet Black Metallic, Scarlet Red Metallic, Smoked Almond
Reasons to buy
+
Thinner body
+
Phase switch
+
Plenty of color options
Reasons to avoid
-
Chamber body delivers a different tone
It's fair to say the Les Paul is a fairly chunky guitar. With its thick slab of mahogany and carved maple top, it can be uncomfortable - not to mention heavy - for many players. Well, the Muse takes care of this issue with its slimmed-down chambered body. This routing is a lot more extreme than the modern weight relief found in the Les Paul Modern, and the new belly contour offers an extra comfort level. These features not only give the Muse a totally different feel but also changes the sound, giving this elegant guitar a completely unique identity.
Those looking to invoke the magical tone of the late, great, Peter Green can do so with a pull of the tone control. When both pickups are activated, this engages the out-of-phase setting, giving you that honky quack we all love.
Epiphone has also supplied an impressive range of finish options, with seven metallic colors to choose from. The marketing department clearly had an excellent time naming these stunning finishes, with Pearl White, Wanderlust Green, Radio Blue, Purple Passion, Jet Black, Scarlet Red, and Smoked Almond. Each option brings its own character, and frankly, it's difficult to choose a favorite among them - although if you made us, then Wanderlust Green may just edge out the rest.
4. Epiphone Les Paul Modern
Not your Grandads Les Paul
Specifications
Pickups:
ProBucker 2/3 humbucker w/coil-splitting
Controls:
2 Volumes (w/2 Push/Pull Coil-Tap), 2 Tones (1 Push/Pull Phase)
Finish:
Faded Pelham Blue, Vintage Sparkling Burgundy, Graphite Black
Reasons to buy
+
Massive range of tones
+
Nice and light
+
Beautiful finish options
Reasons to avoid
-
May have too much going on for some players
For many players, the Les Paul shouldn't be messed with - I mean, they nailed it on the first go, right? Well, no, they didn't. The truth is, Gibson has made many significant changes to the Les Paul over the years in a quest for better playability and to keep up with the demands of the modern guitarist. Gibson's latest ultra-contemporary offering is the aptly named Les Paul Modern, and the Epiphone version here is a direct copy.
The stylish LP's mahogany body features the Ultra Modern Weight Relief, meaning it's a damn sight lighter than a standard Les Paul, making it the perfect option for a long setlist, an all-nighter jam session, or simply if you have back problems. The pairing of a vivid colored top against the natural mahogany body is rather striking and is quite the sight to behold in person - the Pelham Blue has to be our favorite!
It's not just stunningly good looks this Les Paul has going for it. The Asymmetrical neck provides a lightning-fast playing area, which coupled with the contoured heel, means this is the virtuoso's, Les Paul. If you're on the hunt for a modern take on the standard Les Paul formula, then this designer six-string may be the best Epiphone Les Paul for the job.
5. Epiphone Les Paul Standard 60s
The ideal option for vintage tone seekers
Specifications
Body:
Mahogany with maple veneer
Fingerboard:
Indian laurel
Pickups:
2 x ProBucker humbuckers
Controls:
Two volume, two-tone, one three-way selector switch
Hardware:
LockTone ABR Tune-o-Matic bridge with stopbar tailpiece, Vintage Deluxe tuners
Finish:
Ebony, Bourbon Burst, Iced Tea
Reasons to buy
+
Great sounding pickups
+
Nice finish options
+
Easy to play neck
Reasons to avoid
-
Would prefer a rosewood fingerboard
Getting your hands on an original 1960s Les Paul is practically impossible at this point, not to mention incredibly expensive - even a Gibson reissue is massively costly right now. With that being said, it's no surprise the Les Paul Standard 60s tops our list of best Epiphone Les Pauls. Epiphone is offering a delightful slice of history - albeit taking some liberties with spec - at a much more affordable price.
This stunning guitar certainly punches above its weight and delivers all that LP tone you'd want. Featuring the classic mahogany body and neck with a maple veneer, this guitar looks like the real deal - and feels like it, too, thanks to the slim-taper neck profile. Bringing the rock is a set of ProBucker humbuckers that do a surprisingly great job capturing that mythical PAF tone, the inclusion of CTS potentiometers, is a classy touch from Epiphone.
It has to be said that the quality of the instrument is streets ahead of where it was, even just a few years ago. There is an attention to detail here that simply makes us smile. Okay, this may not be a Gibson, but for the price, you'd be hard-pressed to find much fault with this truly stunning guitar - so crank up your guitar amp, plug in this epic six-string and let rip!
6. Epiphone Jared James Nichols "Old Glory" Les Paul
Blues power!
Specifications
Pickups:
Seymour Duncan P-90
Reasons to buy
+
A unique take on a classic
+
Aged gloss finish
+
Seymour Duncan P-90
Reasons to avoid
-
Wrap bridge isn't great for drop tunings
Well, this guitar definitely lives up to the name blazoned across the front - blues power! This rising, hard-hitting blues guitarist has teamed up with Epiphone and created an incredibly unique take on the Les Paul, and one that more than deserves a place on this list.
Old Glory combines the basic outline of a '55 style Custom - black aged gloss finish, white multi-ply binding, ebony fingerboard, and Pearloid block inlays - with the Junior's simplistic electronics and wrap tailpiece. Resulting in a handsome guitar that is equal parts traditional and ground-breaking.
The tonal generator comes in the form of a single Seymour Duncan P-90, which kicks out enough power to satisfy the most discerning rock fan, while also being delicate enough to handle low-gain soulful blues lines. Whether you're a fan of Jared James Nichols or not, it doesn't matter, this is an incredible guitar that manages to perfectly blend two classics together to create a guitar that is greater than the sum of its parts.
7. Epiphone Les Paul Custom
The Epiphone Les Paul with a touch of class
Specifications
Pickups:
Epiphone ProBucker 2/3
Controls:
2 Volume, 2 Tone - CTS potentiometers
Finish:
Alpine White, Ebony
Reasons to buy
+
Everyone loves the Les Paul Custom, right?
+
Ebony fingerboard
Reasons to avoid
-
Gold hardware will tarnish quickly
There has always been something so classy about the Les Paul Custom - especially in ebony. The striking contrast of the dazzling gold hardware against the jet-black body makes many player's hearts beat that little bit faster. The multi-ply Custom white binding helps define the Les Paul shape, while the mother of pearl diamond headstock inlay lets the world know you're holding something special.
Again Epiphone has done a great job of bringing this icon to life - I'm sure Les himself would have been proud. In addition, the inclusion of a genuine ebony fingerboard is a welcome relief from the usual laurel or rosewood affair found on the earlier incarnations of this guitar - because, let's face it, it needs to be ebony to be a Custom!
As far as pickups are concerned, it's the usual Epiphone ProBucker humbuckers found on many of these guitars, but this time with gold covers. The Les Paul Custom also features the 60s style Kalamazoo headstock and rolled neck edges for a super satisfying playing experience. So if you're looking for a high-class, sophisticated LP, then this has to be the best Epiphone Les Paul for you.
8. Epiphone 1959 Les Paul Standard
A first for Epiphone
Specifications
Body:
Mahogany with maple veneer
Fingerboard:
Indian laurel
Pickups:
Gibson USA BurstBucker 2 & 3
Controls:
Two volume, two-tone, one three-way selector switch
Reasons to buy
+
Made in collaboration with the Gibson Custom Shop
+
Gibson Pickups
+
Plenty of mojo
Reasons to avoid
-
Expensive for an Epiphone
You don't need us to tell you how valuable an original '59 burst is - considering every time Joe Bonamassa buys one, someone somewhere writes about it - but even the Gibson reissues are a pretty penny, fetching upwards of $6,000. Luckily for us mere mortals, Epiphone has teamed up with the folks over at the Gibson Custom Shop to produce the Epiphone 1959 Les Paul Standard, giving us the chance of owning a vintage reissue without remortgaging the house.
This special guitar marks the first collaboration between these two Gibson offshoots, and long may it continue. This will come up a lot in this guide, but the level of detail here is remarkable. The AAA-figured maple top is stunning, and while not exactly as thick as on the Gibson, it still looks the part, resulting in a gorgeous-looking instrument. The stunning look is helped along by the aged finish, which is somewhere between a gloss and matte finish not too dissimilar from a VOS. The '59 neck profile is exactly as comfortable as you'd expect it to be, and the long neck tenon adds another level of vintage detail, which is something we can certainly appreciate.
What kicks this guitar up a gear is the addition of the Gibson USA BurstBucker 2 & 3 pickups. This, coupled with the CTS pots, 50s era wiring, Mallory capacitors, and non-beveled pickguard, add a whole extra level of authenticity to this quality guitar.
Read our full Epiphone 1959 Les Paul Standard review
9. Epiphone Les Paul Prophecy
The best Epiphone Les Paul for aggressive playing
Specifications
Body:
Mahogany with AAA Flame Maple Veneer
Pickups:
Fishman Fluence Epiphone Prophecy
Controls:
Volume (push/pull coil splits); 2 Tone (push/pull Vintage/Modern pickup)
Finish:
Red Tiger Aged Gloss, Olive Tiger Aged Gloss, Black Aged Gloss
Reasons to buy
+
Fishman Fluence Pickups are incredible
+
Cool finishes
+
24 frets
Reasons to avoid
-
Not for the traditionalist
It's not all vintage reissues and Gibson copy-cats on this list, we also have something for the more aggressive player. On the surface, the Epiphone Les Paul Prophecy may look like a metalhead's dream - and it is - but it's also a lot more than that.
At the heart of this demonic-looking LP is a set of Fishman Fluence pickups; these high-tech active pickups offer a range of sonic possibilities that even the most traditional among you will love. With just a pull of the volume or tone control, you'll have access to a warm PAF vintage humbucker, a searingly hot modern active humbucker, as well as shimmering single-coil tones - that's all the major food groups right there!
This guitar has been optimized for the budding shredder, with the inclusion of an Asymmetrical SlimTaper neck that is super comfortable no matter where you are on the fingerboard. At the same time, the modern contoured heel gives you unparalleled access to the upper frets. This guitar is unapologetically a shredder, with a few classic sounds under the hood for when you want to calm things down a bit - and we love it!
10. Epiphone Alex Lifeson Les Paul Axcess Standard
Step into the limelight with this progressive Les Paul
Specifications
Body:
Mahogany, Carved Maple with AAA Flame Maple veneer
Fingerboard:
Indian laurel
Pickups:
Epiphone Ceramic Pro/Epiphone ProBucker 3
Controls:
Neck Volume, Bridge Volume - each with push/pull coil split, Piezo Volume with push/pull on/off, Master Tone
Reasons to buy
+
A must-have for any Rush fan
+
Heel and belly contours are a welcome feature
+
Piezo pickup is a nice touch
Reasons to avoid
-
Floyd Rose style bridge is not for everyone
This is the newest of the Epiphone offerings on this list, although it's been a long time coming. Rush fans have been begging for an Alex Lifeson model for years, and it's finally here! Epiphone has worked very closely with the prog guitar god to recreate his Gibson signature in an affordable, more accessible format - and we have to say, we're mighty impressed with how it turned out.
The most obvious thing you'll notice about this guitar is the Floyd Rose bridge. While some of you out there will think a floating bridge on a Les Paul is sacrilege, it is definitely necessary to achieve those classic Lifeson tones. The bridge here is solid and feels sturdy, exactly what you'd expect. What you may not expect is the Graph Tech Ghost piezo system hidden in the saddles. This nifty device allows you to get acoustic guitar sounds that can be either blended in with the humbucker tone or played on its own via its separate output jack.
The range of tones on offer here is unlike any other Epiphone Les Paul and is truly staggering. For us, this might just be the most versatile Epiphone guitar in the catalog - never mind the most versatile Les Paul. So, whether you're a Rush fan or not, we urge you to give this one a go.
Read our full Epiphone Alex Lifeson Les Paul Axcess Standard review
Best Epiphone Les Pauls: Buying advice
Epiphone vs Gibson
Epiphone Les Paul Vs Gibson Les Paul: What's The Difference?
Like their bigger sibling, the Epiphone lineup has gone through a massive shake-up over the last few years. Following in Gibson's footsteps, Epiphone has gone back to basics, producing guitars that have their roots firmly in tried and true formulas - with the odd experimental guitar here and there to keep things interesting.
We must say, this new - or old, depending on your perspective - approach is a welcome change, and one we have been hoping would happen for some time. Epiphone seems to finally be listening to the fans and giving them precisely what they want. Nothing signifies this change in mindset more than the shift to the old Kalamazoo headstock design - something fans have been screaming out for.
It's not only the lineup that has changed, but the overall quality has also seen a vast improvement. We're seeing fewer reports of fret issues, broken plastics, and dead pickups that unfortunately had become commonplace on Epiphones of the past. Believe us when we say Epiphone is currently producing the best electric guitars they have made in over a decade, and it's exciting to see what they will bring out next.
Which Epiphone Les Paul should I buy?
The Epiphone catalog is now split into categories. These are Original and Inspired By Gibson. As you'd expect, the Original collection is where you'll find the Epiphone guitars that don't have a Gibson counterpart, such as the Casino, Riviera, and Sheraton. This is also where you'll find the fantastic new American-made models, such as the USA Casino, Frontier, and Texan.
The Inspired By Gibson collection is exactly that, guitars based on current Gibson models. This is further broken down into the subcategories of Original and Modern to make it easier to find what you're looking for.
The Inspired By Gibson Original collection is purely focused on vintage reissue guitars, aimed squarely at the traditional player, looking for a classic take on an iconic instrument. This is where you'll find the likes of the 50s and 60's Standard, Les Paul Junior, and '59 reissue.
If you're looking for a guitar that strays away from the basic formula a little, then you'll be looking at the Inspired By Gibson Modern collection. It's clear that Epiphone has more creative freedom over this assembly of guitars. Offering more unique finish options and present-day features modern guitarists crave. This is where you'll find the likes of the Les Paul Muse, Modern, and the new fan favorite, the updated Les Paul Prophecy.
Choosing the right instrument really boils down to taste and personal style. Epiphone has a guitar to cater to every player right now. So, whether you're a vintage purist looking for a grassroots blues guitar, a modern virtuoso on the hunt for an awe-inspiring speed demon, or a metalhead looking to bring the doom, one of these Epiphone Les Pauls will most definitely do the job.
Are Epiphone Les Pauls good for beginners?
There is a certain allure to the Les Paul. Its strong curves and handsome good looks have managed to entice many buddying guitar players to pick up the six-string and devote their lives to the endless pursuit of tone. That said, are they actually good guitars for beginners?
In a word - yes. Epiphone has many top-quality beginner guitars in their ever-growing catalog, and with prices starting at only $160, the barrier of entry is remarkably low. On top of that, the quality of these guitars has been steadily getting better and better over the years, meaning it's difficult to find a better instrument at this price point.
Epiphone even offers a few Player Packs that include a low-wattage amplifier, cables, gig bag, and picks - everything an aspiring rock star needs to get started.
How we selected the best Epiphone Les Pauls
You can trust Guitar Player. Our expert reviewers spend hours testing and comparing guitar products so you can choose the best for you. Find out more about how we test.
Here at Guitar Player, we are experts in our field, with many years of playing and product testing between us. We live and breathe everything guitar related, and we draw on this knowledge and experience of using products in live, recording and rehearsal scenarios when selecting the products for our guides.
When choosing what we believe to be the best Epiphone Les Pauls available right now, we combine our hands-on experience, user reviews and testimonies and engage in lengthy discussions with our editorial colleagues to reach a consensus about the top products in any given category.
First and foremost, we are musicians, and we want other players to find the right product for them. So we take into careful consideration everything from budget to feature set, ease of use and durability to come up with a list of what we can safely say are the best Epiphone Les Pauls on the market right now.
Read more on how we test gear and services at Guitar Player.
Related buying guides
All the latest guitar news, interviews, lessons, reviews, deals and more, direct to your inbox!
First and foremost, I'm a guitar enthusiast – a fanatic, some might say. I'm a firm believer that most of the world's problems can be solved with a Gibson SG and a catastrophically loud amp. Before writing about guitars for a living as a Senior Deals Writer on Guitar Player, I worked in music retail for 7 years, giving advice on guitars, basses, drums, pianos, and PA systems. I also have a passion for live sound; I'm a fully qualified sound engineer with experience working in various venues in Scotland.