Epiphone Les Paul Vs Gibson Les Paul: What's The Difference?
It's often debated among guitarists, but what really is the difference between a Gibson and Epiphone Les Paul? Here's the low down on these legendary single cuts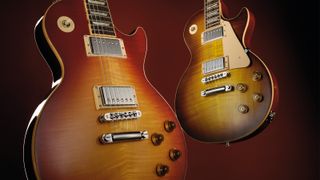 (Image credit: Future)
So, you've spent the last few weeks trawling through countless pictures of gorgeous flame-topped pin-ups, lusting after their elegant curves, and striking beauty - and as a result, you've decided to buy a Les Paul. In that case, you've probably asked yourself the age-old question; Epiphone Les Paul vs Gibson Les Paul, what's the difference?
While on the surface, these guitars may look similar - and in some cases identical - they are very different beasts. Most people think it's simply a matter of budget, but really, it's more than that. Both brands offer a unique set of characteristics, specifications, and even differences in how they are made. Now, we aren't here to crown a winner of which is better. Frankly, that's not a question anyone can answer. It ultimately boils down to which is the best option for you and suits your needs the best.
So without further ado, let's break down the main differences between a Gibson Les Paul and Epiphone Les Paul and see if we can help you decide which way to go. If you've already decided to go down the Epiphone route, you can check out our guide to the best Epiphone Les Pauls.
Epiphone Les Paul vs Gibson Les Paul: History
The history of both Gibson and Epiphone is a very long and troubled one for both parties. We simply don't have time to go through the countless changes in ownership, numerous bankruptcies, and extensive lawsuits here - a lot happens when your company is over 100 years old! So let's just focus on the milestones.
Gibson originally started way back in 1902 in Kalamazoo, Michigan. Although they didn't begin with guitars, but rather a very different kind of stringed instrument - the mandolin. By the 1930s, Gibson had established themselves as a towering force in the six-string world, creating one of the first commercially available electric hollow-body guitars, a leader in the world of flat-top acoustic guitars, and a pioneer of jazz archtops. By the time the 1950s arrived, though, Gibson was no longer the top dog. Instead, that title would go to their much younger Californian rivals - Fender.
In an attempt to catch up to the runaway success of the Telecaster - then known as the broadcaster - Gibson released the Les Paul Model, their first venture into solid-bodied electric guitars. Unlike Fender, Gibson didn't find overnight success with this new guitar and would therefore tweak the formula until they eventually would land on the LP we all know - and love - today.
1958 would see the Les Paul feature some very recognizable specifications, such as a dual set of PAF humbuckers, a Tune-o-Matic bridge, stunning flame top, and striking sunburst finish. This is what comes to mind when most of us think of the Gibson Les Paul, and Gibson has been tirelessly trying to recreate the magic of this guitar ever since, with countless reissues and custom shop models.
Epiphone has a very similar origin story, although surprisingly, they are an older company, having started in 1873. Like Gibson, Epiphone started making mandolins and other stringed instruments before moving into banjos and guitars in 1924 and 1928, respectively. By all accounts, Epiphone was a successful company producing some of the finest acoustic and archtop guitars, but what caught the attention of then Gibson President Ted McCarty was the Epiphone upright basses. Gibson would make an offer to Epiphone to feature the basses in their catalogue but would later instead purchase the entire company.
The two companies would coincide for many years, with both brands built out of the same facility. This lasted until 1970 when Epiphone was moved to Japan to keep the production costs down and better help them compete with the rise in foreign-made replicas.
By 1990 Epiphone and Gibson were in very different places. Epiphone would break from tradition and start building the only official licensed Gibson copies available, only four years into yet another change in ownership. Creating Les Pauls, SGs and ES-335s.
This is pretty much where Epiphone are today - albeit with yet another change in leadership, and location, to China.
Epiphone Les Paul vs Gibson Les Paul: Spec Differences
As you can see from the history, in the beginning, Epiphone and Gibson were built in the same place, by the same people, using the same materials. Now, of course, this isn't the case anymore. So how do they differ?
Well, first of all, Gibson guitars are made in the USA, and although they do use CNC machines for some sections, such as cutting out the body and routing the pickup cavities, for the most part, they are handmade in a fairly traditional manner. For example, they still apply the binding around the body in the same way they did in the 50s. This involves mummifying the guitar in ropes to tightly hold the binding in place while the glue sets.
Epiphone, on the other hand, are more mass-produced, relying on modern manufacturing techniques to ensure a more consistent product. By the nature of making an instrument by hand, you're going to naturally have more differences in the way they are finished, the profile of the neck and even how the sunburst is applied.
Next up is the differences in the materials used. For the most part, Gibson uses the highest quality hand-selected tonewoods. Let's look at the LP Standard, for example. This guitar features a one or two-piece mahogany back, AAA book-matched flame maple top, and the classic holly headstock veneer, with mother of pearl Gibson Logo.
Epiphone uses slightly lesser quality woods, and you can find bodies made from multiple pieces. The tops also differ and are normally made from a thinner veneer, giving the illusion of a carved top. That's not to say Epiphones are in any way inferior. It's completely standard practice for most guitars at this price point. To be honest, many players can't even tell the difference between a veneer and a full maple cap.
Finish differences
You can trust Guitar Player. Our expert reviewers spend hours testing and comparing guitar products so you can choose the best for you. Find out more about how we test.
Okay, let's talk finish. This has to be one of the most significant differences between the two brands and the one factor that is a sure giveaway when comparing the two in a blind taste test. Gibson guitars use nitrocellulose lacquer. This is a finish they have used since the 50s and is a signature element of a Gibson guitar.
Not only does it make your guitar smell like vanilla - seriously, sniff the next Gibson you see, although best to ask permission first - it also allows your guitar to "breathe", aiding in the instrument's resonance. As a finish, it is very playable. As the lacquer is thinner, it wears over time, resulting in a very comfortable played in feel. With that said, it can have its issues, such as reacting to rubber stands and cracking when exposed to extreme changes in temperature.
As you'd expect, a finish like this doesn't come cheap, and therefore Epiphone opts for a polyurethane lacquer. This is an extremely hardwearing finish that isn't affected by the elements, like nitro and is far easier to apply to the guitar making it quicker to finish the instrument.
Tone differences
So, with all these differences in construction, how does this affect the tone? To be honest, that's a nearly impossible question to answer. While it's true Gibson uses handwound pickups - for the most part - and Epiphone opts for the more mass-produced option, it's just not practical to compare the two.
There are so many options on offer from both companies. Whether you are seeking the spikey tone of a P-90, the high output of modern humbuckers, or the retro tone of the legendary PAF, you'll find it among the offerings from both brands.
Epiphone Les Paul vs Gibson Les Paul: Notable players
The list of notable guitar legends to have dawned this single-cut beauty is about a mile long; at this point, it would be quicker to list the guitarists who haven't used a Gibson Les Paul. From Slash to Jimmy Page, Mike McCready to Lari Basilio, and many, many more, the Gibson LP has been present at every landmark turning point in rock.
Epiphone have had their fair share of iconic players over the years as well, and in recent years have added to that roster with a collection of very well-received signature Les Pauls from the likes of Trivium frontman and riff master Matt Heafy, The Spaceman Tommy Thayer of Kiss, and up and coming blues powerhouse Jared James Nichols. Each of these iconic axe-wielders has ditched their USA-made LPs favoring their new Epiphones. Many more are following suit.
Epiphone Les Paul vs Gibson Les Paul: Buying Advice
Both Gibson and Epiphone split their vast catalogue into two separate categories - Original and Modern - and with Epiphone switching gears in 2020 to the Inspired by Gibson collection, you can now find an Epiphone equivalent to almost every Gibson Les Paul.
For the vintage enthusiast, you'll want to look at the Original collection. This is where you'll find guitars based on the heritage instruments of the past. There are no mod-cons here, just straight up retro-inspired Les Pauls. So that means no fancy switching, printed circuit boards, or locking machine heads, just classic unadulterated Les Pauls.
For the contemporary player, you'll want to check out the aptly named modern collection. This is where Epiphone and Gibson offer their most up to date models, featuring the likes of asymmetrical necks for lightning-fast playing, coil-splitting options for a range of tones and eye-catching modern finishes.
Epiphone Les Paul vs Gibson Les Paul: Our picks
So what would we recommend? Well, when discussing Les Pauls, it's hard not to go straight for the Gibson Les Paul Standard 60s. This guitar has it all: the look, the sound and the heritage - it's a winner for us. However, we are well aware that this guitar doesn't come cheap. So, for the budget-conscious, we'd recommend looking at the Gibson Les Paul Special Tribute. This stripped-back, no-nonsense LP gives you all the tone, with none of the bells and whistles.
On the Epiphone side of the coin, it's worth checking out their version of the Standard. With the vast improvements in built quality over the last few years, it's sure to turn even the most die-hard Gibson fan into an Epiphone convert. For the modern players, the Epiphone Prophecy is one to check out. We were most impressed with the sheer amount on offer with this fabulously evil guitar. The Fishman Fluence pickups are outstanding and worth every penny.
All the latest guitar news, interviews, lessons, reviews, deals and more, direct to your inbox!
First and foremost, I'm a guitar enthusiast – a fanatic, some might say. I'm a firm believer that most of the world's problems can be solved with a Gibson SG and a catastrophically loud amp. Before writing about guitars for a living as a Senior Deals Writer on Guitar Player, I worked in music retail for 7 years, giving advice on guitars, basses, drums, pianos, and PA systems. I also have a passion for live sound; I'm a fully qualified sound engineer with experience working in various venues in Scotland.