Best Guitar Slides 2023: Our Pick Of Options From Dunlop, Fender, MojoTone, Rock Slide and Shubb
Seriously up your slide game with the best guitar slides on the market right now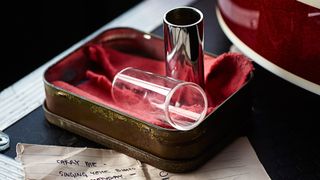 (Image credit: Future)
The guitar is one of the most expressive instruments you can play. The ability to bend notes and make micro-adjustments to the pitch gives the guitar a vocal quality not found in many other instruments - a quality turned up to 11 when a slide is added to the mix. It seems slide guitar has seen somewhat of a resurgence of late, with modern slide pioneers Joey Landreth, Ariel Posen and YouTube sensation Justin Johnson breathing new life into this historic guitar technique. So, it seems as good a time as any to break down the best guitar slides on the market right now to help you recreate these slippery guitar tones.
Slides - or bottlenecks - come in various different styles and a multitude of different materials from brass and glass to chrome and porcelain. Each material gives you a completely different sound and feel, and therefore it can be challenging to know where to start with so much out there. Luckily our handy buying advice will take the mystery out of choosing the best slide - as for using one, that's on you.
So, whether you are looking to spice up your acoustic guitar playing or take your electric guitar solos to the next level, you'll find a slide on this list to help you do it.
Best guitar slides: Product guide
1. Rock Slide Joey Landreth Signature Brass Slide
One of the most comfortable guitar slides on the market
Specifications
Sizes:
One size (ring size 7)
Reasons to buy
+
Comfort carveout for better grip
+
Weighted end for more sustain
+
Very durable
Reasons to avoid
-
Brass can be too "metallic" sounding for some players
Joey Landreth is arguably the most exciting new slide guitar player to emerge in recent years. His singing, soulful lead lines, smooth vibrato, and technical prowess are quite something to behold and elevate the art of slide guitar to a whole new level - what is it with the surname Landreth that makes you a slide god?
One thing that helps Joey achieve those soaring tones is his signature Rock Slide - well, that and an insane amount of practice. Rock Slide sure know a thing or two about guitar slides - having produced them since 1999, with many shapes and materials available. Landreth opted for a modified version of the standard small brass slide, elongating it to 2 ⅛". It also features a unique cut-out on the side, which gives your other finger somewhere to rest, making the slide more comfortable and stable.
The increased mass at the tip of the slide also provides enhanced sustain and better balance. So if you are looking for a super versatile, great-sounding, and highly comfortable slide, then look no further than the Rock Slide Joey Landreth Signature Brass Slide.
2. Fender Standard Steel Slide
The best guitar slide for newbies on a budget
Okay, we know slide guitar isn't exactly easy and the thought of dropping $30 on an expensive bottleneck only to find out it's not for you doesn't make financial sense. Well, luckily, there are more cheap slide options out there than you can shake a stick at, but the Fender Standard steel slide would be our go-to.
This basic steel slide offers a bright attack with plenty of sustain and is brilliant for use on electric guitar. The steel construction means it's robust and durable - and unlike glass, there is no need to worry if you drop it.
If you fancy giving slide ago and need something to get you started, this is probably the best option out there for you.
3. Dunlop Derek Trucks Glass Bottle Slide
A bottleneck of choice for the modern king of slide guitar
Reasons to buy
+
Medicine bottle shape
+
Smooth tone
Reasons to avoid
-
Glass isn't as robust as other options
-
It might be too large for some
It's hard to talk about slide guitar and not mention Derek Trucks. What this man can achieve with a glass slide and a Gibson SG is nothing short of magical - for reference, check out the live rendition of Midnight in Harlem by the Tedeschi Trucks Band to see a slide masterclass in action.
For the most part, Trucks can be seen putting a traditional glass slide through its paces, and he isn't often seen without his trusty Dunlop Signature slide on his ring finger.
This glass slide is based on a "medicine bottle" design, with a weighted closed end for increased sustain. Glass provides a soft, smooth tone that is less harsh when compared to brass or chrome. However, it has to be said that this is a rather large slide, so it may not be great for skinny fingers.
4. Taylor Guitars Ebony Slide
The environmentally-friendly option
Specifications
Sizes:
11/16", 3/4", 13/16", 7/8"
Reasons to buy
+
Very unique tone
+
Incredibly light
+
Environmentally-conscious slide
Taylor Guitars isn't just known for their insanely beautiful looking- and sounding - guitars, but also their environmental endeavors. The Ebony Project set up by Bob Taylor in 2011 saw Taylor Guitars become co-owners of an Ebony mill in Cameroon in an effort to make using this highly prized wood on their guitars more sustainable.
As part of these efforts, Taylor doesn't want to waste a single piece of this gorgeous dark wood if they don't have to, and therefore makes slides out of offcuts of the ebony that would typically be used on the fingerboards or bridges of these stunning guitars - they also make coasters from the wood that is removed from the soundhole. Although, we aren't here to talk about coasters…
As far as tone goes, the ebony slide offers the warmest tone out of all the entries on this list and pairs very nicely with the bright attack of a Taylor guitar. That said, it has nowhere near the amount of sustain found on a glass or metal option.
5. MojoTone MagSlide Magnesium Slide MS-1
One of the best lightweight slides that doesn't compromise on tone
Reasons to buy
+
Extremely lightweight
+
"Comfort grooves" for a snug fit
Reasons to avoid
-
Some may find it expensive for a slide
The MojoTone MagSlide is a very unusual slide. It's made from Magnesium, which makes it lighter than both glass and brass, all while retaining the smooth sustain found on a traditional slide.
One benefit of such a lightweight slide is the ability to drop the action on the guitar, meaning you no longer have to have your strings a mile from the fingerboard to achieve an extraordinary slide tone.
MojoTone also claims that due to the slide's unique metal of choice, the string noise generally associated with brass or chrome is dramatically diminished, resulting in a quieter slide. So if you find metal slides a little cumbersome, but you love the sound, it's worth checking out the MojoTone MagSlide MS-1.
6. Dunlop Joe Perry Boneyard slide
Dream on with the Joe Perry Slide
Reasons to buy
+
Brilliant sustain
+
Looks awesome
So far, we have covered all the main slide food groups - brass, chrome, glass and even wood, and so naturally, the next logical step would be porcelain. If glass slides are smooth and metal is bright, then the porcelain option is the perfect middle ground.
The added weight of a porcelain slide gives you an intense sustain perfect for long-held notes. At the same time, the quick attack makes it a great option for electric players looking to add a new sonic flavor to their playing.
The Dunlop Boneyard slide is a reasonably chunky ceramic slide used by the Aerosmith axeman, and as you'd expect, it generates a tone all of its own. Considering it's relatively low cost, we highly recommend picking up a porcelain slide if you haven't tried one. They are a lot of fun - just don't drop it.
Switch effortlessly between slide and fretted notes
Reasons to buy
+
Allows all your fingers to be free
+
Very intuitive design
Reasons to avoid
-
Some may think it's a gimmick
Playing slide guitar can be hard enough, but switching back to fretted notes can seem impossible to many players - that's where the JetSlide comes in. This inventive slide is designed to allow all your fingers to remain free, meaning you can play guitar just like you normally would without a slide, then without missing a beat, you can glide right into your delta blues solo - pretty neat, right?
The JetSlide is designed to be used on your ring finger, allowing the "slide bar" to rest between your ring finger and pinky. The finger tab is used to press the slide against your acoustic guitar strings, and when released, the bar will simply fall out of the way of your fingers.
This slide may look strange and - let's be honest - a little DIY. Still, its genuinely clever design makes it incredibly easy to use, and it really does eradicate the problem it set out to solve.
8. Shubb Axys Reversible Guitar Slide
The rotating slide from the capo masters
Specifications
Size:
One Size with 4 resizing inserts
Reasons to buy
+
Just like using a regular slide
+
Plastic inserts for changing sizes
Reasons to avoid
-
A little difficult to use at first
When you think of Shubb, you most likely think of their world-renowned capos, but did you know they make a rotating slide, as well? Yet another attempt to solve the age-old problem of combining slide playing with regular fretting, but we have a far simpler solution this time.
From the front, the Shubb looks like an ordinary slide, but the backside of the slide is missing, so when rotated, you remain full use of your ring finger. To reverse the slide, all you have to do is push against the knurled ring section, and the slide will turn effortlessly.
Unlike the JetSlide above, the Shubb feels more like a traditional slide and therefore is maybe more suited to players looking for a familiar feel.
Best guitar slides: buying advice
When it comes to buying a slide, there are a few things you need to consider to ensure you get the most out of your new toy. Below you'll find the answers to a few of the most common questions regarding buying your first guitar slide.
What Size Of Guitar Slide Do I Need?
Now, this will obviously depend on the size of your digits and also which finger you plan on using your slide on - the most common being your pinky or ring finger. You want as snug a fit as possible - without it getting stuck - as the more the bottleneck wobbles around, the harder it is to control.
Unfortunately, there doesn't appear to be a standard system of measurement for guitar slides. Some use ring sizes and others use millimeters, best to double-check on the manufacturer's website before making a purchase.
Which Material is Best For a Guitar Slide?
The material of the slide is a very important consideration. Whichever you choose will significantly impact the tone you get out of the slide. Generally speaking, glass will give you a smooth tone.
In contrast, metal slides offer a brighter and more immediate attack. While Ceramic slides sit somewhere in the middle of glass and metal and are thought to be the best of both worlds. Wooden slides - like the Taylor option above - offer a mellow, muted response.
How Does The Weight Affect A Guitar Slide?
The weight will affect two elements of the guitar slide: how much sustain you'll get and how easy it is to maneuver. Again broadly speaking, the heavier the bottleneck, the more sustain you'll receive. Although it's worth remembering that the heavier the slide, the more cumbersome it will be to use. So consider this carefully.
Many slides on the market have a weighted end, giving the slide the optimal sustain while keeping it nimble and comfortable.
How we choose the products for our guides
You can trust Guitar Player. Our expert reviewers spend hours testing and comparing guitar products so you can choose the best for you. Find out more about how we test.
At Guitar Player, we live and breathe everything guitar related. It's our passion and we certainly hope this passion comes through in our buyer's guides. Everyone at Guitar Player is an expert in their field and we draw on this knowledge and experience when selecting the products for our guides.
When choosing what we believe to be the best guitar slides available right now, we combine our hands-on experience, user reviews and testimonies and engage in lengthy discussions with our editorial colleagues to reach a consensus about the top products in any given category.
When making our lists, we pay careful consideration to everything from budget to feature set, playability and durability to come up with an accurate representation of the best electric guitars available right now.
Read more on how we test gear and services at Guitar Player.
Related buying guides
All the latest guitar news, interviews, lessons, reviews, deals and more, direct to your inbox!
First and foremost, I'm a guitar enthusiast – a fanatic, some might say. I'm a firm believer that most of the world's problems can be solved with a Gibson SG and a catastrophically loud amp. Before writing about guitars for a living as a Senior Deals Writer on Guitar Player, I worked in music retail for 7 years, giving advice on guitars, basses, drums, pianos, and PA systems. I also have a passion for live sound; I'm a fully qualified sound engineer with experience working in various venues in Scotland.