Best Guitar Capos 2023: Acoustic And Electric Options For Every Budget
Boost your creativity and explore new horizons with our pick of capos from Shubb to Ernie Ball and G7th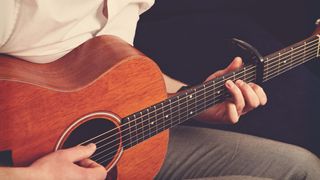 (Image credit: Future)
For most guitar players, the capo is the first guitar accessory they will ever purchase. It's a hugely popular tool that offers a multitude of benefits. Maybe you're a singer-songwriter needing to transpose a key to suit your voice, perhaps you want to experiment with unique chord voicings with different harmonic possibilities, or maybe you are simply trying to learn your favorite capo-utilizing songs. Regardless, investing in one of the best guitar capos can be a transformative step for your guitar playing.
Now, the concept of the 'best guitar capo' is pretty ambiguous and subjective. Every guitar player is different, and what may work well for one player might not be suitable for another. The classically trained nylon string flamenco player is going to need a totally different capo from the person playing their Stratocaster in a function band every weekend.
There are many different big-name brands such as Ernie Ball, Dunlop and D'Addario who offer a whole range of different style capos for you to choose from. Knowing the best capo to go for is sometimes not as obvious as it may seem.
Therefore, we have done the hard work for you and selected an eclectic list of the best guitar capos to suit the diverse range of players who frequent Guitar Player. Whether you're looking for a strong capo that will correctly intonate your 12-string Martin J-16 or want to explore the different tuning possibilities a capo allows, there will be something on our list to suit you.
Best guitar capos: Guitar Player's Choice
If we were to pick one capo for its all-round utility, it's hard to overlook the G7th Performance 3 ART capo. The Adaptive Radius Technology does a fantastic job of applying consistent pressure across your guitar strings. You can apply and remove the capo with one hand, thanks to the quick-release system, and it is compatible with most guitar necks.
If you don't want to break the bank, the Ernie Ball Axis Capo is a great affordable alternative. It's a dual-radius capo, meaning it will fit both flat and curved fretboards, which is perfect if you have a few different guitars in your collection.
Best guitar capos: Product guide
1. G7th Performance 3 ART Capo
The best premium capo
Specifications
Suitable for:
Six-string electric and acoustic
Reasons to buy
+
One-handed operation
+
Very versatile
+
Innovative ART technology
Reasons to avoid
-
Quite expensive compared to others
If you're anything like us you'll know how easy it is to misplace your capo, especially if you rely on one for live shows. With that in mind, is spending more money on a capo a clever idea?
Well, if you're looking for accurate tuning stability with the least amount of string buzz possible, then yes – and that is what the G7th Performance 3 ART capo offers. G7th have combined two of their proprietary inventions; the Unique Tension Control system and the ART string pad mechanism in this compact beauty.
The Unique Tension Control system allows you to "squeeze" the capo into position on your guitar neck, giving you unparalleled control over the tension applied to the strings. Unlike spring-loaded capos that automatically set the tension, this feature lets you adjust it according to your preference.
This is highly advantageous, especially considering that some capos with resistant springs can unintentionally pull the strings out of tune. With an adjustable capo like this, you can avoid that issue entirely. Additionally, removing the capo is as simple as squeezing the release lever, which can be done effortlessly with just one hand.
The ART (Adaptive Radius Technology) string pad mechanism is positioned in the top bar of the capo, allowing it to seamlessly adjust to the curvature of the fretboard. This innovative feature enables you to use the capo on various types of fingerboards. By adapting to the fingerboard's curvature, the top bar applies consistent pressure, effectively eliminating any bothersome string buzz.
The best capo for small budgets
Specifications
Suitable for:
Six or seven-string electric and acoustic
Reasons to buy
+
Works effectively with most fingerboard radii
+
Ergonomic curves
+
Consistent spring tension
If you're seeking excellent value for money, the Ernie Ball Axis capo is the best choice. With a budget-friendly price of just $14.99, this dual-action capo is designed to provide maximum versatility, performance, and ease of use.
The capo features two rubberized, dual-radius pads that are designed to work with both flat and curved fingerboards. These precision molded pads do an impressive job of evenly clamping guitar strings across various guitar styles without encountering string buzz.
Adjusting the capo to suit your guitar's needs is as simple as flipping it around. From electric 7-strings to nylon acoustic flat fingerboard radius, this capo can do it all.
The consistent spring tension ensures steady intonation and we've discovered that it doesn't slacken over time after prolonged use. Its sleek and ergonomic design, combined with potential one-handed operation, makes it an ideal choice for onstage performances.
The only drawbacks we can think of are the capo's weight and the absence of adjustable tension. It is slightly heavier compared to other options on our list too, so keep that in mind, especially if you're using a neck-heavy SG. However, apart from that, you won't regret choosing this versatile capo.
3. D'Addario NS Tri-Action Artist Capo
The best capo for star quality
Specifications
Type:
Adjustable tension trigger
Suitable for:
Six-string acoustic and electric guitars
Reasons to buy
+
Adjustable tension allows for fine-tuning
+
Built-in plectrum holder
+
Direct horizontal pressure eliminates string pull
Reasons to avoid
-
Not the most compact design
Although D'Addario is one of the biggest names in guitar accessories, fewer people may know about Ned Steinberger, the designer behind the D'Addario NS Artist capo.
Best known for founding the guitar company of the same name, Steinberger rose to prominence in the '80s with his headless guitars used by artists like Van Halen, Sting and David Gilmour. Recognizing his eye for design, D'Addario reached out to Steinberger in the hope of collaboration, and thus the NS Artist series was created.
The Tri-Action NS Artist Capo – where NS stands for Ned Steinberger – is perhaps the best in the range. This trigger-style capo utilizes 'Tri-Action' geometry, meaning there is very little force needed to open and close the capo. However, this doesn't compromise the spring's strength or ability as the micrometer tension adjustment allows you to apply precise and even tension across the fingerboard.
Combining this feature with direct horizontal pressure has resulted in an incredibly consistent capo which requires very minimal, if any, retuning during use. The capo also features a handy pick holder and a micro tuner bracket, all of which makes this capo an A-class all-rounder.
4. Shubb C2 Standard Capo
The best option for classical guitarists
Specifications
Type:
Adjustable, lever-operated
Suitable for:
Six-string classical guitar
Material:
Polished nickel
Reasons to buy
+
Nimble design that doesn't interfere with playing
+
Really quick to place
+
Accurate top bar spreads pressure evenly
Reasons to avoid
-
Limited versatility for use on other guitar types
There isn't much to dislike about the Shubb C2 Standard capo. It's an adjustable lever-operated capo that snaps into place with ease thanks to Shubb's 'roller' design. This design prolongs longevity compared to their older conical Delrin screw cap and provides a functional benefit.
The roller design employs an over-center locking principle with a 'dropoff' mechanism, ensuring a secure lock without compromising tone or tuning stability. The dropoff mechanism acts as a safeguard against overtightening, which can cause string stretching and result in putting the guitar out of tune. This issue is particularly common with light gauge strings, such as nylon strings.
The capo's nimble construction minimizes the number of times your left hand will come into contact with it whilst playing and the size also allows for one-handed application. It's a very simple and quick capo to apply as one smooth flip of the lever will lock and unlock the capo into place.
The C2 has been specifically designed for flat radii classical guitars with nylon strings, therefore it won't work on modern electric or acoustic steel string guitar fingerboards. A utilitarian capo that can be used on any guitar model, this is not. However, if you're exclusively looking for a nylon string capo, accept no substitutes.
5. Dunlop Trigger Fly Capo
The best for a modern take on a classic Dunlop design
Specifications
Type:
Spring-loaded trigger
Suitable for:
Six-string electric and acoustic
Material:
Anodized aluminum
Reasons to buy
+
Much sleeker than Dunlop's 83C
+
Robust without being too heavy
+
Custom-engineered spring mechanism intonates well
Reasons to avoid
-
The tension isn't adjustable
Dunlop's 83C trigger capo has been a bestseller for years, so when the company announced the release of the Dunlop Trigger Fly capo, we had to give it a go.
Dunlop has taken a lot of inspiration from its 83C: the trigger-style design, spring mechanism, and top bar rubber pad, but they have revamped it into a streamlined, elegantly smooth capo. The anodized aluminum feels like a premium touch, and the custom-engineered spring mechanism does precisely what you need it to.
The Trigger Fly works equally well on standard six-string acoustic as it does on electric, and the optimized fret pad offers precise intonation, even up until the 7th fret on acoustic. Although we weren't convinced how relevant an 'ergonomic' handle was on a capo, we must admit it does feel rather satisfying whilst opening and closing it. There is a much more premium feel with the Trigger Fly compared to the 83C and we're impressed that Dunlop hasn't inflated the price.
Dunlop has done a great job at making a trustworthy capo even slicker.
6. Paige 6-string Standard Guitar Capo
The best wraparound capo made in the USA
Specifications
Type:
Yoke-style wraparound
Suitable for:
Six-string electric and acoustic guitars
Reasons to buy
+
Slots around nut when not in use
+
Sleek design that goes unnoticed
+
Lightweight construction
Reasons to avoid
-
Requires two hands to operate
Wraparound capos have fallen out of favor over recent years with brands like Dunlop and Kyser focusing on spring-loaded trigger-style products. However, this wraparound offering from Paige gives the others a run for their money.
Featuring a centralized adjustable tension screw located at the center of the back of the neck, the front bar is evenly pulled, distributing the necessary amount of pressure needed to accurately fret each string. This design minimizes string pull, ensuring consistent tuning.
When not in use, the capo can rest discreetly on the nut, providing a useful place to store it. The capo itself has a sleek design that doesn't interfere with your left hand when playing, as other trigger-style capos can. However, due to its screw-on design, you'll have to use both hands when it comes to application, so it isn't the quickest option on our list.
Paige has stated that its capo works best on a fingerboard radius under 2 1/16", so make sure your guitar falls into this category if you are planning on picking it up.
7. Creative Tunings Universal SpiderCapo
The best for those needing creative inspiration
Specifications
Type:
Side-grip universal
Suitable for:
Six-string electric and acoustic
Material:
Stainless steel, aluminum
Reasons to buy
+
Opens up countless tuning variations
+
Compatible with all six-string guitars
+
Lots of creative possibilities
Reasons to avoid
-
May not be suitable for beginners
Whilst a standard capo can help breathe inspiration into your guitar playing, the Creative Tunings Universal SpiderCapo can open up a whole world of creative possibilities.
The SpiderCapo features six individually adjustable "fingers" that can clamp down on any chosen string. This provides a wide array of tuning options for you to explore. You can decide whether to leave a string open or fretted and discovering new tunings like this really switches up your playing approach. If you're tired of the traditional E-standard tuning, give this capo a try and experience something new.
Creative Tunings has designed this capo to fit on any six-string guitar, regardless of the fingerboard radius. This is down to its clever design; the capo has two clamps that can be adjusted, fastening onto the neck like a vice. Since it doesn't rely on a singular bar that rests across the fingerboard, you can use this with any 6-string radii you like.
If you're looking for inspiration with something a bit left-field, this is the perfect capo. However, it certainly isn't conventional, so if you'd prefer something more traditional and straightforward, check out the other capos on our list.
8. G7th Nashville Western
G7th's best option for capo changes at speed
Specifications
Type:
Spring-loaded trigger
Suitable for:
Six-string electrics and acoustic
Reasons to buy
+
Lifetime guarantee
+
High-quality materials
+
Very reasonable price for a G7th product
G7th is known for its quality, but sometimes this comes with a slightly higher price tag. So you can imagine how pleased we were when we discovered that the company's G7th Nashville Western trigger capo was priced under $25.
This offering from G7th focuses less on flashy gimmicks and more on delivering a reliable capo that is fast to apply and provides the correct amount of pressure to the strings. G7th took great care in achieving the correct tension in the spring to avoid over-clamping, and we found that it fretted well on both six-string acoustic and electric guitars.
The silicone pads felt soft and protective, and due to the spring pivot point being close to the guitar neck, moving the capo on and off was a breeze without requiring excessive force. If you register with G7th online, they will provide you with a lifetime warranty for your capo too – although we don't imagine many people will need to use it.
There's no messing about with this no-frills capo. It's ideal if you're looking for something of good quality that will last. Just be warned, if you lend it to a friend, chances are they won't want to give it back.
9. Kyser Quick-Change Capo for 12-String
The best option for 12-string players
Specifications
Type:
Spring-loaded trigger
Suitable for:
12-string electric and acoustic guitars
Material:
Aluminum, steel
Reasons to buy
+
Very powerful spring
+
Long top bar ideal for most 12-strings
+
Robust design built to last
Reasons to avoid
-
The spring is very strong, requiring the use of two hands
Kyser has been making capos out of Kaufman, Texas since 1975 and it knows a thing or two about getting it right. It's no surprise, therefore, to find one of its products on our list. The Kyser Quick-Change capo for 12-string is the best option out there if you're a 12-string guitarist.
Finding a capo that performs well on a 12-string guitar can be challenging. The strings require greater tension for even fretting, and the top bar needs to be longer to compensate. The Kyser Quick-Change capo offers exactly that.
Featuring an elongated rubberized top bar and a strong steel spring, this capo is our pick if you're on a 12-string. The spring is incredibly firm and it does a fantastic job of barring all of those extra strings. We found that the top bar is long enough to fit on most 12-string guitars, and the added lifetime guarantee shows that Kyser is confident in its durability.
One thing to note is that the strong steel spring makes it somewhat challenging to open the capo, so it will require two hands to operate. Additionally, the strong clamp will run the risk of pulling lighter gauge strings out of tune, so bear that in mind if you use light strings.
Best guitar capos: Buyer's advice
Does The Quality Of The Capo Matter?
A good-quality guitar capo will last longer even after heavy use, which means you'll need to replace the components less frequently, saving you money in the long run. However, the most crucial factor when purchasing a capo is its applicability to the guitar you'll primarily use it on.
Always check the fingerboard radius that the capo you're planning to buy has been designed for, as they can vary significantly. While most capos are designed to fit modern guitar radii ranging from 9.5" to 12", there are specialized capos available for different radii.
For instance, a classical guitar capo is flatter to match the traditionally flat fingerboard radius found on classical guitars. By choosing a capo that suits your guitar's fingerboard radius, you can avoid any potential difficulties.
What Style Of Capo Is Best For Me?
The best style of capo will depend on what you're seeking in terms of functionality. If you prioritize user-friendliness, quick application and removal, and reliability, then trigger-style, spring-loaded capos are widely popular. These capos are typically affordable and compatible with most acoustic and electric guitars.
However, if versatility is important to you, it's worth considering a capo with adjustable tension. A capo with adjustable tension allows for use across a broader range of guitars, as you can precisely adjust the pressure to suit the specific guitar you're playing. For example, a guitar with a heavier string gauge and higher action will require slightly more tension to minimize string buzz and ensure accurate intonation, compared to one with lower action and lighter strings.
Are Guitar Capos Suitable For Beginners?
Capos are an excellent accessory for beginners, offering several benefits that can enhance your learning experience. One of the key advantages is that using a capo doesn't require learning new techniques, providing instant gratification and boosting motivation for fresh-faced players. It allows beginners to utilize familiar chord shapes they already know and combines them with the capo to explore new sounds and variations.
For those who enjoy singing along while playing the guitar, a capo becomes a valuable tool for finding the right key that suits their voice. Additionally, many iconic songs, such as "Wish You Were Here" by Pink Floyd and "Hotel California" by The Eagles, incorporate the use of a capo. Playing along with your favorite tracks is one of the most enjoyable ways to learn the guitar and having a capo will allow you to do that.
If you've recently started learning the guitar, we highly recommend giving a capo a try. It's a small investment that can have a significant impact on your playing journey. So grab a capo, experiment with different positions, and explore the endless possibilities. We don't think you'll regret it.
How We Choose The Best Guitar Capos For This Guide
You can trust Guitar Player. Our expert reviewers spend hours testing and comparing guitar products so you can choose the best for you. Find out more about how we test.
At Guitar Player, we live and breathe everything guitar related. It's our passion and we certainly hope this passion comes through in our buyer's guides. Everyone at Guitar Player is an expert in their field and we draw on this knowledge and experience when selecting the products for our guides.
When choosing what we believe to be the best guitar capos available right now, we combine our hands-on experience, user reviews and testimonies and engage in lengthy discussions with our editorial colleagues to reach a consensus about the top products in any given category.
When making our lists, we pay careful consideration to everything from budget to feature set, playability and durability to come up with an accurate representation of the best guitar capos available right now.
Read more on how we test gear and services at Guitar Player.
Related Buyer's Guides
All the latest guitar news, interviews, lessons, reviews, deals and more, direct to your inbox!
Ross has been a music lover and guitar player since the age of 8. He has spent the five years since graduating from university working in music retail, selling guitars, amps and more. Ross is particularly interested in electric guitars, pedals and amplifiers and his current rig includes a trusty 2009 American Standard Stratocaster and Vox AC30S1 with a few Walrus Audio and Way Huge pedals in between. He currently writes for Guitar Player and Guitar World.