Best Guitar Picks 2023: Get To Grips With Your Playing With Our Top Choice Of Plectrums
Check out our favorite guitar picks that'll give you the edge when playing guitar, bass or acoustic guitar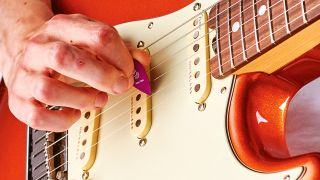 (Image credit: Future)
Unless you're using your fingers, the main point of contact between you and your guitar is your pick (or plectrum as its sometimes referred). While it's easy to just grab the first thing you find in a shop or borrow something from a friend, using one of the best guitar picks featured here could help improve your tone and your playing.
We carefully construct our rigs, choosing the best guitar, pedals and amp that our money can get us, so it's important to invest in one of the best guitar picks too. After all, this little bit of plastic is going to be instrumental in producing the sound you want to hear, so you want something you're comfortable with and yields a tone you like.
Different guitar pick materials can produce different sorts of sounds, which we'll detail below in our buying advice. There are also lots of different shapes and thicknesses that lend themselves nicely to different playing styles. For this guide we've chosen what we think are the best guitar picks out there for electric, acoustic and bass guitar.
Best Guitar Picks: Guitar Player's Choice
The best guitar picks will undoubtedly vary from player to player, but for that reason, we've put the Dunlop Tortex in the top spot. It's hard not to get along with these picks. They might not be perfect for everyone but most players would easily get through a live set with one. They're nice and grippy, sound great and glide over the strings easily – plus you've got plenty to choose from when it comes to gauges.
The Dunlop Jazz III is also hard to ignore. It's ubiquitous among rock, jazz, metal and seemingly every other type of player due to its nice attack and refined point. We also really like the Ernie Ball Prodigy picks, for something a little more adventurous.
Best Guitar Picks: Product Guide
The best all-round guitar pick
Specifications
Thicknesses:
0.6mm, 0.73mm, 0.88mm, 1mm, 1.14mm
Reasons to buy
+
Range of thicknesses
+
Great for all styles
+
Nice bright tone
+
Easy to grip
Reasons to avoid
-
Not particularly exciting
This might not be the most exciting choice for the no.1 spot, but for their versatility, durability and the fact that nearly every guitar player in the world has likely played with one at some point, it's hard to ignore the Dunlop Tortex picks.
Made from delrin, they've got a nice clear attack, but what sets these apart from many others is their matte finish which makes them very grippy, and also sound even better. These are durable picks, wearing down a little over time (this can be better than not wearing down at all, otherwise, you're wearing your strings out quicker). Even with the thicker picks, there can still be a bit of flexibility to them, while still being rigid enough. This helps lend a bit of leeway, particularly for heavy strummers.
It's a classic shape, that can be used comfortably for all kinds of player, whether that's electric guitars, acoustic guitars or even bass, plus the color-coding helps ensure you reach for the right thickness.
One of the best picks for accuracy
Reasons to buy
+
Accurate
+
Embossing helps grip
+
It's a classic
The Dunlop Jazz III is probably the most widely used pick outside of the regular shape that many of us probably learned to play with. It's favored by a wide range of players, but those who need a fast and accurate pick have looked to the Jazz III for its relatively small and pointy shape.
Its fine point allows you to pick out the strings you're seeking with ease, plus the nylon material helps it glide across strings so it doesn't feel like it's resisting or fighting against them, plus it adds a touch of warmth to your tone. Lead and rhythm players alike have gravitated towards the Jazz III for decades now and that doesn't look to be changing any time soon.
Beveled edges and a fine point make this a super accurate pick
Specifications
Features:
Sharp point, beveled edges, matte finish
Reasons to buy
+
Super accurate
+
Matte finish good for grip
+
Beveled edges
Reasons to avoid
-
Point too sharp for many players
The fine point on the Ernie Ball Prodigy makes this one of the more radical guitar pick choices on our, but it's found its way into the hands of many players recently and even converted some Jazz III enthusiasts. The point offers superb control and accuracy, allowing guitarists – particularly lead players – to pick out exactly the strings they need when performing at high speeds. The beveled edges feel great for both strumming and playing lead lines.
There are different shapes available, including one that isn't too far off the dimensions of a Jazz III, though we really like the standard as it offers the same kind of feel as a regular pick but with a finer and more accurate point. These are delrin picks but they've got a slight coating on them that makes them nice and grippy.
A grippy twist on a classic
Specifications
Thicknesses:
0.46mm, 0.71mm, 0.96mm, 1.20mm
Features:
Grip on one side
Reasons to buy
+
Classic pick
+
Nice and grippy
+
Bright tone
Reasons to avoid
-
Grip would be good on both sides
The celluloid Fender Wavelength 351 is an all-time classic. It's instantly recognizable having been around for years and the shape is exactly what comes to mind when you think of a guitar pick. The Fender Wavelength is essentially a classic 351 pick with a slight twist – it's got an embossed grip pattern on one side. This makes it perfect for gigging and recording sessions as you're less likely to drop it.
The material offers a fairly bright tone without being cutting, and it glides over the strings nicely. The rigidity of it may appeal to heavy strummers or if you choose a heavy or extra heavy thickness, then you've got a perfect pick for bass playing.
5. D'Addario Casein Wide 346
The best pick for those that want the sound of tortoiseshell
Reasons to buy
+
Great for flatpicking and mandolin
+
Lovely, warm sound
+
Good for those that like a wider pick
For players that prefer a wider pick and a warmer sound, the D'Addario 346 Casein Wide might be the perfect solution. As the name suggests, it's made from casein, which is the closest man-made material to tortoiseshell and it delvers a quick attack and a mellow and warm tone. It's also incredibly sturdy and durable.
The 346 has a nice right-hand bevel that helps glide across the strings easy and it's comfortable, whether you're flat-picking, strumming or executing tricky lead lines. It's one of the best picks for acoustic and mandolin players too, but you'll also see electric jazz guitarists and even heavier rhythm players using them.
Great for a nice, bright tone on acoustic and electric guitar
Specifications
Thicknesses:
0.88mm, 1mm, 1.3mm
Features:
Embossed logo grip
Reasons to buy
+
Sturdy and durable
+
Nice and bright
+
Feel great on the strings
Made from ultex, these Primetone picks from acoustic giant Taylor guitars are some of the best picks out there. As you might expect, they sound great with acoustic – they allow you to play very dynamically, offer great control and are really easy to grip, so are especially useful when playing live. They also sound great on electric, so players that play both will be at home with these.
They're durable so you won't be wearing them down in a hurry, even if you're a heavy strummer. The edges are shaped too, which helps yield a nice and even tone.
Speed and precision in a chunky glossy pick
Specifications
Features:
Sharp point, finger grip indentation
Reasons to buy
+
Some will love the thickness
+
Nice point
+
Indentation for grip
Reasons to avoid
-
Can be slippy if you sweat a lot
According to Dunlop, these picks are built for speed and precision and, once you get one in your hand and start playing speedy lead lines, you'd probably agree. The sharp point and beveled edges help you find and dig into the strings and get away quickly, though they're just as good for rhythm work too.
We also like the slight indentation for your finger that helps establish a connection between pick and player. The Ultex material will help brighten things up tonally as well as yield a quick and snappy attack. The gloss finish might not be for everyone, but they're one of the best picks out there.
8. John Pearse Fast Turtles
Tortoiseshell style warmth with three different playing edges
Specifications
Features:
Three different edges
Reasons to buy
+
Fast response
+
Warm tone
+
Three different edges
These slightly lopsided-looking things are some of the best guitar picks out there for speedy players that want the response and sound of tortoise shell-based picks. They have a nice, quick attack, plus they have three different sides that you can use in different playing scenarios.
The shape and material result in an accurate pick, plus with the three different sides, you can figure out how best to hold it for your particular playing style. Casein picks like these can help with retaining note clarity as well as lending a touch of warmth to an overly bright guitar. So if you're using 80/20 strings on an acoustic, these could be the perfect pick to use with them to keep that top end in check.
One of the best picks from an independent craftsman specializing in unique designs
Specifications
Features:
Hand made, beveled edges, fine point
Reasons to buy
+
Bright and snappy
+
Great shape
Zen picks are lovingly handmade in small quantities in the north of England. They've then found themselves in the hands of players around the globe, from session musicians in Hollywood, to blues virtuosos in Europe. The Zen Katana is a great example of this fine craftsmanship and boasts a familiar shape with a slight twist. It's not too far off a Jazz XL, though it's slightly longer with around the same width.
The point allows for incredibly precise picking and with a choice of materials (including casein, acrylic, galalith and more), you can choose the one that suits the tone you're after. We really liked the kirinite Katana pick as it yielded a bright and snappy tone with great attack. The beveled edges helped when strumming chords and also while performing quick lead lines, the pick gliding across the strings nicely, though should you wish to alter that, you can customize the bevel and the tip profile.
Best Guitar Picks: Buying Advice
What materials are guitar picks made of?
The material that guitar picks are made from can affect the tone as well as how comfortable they are to hold. There are some wild and wonderful materials used nowadays, but we've covered the main ones here. It's also worth noting these are generalisations – some players will have a naturally brighter or warmer sound due to the way they play and where they strike the string.
Delrin
Delrin picks tends to give a fairly bright tone and a strong attack. It depends on the gauge, but they're quite rigid too. You can also find coated options, like the Dunlop Tortex range, which helps them grip a little easier, otherwise they're quite smooth under the fingers.
Nylon
Nylon picks will usually yield a slightly warmer tone with a strong attack. When used in a certain way, you almost get a little compression while digging into the notes.
Ultex
Ultex picks are usually very stiff and rigid which leads to a bright and snappy tone. Even thinner gauge ultex picks can feel thicker than they actually are.
Celluloid & casein
Celluloid picks became more popular after the ban of tortoiseshell in the 1970s and they aim to replicate the warmth these picks produce. They're fairly smooth so there isn't much to grip on to but many players use them without dropping them. Casein picks get even closer to the sound and feel of tortoiseshell.
How important is the shape of my guitar pick?
One of the most important considerations to make when looking for the best pick for you is the shape, as this is going to affect how to physically connect with the thing. Choosing a shape that feels comfortable for you to hold and play with is important. It depends how you hold your pick, but if you like lots of plastic between your thumb and finger, then a pick with more body to it could work better.
The point is also important. Many players find that a finer point leads to greater accuracy, particularly when it comes to picking out individual strings. Something a little more rounded, like the standard pick shape tends to be a fairly good all-rounder, as the point allows for picking out individual strings, but it's wide enough to make strumming easy for most playing styles too. There are even picks that have different shaped sides, each one lending themselves to different playing situations.
Understanding guitar pick thickness
You can trust Guitar Player. Our expert reviewers spend hours testing and comparing guitar products so you can choose the best for you. Find out more about how we test.
The actual thickness, or gauge of the pick is very much down to personal preference. A thicker, or more rigid pick may offer more control, whereas a thinner or more flexible pick will have more give in it when strumming – particularly if you're doing fast, choppy funk rhythms. That said, going too thin may result in more pick noise, as you're not producing enough volume with the actual strings themselves.
Read more on how we test gear here at Guitar Player.
Related buyer's guides
All the latest guitar news, interviews, lessons, reviews, deals and more, direct to your inbox!
After spending a decade in music retail, I'm now a freelance writer for Guitar Player, Guitar World, MusicRadar and Reverb, specializing in electric and acoustic guitars bass, and almost anything else you can make a tune with. When my head's not buried in the best of modern and vintage gear, I run a small company helping musicians with songwriting, production and performance, and I play bass in an alt-rock band.