Best Classical Guitars 2023: Add The Dynamic Warmth Of A Nylon Guitar To Your Collection
From Taylor to Cordoba, Alvarez, Yamaha and more, these are the very best classical guitars on the market right now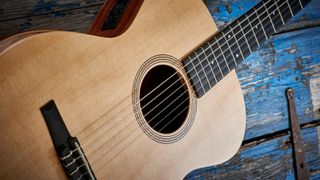 (Image credit: Future)
In the incredibly crowded world of acoustic guitars, even the very best classical guitars can seem to play second fiddle to their steel-strung counterparts – and that's something we'd like to see change. Don't get us wrong, we love the sound and feel of a traditional flat-top, but there's a dynamic quality to a nylon guitar that simply can't be denied.
Often seen as a niche, one-trick pony, the nylon guitar can be relegated to playing nothing more than classical, flamenco, and the odd bit of jazz, but in reality, it can do a whole lot more. These delicate guitars deliver a rich and mellow tone that will melt the heart of even the most discerning steel string fanatic – while also offering players a unique feel and a playing experience like no other.
Now, we must admit, we are using the term "classical guitar" fairly loosely here, as truthfully, this guide features traditional classical guitars as well as modern nylon hybrids and everything in between. So whether you're on the hunt for your first-ever guitar, a top-of-the-line nylon companion, or you simply want to add a little diversity to your current collection, this guide to the best classical guitars is for you.
Best classical guitars: Our top picks
When choosing the best all-rounder, it's hard to see past the Taylor Academy 12e-N. Admittedly, this may be an entry-level guitar in the Taylor catalog. Still, despite this, we found it offered an incredibly well-balanced tone and a neck that acoustic, classical, and electric guitar players will find more than comfortable.
Our second pick goes to the beautiful Cordoba C4-CE. This guitar oozes classical charm, while the solid African mahogany top delivers the crisp, articulate tone you've come to expect from a Cordoba instrument. Better yet, the C4 comes loaded with the Fishman Sonitone pickup system, meaning it's the perfect option for playing recitals, concerts, and recording.
Best classical guitars: Product guide & reviews
The best over-all
Specifications
Back & sides:
Layered Sapele
Fingerboard:
West African Ebony
Reasons to buy
+
Great value for money
+
Well-balanced tone
Okay, so when it comes to the very best classical guitars, your mind may not go straight to the El Cajon-based guitar giant – after all, the sun-kissed beaches of California are as far away from Spain as you can get. That said, for us, Taylor offers one of the best value-for-money options on the market.
The Taylor Academy 12e-N is designed to be an affordable and accessible nylon-strung guitar for those new to this style. With its super comfortable neck profile and trademark Taylor body shape, this guitar is a joy to play for either brand-new players or seasoned pros.
Better yet, the humble 12e-N comes loaded with Taylor's beloved ES-N pickup system, meaning this guitar is more than capable of taking to the stage.
Best for smaller players
Reasons to buy
+
Lightweight
+
Easy to play
Reasons to avoid
-
The pickup could be better
Don't let the small stature of the Ibanez GA35TCE fool you. This mighty classical packs a punch. Described as a "thinline" by Ibanez, this is easily one of the most comfortable nylon-strung classical guitars available right now – especially if you are coming from an electric guitar.
The sapele back and sides deliver a rather rich and mid-heavy tone, which pairs particularly well with the mellow nature of the nylon strings. So while the GA35TCE may look and play like a modern guitar, it more than delivers that mellow and dynamic tone you'd expect from a classical.
Like many of the guitars on this list, this Ibanez comes equipped with a pickup system. In this case, it's the AEQ210T preamp and tuner system. So if you fancy playing live or even recording, then the Ibanez GA35TCE is more than capable.
Best for playing live
Specifications
Top:
Solid A+ Sitka Spruce
Back & sides:
Dark Walnut
Reasons to buy
+
Impeccable build quality
+
Stunning amplified sound
Reasons to avoid
-
Not for for traditionalists
The first thing we need to mention about the Alvarez CC7HCEAR is just how well this guitar is put together. Constructed from rich and deep walnut and a solid A+ sitka spruce top, this guitar screams high-end, all without the expensive price tag.
The attention to detail here is second to none. From the gorgeous strip of ebony that runs down the length of its mahogany neck to its exquisitely carved arm contour and its traditional rosette, this classical guitar is a work of art.
Supplied with the prevalent LR Baggs StagePro Element acoustic pickup system, the Alvarez CC7HCEAR sounds just as good plugged in as it does acoustically – and that certainly can't be said about all electro-acoustic guitars.
Best for a mellow tone
Reasons to buy
+
Stunning looks
+
And the sound to match
Reasons to avoid
-
Some players may prefer more frets
This all-mahogany beauty is a classical masterpiece. Cordoba has struck gold with the C4-CE and we think it more than deserves a spot on our list of the best classical guitars.
Featuring a solid African mahogany top, this classical provides a crisp, eloquent tone that delivers plenty of volume and sustain – not something you're always guaranteed from a nylon-strung guitar. Combine this rich and inspiring tone with the slightly thinner 50mm-width neck and you get a guitar with playability to match its stunning sonic presence.
To top things off, we have the inclusion of the Fishman Sonitone active pickup system, meaning it's insanely easy to capture this impressive sound both live or in the studio.
Best for budget
Specifications
Back & sides:
Locally Sourced Tonewood
Neck:
Locally Sourced Tonewood
Reasons to buy
+
Very affordable
+
Great playability for the price
This super affordable classical option from Yamaha is ideal for those looking for their first-ever guitar. This full-sized classical model may not have the bells and whistles of others on the market, but it makes up for it with that famous Yamaha build quality.
With a comfortable, traditional classical neck profile and surprisingly balanced tone, the C40II impresses with the sheer value on offer here.
So, if you are in the market for a solid and robust guitar to get you or your little one started, then the Yamaha C40II could be the best option.
Best for electric players
Specifications
Back & sides:
Canadian Laurentian Basswood
Reasons to buy
+
Perfect for electric players
+
Very versatile
Okay, this quirky-looking Godin may not look like a traditional classical guitar, but that's the point – it's not trying to be a conventional nylon-strung guitar.
Designed to appeal to electric players looking to invite the distinctive sound of a classical guitar into their rig, the Godin ACS-SA is loaded with modern appointments. Featuring a slim profile neck, an electric-style body, and the inclusion of a 13-pin synth connection, this is not your grandpappy's classical guitar.
While this guitar is far from conventional, it is surprisingly versatile and flawlessly assembled.
7. Breedlove ECO Pursuit Exotic S Classical
Best for exotic tonewoods
Specifications
Top:
Solid Western Red Cedar
Back & sides:
Ecotonewood Layered African Mahogany and Myrtlewood
Reasons to buy
+
Very highly spec'd for price
+
Balanced tone
The Breedlove ECO Exotic S certainly lives up to its name, combining a stunning solid red cedar top with layered African mahogany and myrtlewood back and sides. This lovely combination of tonewoods results in a perfectly balanced sound with fantastic sustain and projection.
Featuring Breedlove's well-received Concert body style, this guitar is perfect for players more used to a steel-strung acoustic rather than the smaller bodies found on a conventional classical guitar.
The Pursuit Exotic S Concert Nylon CE also comes outfitted with the popular Fishman Presys pickup and preamp system, chrome closed gear machine heads and a Tusq nut.
8. Alhambra 7 C Classic Conservatory
Best for traditionalists
Specifications
Back & sides:
Solid Mahogany
Neck:
Mahogany Reinforced with Ebony
Reasons to buy
+
Solid cedar top and solid mahogany back and sides
+
Handmade
Reasons to avoid
-
The neck may be too wide for some
Alhambra was greatly inspired by the classical guitars of the 1970s, so much so they chose to recreate the style and vibe of those guitars with the 7 C Classic Conservatory.
This hand-made classical guitar sports a stunning solid cedar top, as well as solid mahogany back and sides, resulting in an instrument that is perfect for everything from flamenco and traditional Spanish music to classical and jazz.
The 7 C Classic also comes adorned with a melamine saddle and nut, which Alhambra believes dramatically improves the transmission of sound, resulting in better resonance.
Best classical guitars: Buying advice
What is the difference between a classical and acoustic guitar?
So, the first thing we need to point out is that classical and steel-strung guitars are both forms of acoustic guitar. They are simply variations of the same instrument. That said, there are a few key differences that make them look, sound and feel completely different.
The first and most obvious difference comes in the form of the strings. A classical guitar will come with nylon – or traditionally gut – strings. These specialist strings give the classical guitar its trademark mellow and warm tone. As well as its distinct sound, the nylon strings also drastically change the tension on the neck, resulting in a guitar with a lighter feel when compared to a steel-strung acoustic.
Of course, as the neck and top of the guitar don't have the deal with the excessive force of steel strings, the classical can afford to have lighter bracing. This results in a more delicate guitar that's insanely resonant and dynamic.
Lastly, a classical guitar will often have a broader and fatter neck. This neck shape is specially designed for fast flamenco runs and classical legato passages.
Are classical guitars only for beginners?
In a word, no. For some, the thought of a classical guitar conjures up thoughts of being back at school and learning to play on a cheap nylon-strung guitar with an action so high you could drive a bus between the strings and fingerboard.
Thankfully, not all classical guitars are born equal. For every nightmare-inducing classical, there are ten more fabulously crafted instruments that are a joy to play.
Now, you could certainly learn to play with a classical guitar, but that's not all they are for. In truth, a classical guitar produces a very distinctive and unique sound and if that's the tone you are seeking, then you need a classical guitar to achieve it.
For us, these warm and rich instruments are brilliant additions to any guitar collection and are a valuable thing to have in your home studio for bringing new textures and sounds to your tracks.
How we choose the products for our guides
You can trust Guitar Player. Our expert reviewers spend hours testing and comparing guitar products so you can choose the best for you. Find out more about how we test.
At Guitar Player, we live and breathe everything guitar related. It's our passion and we certainly hope this passion comes through in our buyer's guides. Everyone at Guitar Player is an expert in their field and we draw on this knowledge and experience when selecting the products for our guides.
When choosing what we believe to be the best classical guitars available right now, we combine our hands-on experience, user reviews and testimonies and engage in lengthy discussions with our editorial colleagues to reach a consensus about the top products in any given category.
When making our lists, we pay careful consideration to everything from budget to feature set, playability and durability to come up with an accurate representation of the best electric guitars available right now.
Read more on how we test gear and services at Guitar Player.
Related buyer's guides
All the latest guitar news, interviews, lessons, reviews, deals and more, direct to your inbox!
First and foremost, I'm a guitar enthusiast – a fanatic, some might say. I'm a firm believer that most of the world's problems can be solved with a Gibson SG and a catastrophically loud amp. Before writing about guitars for a living as a Senior Deals Writer on Guitar Player, I worked in music retail for 7 years, giving advice on guitars, basses, drums, pianos, and PA systems. I also have a passion for live sound; I'm a fully qualified sound engineer with experience working in various venues in Scotland.