Best Acoustic Guitar Strings 2022: Our Top Picks From Budget To Boutique
If you're serious about your unplugged performance, make sure you have a set of the best acoustic strings on your guitar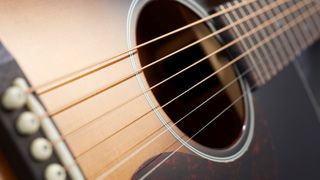 (Image credit: Future)
When you're playing acoustic guitar there's nowhere to hide, and that's why the sound of your strings is so important. When playing unplugged the dull sound of poor quality strings will become all the more obvious, particularly as you're not able to cover it up with swathes of distortion, chorus, and reverb. And that's why we've created this guide to the best acoustic guitar strings available today.
Although not the most expensive component of your guitar, your strings play a role just as critical as the resonance of the acoustic guitar top and its bracing pattern.
Choosing the best acoustic guitar strings for your genre of music and playing style is imperative to ensuring a positive performance. Here, we've rounded up our top recommendations, and we've included some useful buying advice at the end of this guide too.
Best acoustic guitar strings: Guitar Player's choice
Coming as standard on every acoustic made by giants of the acoustic guitar industry Taylor Guitars, Elixir's Nanoweb acoustic guitar strings take the top prize here. Combining long life with a rich and smooth sound, these coated strings are great for the regular player who wants to get the most out of their strings without having to replace them after every show.
In a close second, Martin's Authentic Acoustic 80/20 SP strings maintain a fantastic balance without compromising on tone. Coming from another legend of the acoustic guitar world, you're assured they'll withstand the demands of any player, whether you're flatpicking or fingerpicking.
Best acoustic guitar strings: Product guide
1. Elixir Nanoweb Acoustic Strings
For regular players who need a longer-lasting string
Specifications
Spec:
Steel core, phosphor bronze winding, nanoweb coating
Reasons to buy
+
Last for a long time
+
Great sound from the off
Reasons to avoid
-
Coated feel not for everyone
-
On the pricier side
Elixir's Nanoweb acoustic guitar strings offer brilliantly long-lasting performance that far exceeds the majority of uncoated strings available. We've heard players stating that these strings have survived regular play for six months!
In our experience, tonally speaking there's little difference between these and a set of uncoated strings and, if anything, the slightly lesser brightness when you first put them on is another advantage. It makes the strings sound as though they've been played in for a little bit, losing some of that super twangy tone you get with a new pair of strings.
Elixir Nanoweb sounds equally good with fingerpicking and flatpicking which is why they come as standard on all Taylor guitars. Although these are on the pricier side of things when it comes to acoustic guitar strings, the trade-off is not having to replace them so often, which more than makes up for the extra cost.
2. Martin Authentic Acoustic 80/20 Strings
Perfect for players who want a traditional, uncoated tone
Specifications
Spec:
Tin plated steel core, 80/20 bronze winding, uncoated
Reasons to buy
+
High tensile strength for durability
+
Great uncoated feel and bright sound
Reasons to avoid
-
Won't last as long as a coated string
-
Take a little while to settle in
When you've been making guitars for 180 years, it's probably safe to assume you know a thing or two about making strings as well. With Martin Guitars Authentic Acoustic strings, you're getting time-tested experience and quality when you string your acoustic guitar.
These are uncoated strings, so they have a brightness of sound that'll be familiar to any acoustic guitar player. We found them to balanced all across the frequency spectrum so you'll get a great response whichever register you're in, alongside great tuning stability.
The impeccable standards with which Martin guitars make all their instruments and accessories applies here too, and you'll find that these strings withstand a punishing amount of playing, surviving the harshest pick attacks with aplomb.
3. Ernie Ball Earthwood Acoustic Strings
The best acoustic strings for players who primarily use a pick
Specifications
Spec:
Tin plated steel core, 80/20 bronze winding, uncoated
Reasons to buy
+
Fantastic warm tone that's versatile
+
Very reasonably priced for the quality
Reasons to avoid
-
Tonality might not suit some finger pickers
-
Not the longest-lasting
Although Ernie Ball is primarily known for its 'Slinky' electric guitar string brand, the company also makes excellent strings for the acoustic guitar players out there. Combining years of experience manufacturing strings with some of the best materials available, these are a great choice for any kind of guitar player.
We found that sound-wise they offer a distinctly warmer tone than some of the others on this list. They are not overly bright when you first put them on like some acoustic guitar strings, which makes them great for regularly gigging guitarists as you don't have to spend so long breaking them in.
The tonality definitely makes them more skewed towards flat pickers and strummers, however, as the warm mellow tone might not be bright enough for fingerpickers to make themselves heard.
4. D'Addario Nickel Bronze Acoustic Guitar Strings
Loud guitar strings for ensemble players
Specifications
Spec:
NY steel core, nickel-plated phosphor bronze winding, uncoated
Reasons to buy
+
Work brilliantly with a full band
+
Hold their tuning excellently
Reasons to avoid
-
Not as durable as a coated string
-
Bright sound might not suit some acoustic guitars
D'Addario's Nickel Bronze Acoustic range offers a string that allows you to hear the natural tonality of your guitar and less of the string itself. They work fantastically well for a wide variety of playing styles, whether you're flatpicking and strumming or gently fingerpicking.
Due to the lack of coating, you may find these strings don't last quite as long as their coated cousins. That said, the price range of these acoustic guitar strings means that you'll probably end up spending the same amount no matter which you choose.
The sound of these strings comes from their nickel plating, which makes them great for playing with other instruments as they sit so well in the mid-range. We found they don't throw up as many overtones as some of the other strings on the list, giving them a very clear and defined sound.
5. Curt Mangan Acoustic Strings
Great for the player who wants to try something new
Specifications
Spec:
Steel core, phosphor bronze winding, uncoated
Reasons to buy
+
Awesome clarity
+
Make your own custom gauges
Reasons to avoid
-
Not the cheapest out there
-
Some strings feel very thick
Curt Mangan is a relative newcomer to the acoustic guitar-string game, but don't let that put you off trying a set. Curt himself worked at Ernie Ball for many years, so you can rest assured that he has plenty of experience in the industry.
These strings are handmade in the USA to very exacting standards, offering acoustic guitarists an extremely high-quality product. The ability to specify your own custom gauge on the Curt Mangan website also offers the flexibility you can't get with established brands.
In our testing these strings sounded great when we first put them on, without so much of that 'zingy' sound you often get from a new set. There's a nice shimmer in the high end that's not too bright, but not too warm, making them great all-rounders.
6. Fender Dura-tone Acoustic Strings
For those who want coated durability and great sound
Specifications
Spec:
Steel core, 80/20 bronze winding, Dura-tone coating
Reasons to buy
+
Fantastic durability
+
Outstanding price point
Reasons to avoid
-
Coated feel not for everyone
-
Packaging is a little basic
Fender needs little introduction when it comes to guitars, but its strings offer just as much quality as its instruments. Coming in at a brilliant price point, Fender Dura-tones offer a great introduction to coated strings for those who've never tried them.
It may take you some time to get your hand around the feel of coated strings – however, time is on your side as these are some of the longest-lasting strings we've tested. Subjected to a micro-treatment of coating, Fender estimates these will last you five times longer than an uncoated acoustic string.
They hold their tuning fantastically well with minimal stretching and the tonality is very bright, making them well suited to larger-sized acoustic guitars like dreadnoughts. They're very measured across the set in terms of tension, so chords feel great and every note rings out clearly.
7. D'Addario XS Phosphor Bronze Acoustic Guitar Strings
Long-lasting acoustic strings for players who gig regularly
Specifications
Spec:
NY Steel core, phosphor bronze, polymer coating
Reasons to buy
+
Excellent lifespan
+
Silky smooth feel
Reasons to avoid
-
On the pricier side
-
Coated feel not for everyone
D'Addario's XS range marks a fresh step for the company with an innovative polymer and ultra-slim coating for an outstanding playing feel. These strings offer the maximum lifespan of any D'Addario acoustic string thus far, making them a great choice for the gigging acoustic guitarist.
A hex-core construction ensures that your tuning stability is always on point, whilst intonation across the length of the string will never be an issue. The NY steel core gives outstanding durability too, so you'll be hard pushed to snap one of these.
In terms of sound, in our experience they offer a great balance between warmth and brightness, sounding balanced over the full set. The coating means you get less finger noise when sliding up and down the neck too, which is a nice bonus.
8. Rotosound TRU Bronze Acoustic Strings
A great option for beginner acoustic players on a budget
Specifications
Spec:
Steel core, 80/20 bronze winding, uncoated
Reasons to buy
+
Outstanding value for money
+
Great sound
Reasons to avoid
-
Won't last as long as a coated string
-
Might be too bright for some
Rotosound has something of a vintage image thanks to its association with famous acts of the '60s like Jimi Hendrix and The Who. But don't let that fool you into thinking they haven't kept up with the times. This British brand makes some of the best acoustic guitar strings around.
They include an extra high E string which is a nice touch for new players, who often overtighten strings when changing them for the first time. Despite this inclusion, these strings are still very durable and will stand up well to hard strumming.
As with most uncoated strings, they're very bright sounding and have an excellent balance across the set. They sustain really well too, thanks to their wound bronze-alloy construction made to a time tested recipe.
9. DR Rare Acoustic Strings
Great for electric guitarists making the jump to acoustic
Specifications
Spec:
Steel core, phosphor bronze winding, uncoated
Reasons to buy
+
Easy playing feel
+
Loud and warm sound
Reasons to avoid
-
Lesser tension not for everyone
-
Not the loudest
Many guitar manufacturers have seen the benefit of offering acoustic guitars that play like their electric brethren, but DR Strings has taken that mentality and applied it to acoustic guitar strings.
The low tension feel might be alien to those used to playing acoustic, but if you're primarily an electric player struggling to adapt, then these strings might well be for you. A different manufacturing process of wrapping these strings is what gives them their easy playability.
When fingerpicked, these strings sound phenomenally good and overall they have a very full sound. The lower tension also makes them easy to bend, so you can apply some of those electric guitar techniques to your acoustic.
10. Gibson Phosphor Bronze Acoustic Strings
For players who like their strings thick
Specifications
Spec:
Steel core, phosphor bronze winding, coated
Reasons to buy
+
Extremely long-lasting
+
Very balanced tonality
Reasons to avoid
-
Might be too hefty for some
-
Coated feel won't suit everyone
Gibson has produced some of the most outstanding acoustic guitars in the world with the legendary J-45 and the ever-present Hummingbird. That same diligence clearly applies to these incredibly well-made strings.
Developed by Gibson's master luthiers, these strings feel thicker than some of the others on this list, albeit only slightly. With that extra thickness however, there is a definite benefit in sustain, and the clarity of the sound speaks for itself when you start strumming. The warm and rich sound of these strings works fantastically well with dreadnought and jumbo-sized acoustic guitars in particular.
Overall the sound here is well balanced, with equal volume in the bass and treble strings. Once tuned up there is little stretching required, with all the strings holding their pitch exceptionally well.
Best acoustic guitar strings: Buying advice
What to consider when choosing the best acoustic guitar strings
Why you can trust GuitarPlayer Our expert reviewers spend hours testing and comparing products and services so you can choose the best for you. Find out more about how we test.
There are several elements you'll need to consider when purchasing a set of acoustic guitar strings. First and foremost is the material from which they are made. Typically these fall into two categories, 80/20 Bronze and Phosphor Bronze. There is also a third category, silk and steel, although these are few and far between, and seldom as often seen.
80/20 Bronze vs Phosphor Bronze
80/20 Bronze acoustic strings are so-called because of their composition. Made from 80% copper and 20% zinc, they offer a brighter tonality that highlights the upper registers of your guitar.
Phosphor Bronze is also a majority copper but contains some zinc and a small amount of phosphorous. This means they deliver a sound that's a bit richer and warmer than 80/20 acoustic strings.
Coated vs uncoated strings
Something else to take into account is coated versus uncoated strings. Coated strings have a thin layer of polymer on them, delivering extended life in comparison to an uncoated string as the polymer helps reject the acidic sweat of your hands that wears down your string normally. There is however a downside to the increase in lifespan, in that the coating process usually robs the strings of some high end and volume. It's not that these strings sound objectively worse, just that they sound and feel different.
Which string gauge do I need?
The last thing you'll need to contemplate is your string gauge which affects how your strings both sound and play. Thicker gauge strings are harder to manipulate but come with the benefit of increased sustain and volume. Thinner gauge strings are easy to play and bend but offer less projection. String gauge has a relationship with your guitar itself, as placing certain instruments under too much tension can actually result in a more muted sound, so experimentation here is key to finding your perfect match.
The beauty is that acoustic guitar strings are pretty cheap on the whole, meaning you can invest in a few pairs and see which ones you prefer.
Read more on how we test gear and service at Guitar Player.
Related buying guides