Best Martin Guitars 2023: 11 Top Choices From Budget To Premium
Considering a Martin? Here's Guitar Player's pick of Martin acoustics for every type of player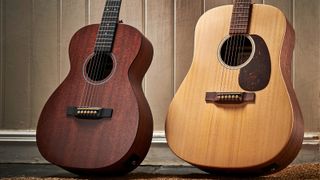 (Image credit: Future)
One of the oldest instrument manufacturers on the planet, Martin guitars are an icon of the acoustic guitar world. Having been building guitars for nearly 200 years, you can bet they know a thing or two about how a great acoustic is made. So whether you're brand new to guitar or a seasoned veteran, getting your hands on one of the best Martin guitars is a feeling quite unlike any other.
Responsible for shaping the design of the modern acoustic guitar as we know it, Martin has manufactured a fair few instruments in their time. This means picking out the perfect instrument for you can be difficult. So to make your decision easier, we've looked through their vast range to pick out the best of the bunch, whether you're a fingerstyle kind of player or you prefer the big body of a jumbo acoustic.
If you're new to Martin guitars or acoustic guitars in general, make sure to have a look at our buying advice section at the end of the article. For those who just want to get to the good stuff, keep scrolling for our top picks. We've arranged our guide in price order to make your search a little easier.
Best Martin guitars: Guitar Player's choice
For those on a budget, we'd recommend the Martin D-X2E. Part of Martin's budget-friendly X series, the D-X2E is a huge-sounding dreadnought which won't cost you the earth, and is ideal for any level of guitarist. A solid spruce top, eco-friendly HPL back and sides and onboard Fishman MX electronics mean that you'll be prepared for any musical situation.
If you've got a little more wiggle room on budget, then we'd suggest getting your hands on the Martin 000-15SM. It's an all-mahogany '000' sized guitar with a brilliant set of vintage-inspired specifications, including the slotted headstock and modified 12 fret design. Martin's 15 series came to be as a cheaper all-mahogany Depression-era alternative, but has found a very permanent place in Martin's product roster thanks to its great sound and looks.
If money is no object, then the Martin D-45 is the one to go for. The D-45 is the flagship dreadnought from Martin made from some of the very best materials on offer, and finished to the very highest level. If you want a combination of an unbeatable, huge tone, impressive looks and exclusivity, then the D-45 should definitely be on your radar.
Best Martin guitars: Product guide
1. Martin LX1 Little Martin
A little guitar with a big personality
Specifications
Body type:
Modified 0-14 fret
Back & sides:
Mahogany pattern high-pressure laminate
Fingerboard:
Morado/ East Indian Rosewood
Bracing:
Modified X series 'X'
Tuners:
Chrome w/ small buttons
Reasons to buy
+
Good enough for Ed Sheeran
+
Impressive tone from a small guitar
+
Really portable and convenient
Reasons to avoid
-
Feels small
-
Only a solid top
The LX1 Little Martin is an iconic guitar in Martin's product catalog. It might not be the most fancy or expensive model they produce, but the LX1 has gained its reputation as one of the most capable small acoustic guitars around – with Ed Sheeran as one of its most prominent users. The LX1 has proven itself to be near-perfect for beginners thanks to its reasonable price-bracket, or for those with small hands thanks to the diminutive size – but, in our experience, it can do a lot more.
It's small, compact and comfortable, and its price point makes it a guitar suitable for a whole array of occasions. Made from the same high quality Sitka spruce as some of Martin's higher-end models, the top on the LX1 is where the party's at. The combination of highly resonant spruce and mahogany-patterned high-pressure laminate affords the LX1 an impressive, punchy clarity which Martin guitars are known for, while the smaller body size keeps the low-end in check.
Yeah, the LX1 is small – and that's worth taking into consideration. A 23" scale length isn't for everyone, but on the whole there's not an awful lot wrong with the LX1. We found playing up in the fingerboard's higher register to be comfortable – and the lower string tension can open up real doors when improving your playing.
The archetypal 'dread' tone on a budget
Specifications
Back & sides:
Mahogany/rosewood/koa patterned high-pressure laminate
Tuners:
Chrome enclosed gear
Finish:
Natural, Sunburst
Reasons to buy
+
Spruce top is very resonant
+
Koa-patterned back and sides are lovely
+
Super comfy neck
Reasons to avoid
-
Body size can take some getting used to
Martin's X series of guitars has been one of their most popular in recent years. Players have been looking for a more affordable entry point into the world of Martin guitars, and the X series has provided just that. The level of quality is surprisingly high for the price-point – hence its inclusion in our guide.
The D-X2E is a spruce-topped dreadnought acoustic guitar which delivers a stunning low-end richness, perfect when accompanying a vocalist. The dreadnought body shape – being on the larger end of the spectrum – allows for much more resonance and volume, and the high-pressure laminate back and sides offer players a harder, less porous alternative to 'proper' wood. This enables the D-X2E to emit a brighter, more defined low-end tone.
The D-X2E is equipped with a set of Fishman MX electronics, making this guitar as perfect for the stage as it is for home use. The neck is comfortable, the level of finish is impeccable – what more could you ask for?
One for the road?
Specifications
Launch price:
$1,299/£1,299
Tuners:
Black enclosed gear
Reasons to buy
+
Price point is achievable for most
+
Koa back and sides look great
+
000 size is so comfortable
Reasons to avoid
-
Back and sides only a veneer
The 000-12E is part of Martin's Road Series of guitars, which, while still made in Mexico, represents a step up from the cheaper X series. The price point that the 000-12E sits within is a fair jump up from the aforementioned, but we think it's worth it.
The justification for the price increase between the X and Road series comes down to the quality of materials and the level of finish, with this 000-12E featuring a koa/mahogany back and sides – consisting of koa fine veneers bonded to an African mahogany core. This construction, when combined with the Sitka spruce top, delivers a balanced, sweet tone which is highly versatile – and the koa looks stunning in the flesh too.
With a 24.9" scale length, this guitar is slightly shorter than most others on this list, but the smaller scale and lighter string tension provide incredibly easy playability which is comfortable in virtually any musical scenario. The Fishman MX-T electronics onboard top this one off for us, enabling you to sound truly authentic when plugged in without any of the harsh top-end you'd expect from cheap electronics and pickups.
A radical new design takes us all by surprise
Specifications
Launch price:
$1,599/£1,595
Body type:
S-13 fret cutaway
Bracing:
Tone tension X brace
Reasons to buy
+
Design looks cool
+
So playable
+
Sounds amazing plugged in
We've got to say, this one surprised us. We all know Martin to be the company that sticks to classic, old-school designs. It's one of the many reasons we love the guitars that they produce. So, what if we told you that one of Martin's best new acoustic guitars was, in fact, a whole new design?
Well, that's exactly what's happened here with the SC-13E. An acoustic-electric guitar designed to do anything and everything, this model enables players to play lead lines comfortably at any position on the neck like you would on an electric guitar, as well as creating more tonal projection thanks to the asymmetrical body. This offset-style body encourages you to get more volume when plugged in by disrupting and eradicating feedback, so you can jam out knowing full well that you're not going to blow the speakers or upset too many members of the audience – although it depends on the song you're playing, obviously.
The cutaway at the 13th fret is a lead player's dream, with upper fret access a total walk in the park thanks to the patented Sure Align neck system. This guitar truly is the result of years of innovation and hard work, and it's paid off big time.
Read the full Martin SC-13E review
Martin's mahogany masterpiece
Specifications
Launch price:
$1,649/£1,625
Fingerboard:
East Indian rosewood
Tuners:
Golden age bright nickel side mount
Reasons to buy
+
Vintage vibe is great
+
Special 000 body is comfortable
+
So resonant
Reasons to avoid
-
Looks are an acquired taste
During the Great Depression of the mid-'30s, Martin chose to start making the 15 series. These cheaper, all-mahogany guitars were only introduced to boost sales and to keep them afloat during those difficult times, but people soon discovered how amazing they sound.
Now, the 000 body shape on this guitar looks slightly different to usual – and that's down to the 12-fret design. The 000-15SM is peppered with vintage appointments and accoutrements like this, and it's these special touches – like the slotted headstock – that make the SM such a killer guitar.
The adjusted body shape does have a small impact on the sound of this guitar, with the slightly deeper shoulders warming up the tone a little with a wave of fantastic harmonic resonance. Yeah, it's not the most versatile Martin on the market, but it does look pretty stunning.
Proof that you don't need frills to have a good time
Specifications
Launch price:
$2,599/£2,595
Bracing:
Forward-shifted X
Reasons to buy
+
It's a D-18
+
Spruce & Mahogany combo is iconic
+
Tonally next level
Reasons to avoid
-
Can seem expensive for a plain guitar
The D-18 is an icon in the entire world of acoustic guitars, let alone the Martin catalog. Huge names like Elvis Presley, Paul Simon and Kurt Cobain all chose the D-18 to be their dreadnought of choice, and we can see (and hear) why.
The D-18 consists of arguably the wood combination – spruce and mahogany. The Sitka spruce top opens up the top end of this guitar, while the mahogany – along with the cavernous body – delivers bags of low end roundness and warmth. Coupled with a healthy helping of volume, this design has proven its worth and earned a permanent spot in music history.
It doesn't look super flashy, granted, but that's really not what the D-18 is about. It's a dreadnought guitar, built to sound as good as is humanly possible for a reasonable price tag – and it achieves that target wholeheartedly. There's something really beautiful about the simplicity of the D-18 – you'll understand when you play one.
A recreation of an icon
Specifications
Launch price:
$3,199/£3,195
Back & sides:
East Indian rosewood
Bracing:
Forward-shifted X
Reasons to buy
+
Herringbone binding looks great
+
Rosewood back and sides sound wonderful
+
Ageing toner on the top is classy
Reasons to avoid
-
Doesn't look fancy enough for $3k+
The Martin HD-28 is effectively the updated, tweaked version of the regular D-28. Originally, all 28 series guitars from Martin had herringbone inlays – but in order to keep costs down, this was removed. The HD-28 sees this purely aesthetic (but stunning) feature return, along with scalloped bracing.
Atop the scalloped braces, the HD-28 features an aged Sitka spruce top which emits some of the most incredible top-end clarity you'll hear from any acoustic guitar. Although the HD-28 is a dreadnought and therefore has a huge amount of bottom-end, the balance of this guitar's tone is exceptional. This is partially down to the scalloped bracing allowing the top to resonate more freely, but also the East Indian rosewood which makes up the back and sides.
Martin claims that the HD-28 is 'music history made new', and we'd be inclined to agree. This guitar definitely feels like a useful and appreciated update to the D-28 – but is it better than the original? We'll let you decide.
8. Martin OMJM John Mayer
If you like to always have something different
Specifications
Launch price:
$3,999/£3,895
Back & sides:
East Indian rosewood
Reasons to buy
+
Low profile neck is ultra comfortable
+
Rosewood back and sides look and sound great
+
If it's good enough for John Mayer…
Reasons to avoid
-
It's not that different to a 000-28
The OMJM is the John Mayer signature OM guitar by Martin. OM stands for 'Orchestra Model', and these guitars are often lauded for their versatility and balanced tone. Perfect then for the guitarist who wants something that can do a bit of everything.
The OMJM is very similar to a regular 000-28, but with a few notable differences – the first and largest one being the use of Engelmann spruce over the usual Sitka. Engelmann spruce is harder, and as a result is a more resonant wood to use for guitar building. This will not only bring a bit more life to your playing, but will also make your guitar sound and feel a little more responsive than usual.
The back and sides are a classy East Indian rosewood, which provide ample warmth and depth to counteract the lively top wood that's in use here. Scalloped X bracing adds to this guitar's brightness and dynamism too – so the OMJM should be able to keep up with any musical scenario you throw at it.
A tone to die for
Specifications
Launch price:
$4,199/£4,195
Back & sides:
East Indian rosewood
Bracing:
Forward-shifted X brace
Reasons to buy
+
The sound is epic
+
The inlays are stunning
+
Not many of them around
The J-40 is an odd one out on our list. The only jumbo-sized Martin around this price point, there are many benefits to having a J-40, besides the fact that it's so pretty.
The first point for the J-40 is that it's one of the best sounding acoustic guitars on the market right now. The J-40 body shape is essentially a larger version of the 000, meaning that you get the ultra-balanced tone with all of the intricacies and subtleties, but also with extra volume and extra power. Every aspect of the tonal range is accentuated, which we think is killer.
The J-40 is finished to an impressively high level. With stunning inlays and gold open-geared tuners, and made from some very high quality spruce and rosewood, the J-40 just about covers everything for us. It's got looks, sound, exclusivity – we just need to start saving up.
10. Martin D-18 Authentic 1939 Aged
A blast from the past
Specifications
Launch price:
$6,999/£6,999
Top:
Adirondack spruce with VTS
Bracing:
Authentic 1939 Rearward-shifted X
Tuners:
Nickel open gear aged
Finish:
Vintage aged gloss
Reasons to buy
+
As close to a '30s D-18 as you'll get
+
Looks stunning
+
Adirondack spruce is rare
Martin's Authentic series contains some of the very best acoustic guitars money can buy, and the D-18 Authentic 1939 Aged is firm proof of that. At its heart it's a new guitar, but it looks and sounds like it's been played for over 80 years, with some incredible craftsmanship coming into play.
While this D-18, like all the others, is made from spruce and mahogany, the quality of the materials that have gone into this guitar are mind-bending. The top is Adirondack spruce with Martin's own VTS treatment, which removes moisture from the wood at very high temperatures, allowing the top to resonate as freely as possible, and to sound as sweet as a genuine vintage Martin might do. The look is that of a cool, worn D-18 which has seen the inside of a few smoky bars, and the light wear and lacquer-checking is a great touch.
The Authentic series is really an entire experience, where every intricate detail of a golden era Martin has been recreated for 'normal' people like us. It's a lot of money, don't get us wrong – but at this level it's as much about making an investment as it is about playing the guitar – and it's still cheaper than a legit '39.
Martin's flagship guitar blows minds… again
Specifications
Launch price:
$9,499/£9,500
Back & sides:
East Indian rosewood
Bracing:
Forward-shifted X
Reasons to buy
+
The inlays are stunning
+
It's the flagship model
+
A good investment
The D-45 is the Martin guitar to own. It's their flagship guitar with an exceptional and impressive level of finish, and it sounds incredible too. Still part of Martin's standard series, it's hard to understand how an acoustic guitar can cost nearly $10k, but we feel that Martin need not justify themselves on this occasion.
The D-45 is made like any other acoustic guitar, with a Sitka spruce top, east Indian rosewood back and sides, mahogany neck and ebony fingerboard. This combination of materials doesn't sound too inspiring, but the quality that we're talking about in this price bracket is the absolute best. This guitar is made only from Martin's finest stocks, and it shows in the look and the sound.
The D-45 sounds huge – there's no other way of wording it. The spruce/rosewood combination does most of the heavy lifting, along with the larger body size, and the forward-shifted scalloped bracing also allows for maximum resonance on this guitar's amazing spruce top. Paired with such incredible binding and inlays, this guitar looks and sounds like the very best.
Best Martin guitars: Buying advice
What To Consider When Buying A Martin Guitar
You can trust Guitar Player. Our expert reviewers spend hours testing and comparing guitar products so you can choose the best for you. Find out more about how we test.
Thankfully, there's not too much to think about when buying one of the best Martin guitars. They don't make any acoustic guitars that are particularly cheap, so you avoid sub-par materials and build quality with any guitar from their product list. Obviously, the more expensive you go, the better the materials and build quality are – so this is one of the areas where you should focus.
Why are Martin guitars so expensive?
Martin is best known for making premium acoustic guitars, but it is actually possible to get your hands on one on a budget. Starting at $399, the LX1 – Martin's cheapest full-bodied acoustic guitar – is a perfect guitar for a beginner or smaller player. Martin's Mexican-made guitars populate the sub-$1,000 section of the Martin product list, and they are all fantastic – but on some models, you'll only find a solid top, with the back and sides made from a high-pressure laminate (HPL). These guitars are still brilliantly resonant, and in some cases more durable than their all-solid counterparts, but they don't quite have the same vibe and feeling as an all-solid, USA-made Martin. That being said, there are few better acoustics you could buy for under a grand.
USA-made Martins start at around $1,500 with the 15 series, so if the country of manufacture is something you're precious about, then this is the place to start your search. All guitars from this point onwards are made entirely from solid wood, so you can expect the typical Martin resonance that they've become so well known for. Although the 15 and 17 series are killer guitars, Martin's famous D-18 comes in at not much more – around $2,600 – so if you're after an investment as well as an amazing guitar, then we'd start here.
From $3,000 to $5,000, every guitar you set eyes on will be a world-beater. In this price bracket, you've got some of Martin's most iconic models – most notably the D-28, OM 28 and J-40 guitars. It's virtually impossible to go wrong here, so it's just a matter of how much money you're willing to part with. The difference in quality between a $3,000 and $5,000 Martin is quite negligible, so go with whichever one you prefer the sound of – that's the most important thing at the end of the day, right?
Upwards of $5,000, and these guitars are in special territory. Most of these Martins are all about the looks and level of finish, with the D-45 being a prime example – thanks to its flashy rosette and inlays on the body and headstock. Martin's Authentic series, however, is all about the vintage vibe and sound. If that's what you want, nothing can compare to the Authentic series of guitars – except a genuine golden-era Martin, of course.
What Body Shape Do I Want?
Martins come in all shapes and sizes, so you shouldn't have too much trouble choosing the right one for you.
0/00/000
Martin indicates the body shapes of their smaller guitars with a certain number of '0's. It might look confusing, but it's very simple – 0 is the smallest, 00 is a bit bigger, and 000 is bigger than that. The larger the body, the louder and fuller the guitar will sound. Any of the '0' body shapes are ideal for finger-style players, as their tones are generally more balanced and the guitars themselves respond better to playing dynamics.
Martin's OM guitars, including the OMJM included in this guide, use a 000 body shape.
Dreadnought
Dreadnought Martins such as the D-18 and D-28 have a much larger, rich sound. The dreadnought guitar is considered perfect for singer-songwriters or those who want volume without amplification. The wider body shape allows for your tone to resonate more freely inside the body of the guitar, and the generally larger body allows for much more low-end to be produced. These guitars can sometimes feel uncomfortable for smaller players, but the tone is pretty hard to beat. It is worth noting that due to the extra low-end that is produced, if you want a super defined tone, then this isn't the body shape for you.
Jumbo
Martin doesn't make many jumbo sized acoustic guitars, but one of its staple plus-sized offerings is the J-40. The jumbo body shape looks a lot like the 000 from a distance, but up close you'll notice that all of the body measurements have been increased. This larger body size allows for the balanced tone of the 000 to be accentuated and augmented, with more low-end, and more high-end too. It's the ultimate Swiss Army Knife acoustic body size, but it is pretty big. If you're a small person, this could be a step too far.
Does the wood matter on an acoustic guitar?
When considering which wood you want your guitar to be made from, there are two areas to think about – the top, and the back and sides.
Now, the top of the guitar is the most important bit. It's where the strings meet the body, and as such it's the part of the guitar which resonates the most – so the top is where a very large proportion of your tone comes from. A spruce top – which is most common – will create quite a punchy, bright tone, and when combined with a mahogany or rosewood back and sides (or any darker wood, in fact) the tone becomes a little warmer and sweeter sounding.
If your guitar has a mahogany top, then your tone will sound less bright, and more mid-focused. A mahogany top is perfect on a blues guitar, and works especially well if you're after a slightly less in-your-face tone to your guitar.
How we choose the best Martin guitars
At Guitar Player, we understand the timeless appeal and impeccable craftsmanship of Martin guitars. With our dedication to providing valuable insights for guitar enthusiasts, we have meticulously researched and tested a wide range of Martin guitars to identify the best options available for you.
To compile our list of top Martin guitars, we combine our expertise, meticulous research, and insightful discussions with our editorial team. We consider factors such as tonal quality, playability, construction, materials, and historical significance, ensuring that we showcase the finest Martin guitars that resonate with musicians who appreciate the rich heritage and legendary sound of these instruments.
As passionate guitar aficionados ourselves, we recognize the allure of owning a Martin guitar, a symbol of exceptional quality and superb tonal characteristics. Whether you're a seasoned professional, a dedicated enthusiast, or an aspiring player, our goal is to provide reliable and informed recommendations that help you find the best Martin guitar that suits your musical aspirations and personal style.
Read more on how we test gear and service at Guitar Player.
Related buying guides
All the latest guitar news, interviews, lessons, reviews, deals and more, direct to your inbox!
James is a freelance writer and former Junior Deals Writer at Guitar World and MusicRadar. Before writing, James worked as a guitar salesman at a local music store, so he knows a thing or two about matching people with their perfect instruments. James also has experience working in other areas of the music trade, having briefly worked for online music distributor, RouteNote. James is a guitarist, bassist and drummer and has also toured the UK and Europe with his old band Hypophora.