Best Pedalboards 2023: 9 Of The Best Budget-Spanning Pedalboards To Help Organize Your Effects
Level up your rig and get the most out of your pedals with 'boards from the likes of Pedaltrain, Temple Audio and Friedman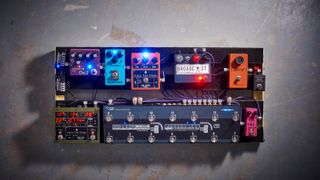 (Image credit: Future)
Whether you're just buying your first pedals or expanding your collection of stompboxes, you need one of the best pedalboards to ensure your effects are in order. Nothing makes us wince more than a bunch of indiscriminately arranged pedals that move around as a guitarist attempts to stomp them on a dark stage. All the pros use a pedalboard, and you should too.
Not only does a pedalboard make your performances easier, but they also ensure less stress during the changeover, as you can quickly set your stompboxes up on stage, leaving more time for tuning and other tasks. Pedalboards are available in a whole range of different sizes and configurations, so no matter what your requirements from your effects there will be a 'board that's just right for you.
Using our years of experience playing live, we've collated all the top-choice pedalboards available today. If you're new to purpose-built pedalboards then have a look at our buying advice section for more information. For those who just want to get their 'boards in order, keep scrolling for our top picks.
Best pedalboards: Our top picks
Picking the best pedalboard is a nigh-on impossible task, but our favorite 'do-it-all' option has to be the Pedaltrain Novo 18. It's lightweight, big enough to fit a serious amount of pedals on, tall enough to mount a power supply underneath and comes with either a soft or hard case - so your prized collection will stay safe and secure. For those who just want really solid build quality at a reasonable price, the Novo 18 is our choice.
For those who've got the cash to splash, there are many routes you can take - but we think your best bet is a Boss BCB-1000. The suitcase-style design makes transport super easy, and the heavy duty molded outer offers lead-lined-refrigerator levels of protection. Small, thoughtful touches like an I/O junction box and space underneath for cable management and a power supply make this option from Boss a firm favorite.
Best pedalboards: Product guide & reviews
The best pedalboard for value for money
Specifications
Material:
Aircraft-grade aluminum
Case:
Yes, soft case & hard case available
Dimensions:
45.7cm x 36.8cm x 8.9mm
Reasons to buy
+
Ample space for most pedal rigs
+
Lightweight aluminum construction
+
Hook & loop included
Reasons to avoid
-
Mounting some power supplies underneath can be a task
The Pedaltrain Novo 18 sits within Pedaltrain's mid-range selection of pedalboards. It's a five rung, aircraft-grade aluminum construction, so capable of taking between 8-10 standard sized pedals, depending on how brave you're feeling. The all-aluminum construction also makes the Novo 18 incredibly lightweight, so even loaded up with your pedals, transport is the least of your worries.
If over-stretching your feet and ankles to get to a pedal at the back is of major concern, then Pedaltrain has a selection of pedal risers available. Luckily, they're fairly inexpensive and can offer valuable assistance when trying to avoid mashing buttons and other controls.
One thing to take into consideration is the power supply situation. Some pedalboard power supplies will mount underneath with absolutely no problem. In fact, Pedaltrain even sells a power supply bracket for various different brands and models. However, if you don't own one of those, then it may be time to get creative - or just mount it on top. Doesn't look quite so pretty, but does the job nicely.
Playing a show or going on vacation?
Specifications
Material:
Aluminum & ABS plastic
Case:
Suitcase style hard case
Dimensions:
55.8cm x 35.4cm x 19.4cm
Reasons to buy
+
Room for loads of pedals
+
Suitcase wheels are very convenient
+
Well built
It's only right that the pedal experts themselves get to have a go at pedalboards, and Boss do not disappoint with the BCB-1000. It's by no means the first BCB pedalboard we've seen from them, but perhaps the best to date.
Made from a combination of aluminum and ABS plastic, the BCB-1000 offers maximum protection to your prized pedals, all while remaining fairly lightweight. Granted, it's heavy compared to some of the other 'boards on this list - but just look at it. It's not designed to be the slight, slender option. Boss has designed the BCB-1000 for artists who travel, and throw their gear in and out of vans, planes, cars and venues for fun. It's even been designed to fit on any flight as hand luggage, so TSA won't feel the need to demolish your signal chain.
We would usually say that this kind of pedalboard is a little bit too much, a bit excessive, perhaps - but we kind of feel like that's the whole point. It's for those who feel like that a great big metal flight case just isn't obvious enough. This offering from Boss however, is still lighter and easier to transport than many flight-cased alternatives.
Don't like velcro? This is the 'board for you
Specifications
Dimensions:
45.8cm x 21.6cm x 6.6cm
Reasons to buy
+
Looks fantastic
+
Perforated panel reduces weight massively
+
Very affordable
Temple Audio has pulled it out of the bag here with the Solo 18. With the ability to fit up to 10 effects, the Solo 18 is again the perfect size to host most rigs. Made from strong, durable aluminum, the Solo 18 weighs less than a kilo - so you won't be suffering after load-in.
The perforated top surface means that hook & loop probably won't do the trick of holding your pedals, but Temple Audio has come up with a brilliant solution - the 'Pedal Plate'. Just mount the plate to the bottom of your pedal, position it as you wish and then screw in the thumb screw. This is ideal for a few reasons, one being that your pedals won't have tape residue all over the back, and that your board won't collect all the dust, pet hair and other grossness that hook & loop seems to accumulate.
The Solo 18, like all Temple Audio 'boards, features slots on either end. These are designed to accommodate for Temple Audio's optional extra 'modules' which include buffered and non-buffered inputs and outputs, a DI module, power supply module and a power amp module among others. It frustratingly doesn't come with a case as standard, but they are available separately or as part of various bundles.
Big possibilities with a small footprint
Specifications
Material:
Aircraft-grade aluminum
Dimensions:
50.1cm x 15.8cm x 11.4cm
Reasons to buy
+
Compact and lightweight
+
Comes with a case
+
Really affordable
Reasons to avoid
-
Not enough clearance underneath for power supplies
Pedaltrain's second appearance in this list, the Nano Plus is a much more compact option - as the name would suggest. Not quite the smallest 'board in the range, the Nano Plus will accommodate five or six pedals - ideal for those who like to keep their rigs simple. Another aircraft-grade aluminum offering, the Nano Plus is tough and durable, but still lightweight.
One of the Nano Plus' biggest selling points for us is the fact that it is so damn cheap. A pedalboard, case AND extras for the price of a second hand Boss pedal is impressive to say the very least, and makes the sometimes exclusive world of pedals and pedalboards very accessible for those just starting out or working on a smaller budget.
The only downside of the whole Nano range is that they aren't angled like the larger Pedaltrain 'boards. This makes mounting power supplies underneath a pretty challenging task, as you'll either need to do some DIY, or spend extra on a slim power supply.
The latest offering from the lords of durability
Specifications
Material:
Anodized aluminum
Dimensions:
45.7cm x 31.2cm x 9.3cm
Reasons to buy
+
Looks slick
+
Angle is greater than some other 'boards
+
Lightweight
Reasons to avoid
-
Quite expensive for a small pedalboard
As soon as you hear the name MONO, you know you're in for a treat. Best known for exceptionally hard-wearing and protective cases, the MONO pedalboard continues that bloodline of strong, sturdy and reliable gear.
You can fit between six and eight pedals on the small pedalboard (the one we're referring to), and it's lightweight anodized aluminum construction and included MONO soft case means that it's a pleasure to transport, with the knowledge that it'd take a lot to damage any of your prized possessions within.
The downside is that compared to options like the Temple Audio Solo and Pedaltrain Novo, it's pretty pricey. For what is essentially a sheet of metal bent a few different ways, you're definitely paying more than we'd hope or expect. That being said, the included bag is by far the best on this list - so it may not be so unfairly priced after all.
6. Friedman Tour Pro 1525
One of the most aesthetically pleasing 'boards around
Specifications
Dimensions:
63.5cm x 38.1cm
Reasons to buy
+
Looks smoooooth
+
Riser included for wah or exp pedal
+
Comes with a gig bag
Reasons to avoid
-
More expensive than similar 'boards
Friedman is obviously an iconic name in electric guitar and guitar amplifier manufacturing, and if they can do that well? Well, we can certainly give them a chance to prove themselves with the Tour Pro 1525 pedalboard.
Most of the time, organizing your pedalboard is a straightforward and joyous experience - that is until you try and fit a wah on there. The 1525 is a two-tier setup, so would usually be considered a wah user's worst nightmare - but it includes a detachable riser to allow you to position your wah or volume pedal with relative ease.
Friedman has also provided various different bundles and other optional extras to help you make this pedalboard truly your own. Options include the ultra-transparent Friedman Buffer Bay 6 for an extra $70, while you can get that plus a Power Grid 10, powering up to ten effects and designed as an extra riser, all for $569. It's a hell of a lot of money, granted - but you won't be left wanting or needing any more. Potentially because you can't afford any more, though.
7. Voodoo Lab Dingbat Medium
A solid choice for those that like a mounted power supply
Specifications
Material:
6061-T6 aircraft-grade aluminum
Dimensions:
55.9cm x 34.3cm
Reasons to buy
+
Has dedicated power supply mounting
+
Really solid build
+
Can be shipped with a power supply
Reasons to avoid
-
Gig bag has no compartments to store extras
The Voodoo Lab Dingbat is available in three different sizes, although we've gone for the 'medium' here. It's the perfect size to fit six to 10 pedals (depending on what you've got in the signal chain), making the 'medium' a fantastic choice for most. Using the hook & loop provided, your pedals will be bank vault levels of secure, and the durable soft bag included makes transporting your pedals a stress-free experience.
Power supplies can be mounted on top or below the Dingbat, and Voodoo Lab offers a few different bundles with power supplies included. You can go for either the eight-output Pedal Power 2 Plus and Pedal Power 4x4, or a 12-output Pedal Power MONDO. All of these options can be mounted underneath the 'board using the mounting hardware included - but you'll need a screwdriver.
Although offering easy transportation and a decent amount of security, the provided gig bag doesn't include any pockets to store extra patch cables, power supply cables and other accessories. Not a huge deal, we know - but something to take into consideration if your guitar case also suffers from a lack of storage compartments.
8. Fender Professional Pedalboard
A lightweight option with easy cable routing
Specifications
Material:
Anodized aluminum
Dimensions:
24 x 12.8 x 2.95"
Reasons to buy
+
Clever cable routing
+
Lightweight design
+
Super durable
It's been a while but Fender has finally entered the world of pedalboards with a lightweight and durable design. The Fender Professional Pedalboard features integrated cable routing for easy organization and comes in three different sizes for small and large pedalboard collections.
Made with machined aluminum it's got a low-profile design but is surprisingly strong considering the thickness. Compared to other pedalboard designs it looks and feels a lot more dainty but it's very rigid once you get your hands on it and will easily put up with the stresses of the road.
Fender includes a soft case with it so you can take it to shows from the off and also packs cable ties and clips, which makes cable management a breeze. Integrated routing and a dedicated power supply ensure that everything will look neat and tidy, making it a great option for players who want to keep a clean look.
Accessory veterans level up their pedalboard game
Specifications
Material:
Plywood & aluminum
Case:
Tour-grade flight case
Dimensions:
71.1cm x 39.4cm x 19cm
Reasons to buy
+
Retractable trolley handle
+
Solid flight case
+
Extra space underneath the board for cables and accessories
Reasons to avoid
-
Massive, and pretty cumbersome
Gator's G-Tour Large is exactly that. With space for up to 14 regular sized pedals, this offering from Gator has a larger pedal capacity for those that need a few too many pedals in their chain. It's a super solid, durable pedalboard with two heavy-duty carry handles on either side, and although it runs the risk of looking pretty crude, the G-Tour Large does exactly what it needs to do - no more, no less.
Internally, the 'board and your pedals are caressed with shock-absorbing EVA foam to make sure that your setup can withstand even the most rigorous of touring schedules and situations. Underneath the 'board there's ample space to store extras and other accessories, which is something that is not often taken into consideration with hard cases. Knowing that you've got everything you might need in one incredibly secure and durable case is a definite bonus.
The G-Tour Large is like we said, large. Very large, in fact. If you're driving to your own gigs, have a band van or just have an incredibly large amount of patience with public transport, then you shouldn't find too much of an issue with the size - but you can dream on if you think you're getting this into the cabin of an aircraft. Prepare for TSA to have a field day on your prized possessions.
Best Pedalboards: Buying advice
What is the point of a pedalboard?
Pedalboards serve one very important and obvious purpose - keeping your pedals nice and neat and all in one place - but using one of the best pedalboards to neaten up your rig can have some significant knock-on effects on your playing.
Our first (and possibly the most important) point is that using a pedalboard to organize your pedals is just downright convenient! There's nothing more frustrating than having to set up your pedals one by one, arranging them on the sticky floor of some dive bar. Your pedals are not only an important part of your tone, but they're also probably the result of your hard work - and they deserve to be kindly mounted on a purpose-built platform, high above the beer puddles.
Having all of your pedals ready to go also streamlines your setup time, leaving more time for warm-ups or grabbing a drink - whichever is your pre-gig ritual.
Will a pedalboard make me sound better?
This might be a little more farfetched, but bear with us. We're not saying that a Pedaltrain has better tone than a Friedman, but more the fact that you might sound better with a pedalboard than without. This mostly comes down to the stress that constant setting up and packing down can have on cables, power supplies, and the jack sockets on your pedals themselves. Less plugging in and unplugging means less potential wear on your gear, and therefore you'll achieve a better connection, with less signal degradation.
Will a pedalboard make me play better?
We all know that playing a show isn't just about nailing your parts. It's about putting on a performance for those in the audience - and you're much more likely to do that if you've got more confidence in your gear. If you're worried about your pedals slipping around, getting unplugged or damaged, then you won't be focused on your performance - and that can let the whole show down. At the end of the day, having ultimate faith in all of our gear can allow us to play to our full potential.