Best wireless guitar systems 2023: cut the cord with these stellar wireless systems for guitarists and bass players
Ditch the cables with our pick of wireless systems from Boss, Line 6, AKG, Behringer, Sennheiser, NUX and more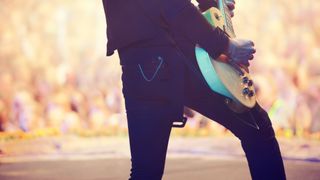 (Image credit: Getty/PeopleImages)
A traditional guitar cable can't contain some guitarists' larger-than-life personalities and over-the-top performances. Their energetic stage shows wouldn't be as electric if they had to be shackled to their amplifier with any length of cable. Luckily, with the invention of the wireless guitar system, they could fly around the stage with ease, cutting the cord on a bland performance. We've put together this guide to the best wireless guitar systems so you, too, can be saved from the restricting nature of the humble guitar cable.
Better yet, these wireless guitar systems are now more accessible and affordable than ever before, meaning you can give a stadium-quality performance on a bar gig budget. In this guide, you'll find inexpensive options from NUX and Behringer, as well as professional grade units from pro audio titans Shure and AKG, and even pedalboard-friendly devices from Boss and Sennheiser.
We understand choosing the best wireless guitar system for you can be difficult and a little daunting, so we've added some in-depth buying advice at the end of this article to help walk you through the process of purchasing your wireless system.
Best wireless guitar systems: Our top picks
If we could only recommend one system, it would have to be the Boss WL-50. Like other Boss products, this wireless guitar system is built to last, simple to use, and affordable – what more do you need? Better yet, with ultra-low latency, a full frequency response, and a praiseworthy 65-foot of range, this system can more than hang with the more premium options on this list.
For those on the hunt for a uber basic, no-fuss option, then the NUX C-5RC is the system for you. This bug-style system from the budget pedal gurus boasts low latency, low noise, low interference, and high bandwidth transmission, all at a very reasonable price.
Best wireless guitar systems: Product guide
1. Boss WL-50 guitar wireless system
Is the king of compact pedals now the king of wireless systems?
Specifications
Range:
65 feet line-of-sight
Frequency response:
20Hz - 20kHz
Reasons to buy
+
Simple to use
+
Pedalboard friendly
+
Robust
Reasons to avoid
-
Some may prefer a more basic approach
When it comes to music gear, Boss has to top the list for reliability. Whether it's a compact stomp box, a masterfully designed modeling amp, or, indeed, a wireless guitar system, their units are built like tanks – able to withstand anything you throw at them.
The Boss product we're looking at today is the WL-50, which was specifically developed for pedalboard players. Housing brand-new Boss tech, the WL-50 offers 65 feet of range, extremely low latency, and a very respectable frequency spectrum.
Of course, with this system being conceived by the world leader in pedals, you also get a few welcome extras such as a compact form factor, an onboard docking port for charging the transmitter, and a DC output, which allows you to power a few extra stomps on your board.
Line 6 proves a professional quality system doesn't need to cost the earth
Specifications
Frequency response:
10Hz – 20kHz
Reasons to buy
+
Lightweight transmitter
+
Cable tone selector
Reasons to avoid
-
Not the most seamless system
As well as offering a top range of multi-effects pedals, digital amps and one of the best delays on the market, Line 6 also offers a full scope of wireless guitar units, too. With Relay G30, G50, G55 and G90 in their lineup, there's a unit for every situation.
For this list, we've decided to opt for the Relay G30, as we believe it offers the most bang for your buck. This lightweight system is encased in a rugged polycarbonate shell, making it able to hold up to the harsh conditions of the road.
So, if you are looking for a very reliable wireless system that is simple to use and won't break the bank, the Relay G30 might just be the best option for you.
A truly pro option
Specifications
Frequency response:
50 to 15,000 Hz
Reasons to buy
+
One touch Quickscan
+
14-hour run time
+
100-meter range
It makes sense if you want truly outstanding live sound that you'd go to a pro audio specialist, and that's exactly what you get with the Shure BLX14. Okay, this unit from Shure isn't exactly the cheapest on this list, but it does seem you get what you pay for.
Delivering up to 14 hours of continuous use with AA batteries and an operating range of up to 100 meters, this system will handle myriad different venues and situations. At the same time, the hardy bodypack transmitter will endure even the most enthusiastic performance.
The brilliantly designed BLX4 receiver includes the One Touch-QuickScan feature, which, as the name suggests, allows for effortless connectivity – meaning you never need to worry about linking to a weak frequency.
4. AKG WMS 40 Mini Instrument ISM2
A reasonably priced wireless from a pro audio specialist
Reasons to buy
+
30 hours of use
+
Mute switch
Reasons to avoid
-
Not as pedalboard friendly as the others
Setting out to create a "true plug 'n' play wireless solution," AKG's WMS 40 Mini Instrument ISM2 is a brilliant unit for those who want to avoid the faff of setting up this sort of device. At the end of the day, we aren't all audio engineers – we just want to plug in and rock!
Well, thankfully, the AKG offers just that. With a professional 3pin mini XLR connector, the PT40 Mini body-pack transmitter is compatible with electric guitars, bass guitars, headsets and instrument mics – meaning it's appropriate for many different musicians.
Better yet, with 30 hours of use – off a single AA battery, no less – the AKG will even keep on rocking through your never-ending, experimental jam sessions.
Wireless systems don't come much simpler than this
Specifications
Audio quality :
24-bit 44.1 KHz
Reasons to buy
+
Small bug-style design
+
Plug and play
Don't let its tiny size fool you. This petite, discrete system from NUX gives the big dogs a run for their money. Operating on 5.8GHz, the C-5RC won't compete with other common household wireless devices such as Wi-Fi routers, Bluetooth, and cordless phones – which run the more typical 2.4 GHz frequency.
The NUX C-5RC also delivers 24-bit, 44.1kHz audio quality and can work up to 100 feet away – not bad for such a simple device.
Included with the system is a portable charge station that provides up to 15 hours of battery life, meaning you can recharge at the gig!
6. Sennheiser XSW-D Pedalboard Set
The ultimate pedalboard wireless system
Specifications
Latency:
Very low latency
Reasons to buy
+
Built-in pedal tuner
+
Up to 250ft
Reasons to avoid
-
Overkill for some players
When it comes to pedalboard wireless solutions, you'll be hard-pressed to find a better example than the Sennheiser XSW-D Pedalboard Set. To be fair, that's hardly surprising, considering Sennheiser makes some of the most renowned wireless microphones, headsets and headphones in the world.
This being said, world-class wireless technology isn't what sets this system apart from the rest. Rather it's the special functionality specifically designed for guitarists that got us interested in this unit.
Namely, the purpose-built case that makes it pedalboard friendly and the incorporated tuner means it isn't just dead space on your 'board. Now, of course, with this being a Sennheiser wireless system, you get a one-touch set-up, 2.4 GHz digital transmission for worldwide operation and a whopping 250ft of range.
7. Behringer Airplay Guitar AG10
An affordable and simple-to-use option
Reasons to buy
+
Very affordable
+
100 feet of range
Reasons to avoid
-
Not the sturdiest unit out there
Behringer are a leading force in affordable music gear, be that overdrive pedals and portable PA systems, synthesizers and other accessories. Of course, that extends to wireless systems, with the Airplay AG10 offering outstanding value for money.
Like many of the other options on this list, the AG10 is truly plug-and-play – clearly, we guitarists like things as simple as humanly possible. As well as simple operation, this nifty wireless also offers ultra-low latency of around 5ms, 6.5 hours of battery life and around 30 meters of range.
So if you are looking for a cheap as chips option that certainly won't break the bank, you'll want to check this one out for sure.
The shred titans know how to make a quality wireless
Specifications
Audio quality :
4-bit/44.1kHz
Frequency response:
20Hz - 20kHz
Reasons to buy
+
Affordable
+
24-bit/44.1kHz audio quality
+
Less than 5ms of latency
Reasons to avoid
-
There are more professional options available
Yeah, sure, Ibanez may be better known for shred-worthy axes and the mighty green box of tone, but they actually make a rather impressive wireless unit, as well. Like the NUX and Behringer, this Ibanez unit opts for a "bug" system, which makes it very quick and easy to set up.
Now, where it differs from those other models is the Cable-Tone Mode which is specially designed for passive pickups and emulates the tonal elements of a 10-foot guitar cable – meaning you don't need to compromise on tone just because you want to be able to use the full length of the stage.
Other specifications include 24-bit/44.1kHz audio quality, less than 5ms of latency and four hours of continuous battery use.
Best wireless guitar systems: Buying advice
What is a wireless guitar system?
In a nutshell, a wireless guitar system allows you to play your electric guitar, acoustic, or bass through an amplifier, well, wirelessly.
Okay, yeah, you already knew that – but how does it work? Well, all wireless systems have to contain two main elements: the transmitter and the receiver. The transmitter will plug into your instrument – just as a normal cable would – and the receiver will go into the amplifier.
There are many different styles of wireless units – as you can see from this guide. The most basic is the dongle – or bug – style, which is just about the simplest out there. These units tend to pair automatically and simply plug into your guitar and amplifier just like a cable, with no need for extra equipment.
The next type is the more traditional belt pack and stand-alone receiver, such as the Shure BLX14 and AKG WMS 40. These tend to be more professional but do require a little more set-up. These wireless systems plug into the guitar via a short cable, with the transmitter attaching to your guitar strap, while the receiver can sit nicely atop your amp, connecting via another small cable.
The last type is the pedalboard-friendly systems, which are specifically designed to integrate seamlessly with your current live rig. These are great for live musicians and take a lot of the fuss out of setting up a professional system – not to mention some even have built-in tuners and mute switches!
Do wireless guitar systems affect the tone?
You can trust Guitar Player. Our expert reviewers spend hours testing and comparing guitar products so you can choose the best for you. Find out more about how we test.
While it's true that some inferior wireless systems can alter your tone, if you invest in a good quality unit, this shouldn't be the case. Many systems on the market these days offer "cable emulation," meaning your audience will be hard-pressed to hear a difference.
Heck, you never know, your wireless could end up being your "secret weapon" just like everyone's favorite hard-rocking school boy, Angus Young.
What should I look for in a wireless guitar system?
When it comes to choosing the best wireless guitar system for your needs, there are a few things you'll want to consider.
Range
The first and most important is the range of the wireless system. Each unit will have a different distance it will cover, so do your research before you make a purchase. Obviously, if you are playing large stage – or you just like going to the bar mid-set – you'll need a system with a reasonable range. Of course, if you are just in a rehearsal space or your bedroom, then a short range will work just fine.
Power
Now, as you'd expect, wireless systems will run on batteries, so it's important to know the expected battery life of your unit. If you are playing three-hour cover sets, you'll want to know your wireless is up to the task.
Channels
Having the ability to switch the channel of your wireless can really get you out of trouble in a live environment. Say you are sharing the stage with multiple wireless devices, then you are likely to experience interference – but simply switching to a free channel should resolve this.
Related buyer's guides
All the latest guitar news, interviews, lessons, reviews, deals and more, direct to your inbox!
First and foremost, I'm a guitar enthusiast – a fanatic, some might say. I'm a firm believer that most of the world's problems can be solved with a Gibson SG and a catastrophically loud amp. Before writing about guitars for a living as a Senior Deals Writer on Guitar Player, I worked in music retail for 7 years, giving advice on guitars, basses, drums, pianos, and PA systems. I also have a passion for live sound; I'm a fully qualified sound engineer with experience working in various venues in Scotland.