Best Patch Cables 2023: Our Top Picks For Reliability, Tone and Boosting 'Board Space
Get your pedalboard into shape with our selection of the best patch cables money can buy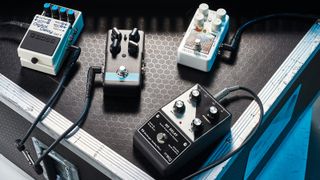 (Image credit: Future)
Although it won't be the most glamorous purchase of your guitar career, investing in a brace of the best patch cables will make your life hassle-free if you're a pedalboard stomper. A high quality and durable patch cable will minimize signal loss, tidy up your pedal situation and cut down the number of gut-wrenching scrambles toward your 'board when your signal has gone AWOL during your band's opener.
At first glance, the role of a patch cable may seem quite straightforward, leading you to believe that there isn't much variety available. However, there are a wide range of options to consider, including variations in jack type, cable length, sleeve material, and profile. As a result, your patch cable purchase may be more nuanced and complex than you initially anticipated.
That's where we step in. We have compiled a list of what we believe are the best patch cables currently on the market. From big-name brands like Ernie Ball, MXR, Fender and Roland, we have trimmed the fat and selected nine solid cables that are guaranteed to make your pedalboard a lot less frantic and much more reliable.
Best patch cables: Guitar Player's Choice
For price, durability and optimal application on a pedalboard, the MXR Patch Cables are top of the shop. The flat and low-profile right-angled connectors will enable you to place pedals closely together on your 'board, saving room. The PVC outer casing is sturdy enough that they'll last plenty of gigs and with three in a pack you don't have to buy too many to hit your patch cable quota.
If you're looking for something a bit more premium then the Roland RIC-G3AA Gold Series is a fantastic option. With a woven outer jacket, high-density spiral copper shielding and professional-grade 24K gold-plated connectors, Roland's Gold Series cables are made to last. The Japanese company is so confident in them that they come with a lifetime guarantee.
Best patch cables: Product guide
1. MXR 3PDCP06 Patch Cable 3-Pack
The best patch cable overall
Specifications
Connectors:
Flat 1/4-inch right angle
Outer jacket material:
PVC
Reasons to buy
+
Durable build
+
Affordable price
+
Three in a pack
Reasons to avoid
-
Some may want a thinner profile cable
There isn't a lot to dislike about the MXR 3PDCP06 patch cables. When you see the MXR name you are always guaranteed a durable build, and these patch cables are no exception. With a tough PVC outer jacket, they are built to last rigorous gigging and are flexible enough to bend to your pedals' input requirements.
Internally, MXR has implemented a 90% coverage OFC spiral shield to block any unwanted interference and their clarity is very satisfying. We all know that space on your pedalboard is at a premium and the cables' low-profile right-angled connectors allow you to get your pedals as close as possible, helping save some valuable space.
The three-pack offers a reasonably affordable solution, allowing you to wire up a medium-sized pedalboard without breaking the bank. While all the cables in this pack are the same length, MXR also provides longer options if you require additional length for those extended stretches.
The only slight negative we can think of here is the cable's profile. The outer jacket is a bit more girthsome than others, so bear this in mind if you prefer a thinner cable.
2. Roland RIC-G3AA Gold Series Cable
The best woven option
Specifications
Connectors:
24K gold-plated 1/4-inch right angle
Outer jacket material:
Woven cord
Reasons to buy
+
The woven outer jacket feels great
+
Professional quality connectors
+
Oxygen-free copper core
The Roland Gold Series Cable gets its name from the 24K gold-plated connectors it utilizes. These professional quality connectors provide incredibly accurate audio reproduction and are super clean. Furthermore, Roland uses a studio-quality oxygen-free copper core wire to guarantee you the utmost sound detail. If audio transmission is your greatest concern, this is the cable for you.
Woven outer jackets are usually great for their 'anti-kinking' qualities, but in this instance we love it for its durability. There's a real premium feel to it and it allows for extra flexibility without damaging the cable. Roland is so confident in this patch cable's longevity that it offers a lifetime guarantee, which could save you some money in the long run.
If 3 feet is too long for your pedalboard, Roland also offers the Gold Series Patch Cables in 6-inch and 1-foot variations, catering to every potential situation. One minor concern that comes to mind is the bulkiness of the connectors. While the connectors are of excellent quality and their robust sleeves provide extra protection, they do take up more space.
3. Ernie Ball Flat Ribbon 3-pack
Best for optimizing pedalboard space
Specifications
Connectors:
1/4-inch right angle
Outer jacket material:
PVC
Reasons to buy
+
Great space savers
+
Variety of colors
+
The jacks are compact yet durable
Ernie Ball's Flat Ribbon cables are ideal for those who appreciate a bit of color and struggle with spacing issues on their pedalboard. The Flat Ribbon cable is exactly what it says it is – flat. This low-profile design has been devised by the cable boffins at Ernie Ball to accommodate those tight bends your patch cables often have to navigate.
For those seeking a vibrant touch, there are bright color options available, although we understand that may not appeal to everyone. In that case, traditional black cables are also offered. Similar to other high-quality cables, these are shielded to safeguard against interference and noise. What sets them apart is the use of multiple shielding materials for added protection. The durable PVC outer jacket is a reliable choice, and we have no complaints about its performance.
You can also choose from a wide variety of sizes. Ernie Ball offers an extensive range of Flat Ribbon cables, ranging from 3 inches to 24 inches, so you're covered for every scenario. However, we've noticed that these cables can tangle easily, likely due to their thinness. However, this is a minor issue and is only really noticeable with those longer cable runs.
4. Mogami Platinum Guitar 01 RR Cable
The best premium option
Specifications
Connectors:
Copper-core G&H 1/4-inch right angle
Outer jacket material:
Carbon-impregnated conductive PVC
Reasons to buy
+
Supreme clarity
+
'Ultra-premium' quality
+
Brilliant performance
Reasons to avoid
-
Not the most cost-effective option if you need multiple
Now, we understand the prospect of spending $60 on a singular 1-foot patch cable may make you balk, but if you want an ultra-premium option that has a stellar reputation for performance, accept no substitutes.
The Mogami Platinum Series patch cables use a high density 100% coverage copper spiral shield, the results: a transparent, crystal clear signal that won't suffer any noise interference while playing. For that reason, Mogami Platinum cables are a go-to for professional recording studios, and their reputation is squeaky clean.
Just holding this cable in your hand is enough to convince you of its quality, and we were particularly impressed with the G&H copper-core 1/4-inch connectors. The connectors are robust, durable, and provide a satisfyingly solid, clean signal transfer when plugged into a pedal.
While the PVC outer jacket may seem like a standard feature, Mogami has taken it a step further by implementing a 'carbon-impregnated' sleeve that effectively eliminates vibration-induced noise. Oh, and you also get a no-questions-asked lifetime warranty. If you think all of those features justify the price tag, try it out for size!
5. Custom Lynx Rean Neutrik Pedal Patch Cable
Best option from the UK
Specifications
Connectors:
1/4-inch right angle
Outer jacket material:
PVC
Reasons to buy
+
Fantastic value
+
Rectangular pancake jacks are effective
+
Very flexible
Custom Lynx isn't the biggest name in guitar accessories, but the value for money and build quality this brand offers is bound to catch your attention. Based in Leicestershire in the UK, Custom Lynx offers fantastic budget patch cables which use Rean Low profile pancake jack connectors. Rean is owned by Neutrik, and like its parent company, uses fantastic quality components.
The rectangular pancake design allows for easy and compact stacking and feels robust enough to withstand even the most heavy-handed. The oxygen-free copper gives you very low levels of noise and for the price, we can't complain about the signal clarity this cable provides.
If we had one minuscule gripe it would be the fact that you can't pick these cables up in a convenient multipack. However, we are nit-picking and if you're looking for a budget-friendly patch cable, we highly recommend giving Custom Lynx a try.
6. Boss BCK-6 Pedalboard Cable Kit
Best custom cabling kit in town
Specifications
Connectors:
Bi-directional 24K gold-plated 1/4-inch contacts
Outer jacket material:
PVC
Reasons to buy
+
Custom make to your desired length
+
Solderless construction
+
Bi-directional connectors are versatile
Patch cables can be frustrating, most of the time they come just a little short or far too long, leaving you with loads of excess cable meandering around your pedalboard. However, the Boss BCK-6 Pedalboard Cable Kit solves that issue.
This pack comes with 6 feet of cable and six bi-directional connectors, allowing you to solderlessly engineer either straight or right-angle connections at the exact length you require. Pretty handy, right? The 24K gold plated connectors are great quality and the included cable is low-capacitance oxygen-free copper which operates very quietly. There is plenty of quality on show here.
If six new patch cables aren't enough to get you by there is the option of a 12 or 24-piece kit if you're in the market for a larger quantity. Although solderless, there is a knack for getting these perfect, so take your time and consult YouTube if everything goes wrong. However, if you're not the most dexterous person, perhaps give this one a miss.
7. EBS PG-10 Flat Patch Cable Gold
An attractive golden option from Swedish company EBS
Specifications
Connectors:
24K gold-plated 1/4-inch right angle
Outer jacket material:
Conductive PVC
Reasons to buy
+
The golden details look great
+
Very low profile
+
No interference issues
Reasons to avoid
-
Unable to access the connectors for repairs
If you're looking for patch cables that will match your Gibson Les Paul Custom then the EBS PG-10 Flat Patch Cables in gold are the perfect match.
Joking aside, EBS has hit the ball out of the park with these flat patch cables. Their malleability makes pedalboard construction a dream and the extra-flat jack plugs allow for a supremely close pedal set-up. Conductive PVC and the twisted copper shielding punch well above the cable's price tag and the 24K connectors help with managing noise, especially in scenarios with complex routing or if you have pedals that tend to hiss.
The only issue we foresee with this patch cable is limited access to the connectors. Due to the closed-off plastic housing, re-soldering the connector might not be an easy task.
8. Fender Deluxe Tweed Patch Cable
The best vintage-style option
Specifications
Connectors:
24K gold-plated 1/4-inch right angle
Outer jacket material:
Woven fabric
Reasons to buy
+
Vintage styling looks great
+
Heavy duty components
+
Available in different lengths
Reasons to avoid
-
The connectors take up a lot of space
Anything Fender brandishes with their iconic tweed covering is going to be a win in our book, and this tweed patch cable certainly lives up to that reputation with its fantastic quality. Good looks and performance, what more could you ask for?
Internally Fender has used 95% OFC braided shielding and 20 AWG wire allowing for a strong and transparent signal. The tweed covering not only delivers a classic Fender style but does a good job of protecting the internals and maximizing longevity. The 24K gold-plated connectors won't tarnish over time and Fender has custom molded tips to allow for a seamless connection.
If the yellow tweed isn't your style, you can opt for the more modern black tweed variant. There is also a plethora of different lengths and you can pick up a Deluxe Series cable from 6 inches to 25 inches. Although this cable is super robust – particularly the connectors – it will demand a lot more room between your pedals than lower profile cables.
9. D'Addario Patch Cable Classic Series 3-Pack
The best no-frills patch cable
Specifications
Connectors:
1/4-inch right angle
Outer jacket material:
PVC
Reasons to buy
+
Very reliable
+
Supplies a strong signal
+
Shielded to reduce noise
Reasons to avoid
-
Some may prefer a pancake style
If you're seeking a reliable cable without any frills and simply want one that gets the job done, the D'Addario Classic Series Patch cable is an ideal choice. Available in a convenient 3-pack, these cables offer excellent value for money and encompass all the essential features you would expect to find in a patch cable.
D'Addario has incorporated ultra-pure oxygen-free copper conductors into their cables to deliver the purest possible tone, enhanced further by the 90% spiral shielding, effectively eliminating potential handling noise. Additionally, the single-molded strain relief plug offers exceptional durability and effortlessly fits into any input.
Although the connectors' casing is a little bulkier than pancake-style cables, they are low profile enough to satisfy most pedalboards. However, if you've still got 3 more pedals to squeeze onto your fully-rammed 'board, keep on looking.
Best patch cables: Buying advice
Should I Use a TS or TRS Patch Cable?
In most situations, a TS patch cable will suffice. A TS cable is used for unbalanced, mono signals, which is the same type of signal that flows through your guitar cable. TS stands for tip-sleeve and is specifically designed to carry a mono signal, making it ideal for the majority of guitar pedals, as they are predominantly mono as well.
While there are instances where an effects pedal may offer a stereo option, even then, you'll find separate inputs and outputs that require multiple mono TS cables. It's rare for a stereo pedal to have a single input and output jack. In such cases, TRS cables are necessary and can be used. TRS stands for tip-ring-sleeve and is designed specifically for carrying a stereo signal.
It's highly unlikely that you'll encounter a stereo pedal with a singular input/output jack unless you intentionally sought one out. If not, sticking to TS patch cables will serve you well and won't let you down!
Do Gold-Plated Connectors Make A Difference?
So you have probably noticed that there is a lot of talk about gold-plated connectors, but do they actually make a difference or is it an elaborate marketing ploy? The short answer is that yes, there has been plenty of scientific research proving that gold connectors will offer better performance due to their better conductivity. Also, gold is less resistant to corrosion, so it won't degrade as quickly over time.
However, noticing these benefits in the real world is a little trickier than in a scientific experiment. If you can notice a major tone difference in the effectiveness of a gold-plated connector compared to a nickel one, you'll be doing better than most of us. Although gold won't corrode as quickly as nickel, a rusty patch cable isn't something we've come across all too often.
With that in mind, gold connectors do look a little more flashy than their nickel counterparts, so if you like the finer things, gold connectors will have their aesthetic benefits!
How we choose the best patch cables
You can trust Guitar Player. Our expert reviewers spend hours testing and comparing guitar products so you can choose the best for you. Find out more about how we test.
At Guitar Player, we live and breathe everything guitar related. It's our passion and we certainly hope this passion comes through in our buyer's guides. Everyone at Guitar Player is an expert in their field and we draw on this knowledge and experience when selecting the products for our guides.
When choosing what we believe to be the best patch cables available right now, we combine our hands-on experience, user reviews and testimonies and engage in lengthy discussions with our editorial colleagues to reach a consensus about the top products in any given category.
When making our lists, we pay careful consideration to everything from budget to feature set, playability and durability to come up with an accurate representation of the best patch cables available right now.
Read more on how we test gear and services at Guitar Player.
All the latest guitar news, interviews, lessons, reviews, deals and more, direct to your inbox!
Ross has been a music lover and guitar player since the age of 8. He has spent the five years since graduating from university working in music retail, selling guitars, amps and more. Ross is particularly interested in electric guitars, pedals and amplifiers and his current rig includes a trusty 2009 American Standard Stratocaster and Vox AC30S1 with a few Walrus Audio and Way Huge pedals in between. He currently writes for Guitar Player and Guitar World.