Best Reverb Pedals 2023: The Finest Options For Adding Airiness, Ambience And Atmosphere To Your Tone
From affordable stompboxes that deliver classic reverberations to sophisticated FX processors, these are the must-have reverb pedals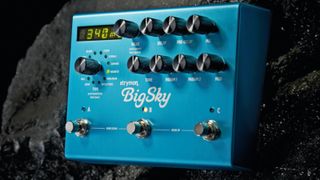 (Image credit: Future)
If we had to choose just one stompbox, it would be a reverb pedal. It's an agonizing choice to make, and a drive of some sort would be a very, very close second, but the best reverb pedals have such a positive, transformative effect it's hard to imagine life without it.
Reverb is that magic ingredient. Even just the tiniest sprinkle injects life into our tone, adding an extra dimension of space and energy. Add more, and we dare to dip our toes into beautiful washes of ethereal sound. More still, and we're bathing in otherworldly soundscapes of ambient bliss.
Not all reverb pedals are born equal, which is a good thing. If your intention is to reproduce classic verb tones from the '50s, '60s and early-'70s, then an affordable basic reverb pedal will serve you just fine. More experimental guitarists, who love to tease out contemporary ambient tones, will be drawn to the larger, more sophisticated pedals that can, quite literally, take your playing to another place.
If you'd like to read some more in-depth buying advice about the best reverb pedals, then click the link above. If you'd rather get straight to the product guide, then keep scrolling.
Best reverb pedals: Guitar Player's Top Picks
If you're looking for a tough, easy-to-use reverb pedal that provides all the classic reverb tones yet isn't going to leave an unsightly bruise on your bank account then you can't go wrong with the Boss RV-6. It gives you a handful of reverb essentials – Spring, Plate, Hall, Room – and enough alternative tones, such as Shimmer, to keep things interesting.
It's rugged enough to survive the toughest stages, can be battery powered and operates in mono or stereo. What more could you want?
As it happens, the experimental guitarists among you may want a lot more, in which case we recommend the Strymon Big Sky. A sonic box of tricks if ever there was one, it's been around for a few years now, yet age hasn't dulled its capacity for generating some of the most beguiling ambient reverb tones ever heard.
The Big Sky is beautifully made, endlessly versatile, well-connected and sounds enchanting. Yes, there's a learning curve to master but in no time you'll be floating skywards, cushioned on a soft, dreamy cloud of reverb.
Best reverb pedals: product guide
A no-nonsense, great sounding reverb
Specifications
Reverb types:
Spring, Plate, Hall, Room, Modulate, Shimmer, Dynamic, +Delay
Controls:
Mix, Decay, Size, Delay, Low, High, Contour, xKnob, yKnob, FxMix
I/O:
Stereo In/Out, Exp pedal in
Power requirements:
95mA 9V DC or battery
Reasons to buy
+
Solid, easy to use, dependable
+
Sounds great
+
Not cheap, but won't break the bank
Reasons to avoid
-
Limited opportunities to endlessly tweak parameters
Is the perfect reverb tone no more than the twist of a knob away? Boss thinks so, which is why it's kept things real simple with its chunky RV-6. So many modern reverbs are complex to program, and so expensive that we hesitate to stomp on them with purpose. Not so this offering from Boss.
In true Boss style, it's a heavily built pedal with a proper large rubber footswitch that your toes can't miss, even on a dimly lit stage. It's a compact unit with only a couple of controls to tweak, but boy do they deliver.
There are seven reverb types to play with – Spring, Plate, Hall, Room, Modulate, Shimmer and Dynamic – together with a +Delay option that combines reverb with a simple delay. The Dynamic option is interesting because, as the name suggests, it introduces more reverb depth the harder you dig in, which can be used to great effect.
Other than the E.Level knob, which adjusts the wet/dry mix, there are just two aptly named controls. Time alters the length, or time, of the reverb and Tone adjusts the tonal palette, from dark to bright. That's pretty much it.
The important thing is, all the eight reverb options sound wonderful, and finessing them further with the simple controls is a joy. Yes, you can plug in an expression pedal to play with the wet/dry mix, and the RV-6 supports mono, mono-to-stereo and stereo-to-stereo operation for compatibility with almost any pedal chain, but essentially this is a device that's easy on the brain as well as the ear.
Sometimes, less is more, and that's certainly the case with the RV-6.
The sky's the limit for this feature-packed reverb processor
Specifications
Reverb types:
Room, Hall, Plate, Spring, Swell, Bloom, Cloud, Chorale, Shimmer, Magneto, Nonlinear, Reflections
Controls:
Value, Decay, Pre-Delay Mix, Tone, Mod, User-defined Parameter x 2
I/O:
Stereo In/Out, Expression, MIDI, Cab IR
Power requirements:
300mA 9V DC
Reasons to buy
+
Utterly captivating
+
Relatively easy to use
+
Beautifully designed and built
Reasons to avoid
-
Pricey
-
Requires a hefty amount of power
-
No USB
This one's a favorite with the ambient crowd, and it's easy to see why. It'll do regular verbs very well indeed, but most guitarists out there covet it for its ethereal Shimmer, Cloud, Chorale and Nonlinear machines. Engage any of these settings, before slowly picking through an unresolved sequence of arpeggiated extended chords and trust us, you'll be in ambient nirvana.
Frankly, the Chorale machine, which accompanies you with harmonized, angelic voices, does sound better than my woefully inadequate description, but nonetheless it quickly feels a bit gimmicky.
However, the other engines easily save the day. Cloud sounds like a huge, gossamer-light enveloping expanse of airiness, whereas Nonlinear's reverse, swoosh and ramp settings provide exquisite textures for any sound design project. Yes, Shimmer has become a bit cliched, but Strymon's implementation of this ambient classic is so majestic it's impossible not to fall in love with it all over again.
Most of the controls are easily accessible via the nine rotary encoders on the top panel, including two user-definable parameters per machine. A little menu diving quickly reveals more settings to tweak, most of them unique to each machine.
This little box of magic delivers so many sonic possibilities that Strymon provides 300 preset slots arranged across three banks. It's expression-pedal compatible, can speak MIDI and features high impedance inputs that can handle instrument or line level.
Admittedly, it's also rather expensive, so if you're happy to ditch a few features in order to save some of your hard-earned cash then check out its little brother, the newly released Strymon Blue Sky V2.
3. TC Electronic Hall of Fame 2
Does what is says on the tin. Plus a whole lot more
Specifications
Reverb types:
Room, Hall, Spring, Plate, Church, Shimmer, Mod(ulated), LOFI, Toneprint slots x 3
Controls:
Decay, Tone, Level, Pre-Delay switch, MASH enabled footswitch
Power requirements:
100mA 9V DC or battery
Reasons to buy
+
Great quality little reverb that's a joy to use
+
Toneprint and MASH functionality are icing on the cake
+
Inexpensive
This is an iconic pedal that was guaranteed to make our buyer's guide. It's small, it's inexpensive and it does basic reverb really well. The thing is, now that TC Electronic has launched version two, it's no longer the simple little pedal we knew and loved. It's better – much better.
Don't worry, it's still a breeze to use. Yes, TC Electronic has fattened up the feature set but thankfully it hasn't added complexity. True to form, this remains a pedal that enables you to focus on playing rather than faffing with fiddly parameter knobs and squinting at LED screens.
It comes loaded with eight reverb engines – Room, Hall, Spring, Plate, Church, Shimmer (which is new), Mod(ulated) and LOFI – plus three Toneprint slots. The main controls are as simple as, but the HOF2 does have a surprise up its little sleeve.
Much of the time you're going to find yourself fine tuning your sound with the straightforward Decay, Tone and Level knobs, which define the reverb's length, color and wet/dry mix. However, if you want to drill deeper into your tone, or just fancy working through some big name presets, then you'll love dipping into TC Electronic's Toneprint software and library. Using the TonePrint Editor, you can build or borrow sophisticated custom sounds to load into its Toneprint slots and, here's the clever bit, assign parameters to the pedal's MASH footswitch.
It may look like any other stompbox footswitch, but as well as simply turning the pedal on and off with a tap and a click, this one is pressure sensitive. Which means that you can massage an assigned parameter with a little gentle persuasion from your footsie. Smart eh?
However, clever features aside, let's not get away from the fact that this is still a superb little reverb pedal that can be as simple, or as complex, as you want it to be.
To infinity and well beyond
Specifications
Reverb types:
Room, Plate, Spring, Hall, Blackhole, Reverse Reverb, ModEchoVerb, DualVerb, MangledVerb™, DynaVerb, TremoloVerb, Shimmer
Controls:
Mix, Decay, Size, Delay, Low, High, Contour, xKnob, yKnob, FxMix
I/O:
Stereo In/Out, Exp pedal in, MIDI in/out, USB, Aux
Bypass:
DSP Bypass, Relay Bypass or DSP+FX Bypass
Power requirements:
500mA 9V DC
Reasons to buy
+
Infinite sound design opportunities
+
Glorious sounds borrowed from high-end Eventide kit
+
Clear, if slightly dated, display
It may feel like it's been around for eons but this stompbox remains a big-hitter in the world – no, make that universe – of creative reverb pedals. Just over a decade ago, some bright spark at Eventide made a list of all the cool reverb effects that existed in the brand's high-end rack-mounted processors and repackaged them in a comparatively affordable pedal.
The result was a truly pioneering piece of kit, designed to boldly go where no guitarist had gone before. It offered players a vast feature set, and almost infinite control that remained unrivaled until Strymon developed its Big Sky pedal a couple of years later.
There are twelve reverb machines, including stalwarts Room, Plate, Spring and Hall. Beyond that the tones become ever more twisted and ethereal, especially our favorite, the haunting yet delightful Blackhole engine. The other seven engines are Reverse Reverb, ModEchoVerb, DualVerb, MangledVerb™, DynaVerb, TremoloVerb plus the now ubiquitous Shimmer.
Ten knobs provide the kind of instant hands-on control this caliber of pedal deserves – there are few greater crimes in our book than having to menu-dive a stompbox – and you can hook up an expression pedal or take the reins via MIDI.
Is it a bit long in the tooth? Not at all. The Space's tones are up there with the best from Strymon, Source Audio and Neunaber, and its comprehensive I/O provides robust futureproofing. If you're a multi-instrumentalist or producer you'll be pleased to learn that it offers line-level inputs and outputs too, so it's not limited to just making guitars sound awesome.
Sadly, though 'comparatively' affordable, it remains one of the more expensive pedals here.
5. Universal Audio UAFX Golden Reverberator
UA's golden child is pure, unadulterated premium reverb tone
Specifications
Reverb types:
Spring 65, Plate 140, Hall 224, Chamber & Plate 224
Controls:
Mix, Decay, Size, Pre-Delay, Bass, Treble, Mod
I/O:
Stereo In/Out, USB Type-C
Power requirements:
400mA 9V DC
Reasons to buy
+
Provenance and build quality
+
The reverbs it does offer are in a league of their own
Reasons to avoid
-
Not big on features
-
Expensive
-
Power hungry
For many years, Universal Audio has enjoyed an enviable reputation for producing some of the best modeled plugins of classic studio kit out there, as well as making a superb line of studio hardware.
More recently, it's used its modeling expertise and hardware knowhow to develop half a dozen stompboxes that cover all the essential bases from classic amp simulations to indispensable FX. As you've probably guessed, the Golden Reverberator handles the vintage reverb side of things, including '50s-inspired studio plates, '60s springs and '70s digital.
This is not a cheap pedal – nothing made by UA ever is – so it's no great surprise to find it packaged like an expensive item of jewelry or fancy piece of consumer tech. Make no mistake, unboxing the Golden Reverberator is an event. It's also a beautifully designed pedal that looks a million dollars all dressed up in its suit of glistening gold. But is it a case of style over substance?
Certainly, this is not a feature-rich reverb pedal. There are just four reverb engines – Spring 65, Plate 140, Hall 224 and Chamber & Plate 224 (the latter you have to download after purchase) – and it's only possible to save a single preset per engine. You do have the option to select three variations per engine, typically different room sizes or plates, and you can dial in EQ, modulation, mix, decay and pre-delay, but it doesn't offer the kind of versatility that products from the likes of Strymon and Eventide do.
Nevertheless, the tones it does offer are impeccable. If you're after the very best spring reverb, the finest plate, the most expansive hall or the textural delights of a great '70s digital verb then the Golden Reverberator is one for your shortlist.
You can use the accompanying UAFX Control app to access a few extra routing features and download the additional Chamber & Plate 224 engine, so who knows? Perhaps Universal Audio will treat us to some added functionality in the future. In the meantime, just plug in and bask in the golden glow of a select few vintage verbs.
A pedal for drenching your guitar in huge, dreamy tones
Specifications
Reverb types:
Hall, Room, Special
Controls:
Reverb time, Damping, Level, Pre-delay
Power requirements:
71mA 9V DC or battery
Reasons to buy
+
Inexpensive yet great quality
+
Tones maybe limited but there's not a bad one here
+
Useful player-centric features such as LED-lit knobs and dry kill switch
Arguably, no company is more closely associated with reverb than Fender, and it's certainly lived up to expectations with this stompbox. It's loaded with three reverb machines – Hall, Room and Special – with two switchable variations for each, effectively giving players six different reverb styles. All of which sound superb.
Hall is pretty self-explanatory, it has the unmistakable vibe of a large reverberant space. Variation number one makes for an excellent vanilla 'always on' type verb, that sounds great but isn't overtly characterful. Variation two is more identifiable as a plate reverb – it's slightly brighter and more present.
Room variation one evokes a large room space, not as airy as Hall, but sizable nonetheless. Variation two has a smaller, sparser ambience – a more subtle effect (depending on your chosen settings) that's great for cutting through a mix.
Special variation one is an excellent implementation of the evergreen Shimmer effect that will, no doubt, delight ambient guitarists. Variation two is similarly ethereal, yet much bigger; it's a massive cloud of dreamy loveliness.
The controls are very straightforward. Reverb time adjusts the decay time, while level mixes the wet/dry signals to taste. Damping works like a tone control, making the reverb darker as the knob is turned counter-clockwise. This can be used together with the low pass Filter Switch to fine tune the desired warmth or brightness of your wet tone. Pre-Delay works as expected, adding a defined amount of delay before the reverb develops.
Considering its reasonable price, the Marine Layer Reverb is beautifully made and executed, with its stylish, brushed metal top, LED backlit knobs, clever magnetic 9V battery compartment and dry kill switch that removes your dry signal for use in an effects loop. All in all, it's a delightful sounding box that doesn't cost the earth and is very easy to live with.
7. Source Audio Ventris Dual Reverb
The stompbox that goes one better
Specifications
Reverb types:
Room, Hall L, E-Dome, True Spring, Plate, Lo-Fi, Modverb, Shimmer, Echoverb, Swell, Offspring, Reverse plus more via app
Controls:
Time, Mix, Pre-Delay, Treble, Control 1, Control 2, Preset select/save
I/O:
Stereo In/Out, MIDI/Thru, Expression pedal, USB, Control input
Power requirements:
400mA 9V DC
Reasons to buy
+
Dual reverbs add an extra dimension
+
Easy to use physical controls
+
Extensive editing possible via app
Reasons to avoid
-
Not cheap, but you are getting a BOGOF deal!
What could be better than a single reverb? Well, two of course. I know what you're thinking, doesn't that get a bit kinda messy? Yes, there are plenty of opportunities to royally mess up your track, but consider two totally different but complementary reverb-soaked tones. For example, how about single note soloing over some sustained pad-like chordal ambience? Both your lead and ambient tones benefit from reverb, but their sonic characters are so far removed that they work perfectly together.
All this, and much more, is possible with Source Audio's Ventris Dual Reverb, which comprises two completely independent 56-bit reverb processors in one stompbox. Processor A can be played on its own, as can processor B, or the two can be combined in an A+B configuration. Dual reverb effects can be run in parallel, a cascading signal path, or the verbs can be split to reach each of the pedal's two outputs.
What Source Audio has termed 'True Spillover' also ensures that moving from one preset to another is completely seamless, with no nasty cut-offs spoiling the sound of outgoing trails.
Judging by the top panel, both processors get 12 reverb engines controlled by a modest smattering of familiar rotary encoders, which include Pre-Delay, Mix, Time and so on. If you know your way around a basic reverb stompbox you'll be up and running in no time. But that's only half the story.
Fire up Source Audio's Neuro Desktop Editor or Neuro Mobile app and you'll have scores of new engines and parameters at your fingertips. What Source Audio has done is to keep the controls simple but effective for performance, while giving players the option to go much deeper during writing or sound design sessions. Any presets developed on the apps can, of course, be recalled from the front panel or you can gain more extensive control through MIDI.
This is a ground-breaking pedal that'll either be a stomp too far for some, or a must-have sound design tool for the more ambitious. One thing's for sure, it's a very addictive pedal to experiment with. It's almost an instrument in its own right.
Built to impress
Specifications
Reverb types:
Hall, Plate, Spring, Room, Sparkle, Modulation, Ambient Swell, Delay + Reverb, Reverse, Ghost, Lo-fi, Beer + variations of all
Controls:
Decay, Mix, Output, Low, Hi, Thing 1, Thing 2
I/O:
Stereo In/Out, SD Card Slot, Control Port (for Expression Pedal, External Tap Switch, CV, External Audio Input and MIDI
Power requirements:
300mA 9V DC
Reasons to buy
+
Impressive assortment of reverb types
+
Firmware updates promise more features
+
A sound design powerhouse
+
Compact
Reasons to avoid
-
A screen would be helpful
-
Just 35 preset slots
Following in the mighty footsteps of Eventide and Strymon, the Empress Reverb is another stompbox for which the label 'reverb pedal' doesn't even begin to describe its almost infinite capabilities. In truth, just like the Space and Big Sky, it's really a sophisticated multi-FX processor that just happens to have a reverb-like character.
In common with its two esteemed rivals, it can do classic reverb styles – hall, plate, spring and so on – exceptionally well. So, if you're looking to play a spot of '60s surf guitar or need to add a touch of airiness to a dry tone then it's got you covered. However, its true vocation is experimental sonic exploration of the most ambitious kind.
Ambient aficionados will love the Empress Reverb – no surprise there, it'll shimmer ethereally for eternity and longer. But it can do dark too, menacingly otherworldly to the point of being so far out there that it'll have you crouched, quaking behind your amp cab.
Look at its top panel and the Empress Reverb appears to have 12 reverb machines, including a handful of traditional engines plus more exotic sounding names such as 'Ghost' and 'Sparkle'. What's not immediately obvious is that it can be updated via an SD card with the latest algorithms from Empress, to provide multiple variations of the base 12. Currently, with firmware v6, the Empress Reverb features 32 reverb types and sub-types, and the company plans to keep releasing more.
The controls are straightforward, in that there are no menus to dive, but we can't help thinking that navigating our way around such a complex unit would be both quicker and easier with a proper screen. Still, MIDI and expression pedals are supported via a Universal Control Port, providing a robust solution, even if that does mean investing in more gear.
The Empress Reverb is a creative powerhouse, with tones you'll consider selling loved ones for. It's not cheap, so here's hoping they fetch a good price…
Reverb pedals: buyer's advice
It's almost impossible to envisage a world without reverberations. To a large extent, they give shape to the space that surrounds us, whether that be a small bedroom or a cavernous subterranean chamber. Of course, our eyesight usually helps us to size up our surroundings, but reverberations provide an additional sense of ambience, a sonic signature, a sense of place.
Reverb is what we hear when sound is reflected (reverberates) off the surfaces – floor, walls, ceiling, furniture and so on – of a space, after the original sound source has ceased. It's very closely related to echo, but in layman's terms reverb is the reflections from multiple surfaces, while echo is a single reflection from a single surface. Reverb also tends to be short in duration, whereas echoes tend to last much longer. Finally, although we're hearing potentially hundreds of reflected sounds, since the time is short, our brains perceive reverb as one homogenous sound rather than multiple short echoes.
In practice, the distinction is somewhat blurred, especially when ramping up a reverb pedal's Decay control. Simplistically, the larger the room, the longer the reverberation time (lots of factors are at play here, including the ceiling height, number of walls, how reflective the surfaces are and so on).
Humans happen to find reverb attractive, awe-inspiring even. Archaeologists have discovered evidence that points to our prehistoric ancestors, from Europe to the Americas and beyond, seeking out the most reverberant cave spaces in which to draw their rock art. One theory goes that the sound of these spaces added an additional dimension to the art, conjuring up the noise of stampeding hooves, the calls of wild animals. And of course, it's no coincidence that the great cathedrals, built back in the Middle Ages, are exceptionally reverberant, the perfect space in which to sing Gregorian chants. A little later, Bach was known to write music that exploited the reverberant nature of these magnificent buildings too. Without reverb, spaces sound dry, dead, soulless.
Of course, reverb pedals are a much more modern invention, first popular in the 1980s when they were developed to emulate the plate and spring reverbs of the '50s and '60s.
Classic Reverb Types
You can trust Guitar Player. Our expert reviewers spend hours testing and comparing guitar products so you can choose the best for you. Find out more about how we test.
You'll find a couple of familiar settings on almost all reverb pedals, Spring and Plate. Plate reverb was developed in the 1950s to simulate the sound of natural reverberations. The system uses a transducer to create vibrations in a large sheet of metal, much in the way that a loudspeaker works. The movement of the plate is picked up by contact microphones and their signal is then added to the dry source.
Plate reverb typically sounds dense, bright and sometimes a little metallic. The effect is often used on drums, vocals and, of course, electric guitar but less so than Spring reverb.
The technology used is similar, but instead of a large metal plate, Spring reverb uses – you guessed it – springs in a metal 'tank'. These springs can be quite short, small enough to fit into a regular-sized guitar amp, which makes Spring reverb more convenient than lugging a 7' sheet of metal about. Plenty of manufacturers fitted Spring reverb to their amps in the 1950s but this kind of verb went on to become synonymous with Fender in the 1960s.
Spring reverb sounds livelier than Plate, making it perfect for playing Dick Dale surf-inspired licks. Turn the decay down, and it's ideal for more subtle guitar styles too.
Other settings you're likely to find are Room, Hall and Chamber. Instead of simulating a particular type of reverb, they aim to replicate the natural reflections you would hear in a space of a given size. It follows that Room should be a relatively subtle effect with a short decay, whereas Chamber settings can sound absolutely massive.
Because classic reverb types suggest space and distance, they can also be used to place a guitar closer or further back in a mix.
Creative Reverb Types
Shimmer is probably the most ubiquitous modern reverb type. Every brand and every pedal that features a Shimmer setting will have a different take on the effect, but all are inspired by a heavily processed technique that Brian Eno and Daniel Lanois developed in the late-'70s and early-'80s.
Essentially, they created a feedback loop, incorporating a +1 octave pitch shifter and a reverb with a long decay time. The end result, after a lot of finessing, is a magnificently ethereal shimmer that evolves wonderfully as a pad-like sound or drone. Most famously, they used it liberally on their Apollo: Atmospheres And Soundtracks album (1983) and U2's The Unforgettable Fire (1984).
Unfortunately, it's become so overused now that it's a bit of a cliché, which is a shame.
Reverse is another reverb type you may find. It takes the reverb tail and quite literally reverses it, usually resulting in a gorgeous ambient drone effect.
Other modern reverb types may have exotic or esoteric names such as Swell, Chorale, Ghost, Bloom, Reflections and Cloud, all of which are likely to be diaphanous ambient effects of one sort or another. Some of the names hint at their sound, such as the Ventris' Swell, a reverb-soaked volume swell effect, or the Big Sky's Chorale, which is a heavenly choir that sings along with your playing. Others remain just plain mysterious until you try them.
Tails And Trails
A reverb tail or trail, the words are used interchangeably, is the wash of sound that occurs after the source sound and its initial reflections have stopped. All reverb types have trails, though some will be much longer than others.
For example, if you're adding a touch of ambience with a Room reverb, it's likely the tails will be very short, barely detectable. In contrast, ambient reverbs used for creative effect, such as Shimmer, will typically have very long tails – the sound just sustains and sustains.
Tails sound glorious, after all, they are an intrinsic characteristic of reverb, but they can cause issues. Playing fast lines with a long-tailed reverb can sound all-out messy, which is why ambient playing tends to be glacially slow (just like Gregorian chants in a highly reverberant cathedral).
Changing presets or disengaging a pedal while playing can also abruptly cut short a tail, which sounds awful. Thankfully, many reverb pedals have a solution to this, such as buffered bypass and a related feature commonly known as spillover.
Some reverb pedals also have a freeze function that infinitely holds a trail until it's released. This is a useful feature for developing drone effects.
Typical Controls
With the exception of the feature-rich Eventide Space, which is positively bristling with rotary encoders, most reverb pedals feature just a few easy-to-understand controls.
Decay or Time sets the decay time of the reverb. Simplistically, twisting the knob to the right will mimic a bigger space and/or generate longer trails.
Pre-delay adjusts the amount of time between the dry note being plucked and the reverb kicking in. This can really help to clean up your sound if you're playing fast runs.
Mix is simply the balance of your wet/dry signal. Adjust to taste.
Mod adds modulation to your verb. Really useful for adding subtle (or not so subtle) movement to a trail.
Tone, Hi, Lo, Filter. These controls enable you to EQ your reverberated signal. A simple tone knob will help you go darker or brighter, whereas separate high and low controls, with perhaps a filter switch too, provide more sound shaping possibilities.
Parameter encoders are often found on high-end modern pedals that feature many reverb types and associated parameters. They can be assigned to specific parameters to avoid excessive menu diving.
Where To Place Reverb In Your Chain
So, where's the best place to position reverb on your pedalboard? It's important to acknowledge that there's no right or wrong when it comes to effects placement, only perceived wisdom gained from decades of trial, error and happenstance.
That said, it's generally accepted that reverb should be placed at the end of your effects chain to unify the rest of your FX pedals with a homogenous dollop of verb.
The exception is modulation pedals – Chorus, Flanger, Phaser and so on – which may be placed after reverb to add some interesting colouration to your final tone.
If you run a distorted tone, experiment by placing your reverb pedal in your amp's FX loop, if it has one. This will place reverb after the preamp, which should improve clarity no end. Placing it before a driven preamp will distort and muddy the reverb, which is rarely a great idea.
Read more on how we test gear here at Guitar Player.
Related buyer's guides
All the latest guitar news, interviews, lessons, reviews, deals and more, direct to your inbox!