The American Professional II Series presents us with a sweet playing Tele and a truly great-sounding Strat. The spec updates add to the playability but also to the tone. The independent controls and coil-split on the Tele Deluxe make for a very versatile instrument, and being able to add the neck pickup to the Strat's bridge and bridge/middle mix positions is potentially game-changing.
Pros
+

Lots of tonal range.

+

Superb playability.

+

Spec updates are well-considered.

+

Sweet finishes.
You can trust Guitar Player. Our expert reviewers spend hours testing and comparing guitar products so you can choose the best for you. Find out more about how we test.
Fender's American Professional II series comprises two Stratocasters (standard and HSS), the Telecaster and Telecaster Deluxe, the vibrato-equipped Jazzmaster, and five basses.
For this review, we're focusing on the Strat and Tele Deluxe models, which were tested with a reissue Fender Deluxe Reverb (with hardwired circuitry by George Alessandro), a Mesa/Boogie Mark Five: 25 1x10 combo, and a selection of boost and distortion pedals from Xotic, Fulltone, and Hermida.
American Professional II Stratocaster
Resplendent in its Sienna Sunburst finish and off-white pickguard with matching knobs and pickup covers, this nicely made guitar sports a maple neck that's carved with what Fender calls a "Deep C" profile. It's more rounded on the back and designed to be even more comfortable than the previous "American" neck.
The new silky smooth Super-Natural finish adds to the terrific playing feel of this neck, and sitting atop it is a 25.5-inch scale maple fingerboard that has a 9.5-inch radius, rolled edges, a nicely worked bone nut, and 22 polished Narrow Tall frets.
Another update is a contoured heel that makes it easier than ever to reach the high positions, and a spot-on factory setup brings it all together for an excellent playing experience. The action is nice and low, string buzz is practically nonexistent, and the intonation is well dialed-in and musically tuneful in all registers.
Fender die-cast tuners help keep the pitch stable when using the vibrato, itself an upgraded two-point unit that features vintage-style bent-steel saddles, a cold-rolled-steel inertia block, and a push-in bar. Set to float with three springs attached, it's buttery smooth and returns to pitch reliably.
Played acoustically, this lightweight guitar sounds resonant and has quite good sustain considering that the bridge isn't locked down. Designed by Fender's Tim Shaw, the V-Mod II pickups reportedly yield more clarity and definition than the prior V-Mod units, while retaining vintage-style single-coil chime and sparkle.
They feed a master volume and two tone controls: one for the neck and middle pickups, and the other for the bridge. The latter tone knob is also a push-push pot that adds the neck pickup to the fourth (middle/bridge) position, and fifth (bridge) position.
Adding these robust-sounding combinations is a smart way to increase the flexibility of a guitar that already delivers exactly what's needed from a Strat: Deep, clear neck-pickup tones; a fat middle-pickup sound with a touch of twanginess; a bright, ballsy bridge tone; and two distinct flavors of clucky chime in positions two and four.
The well-voiced tone controls enable even darker textures to sound clear and non-muddy when turned down, and the volume control doesn't shave off the highs when rolled down.
All considered, the American Professional II Stratocaster is a well-sorted guitar that successfully delivers Fullerton-era vibe with modern playability and tone. It's a guitar that's well worth trying out if you simply want a great-performing Strat, with the option of an HSS version available, if you desire a bridge humbucker.
American Professional II Telecaster Deluxe
Originally introduced in 1973, this twisted Tele packed two Seth Lover–designed "Wide Range" humbucking pickups and a Gibson-style setup of dual volume and tone controls and a three-way toggle.
In late 2020, Fender introduced the latest rendition of this classic in the guise of the American Professional II Telecaster Deluxe. Our review model is finished in Mercury, with a rosewood fretboard, and is available in a variety of color and fretboard options.
The neck on this model has the same specs as the American Professional II Stratocaster (25.5-inch scale, 9.5-inch radius, and 22 Narrow Tall frets), albeit the Tele Deluxe has the traditional wide, '70-style headstock. Otherwise, the playability is similarly excellent and is enhanced by the contoured heel and Super-Natural finish.
One of the most significant features of the American Professional II Telecaster Deluxe is its Top-Load/String-Through Cut Tele bridge, which has three compensated brass saddles.
This design allows the strings to be loaded from the back in standard fashion, or from the top through holes drilled in the shortened (or cut) base plate. Top-loading the strings reduces string tension, which Fender says makes this guitar more accommodating for rock playing.
It might affect the sustain a bit, too, since the strings aren't coupled as tightly to the body, but some may prefer the slightly looser playing feel that top-loading the strings provides. Either way, one of the coolest things about this bridge is how comfortable it is.
You can lay your hand on it and not feel any sharp edges or exposed screw heads. The pickups are another area Fender sought to improve, and the new V-Mod II Double-Tap Humbucking pickups are a completely new design.
Image 1 of 4
The Double-Tap switching is more convenient than having to grab the knobs and pull them upward for coil-splitting, but the end result is the same: The output is reduced somewhat, and the tone becomes thinner and more single-coil-like. This enables a lot of cool sounds when using, say, the middle switch position and running one pickup in split mode and the other in full humbucking.
And, of course, being able to independently adjust the volume and tone of each pickup is a real benefit of the Gibson-style four-knob setup. Fender points out that when the push-push knob is depressed, the humbucking pickup is indeed split into a single-coil, but is untapped to a higher output.
The result is a single-coil that retains all its character and tone, and balances well with the other pickup. Also, while the push-push pot is how the Double-Tap functionality is activated on the American Professional II guitars, this function can also be activated using S-1 switching – as on the American Ultra – and push-pull switching, as on the American Performer.
As for the V-Mod II Double-Tap humbuckers themselves, they have good balance top to bottom, and they certainly deliver on the old "Wide Range" promise, providing girthy lows, harmonically rich mids, and plenty of high-end shimmer.
Whatever Fender has done to tailor the pickups for their respective positions seems to work, because the fat-sounding bridge pickup delivers tight, badass tones driving a gained-up amp or pedal, while the neck pickup is articulate, well-defined, and cool for everything from funky clean playing to burnished jazz work.
Its PAF-like output is great for blues when pushing an overdriven amp, and in split-mode it can even do a reasonable impersonation of an SRV-style Strat tone when boosted with a cranked-up OD pedal that's set relatively clean.
It all underscores the versatility of this model. Fender's efforts to optimize its classics for modern players is fully realized by the American Professional II Telecaster Deluxe, which proves that an old dog can definitely learn some new tricks.
Specifications
American Professional II Stratocaster
PRICE: $1,599, molded hardshell case included
NUT WIDTH: 1.685", bone
NECK: Maple, Deep C profile, contoured heel
FRETBOARD: Maple, 25.5" scale with 9.5" radius
FRETS: 22 Narrow Tall
TUNERS: Fender Standard die-cast
BODY: Alder
BRIDGE: 2-Point Synchronized Tremolo with cold-rolled steel block
PICKUPS: Three Fender V-Mod II single-coils (also available in HSS version with a bridge humbucker)
CONTROLS: Master volume, tone, tone (with push-push to add neck pickup), 5-way blade switch
EXTRAS: Available in 3-Color Sunburst, Dark Night, Miami Blue, Mystic Surf Green, Olympic White, and Roasted Pine. All with either rosewood or maple fingerboards
FACTORY STRINGS: Fender USA 250L .009–.042
WEIGHT: 7.32 lbs (as tested)
BUILT: USA
American Professional II Telecaster Deluxe
PRICE: $1,549, molded hardshell case included
NUT WIDTH: 1.685", bone
NECK: Maple Deep C profile, contoured heel
FRETBOARD: Rosewood, 25.5" scale with 9.5" radius
FRETS: 22 Narrow Tall
TUNERS: Fender Standard die-cast
BODY: Alder
BRIDGE: Top-Load/String-Through Cut Tele bridge with three compensated brass saddles
PICKUPS: Fender V-Mod II Double-Tap humbuckers
CONTROLS: Two volume, two tone (each with push-push split-coil function), 3-way selector
FACTORY STRINGS: Fender USA 250L .009–.042
EXTRAS: Available in Miami Blue, Mystic Surf Green, and Olympic White (with maple fretboards); 3-Color Sunburst, Dark Night and Mercury (with rosewood fretboards);
WEIGHT: 7.94 lbs (as tested)
BUILT: USA
CONTACT: Fender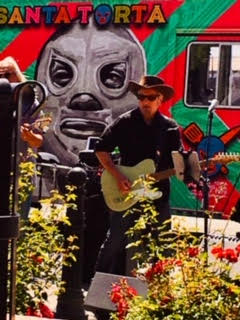 Art Thompson is Senior Editor of Guitar Player magazine. He has authored stories with numerous guitar greats including B.B. King, Prince and Scotty Moore and interviewed gear innovators such as Paul Reed Smith, Randall Smith and Gary Kramer. He also wrote the first book on vintage effects pedals, Stompbox. Art's busy performance schedule with three stylistically diverse groups provides ample opportunity to test-drive new guitars, amps and effects, many of which are featured in the pages of GP.