Vinyl Treasures: Deep Purple's 'Machine Head'
Ritchie Blackmore brings the fire on Deep Purple's 1972 hard-rock masterpiece.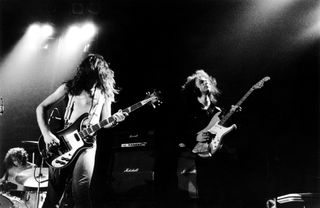 (Image credit: Jorgen Angel/Redferns)
I loved Ritchie Blackmore when I was a young guitarist, and I still do. His solos were uniquely inventive, and he often incorporated harmonic minor scales, along with piercing string bends and a vibrato-bar assault that was all his own and could sound otherworldly and supersonic.
Most importantly, his solos were mini compositions that were great musical adventures. As a guitarist, he was a great storyteller with a lot to say, and he does on Deep Purple's Machine Head.
Released in 1972 on the Purple label in the U.K. (and on the Warner Bros. label in the U.S.), it's the group's sixth studio album and the third to feature the Mark II lineup of Blackmore, Ian Gillan, Roger Glover, Jon Lord, and Ian Paice.
Its hit "Smoke on the Water" is, I think, the perfect rock song. It recounts Deep Purple's attempt to make Machine Head in Switzerland at the Montreux Casino and how they were forced to record at the nearly empty Montreux Grand Hotel after a flare ignited a massive fire at the Casino and burned it down.
The song's riff is a fixture in my DNA: The arrangement is stellar, patient, and direct, and the chorus and harmony are beautiful. I love Blackmore's solo, and to my ears, he's the star of the show in a star-studded galaxy. Employing his version of "woman tone," he dances over the changes until digging in fervently at the solo's end.
I always listen in wonder at how he ends the solo prematurely, allowing the main riff to be heard clearly. It's like he's giving us time to contemplate what we've just heard with a post-solo intermission. But Machine Head has many other standout tracks. "Space Truckin'" is a great composition that employs modulations and spirited, eventful playing.
As I approach retirement age, I don't sink my teeth into lyrics like, "We always had a ball on Mars, meeting all the groovy people," but Blackmore's solo and the instrumental composition stand up over time. "Highway Star" is one of the LP's little masterpieces. Jon Lord's organ solo invokes a Bach influence, and vocalist Ian Gillan tells the story wonderfully as we strap in for Mr. Blackmore's iconic solo.
Double-tracked and big as a house, it is required listening for any rock guitarist. Blackmore's grand finale ends this terrific solo with his trademark mauling of the vibrato bar.
"Pictures of Home" is another Blackmore showpiece, with a fantastic main solo and another timelessly wonderful one on the outro. It all makes me wonder if he's underrated by today's crop of guitarists.
Deep Purple's riff rock occasionally tries too hard to be clever, but I continue to appreciate Machine Head because every note Blackmore plays on it is perfect.
When the song needs some assistance, he jumps off the bench and raises the real estate tenfold. Check out his solo on "Maybe I'm a Leo." The song isn't a masterpiece, yet Ritchie's solo is a must-hear as he nails the changes and finishes his phrases with tremolo-bar earthquakes. It displays earthy, superb craftsmanship.
When I was learning to play and listening to the guitar heroes of the day, nobody played or behaved like Ritchie Blackmore. He was always dressed in black and appeared on the brink of explosive annoyance. I remember reading that, while dining at a four-star restaurant, he was unsatisfied with the steak and threw it across the room at the chef.
That's when I wanted to read about rock stars. They were unhinged, self-destructive, on the brink of madness. Personally, I'd love to be shocked and challenged by musicians. There's a lot to be pissed about, and I'd love to see it expressed.
Me? I'm not going to do it. I'm concerned with being an adult, trying to improve my skills, and hopefully making something beautiful. Likewise, Ritchie Blackmore plays acoustic Renaissance-style music with his wife, Candice Night, in Blackmore's Night. He's earned that right, and he's still great.
But when Blackmore played guitar all those years back, he brought 100 percent of what may have been an abnormal chemical imbalance and played every note like his life depended on it. The Deep Purple–era Blackmore was an incredible artist and never boring. Thank you, Ritchie, for everything.
Look for Jim Campilongo and Luca Benedetti's new release, Two Guitars, at cityhallrecords.com on CD and vinyl.
All the latest guitar news, interviews, lessons, reviews, deals and more, direct to your inbox!
Jim Campilongo has 14 critically acclaimed instrumental records available on vinyl, CD and digital download here.