Six Ways Tony Iommi Broke the Rulebook and Invented Heavy Metal Guitar
From guitars, amps and effects to power chords and the "devil's interval," here's how the legendary Black Sabbath guitarist changed music forever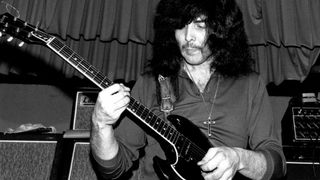 (Image credit: Ellen Poppinga - K & K/Redferns)
When Eddie Van Halen called Tony Iommi the master of riffs, he wasn't just whistling "Dixie."
Master riffmeister Iommi's back story, rise to legendary status, and his influence on the New Wave of Heavy Metal have been well documented in the annals of modern guitar lore.
But everything might have turned out differently if Iommi had not been so driven to play.
After losing the tips of his right-hand middle and ring fingers in a metal shop accident at 17, which was especially devastating considering it was his fretting hand, Iommi's strong will and devotion to his craft led him to develop the thimble-like prosthetics he still wears today.
Philosophically inspired to continue playing by Django Reinhardt, and musically smitten by Blues Breakers-era Eric Clapton, Iommi recontextualized the same blues-based licks and riffs everyone else was playing at the time into a much darker and heavier oeuvre that soon became Sabbath's calling card.
Like a keeper of the flame, Iommi has defined the heart and soul of the band, from the original '70s Ozzy Osbourne-fronted lineup, to its later reincarnations with the late, great Ronnie James Dio as both Black Sabbath and Heaven & Hell (as well as honorable mentions for Ian Gillan and Glenn Hughes), with killer riffs and a larger-than-life sound.
Essential listening includes at least the first five Sabbath albums (Black Sabbath and Paranoid [both 1970], Master of Reality [1971], Black Sabbath Vol. 4 [1972], and Sabbath Bloody Sabbath [1973]), a selection of '80s and '90s sides, including Heaven and Hell (1980) and Black Sabbath: The Dio Years (1998), Iommi's two solo albums (Iommi [2000] and Fused [2005]), and Heaven and Hell's The Devil You Know (2009).
Want to follow in the fretprints of the Godfather of Heavy Metal? First, you've gotta...
1. BREAK AWAY FROM THE PACK
While many of his early contemporaries routinely plugged their Stratocasters and Les Pauls into Marshall stacks and Fender combos, Tony Iommi has always been somewhat of a renegade when it comes to gear. (Of course, as a left-handed player, Iommi's guitar options were understandably fewer.)
He entered Black Sabbath with a good- Strat-gone bad, prompting a switch to a now iconic 1965 Gibson SG Special just in time to record the band's entire first album, except for "Wicked World," which features the Strat.
With few exceptions, this guitar paired with a Laney 100-watt stack (chosen for the company's affiliation with Iommi's home town of Birmingham), was the main instrumental voice of early Sabbath, bolstered only by two equally off-the-beaten-path effects: a Dallas Range Master Treble Booster and a Tycobrahe Parapedal wah. (Fact: Iommi's oldest go-to acoustic guitar was a Gibson J-45.)
In 1975, Iommi added the guitar with which he has become most associated to his arsenal. Custom-built by John Diggens and affectionately known as "Jaydee," "Number 1," and "The Old Boy," this battle scarred SG-style ax sports a mahogany body and 24-fret neck (plus a zero fret), cross fret markers, a Jaydee special bridge pickup, and a John Birch-style Magnum XP pickup (also made by Diggens) in the neck position, and encapsulated everything Iommi was looking for in a guitar.
2. MAKE SINISTER SOUNDS
Arguably the first band to embrace los diablos en musica, or the dreaded, church-banned b5 interval (It's just three whole-steps and the center point of the 12-tone chromatic scale, folks. Honest.), Black Sabbath wasted no time putting this dissonant "devil's interval" to work.
"Black Sabbath," the opening cut from the band's 1970 self-titled debut commences with a thunderstorm that lulls us into the ultimate b5 riff.
3. GET (A LITTLE) JAZZY
The first time I heard Sabbath's music was when a local band called Rockhouse covered "Wicked World" (from Black Sabbath) ca. 1970-71, leading me to believe that Black Sabbath was more of a bluesy British jazz-rock outfit in the vein of John Mayall's Blues Breakers, Blodwyn Pig, and the Keef Hartley Band rather than the forefathers of heavy metal!
4. MAKE IT BIGGER
Though he began tuning down a whole-step much earlier for Sabbath's live shows (their first two albums are in standard tuning), Iommi later dropped his tuning an additional half-step beginning on Master of Reality.
With this C#, F#, B, E, G#, C# configuration, songs like "Into the Void" reached new depths of heaviness, inspiring the likes of Eddie Van Halen.
For whatever reason, by the time Sabbath recorded Heaven and Hell with the late Ronnie James Dio, Iommi and company were back to tuning down only a half-step, but with heavy-as-hell riffs.
5. BECOME ONE WITH YOUR BASS PLAYER
One of the keys to Iommi's heaviosity is his tightness with bass player Geezer Butler. While many shy away from unison bass-and-guitar figures for fear of redundancy, both Sabbath and Heaven and Hell embraced the concept in dozens of songs.
The intros to Heaven and Hell's "Atom and Evil" and "Fear," both from The Devil You Know, are prime examples of the power of octave reinforcement. Both riffs create a sinister vibe via the inclusion of the "other devil's interval" (I just made that up), the b2/b9 located a half step, or minor second, above the root, with the former utilizing root+5 power-chord diads, and the latter relying on single notes.
6. DO IT WITH DIADS
Perhaps the most important factor in Iommi's massive sound is his use of two-note diads in the form of root+5 power chords, and his insistence on playing them on the bottom two strings whenever possible for maximum girth.
So, does playing every power chord on the bottom two strings really make a difference? You'll have to agree that this guy has definitely been on to something for the past 50-plus years.
Thanks for sharing, Tony Iommi!
All the latest guitar news, interviews, lessons, reviews, deals and more, direct to your inbox!