Best Combo Amps 2023: Our Pick Of Stunning Solid-State and Tube Combos For All Budgets
Covering all genres and styles, these superb combos from the likes of Boss, Vox, Fender, EVH, Orange and Blackstar are sure to help you achieve tonal bliss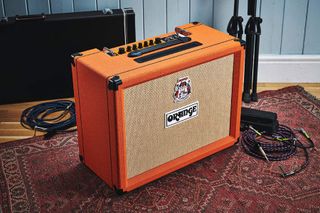 (Image credit: Future)
While it may not be as impressive to look at as an imposing tower of 4x12 cabinets crowned with a sparkling gold Plexi head, these days, the humble combo amp can give a full stack a run for its money. There has really never been a better time to pick up a combo amp, with a portable, all-in-one solution out there to satisfy any genre or style. Now, obviously, what is the best combo amp for you comes down to personal taste, but we've hand-selected a few of our favorites on the market right now to help put a stop to your endless pursuit of tone.
The beauty of the combo amp is that they come in various shapes and sizes – well, okay, just the one shape, but definitely different sizes. From mini, at-home practice companions to window-shattering gig machines, there's definitely a combo amp out there for everyone.
In this guide to the best combo amps, we've decided to include a mixture of low-cost practice solutions to moderately priced tube amps and even high-end, high-gain monsters. We have incorporated models from some of the biggest names in amplification, from Boss to Vox, Fender, Blackstar, EVH, Orange, and more. So, without further ado, let's dive in!
Best combo amps: Guitar Player's choice
For us, one of the best amps on the market is the Fender '65 Deluxe Reverb. This 22-watt, silver-clad combo effortlessly produces the iconic Fender tone most guitarists crave. With a rich, weighty low-end, a snappy, focused treble and a reverb to die for, this amplifier will instantly transport you back to the swinging sixties with the hit of a single chord.
If you are seeking a controllable practice amp for home use – that can also hit the stage if you need it to – then the Boss Katana 50 is the amp for you. Coming loaded with the effects that made Boss a household name, the Katana is the ultimate practice amp. From shimmering cleans to hard rocking riffage, this robust amp can do it all – and all without breaking the bank, or your back for that matter.
Best combo amps: Products guide
Harness the cutting tone of one of the most popular practice amps
Specifications
Speakers:
1x 12" Katana Speaker
Channels:
Five - with three variations
Reasons to buy
+
Quality selection of sounds
+
Power attenuator
+
Boss reliability
Reasons to avoid
-
Some may prefer a tube amp
It's difficult to have a guide to the best combo amps and not include something from the immensely popular Katana range. Boss captured the hearts of millions of players with its rugged, affordable and simple-to-use amp that it just had to bag our number one slot.
We think we can all agree that the line between solid-state and tube is getting increasingly blurred, with advancements in technology making digital modeling amps almost indistinguishable from their tube counterparts.
Offering players access to five channels - Clean, Crunch, Lead, Brown, and Acoustic, as well as 15 in-built effects, this is a highly versatile little amp for home use, as well as the stage. As you would expect from Boss, the effects are among the best around, with the delay, chorus, tremolo, reverb, and overdrive all taken from Boss' extensive back catalog of effects.
The amp of choice for rock n roll royalty
Specifications
Channels:
Normal & Top Boost
Reasons to buy
+
Serious power
+
Very versatile
+
Great look
Reasons to avoid
-
Very heavy
-
Too loud for home use
The humble AC30 has been a mainstay on stages across the globe ever since the '60s, and it doesn't look like it's going anywhere soon. This cultural icon helped the Fab Four be heard over hoards of screaming teenagers, it's Free Fallin' with Tom Petty and it was exactly what the Edge was looking for when the Irish guitar hero was shaping the sound of U2.
Just as recognizable as its classy diamond grill is its piercing treble and full-on mid-range - producing a tone unlike any other. So it's no wonder so many players depend on this relic of the past to achieve their timeless tones.
Using three 12AX7 preamp valves, as well as a quartet of EL84s, there is plenty of power onboard this impeccably stylish combo. The reverb and tube-driven tremolo are the cherries on the cake, bringing an extra level of expression to your playing at the stomp of a footswitch.
3. Fender '65 Deluxe Reverb
Pristine cleans and a reverb to die for - what more do you need?
Reasons to buy
+
The famous Fender sound
+
Takes pedals very well
Reasons to avoid
-
Only 22W, so may not have enough headroom for some players
Like the AC30 above, Fender's Deluxe Reverb has been omnipresent, showing up on stage behind some of the biggest acts in the world – in a myriad of different genres and styles.
Delivering Fender's beloved clean, harmonically rich, and mid-scooped tone the Deluxe does it in a relatively small format that will easily fill a room, all without breaking your back – Twin Reverb, we're looking at you.
The 22 watts of power is right in the sweet spot for gigging, allowing you to really push the amp and get the best out of it - although it may be a little much for the house!
So if you are looking for the ultimate Fender tone, this might be one of the best combo amps for you.
4. EVH 5150 Iconic Series
The iconic tone of an iconic guitarist
Reasons to buy
+
A legendary gain sound
+
Way more affordable than the EVH 5150III
Reasons to avoid
-
Not for you, if you don't want high gain
Eddie Van Halen was a force of nature on a six-string and he had a searing tone to match. Luckily you can now achieve this iconic tone at a more reasonable price – that said, while you'll certainly be able to nail the sound, we can't promise you'll be able to play like him.
The new EVH 5150 Iconic Series is an evolution of the EVH 5150III, bringing you the face-melting, high-gain sonic signature you've come to expect from a combo baring the 5150 moniker.
This 40-watt combo has been designed by world-famous amp engineer, James Brown, to be everything the gigging guitarist needs, with the dual 6L6s delivering plenty of power, while a duet of ECC83 tubes bring an eruption of gain that will have you running with the devil.
A giggable British combo that's just as comfortable at home
Reasons to buy
+
30W, 15W, 2W and 1W
+
Real spring reverb and valve tremolo
Reasons to avoid
-
The Orange look and sound aren't for everyone
Okay, so this is the second 30W British combo with spring reverb and tremolo on this list, but we think it most definitely deserves its slot. Orange is clearly wearing its influence on its tangerine sleeve, with an amplifier that harkens back to the combos of yesteryear.
Modern players may find the simplistic non-master volume design to be a little jarring, but for us, it's a welcomed retro feature. Don't worry, though, you'll still be able to tame the volume with a 30W, 15W, 2W and 1W setting.
Pushed, this Orange combo has a guttural sound that simply screams rock n roll and for us, it's easily one of the best combos on the scene right now. So, if you've not checked one out yet, we implore you to do so.
6. Blackstar Carmen Vandenberg CV 10
This petite Blackstar sounds just as good as it looks
Reasons to buy
+
12 Inch British Celestion speaker
+
Very cool design
+
Brilliant overdrive sound
Reasons to avoid
-
Too small for some players
So, if you're a Grammy nominated guitarist with writing credits on another guitar heroes album – Jeff Beck's Loud Hailer for those not in the know – then it's only right you get a signature amplifier, and boy, did Carmen Vandenberg and Blackstar knock this one out of the park.
Drawing inspiration from Blackstar's celebrated Studio 10, Carmen has created a tonal monster with the new CV 10. This small but mighty amp employs the use of a 6L6 output valve and an ECC83 in the preamp stage to give you the best of both sonic worlds – the sharp, dynamic attack of an American amp, but the distinct chime and shimmer found on amplifiers across the pond.
The overdrive circuit is based on the Blackstar HT-Drive pedal and is perfect for all areas of your playing, from smooth crunch to explosive rock riffage.
Your next practice and stage amp all in one
Reasons to buy
+
Excellent range of sounds and functions.
+
Solid build
+
Competitively priced
Reasons to avoid
-
Footswitch sold separately
-
Some players will need more than two channels
Line 6 are pioneers in the world of digital modeling and their latest amp proves why they are seen by many as the leading force in this space. Taking a back-to-basics approach to a digital guitar combo, the Catalyst is a classic two-channel amp, with 18 additional effects and some other clever features to make it very useable on stage.
The Catalyst allows you to choose from six original amp voices, ranging from pristine cleans to modern high-gain and everything in between. Furthermore, you also get to experiment with a whopping 18 effects, such as reverb, delay, modulation and pitch effects – and as you'd expect, these come from the Line 6 HX and Legacy effects libraries.
So if you're looking for a simpler twist on a digital modeling amp, then we highly recommend checking out the stellar Line 6 Catalyst 60.
A small amp with a mighty kick
Reasons to buy
+
A wealth of tones
+
Small and lightweight
Reasons to avoid
-
Not for the gigging musician
The Mustang range by Fender has been a go-to option for many beginner guitarists for years now, and really it's hard to think of a better option for those seeking a do it all amp on a budget.
This pint-sized combo offers players a whopping 20 amp models – and no, they aren't all of the Fender variety – as well as 25 effects, ranging from reverb to delay, chorus, phaser, flanger and more. And that's before we even talk about price. This tiny desktop combo comes in comfortably under $200, offering up stellar value for money.
So, if you're in the market for a small, affordable, feature-rich amp that benefits from big-brand build quality, then the Fender Mustang LT25 is the best combo amp for you.
A versatile and great-sounding amp from PRS
Specifications
Speakers:
12-inch Celestion V-Type
Tubes:
12AX7 preamp tubes, two 5881/6L6 output tubes
Reasons to buy
+
A great-sounding amp at the price
+
Boasts a cleverly conceived feature set
Reasons to avoid
-
Clean channel requires an overdrive pedal to push it into breakup
The newly redesigned Sonzera 20 is a tonal powerhouse, and we're glad to see it become part of the PRS amp line-up. This 20-watt combo may be small, but don't let its stature fool you - this thing rocks!
For us, this is a versatile and great-sounding amp by any standard, and it's all the more impressive given its modest price tag. With two independently controlled, foot-switchable channels designed to cover a myriad of tones from American-style retro clean to heavily saturated distortion, this amp is the ultimate small tube combo for gigging or in the studio.
We were so impressed with this new offering from PRS, that this American-voiced amp earned an Editors' Pick Award for its sonic achievements.
Read our full PRS Sonzera 20 combo review
Best combo amps: Buying advice
What is a combo amp?
Simply put, a combo amp is a unit where everything is self-contained. Both the amplifier section and the speaker are in one cabinet. Unlike a head and cab set-up, the combo is favored by many players who either prefer traveling light, are short on space, or simply don't want the fuss of dealing with large cabs and extra cables.
Which combo type is best for me?
Now, this is a very difficult question, and one only you can answer. Which combo amp is best for you truly comes down to personal preference and the tone you are chasing.
That said, there are a few things you need to keep in mind. The first is the type of amp you are going for. As you can see from this list, there are three main categories of amp - tube, solid-state and digital modeling.
Each of these options brings its own sonic characteristics to the table, but with it, they all have their drawbacks, so be sure to think long and hard about which is the right choice for you.
If you are on the hunt for a warm, natural sound with a complex, harmonically rich breakup, then perhaps valve is the right choice. Looking for an unshakeable clean tone that stays pristine at window-shattering volumes? Well, solid-state is best. Of course, if you fancy a myriad of tonal options at the click of a button, then a digital modeler is the obvious answer.
Next, you need to think about the size of the combo you require. Now, by size, we really mean power – and the power of the amp plays two distinct roles. The first – and most obvious – is the volume. The higher the wattage, the louder the combo. So make sure you choose an amp that's appropriate for its intended use – there's no need to opt for 100W for the bedroom.
Secondly, the power plays a large part in the headroom of your amp. The headroom of a combo is how clean the amp stays at louder volumes. For example, a smaller wattage tube amp may break up too quickly at giggable volumes, whereas a 50W amp may not break up at all in a bedroom setting – so choose wisely.
Lastly, you'll want to consider how many channels you'll need. The majority of amps will come with two – clean and overdrive – but others may have a designated boost channel as well.
What other features do I need?
Now, modern amplifiers come with a plethora of extras, so you may want to consider what features you'd like your new combo to have. It's not uncommon to see amps come with built-in attenuators, direct outputs and even incorporated recording interfaces.
Think long and hard about the intended use of your amp. If you are a gigging musician, you may want the option to add an external cabinet or a direct out so you can send your signal straight to the PA.
If you spend most of your time at home, you may prefer an amp with its very own attenuator and recording interface.
Related buyer's guides
You can trust Guitar Player. Our expert reviewers spend hours testing and comparing guitar products so you can choose the best for you. Find out more about how we test.
All the latest guitar news, interviews, lessons, reviews, deals and more, direct to your inbox!
First and foremost, I'm a guitar enthusiast – a fanatic, some might say. I'm a firm believer that most of the world's problems can be solved with a Gibson SG and a catastrophically loud amp. Before writing about guitars for a living as a Senior Deals Writer on Guitar Player, I worked in music retail for 7 years, giving advice on guitars, basses, drums, pianos, and PA systems. I also have a passion for live sound; I'm a fully qualified sound engineer with experience working in various venues in Scotland.