"I Am Just a Punk Kid Trying to Get a Sound Out of a Guitar That I Couldn't Buy Off the Rack": a 23-Year-Old Eddie Van Halen Talks Building His Own Guitars
Screwdrivers, chisels, drills and chainsaws – the young prodigy reveals all in this amazing interview from the GP archive.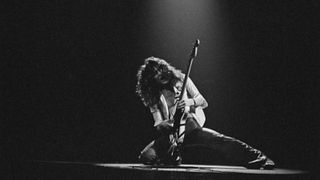 (Image credit: Fin Costello/Redferns)
Very few electric guitar players had as intense an impact in as short a time as Eddie Van Halen. Even fewer changed the course of guitar culture so radically in the long-term.
The sparkplug of the band that bears his family name, he exploded into ears around the world in February 1978 with the release of Van Halen.
On this debut album, the guitarist wrestled devastating feedback, kamikaze vibrato moans, sustained harmonics, white-hot leads, and liquid screams out of a cranked-to-the-max homemade axe that combined a Fender Stratocaster-style body with the electronics of Gibson Les Paul.
Not only did he suddenly revolutionize guitar technique – he changed the way manufacturers went about designing instruments forever.
True: he sacrificed his fair share of valuable vintage guitars in the process. But it was a price well worth paying in return for an extraordinary musical legacy.
Back in the early '80s, Guitar Player spoke to the man himself about his unique creations. And though we didn't know it at the time, the experimental designs of which he speaks would instigate a leap forward in electric guitar evolution, as evidenced by many of today's popular models.
The following interview excerpt originally appeared in the April 1980 issue of Guitar Player. Aged just 23 at the time he was the youngest cover story artist in GP's history…
What made you decide to build your own guitars?
A Les Paul to me was just the clichéd guitar, the rock 'n' roll guitar. I liked the sound, but it didn't fit my body. I'd have to wear it too high to be able to stretch as I do, and it looks funky.
So I wanted to get that type of sound, but with tremolo. And Bigsbys have got to be the worst. So I bought a '58 Strat years ago when we played high school dances, and Dave [Lee Roth] and Al [Van Halen] just turned and started throwing sticks at me! They said, "Don't use that guitar – it sounds to thin!" You know, single-coil pickups.
They had a real buzzy, thin sound unless I used a fuzz box, and that's even worse. So I sold that and then two years later I bought a router and dumped a Gibson PAF pickup into a '61 Strat. It got very close.
All of a sudden the band said, "That's okay, It doesn't sound like a Strat anymore." Then I heard that a company called Charvel made exact duplicates of Fender guitars, but out of nicer wood.
Is this where you got the wood for your first homemade guitar?
Yeah, this very first one was the black-and-white striped one on the first album [see above]. I went to Charvel and had them rout a body out for just one pickup and one volume knob.
I had to cut my own pickguard to cover everything up because it was originally a three-pickup Strat body. I used the vibrato tailpiece from a '58 Strat for that guitar.
I also had Charvel make me a really wide neck. I hate skinny necks. I like it bare wood because I hate to slip and slide when I start stretching strings.
Now at the same time, I built what I call my "shark" guitar, which is actually one of the first Ibanez Destroyers [shaped like Gibson Explorer] made out of Korina wood. I made the mistake of taking a chainsaw to it and putting a bunch of weird stuff on it.
Did it lose some tone?
It lost the tonality I want. Now, kids can't tell – they can buy a DiMarzio pickup and stick it in anything and go, "Yeah, it's rock 'n' roll!" But it was that distinct little tone that I look for that was cut out of the guitar.
Then I went to Charvel and bought the parts for a Destroyer with a vibrato. I got tired of playing it, and so I had a friend of mine carve a dragon biting a snake out of the Destroyer's body.
How long did it take you to build the black-and-white Strat?
Not really too long, but it took me a while to build up to doing that. I used to have an old Gibson ES-335 that was my main experimental guitar. That was the one I refretted and painted and totally screwed up!
I mean, I did everything you can imagine to that guitar to ruin it. But I learned from it. It's too bad, because that guitar would have been worth some bucks today. But I learned what I know of building guitars, so I guess it's worth it.
Have your since modified the black-and-white Strat?
Yeah, a company started copying it, and I said, "man, I better change it." So I really went to town painting it all freaked out, and I put three pickups back in, but they don't all work – only the rear one works.
I just did it to be different, so every kid who bought one like that model would go, "Oh, man he's got something different again." I always like to turn the corner on people when they start latching on to what I'm doing.
Here I am just a punk kid trying to get a sound out of a guitar that I couldn't buy off the rack, so I build one myself and now everybody else wants one.
Did you make another guitar for your second album?
I made the yellow-and-black Strat. It has an ash body by Charvel. It was my idea to have it rear-loaded so I wouldn't have to have a pickguard, and Charvel routed it for me.
The pickup that's on the photo is not really what I use – I had just finished slapping it together and painting it when they shot the album cover, and just stuck some garbage pickup in it to look like a complete guitar.
Then I took the pickup out of my first guitar and stuck it in there, but it didn't sound too good. I don't really go for DiMarzio pickups, because they're real distorted. I like a clean sound with sustain. I hate the fuzz box – real raspy sound.
So I put a PAF magnet in a DiMarzio pickup and rewound it by hand, which took a long lime. I actually ruined about three pickups, and by the fourth time it worked. I didn't count the windings – I just did it by sight.
Was that the guitar you took on the second tour?
I used that one plus the original one from the first album for the first half of the tour, and then I ran into Floyd Rose, and he showed me his special bridge and nut for keeping a Strat in tune. I said, "What the hell – I'll give it a try." I'm up for anything.
So I had Boogie Bodies make me a mahogany body that's fit to my size, and I put the Rose device on it. The body is a Strat-style, but it's 2 1/2" thick, which is thicker than a Les Paul.
The Rose tailpiece gets a thin sound, and I thought a chunky piece of wood could make up for the thickness. It works a little bit. That guitar has a Gibson PAF and just one volume knob – it's real simple.
What is your overall opinion of Floyd's vibrato device?
I like it and I don't.
For one, on my guitar it sounds real brittle-bright, and I have to do some heavy equalization to get my tone. That's why I don't like to use it in the studio. We just go in there and play live, and I depend on making my guitar sound good out of the amp instead of fixing it in the mix.
Number two, if you pop a string, you can't even one-note your way through because the whole guitar goes out of tune. Sometimes I'll hit a chord and tune really quickly. With this device you can't – you have to unclamp it.
On top of that, sometimes when I jump off the drum riser the neck shifts just a hair, and then I can't tune it. But it has advantages: When you're using the bar, it will not go out of tune.
What are the most difficult aspects of building your own guitar?
Making the neck fit the body. Another problem is that the strings on a Stratocaster are spaced differently that a Gibson's; if you use a humbucking pickup, the strings don't line up with the pickup holes.
So I've tried slanting the pickup so the high E string will be picked up by a front pole and the low E will be picked up by a rear pole.
For the sound I like, it is also important to get the space between the bridge and pickup right. I do it almost like Les Paul. If I put it too far towards the neck I get the Grand Funk and Johnny Winter tone, and if I put it too close to the bridge I get a real trebley Strat sound.
So I move it up towards the neck a little bit from the Strat sound to get a beefier tone.
Do you carry any special tools or extra parts with your when you're on the road?
I bring along a least five extra necks, three different bodies, ten different pickups, some machine heads, and a couple of different tremolo pieces in case one breaks – you know, just spare parts mainly.
See, like if we're six months through the tour and the frets are starting to go bad on one neck, I'll slap another neck on instead of refretting it, because I don't have time to refret while I'm traveling. In tools I carry screwdrivers, chisels, drills, chainsaws – very simple stuff [laughs].
Have you any special methods of refretting necks?
Yeah, I hate the way people refret necks. I do it real simple: I sand them down with some 400 wet-or-dry sandpaper and then use some steel wool.
I hate flat frets because the more space you have for the string to rest on, the more room you have for the intonation to be off. I like big frets height-wise, but I make them come to a peak.
From a side view, one of my frets would look like the tip of a pick. It doesn't come to a complete point, but it would be rounded as opposed to flat.
Another thing is that you have to put them in from the side rather than from above, and a lot of people take them straight out and rip the wood. I toured the factory and saw how they did it and said, "No wonder I ruined so many Fenders by pulling them straight out!"
Do you do anything special to your pickups?
I usually use old Gibson PAFs, and I always pot them. I submerge the whole thing in paraffin wax, and this cuts out the high obnoxious feedback. It's kind of a tricky thing because if you leave it in there too long. The pickup melts.
I take a coffee can and melt down some wax – the same kind that you use for surfboards – and put the pickup in it. See, one of the reasons a pickup feeds back is that the coil windings vibrate, and when the wax soaks in there, it keeps them from vibrating as much. It will still feed back, but it's controllable.
After I dip the pickup in paraffin, I put copper tape around it. You have to be really careful if you do this to a pickup like a DiMarzio. You can throw an old PAF in there and let is soak it up; it doesn't melt. But with DiMarzio, if you blink, all of a sudden, your pickup's ruined.
We highly recommend checking out the awesome range of EVH gear here.
All the latest guitar news, interviews, lessons, reviews, deals and more, direct to your inbox!