Watch Ritchie Blackmore Attack a Cameraman and Smash up His Rig Before Blowing a Hole in the Stage
Deep Purple's 1974 California Jam appearance remains one of the fieriest performances in music history.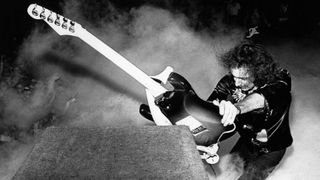 (Image credit: Fin Costello/Redferns)
On April 6, 1974, Deep Purple appeared at the historic California Jam music festival in Ontario, California along with Emerson, Lake & Palmer, Black Sabbath, Black Oak Arkansas, Seals and Crofts, Eagles, Earth, Wind & Fire and Rare Earth.
Attracting an audience of somewhere in the region of a quarter million music fans, this mammoth event was broadcast by ABC, while Deep Purple's performance was later released on the newly introduced VHS video cassette format.
Deep Purple guitarist Ritchie Blackmore was already wary of playing festivals when he was approached about performing at the upcoming Cal Jam event.
"I said, 'No thanks, I'm not interested in any more festivals,'" recounted Blackmore. "They're a nightmare. They always will be.
"There's always complete catastrophe backstage. Nothing ever goes right. You're always on late, or early. The billing is all wrong. It's just awful."
Despite his aversions, however, the guitarist eventually yielded to pressure and reluctantly agreed
Albeit with some important caveats.
Crucially, Deep Purple were to hit the stage at dusk when the stage lights were first switched on.
Blackmore considered this to be of paramount importance due to the impact it would have on the band's audience.
Alas, while relaxing in the privacy of his caravan, Blackmore's dreams of a dramatic sundown appearance were shattered with a premature stage call in broad daylight.
"That got me riled up," he recalled. "I'm seething at this point."
One of the fieriest performances in music history then ensued, with Blackmore smashing his Stratocaster into a stage camera in the midst of destroying his rig.
Quite literally adding fuel to the fire, one of Blackmore's roadies agreed to pour petrol onto his amp – the idea being Deep Purple would finish their Cal Jam appearance in a blaze of glory.
Unfortunately, the improvised pyrotechnics were significantly more intense than expected and the ensuing explosion blew a hole in the stage.
"[Deep Purple drummer Ian] Paice's glasses got blown off," recalled Blackmore, adding, "It made a cameraman temporarily deaf.
"It looked great, but it was just overkill. I didn't realise it was going to just explode. It was supposed to catch fire, but it just went boom!"
While Blackmore was lucky to avoid serious injury, he was also fortunate enough to evade arrest.
As police moved in, he made his escape by helicopter in true rockstar style.
Buy Deep Purple: Live in California '74 here.
All the latest guitar news, interviews, lessons, reviews, deals and more, direct to your inbox!
Rod Brakes is a music journalist with an expertise in guitars. Having spent many years at the coalface as a guitar dealer and tech, Rod's more recent work as a writer covering artists, industry pros and gear includes contributions for leading publications and websites such as Guitarist, Total Guitar, Guitar World, Guitar Player and MusicRadar in addition to specialist music books, blogs and social media. He is also a lifelong musician.