David Bowie: Nine Guitar Greats Who Shaped His Music
The guitarists behind The Thin White Duke's greatest songs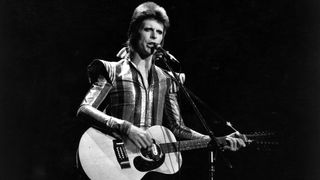 (Image credit: Getty/Express / Stringer)
David Bowie always had a keen ear for a great guitarist. From Mick Ronson in the early Seventies to Stevie Ray Vaughan in 1983 to Reeves Gabrels in the Nineties, some of music's most distinctive guitarists played a role in shaping and creating the sound of Bowie's stylistically fluid music.
As we look back at the long career of Bowie, who died January 10, we celebrate both his music and the guitarists who created it with him. Here are nine of the greatest, along with signature tracks that exemplify their contributions.
1. Mick Ronson
Bowie's association with guitarist Mick Ronson was without a doubt the most prolific of his career. The two met in 1970 when Ronson was recruited to play in Bowie's band. That same year, they cut The Man Who Sold the World. Ronson would go on to perform and record with Bowie through 1973, a period that includes Bowie's breakthrough classic albums, among them Hunky Dory, The Rise and Fall of Ziggy Stardust and the Spiders from Mars and Aladdin Sane. His stinging signature tone, achieved with a 1968 Les Paul Custom, became a hallmark of the glam era and inspired guitarists like Randy Rhoads in terms of technique and image. "Suffragette City," from Ziggy Stardust, is a classic example of Ronson's style and tone.
"Suffragette City"— The Rise and Fall of Ziggy Stardust and the Spiders from Mars (1972)
2. David Bowie
Following Ronson's exit from his band, Bowie surprised everyone by assuming guitar duties himself. Though he'd shown himself to be a fine rhythm player—mostly on acoustic and acoustic 12-string—he always left the deft lead work to Ronson. For 1974's Diamond Dogs, Bowie handled guitar duties for the album almost exclusively. (Earl Slick performed the Ronson-like lead work on "Rock 'n' Roll with Me," and Alan Parker guested on the hit "1984.") "Rebel Rebel," the album's breakout hit, featured Bowie playing what would become a signature riff of the era. In the video for it, shown below, he mimes using his Kent-branded three-pickup Hagstrom.
"Rebel Rebel" - Diamond Dogs (1974)
3 & 4. Carlos Alomar and Earl Slick
The guitar tandem of Alomar and Slick leant a particularly unique rock-funk sound to Young Americans and Station to Station, Bowie's mid-Seventies excursions into soul. Slick had first joined Bowie in 1974 for the Diamond Dogs tour, which produced the David Live album. While Alomar handled the bulk of guitar duties on Young Americans, Slick teamed up with him for the funk workout "Fame," a hit written by Bowie and John Lennon.
"Fame" - Young Americans (1975)
5. Robert Fripp
Though not a member of Bowie's band, Robert Fripp earned a significant place in Bowie's catalog with his droning lead guitar playing on "Heroes," the title track from Bowie's 1977 album, his second collaboration with ambient/synth pioneer Brian Eno. Fripp achieved his long-sustaining notes through his "Frippertronics" analog delay system, in which two reel-to-reel recorders were used to create dense, sustaining tones.
"Heroes" - "Heroes" (1977)
6. Adrian Belew
Thanks to Brian Eno's advice after seeing Adrian Belew onstage during a Frank Zappa concert, Bowie offered to hire Belew once the Zappa tour was finished. Belew recalled on his Facebook page how he met Bowie in Berlin during one of the shows.
"So I walked over to David Bowie, shook his hand and said, 'I love what you've done, thank you for all the music.' And he said, 'Great, how would you like to be in my band?' I motioned back towards Frank and said, 'Well, I'm kind of playing with that guy.' David laughed and said, 'Yes, I know, but when Frank's tour ends my tour starts two weeks later. Shall we talk about it over dinner?'"
Later, he said, "We arrived at the restaurant, went in the front door, and who should be sitting at the very first table but Frank Zappa and the rest of the band! So the three of us sat down with Frank and the band. David, trying to be cordial, motioned to me and said, 'Quite a guitar player you have here Frank.'
"And Frank said, 'Fuck you, Captain Tom.' (Note: Frank had demoted David from Major Tom to Captain Tom.)
"David persisted, 'Oh come on now Frank, surely we can be gentleman about this?'
"Frank said, 'Fuck you, Captain Tom.'
"By this point I was paralyzed. David said, 'So you really have nothing to say?' Frank said, 'Fuck you, Captain Tom.'
"David and Coco and I got up and went back out the front door. Getting in the limo David said in his wonderfully British way, 'I thought that went rather nicely!' "
"Heroes" on 1978 Tour with Adrian Belew
7. Stevie Ray Vaughan
The soon-to-be guitar hero was spotted by Bowie after Vaughan and Double Trouble performed at Montreux Jazz Festival in July 1982. Bowie tapped him to perform on his 1983 album, Let's Dance, which produced the smash hits "China Girl" and "Let's Dance," both of which featured Vaughan. Bowie wanted the guitarist to join his group for the subsequent support tour, but Vaughan was reluctant to leave Double Trouble, who had just finished recording their debut, Texas Flood. He changed his mind when Bowie's management offered to let the group open on select tour dates. When the offer was subsequently pulled, Vaughan's manager took him off the tour, leaving Bowie to rely on his longtime guitarist Earl Slick to fill in.
"Let's Dance" - Let's Dance (1983)
8. Reeves Gabrels
Gabrels met Bowie in 1987 and subsequently joined forces with him in Tin Machine from 1988 to 1992. Following the group's breakup, Gabrels continued to work with Bowie from 1995's Outside through 1999's 'Hours.' Among the best examples of Gabrels' breakthrough guitar work can be heard on 1997's Earthling. The album is full of his beautifully noisy guitar squawks and squeals, which at times recall the digital chatter of a 56k modem. The sound was perfect for an album awash in technological isolation, despair and paranoia.
"Little Wonder" - Earthling (1997)
9. David Torn
Torn first performed on Bowie's 2003 album, Reality, where he was teamed up with Earl Slick. He was also featured on Bowie's 2013 release, The Next Day, where he added some ambient guitar work that at times recalled the lush wash of sound created by Robert Fripp on 1977's "Heroes." "Dancing Out in Space" is representative of this. "He comes with huge amounts of equipment that he creates these aural landscapes," producer Tony Visconti said of Torn in an interview with Rolling Stone about The Next Day. "He uses them in a rock context with all that ambient sound, and he's bending his tremolo arm and all that. It's just crazy, completely crazy sound on that track."
"Dancing Out in Space" - The Next Day (2013)
All the latest guitar news, interviews, lessons, reviews, deals and more, direct to your inbox!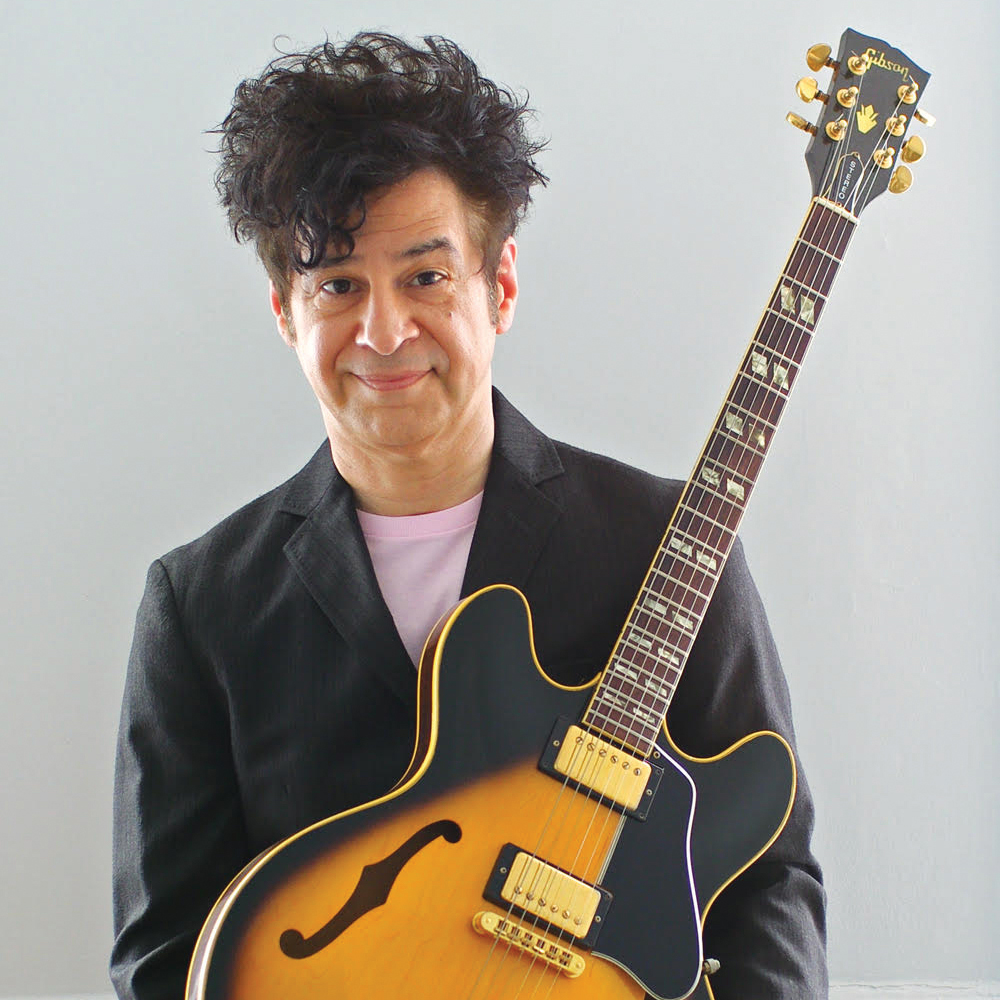 Guitar Player editor-in-chief
Christopher Scapelliti is editor-in-chief of Guitar Player magazine, the world's longest-running guitar magazine, founded in 1967. In his extensive career, he has authored in-depth interviews with such guitarists as Pete Townshend, Slash, Billy Corgan, Jack White, Elvis Costello and Todd Rundgren, and audio professionals including Beatles engineers Geoff Emerick and Ken Scott. He is the co-author of Guitar Aficionado: The Collections: The Most Famous, Rare, and Valuable Guitars in the World, a founding editor of Guitar Aficionado magazine, and a former editor with Guitar World, Guitar for the Practicing Musician and Maximum Guitar. Apart from guitars, he maintains a collection of more than 30 vintage analog synthesizers.